According to memory champion, Nelson Dellis, if you associate information with a picture, it's easier for the brain to latch onto.
If you want to give a knock-out Prezi presentation that grabs your audience and keeps them engaged, starting out with the right background is key. It's a great way to set a motif and visually tie together your presentation. Used strategically with the structure of your topics, you can create an effective, memorable masterpiece that's sure to win over your audience.
You can add an image to the background using the "Background & Theme" sidebar. From here you can also change your theme color scheme, change your background, and change the background color.
Here are the steps:
1. From the editor, click the Background options button in the context toolbar to get the pop-out sidebar.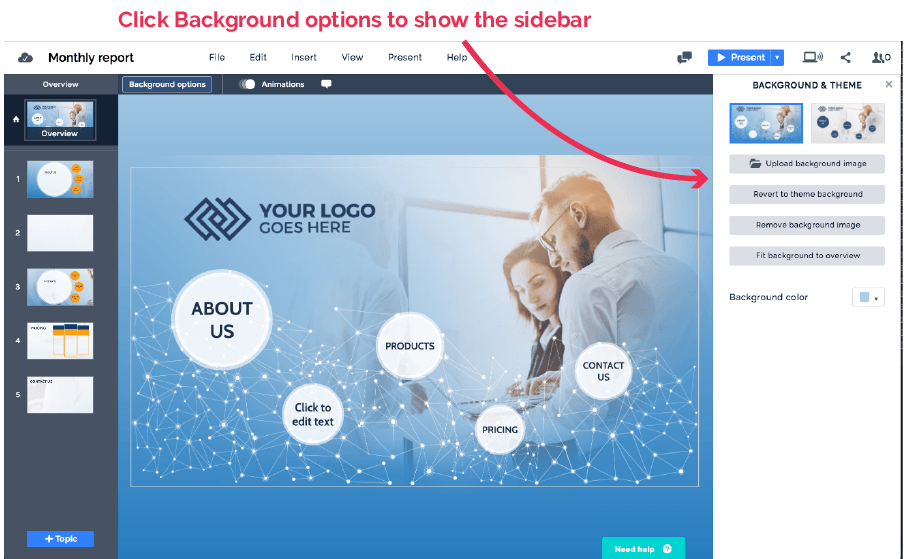 2. Click Upload Background Image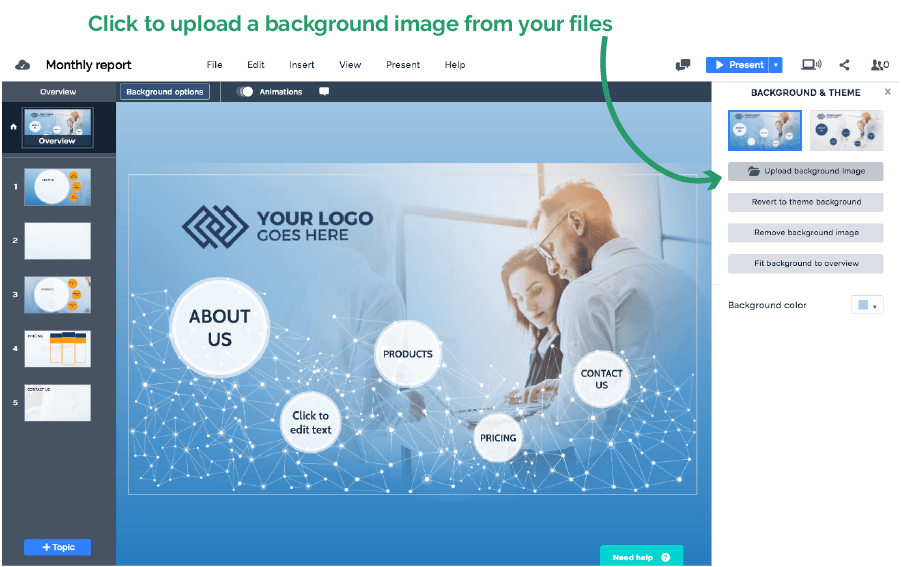 3. Select the image you'd like to upload and click Open. The image will appear in the background and will automatically be resized to fit your presentation.
4. You can also click Fit background to overview for the best fit or change the background color.
Note: For best results, we recommend using an image that's less than 2400 pixels in width.
In addition to your stellar background, it's essential to use eye-catching images throughout your presentation that illustrate your message. One of our top Prezi designers, Meaghan Hendricks, knows a thing or two about picking the right visuals. Her advice: "You want your visuals to enhance what you are saying, not distract from your message. Using powerful images that provoke emotion will help your audience understand and remember your presentation."
Not sure where to go to find good graphics for your presentations? Don't worry, we've got your back. Take your Prezi presentations to the next level by using compelling and relevant images to enhance your message.
Here are some of our favorite online resources for free visuals, from vector images to stock photography. If you're looking for the perfect graphic to make your presentation pop, here are some places to start:
1. CUSTOMIZE YOUR PREZI ICONS:
With over 500,000 artist-designed icons, The Noun Project has something for you, no matter what your presentation topic is. Because they are all vector images, you can use the icons at any scale—make them small to accentuate your different points, or make them big to illustrate your big idea.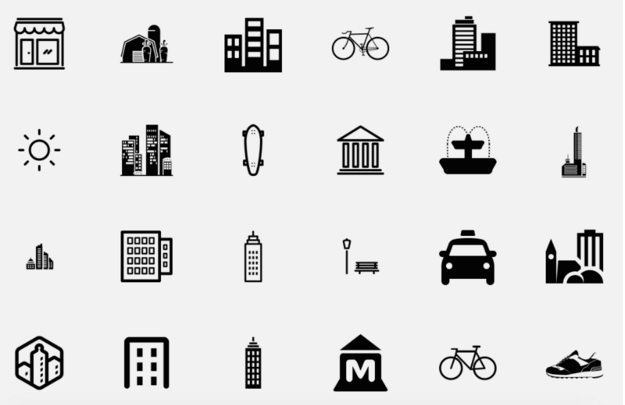 2. USE FREE HI-RES PHOTOS AND GRAPHICS:
Death to the Stock Photo aims to eliminate the boring, inauthentic images available from most stock photo websites and databases. Sign up to receive a monthly batch of free, high-resolution photos covering a wide range of subject matter—so you can find the right visual metaphor to represent your message.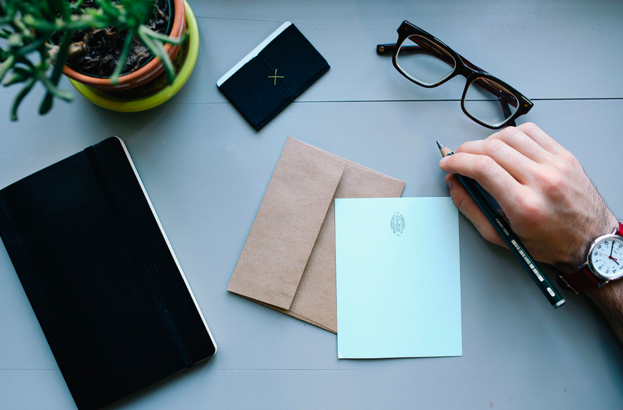 Want to give your presentation a vintage feel? The high-resolution historic images from New Old Stock are perfect for spicing up your presentation with the atmosphere of another era, whether you choose to use a sepia-toned photo from the turn of the 20th century or a breezy black-and-white snapshot from the 1960s. Plus, they're entirely free to use.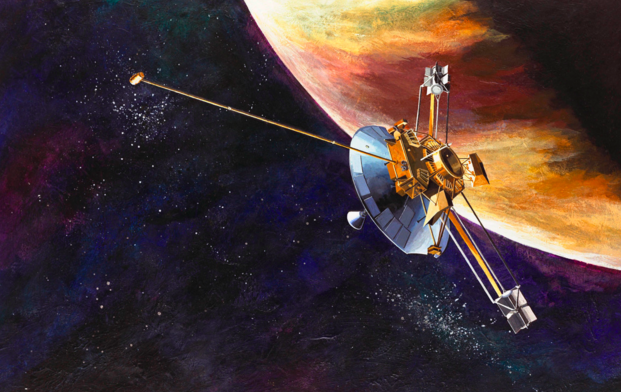 Looking for vector images that you can zoom into for your next presentation? Look no further than Free Pik, a collection of 1.4 million graphic files. As the name suggests, all of these files are available for free—so you can make as many beautiful presentations as you want without bothering the guy from finance. Free Pik lets you download material not only in .jpg but also in .ai format making it possible to also customize your pics.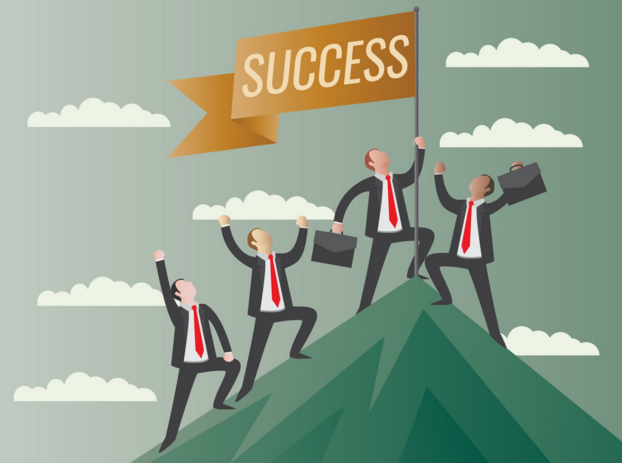 3. VISUALIZE DATA:
Need to make a presentation full of facts and data? Infographics are a fun way to make your numbers more memorable and easy to understand for any audience. Creating a compelling infographic from scratch may, however, be challenging for those of us who are not designers. This is where cool online tools Infogram come in; they allow users to create professional-grade infographics easily, using themed templates.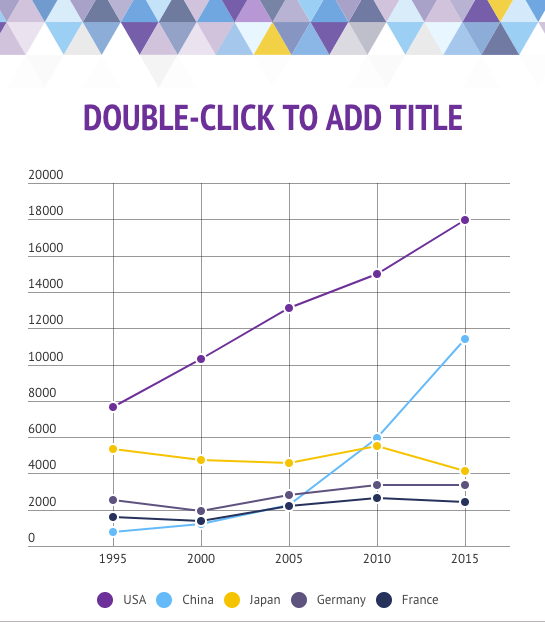 4. CUSTOMIZE COLORS:
We have read many times how huge impact colors can have on our mood, emotions and even consumer behavior. This means that if you want to make maximum impact with your presentation, you should pay careful attention to even such details as your color selection! On Colour Lovers, you can not only browse thousands of user-made palettes but also see examples of print trends and even create cool patterns for yourself. With Color Hex, you can browse color sets by popularity.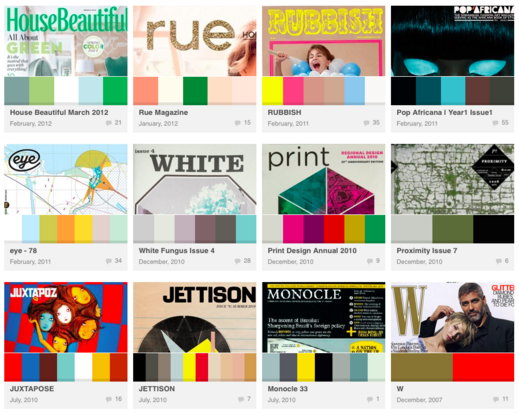 5. USE PATTERNS AND TEXTURES AS BACKGROUND:
Looking for a simple way to make your presentation more colorful without taking away from the meat of your message? Try using a subtle pattern in the background. You can pick from several different options at WildTextures.
At LostAndTaken, you can find a huge number of patterns and textures for the background of your presentation. It's easy to find exactly what you're looking for, because on this site, it's also possible to search by category of pattern.
For a deeper dive into how to create a killer presentation, check our Presentation Design 101 ebook below.