Hybrid learning, or blended learning, has steadily increased in popularity as educators across the world are adapting to this modern learning environment. Educators are grappling with the challenges of keeping students engaged online and integrating virtual and in-person learning to create inclusive spaces for all students. Many teachers are pioneering this hybrid learning space by using virtual tools in their classrooms.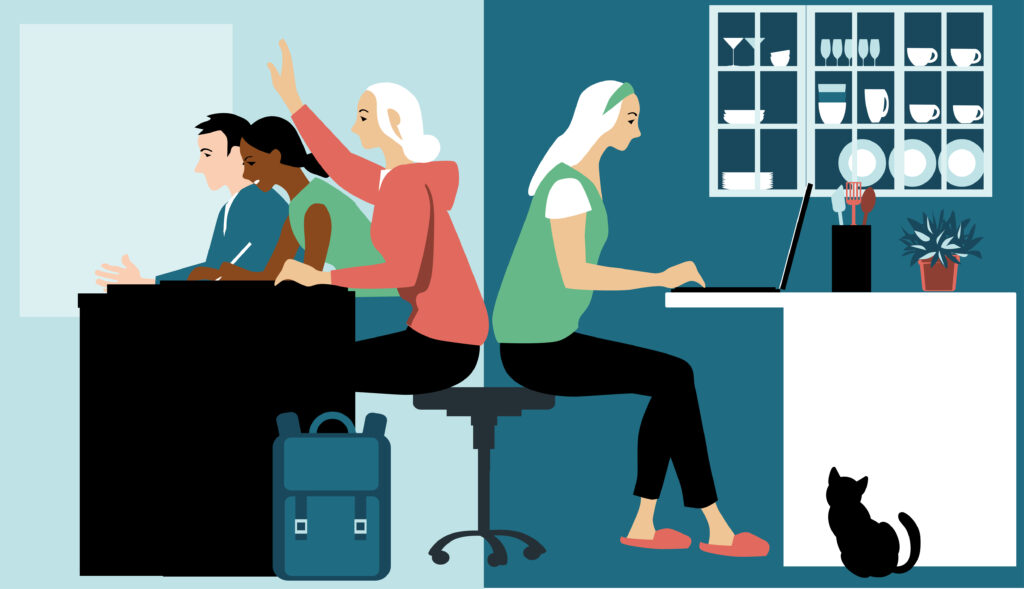 Joe Grimm, who is a Visiting Editor in Residence at Michigan State University, teaches a journalism course where students put their reporting skills to practice. Students are tasked with researching a specific demographic and their work culminates into a published book, which is a part of the Bias Busters series.
This series is designed to introduce diverse communities to a wider audience and help people understand communities they might not be familiar with. Book topics span different ethnic, racial, and religious groups. Some book examples include "100 Questions and Answers About Latter-Day Saints," "100 Questions and Answers About Gender Identity,"and "100 Questions and Answers About Gen X." This student-led project approaches learning in an interactive way and students are introduced to journalism standards, through carefully conducted interviews and reporting practices.
Joe uses Prezi Video to change up the pace of his lectures. He learned through feedback that his college students actually prefer recorded lectures for some material, as they could learn at their own pace and revisit content at their leisure. He records video lectures on Prezi Video and tries to make his presentations as engaging as possible, using text and graphics to emphasize his points. While he uses these recorded lectures for online learning, Joe also uses recorded video within the classroom.
Keep reading for examples of how Joe uses Prezi Video to enhance his students' learning and engagement.
Create a virtual resource library
In this video, Joe explains how to use quotes for maximum emphasis. In under three minutes, he covers the different kinds of quotes, attribution, punctuation, and how to get great quotes. Since Joe chose to create a recorded video, he can now reuse this bite-sized lecture in future classes. He likes to make recorded lectures for general topics that will always be timely and relevant, and he generally keeps his video recordings concise at five minutes or less.
His students can also refer back to this video at any time. Maybe his students need a quick refresher before entering their first interview. Maybe there's a quiz two weeks down the road or they are writing up their final story and have a question about how to attribute a quote correctly. In any case, Joe's students now have a permanent, online resource to look back on, much like a virtual textbook.
Up the energy!
Halfway through teaching a virtual lecture, do you catch your students nodding off or turning off their cameras? Maybe they believe their camera views are hidden during the screenshare function.
Stay connected while you work remotely with Prezi Video
Joe confesses that regular video recordings are usually alright but kind of boring. He finds that it's harder to pay attention to just a screen than a person, so he likes that with Prezi Video he can stay on screen and bring up content to share next to him. He can incorporate other visuals and use Prezi's pre-made templates to add dynamic pieces to his lessons.
"I love how Prezi allows you to bring in other elements that make it interesting," he says.
Joe tries to make his lectures fun by adding props from time to time, and his enthusiasm for teaching really shines through. Check out his video lesson on the AP style guide.
Keep it conversational
Joe does a great job keeping his video presentations short and personal. He holds eye contact and refers to his notes but doesn't read off a script, making his video lectures feel more like a conversation than a lecture.
Paired with Joe's use of visuals and on-screen text, Joe's video personality creates a connection with his students virtually. He is connecting with his students asynchronously, and this opens himself up to connecting with students in the classroom as well, since they are familiar with his personality and teaching style. Mixing asynchronous and synchronous video into a classroom environment can be just as beneficial at building relationships as strictly in-person teaching.
Take a look at Joe's quick video on why journalists don't release content in advance of publication.
Try using Prezi Video to improve your classroom engagement and search for #BlendedLearning in our video gallery for more examples of how educators are using Prezi Video.