"It's like having a cool car that everybody else wants to drive in. That's how Prezi feels when you're in a meeting." 
Rich Mulholland, founder of presentation powerhouse Missing Link, has shaped the company around helping anyone take their presentations to the next level. 
When he discovered Prezi in 2013, the team knew they needed to add our software to their tool kit. Not only did they see a good platform for the company, but they also "immediately saw the potential for [their] customers." 
Missing Link's mastery with the 'Free Falling Through Prezi' template
In 2014, the team entered into a competition Prezi hosted to create the world's best template. Out of thousands of entries, Missing Link won with their Free Falling Through Prezi presentation. 

"We saw Prezi as an unfair advantage. It was so new and nobody was pushing it," Rich said. "And so we immediately realized, 'Wow, this is something that we can use to really, really make our clients shine' — and they loved it." 
Getting the team's buy-in
Missing Link has always been a company where they pushed the boundaries.
Before the pandemic, they were known for their presentation services and their office. 
Clients would arrive in a stretch limo with flames streaking down the side and outfitted with video games and milkshakes, with the driver sharing presentation tips. Once they walked in, they would see firehouse slides, a shooting range, and Rich's office up in the treehouse.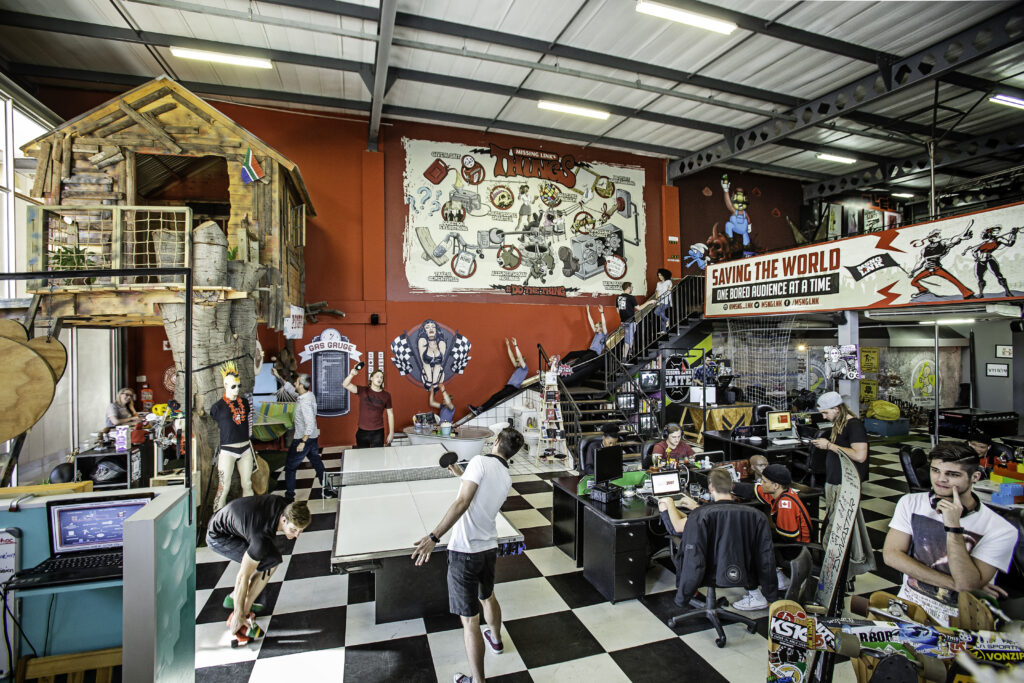 Charlene Vermaak, a New Business Development representative, said it was "a whole experience" to be around the team in the office. Therefore, they needed to find a tool that could capture the Missing Link brand in the same way. 
"I think why Prezi stuck so well with us as a company was that it allowed us to keep the Missing Link experience without having the office," said Charlene. "Now in the online environment, we could use this virtual platform to make people smarter in a fun, engaging, and activating way. So Prezi rang really true for the Missing Link brand." 
How Prezi helped solve the lack of focus problem 
Online, people are constantly surrounded by potential distractions. This is especially true when you're in a virtual meeting and you're forced to screen share. For Rich, the problem is that it puts the slide in the "Oscar award-winning front role," rather than the speaker. 
This is where Prezi Video comes in. This Prezi feature allows you to combine your content with a live or recorded video of yourself. The added functionality enables people to maintain a personal connection with their audience even in online settings.
"When you pop up something in Prezi and hide it away, people are like 'How did you do that?' And that is a constant attention-grabber, interrupting the distraction continuously," Rich said. 
Being intentional leads to closed deals 
One of the rules and themes of Missing Link is to surprise and delight. 
A tactic that Rich uses is to not reveal Prezi right away because then they "don't separate the impressive meeting or the meeting technology from the person who presented that information." 
Rich chats with the client first in a sales meeting, and then when the time is right, drops Prezi on the screen. 
"You see their eyes open up like saucers," Rich said. "And you know that you've lost them for the next 30 seconds because all they're thinking is, 'What is this sorcery?' That magic moment has won me so many deals."
For Charlene, using Prezi has enabled her to be a stronger salesperson. 
"It empowered me from a sales perspective as well to show up better in front of a customer, making that customer believe we are the people to make them smarter," Charlene said. "It's a tool that fits really well into who we are as a brand. It's allowed us to bring our Missing Link Experience (MLXP) to the virtual space that we were so renowned for in the in-person space, which in turn has helped in terms of upselling."
Enhancing presentations with Prezi's immersive storytelling approach 
At Missing Link, the presentation is complementary to the story. 
Presentation Specialist Kevin Dike highlights that, at Missing Link, they are well aware of the narrative being of utmost importance, as he puts it, "it's a great tool to visualize the content." 
Prezi has the movement that allows the team to take people on narrative journeys.  
Stay connected while you work remotely with Prezi Video
"What you are now creating within Prezi is a scene. You can create a whole virtual world within your Prezi presentation to help tell that narrative," Kevin said. "It's been a complete game-changer in how we interact with our audiences online. It's been really, really amazing and way more immersive." 
What they've done to make the most of their Prezi usage is break down each format of the slides into different format types:
A newsreader slide, which is a picture-in-picture format


A side slide, which is just a third of the screen with content, which is where the team does a lot of their work


A full-screen opaque slide, which is when the slide is everything


A transparent slide, where the team can interact with data as if they're standing behind a whiteboard


And then simply having no slide, which goes back to the original point of having more impact when you bring Prezi onto the screen instead of immediately showing it off


Prezi allows you to navigate seamlessly through your slides. Kevin could be sitting there chatting while scrolling on the Prezi Video side window to easily click into different topics based on how the conversation flows. 
"Prezi allows you to feel like there's magic happening, that you can get to the right content, and you're able to do that in real time, every time," Kevin said. 
Presentation Strategist Daniella Balona created her own library of reactions in a Prezi Video presentation so that she can easily show her reactions in meetings. 
"Using reactions allows you to show up to a meeting in a new and unique way," Daniella said. 
Transforming sales narratives: The power of StorySeller and Prezi
One of their flagship products is their StorySeller product, where they help redefine the sales narrative of an entire company from a top level all the way down using Prezi. This program is based on Rich's Here Be Dragons book, where they help clients craft a narrative to shorten their sales cycles. 
"Prezi is an integral part of storytelling. When you're using a story to sell anything, you want it to be as immersive as possible. Instead of just providing a relationship with information, Prezi provides an immersion in content and narrative," Kevin said.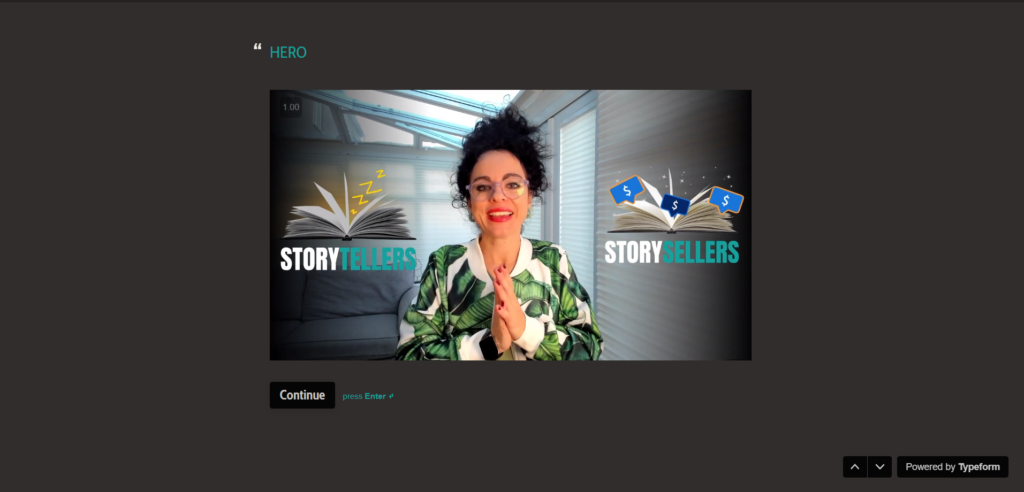 Prezi features that have enabled Missing Link to be successful:
"I can interact with my site and content, and it allows me to create content that I can interact with in real time," Rich said. 
"I really, really love the ability to play video seamlessly now. I think it's amazing being able to play video and audio. I've started bringing it into our training sessions. I think it's a super cool feature."
The ability to send view links to clients makes it easier to get feedback and for them to review it at any time. No download is necessary. 
Additionally, the team uses the Prezi Video feature for creating concise video recaps of meetings to share with clients. It also serves as an effective means to encourage clients to arrange further meetings with them. By allowing clients to review the content asynchronously, the team is respecting their client's time and sharing the content in a comprehensive way. 
As Missing Link is one of our Teams users, they can easily share and collaborate with colleagues to edit presentations together. 
Success goes beyond the numbers 
The only metric for success that matters to Missing Link is remarkability. They measure the likelihood of people discussing the experience they had while interacting with Missing Link.
"Prezi allows us to bring that remarkability quotient up again," Rich said. "We're using Prezi to not only share information but to also make our presentation and the content we share remarkable." 
Daniella shared a story of how one of their clients differentiated herself from the rest of her team because she used Prezi. She crafted a well-structured narrative that she brought to life using Prezi. Her business leaders were so blown away that it became the benchmark for all online presentations. 
"And they were like, 'Everybody's presentation online from here on out needs to be on this level.' It actually aided in her getting a promotion. Leveling up her presentation tagged nicely into how she was leveling up the business," Daniella said.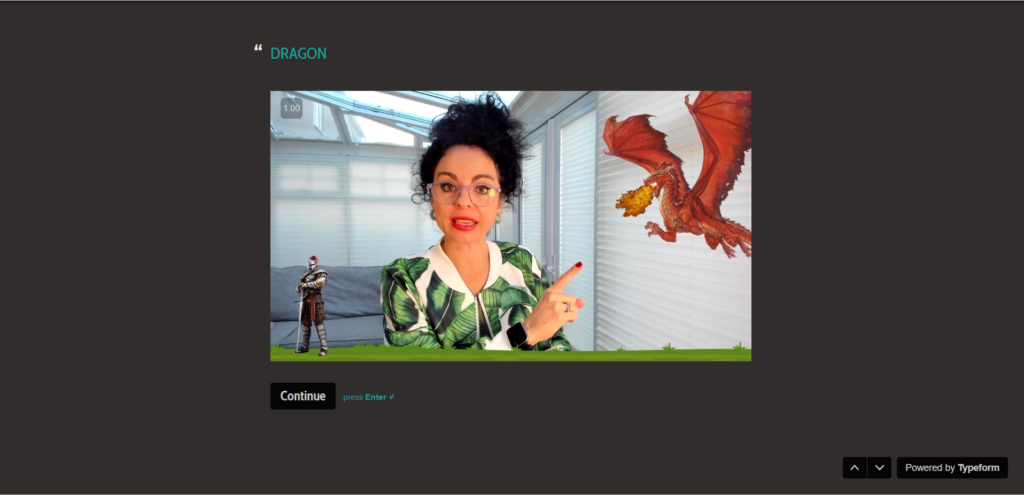 According to Rich, in March 2020, Missing Link was at revenue zero. Upon adopting Prezi in July, they experienced a significant upturn in their financial performance. August marked their most successful month in terms of revenue in the last 24 months, followed by September, which became the highest-grossing month in the company's 23-year history.
Prezi played a key role in this achievement, as all their presentation services in 2020 were conducted online, using Prezi and its Prezi Video feature. 
"In the middle of the pandemic, we were a company that lost all of its clients' revenue and then managed to get back to its best revenue in 23 years of business. And I think Prezi definitely played a part in that."