We've all been there — someone starts to present and pulls up a linear slide deck full of bullet points. And we've all thought the same thing as a result: "Here's another boring presentation that I have to sit through." 
But with Prezi's open canvas structure, you have endless possibilities for how you can share your message and inspire your audience. Prezi provides you with the creative freedom to create interactive, personalized presentations that enable you to bring yourself and your content to the stage. Learn how a few of our users have activated their audiences through Prezi presentations.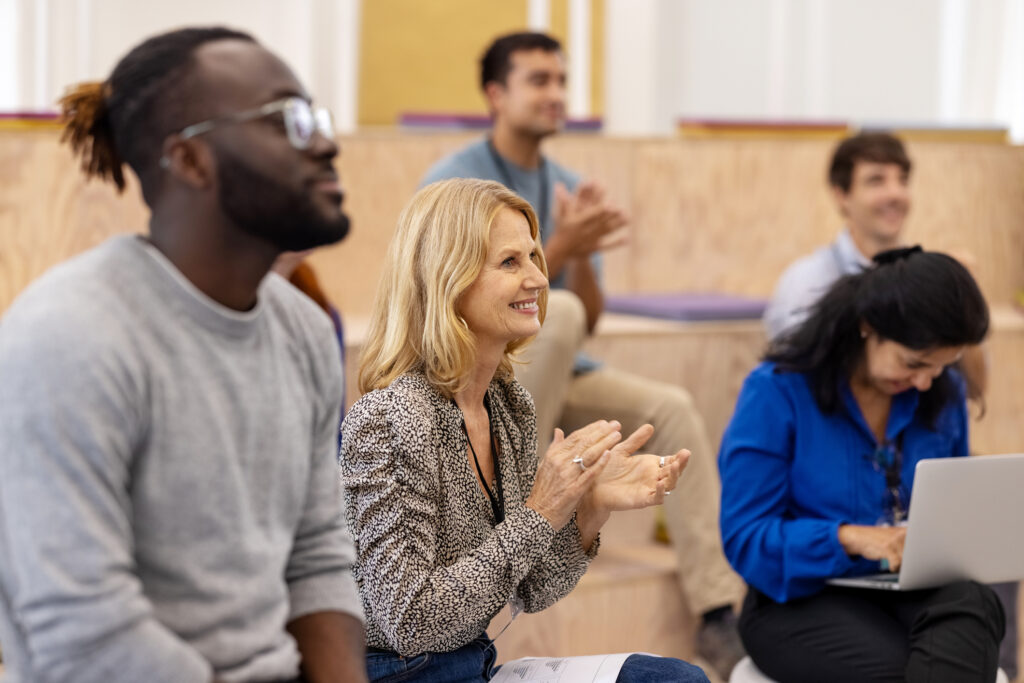 How to attract people using Prezi 
Jesus Zabaleta splits his time as an accountant with being the pastor of a small church in Montreal, with congregations from Colombia, Nicaragua, Honduras, Venezuela, and more. 
His team uses Prezi Video to primarily train people about the church's vision and mission.
"People love Prezi here on our team because it's so interactive," Jesus said. "​​And Prezi has been really a blessing for us because people love the design, the color, the direction — everything about that." 
Additionally, they use Prezi and Ecamm to stream on video conferencing platforms.
"It's very, very, very important that people can see our faces while we are teaching," Jesus said. "It's so difficult to find another platform that gives us the opportunity to let people see who we are and see our content."
Prezi — a time-saving presentation maker
Mi-Chelle Leong, who is currently the Head of the School of Communication and Languages at UOW Malaysia, uses Prezi to train other teachers, lecturers, and corporations, as well as to teach English to pre-university students.
Mi-Chelle used Prezi in 2017, then revisited Prezi during the pandemic and found Prezi Video, which has been very helpful for running her training and lessons, especially online. 
"When I first started using Prezi Video, my audience was very impressed with the way the presentation is done and how professional it looks," Mi-Chelle said. "I can seamlessly integrate visuals into my presentation. I can easily captivate my audience with engaging content while maintaining a strong connection through face-to-face communication. With Prezi Video, my ideas are brought to life, and the lasting impact of my presentations ensures that my message will be remembered."
For Mi-Chelle, the purpose of presenting is to send a message across. What you need to do first is capture your audience's attention. The worst thing that could happen is for your audience to say, "Ah, just another boring presentation." 
She shifted to Prezi because she wanted to be different, and she doesn't need to take a lot of time to make a Prezi presentation that screams, "Wow, this is so great!" 
"Instead, I can put more time and thought into developing my content," Mi-Chelle stated. "And I let Prezi do the rest of the magic." 

When she uses Prezi, her students are more interested in what she's trying to teach because she believes "one of Prezi's principles is about storytelling and about using visuals to tell the story. My students will focus on me sharing my ideas rather than just reading the words on the slide." 
For one professional development and leadership course, Mi-Chelle assigned students to use Prezi, either Video or Present, for their final project. 
Grab their attention by making your presentation more interactive
"As the interface is user-friendly, my students could easily create interactive and dynamic presentations. When they presented their final project, they were able to elevate their speaking engagements with the audience. And that itself has helped my students to achieve one of the learning outcomes of the course."
Bringing clinical research to life 
Based in South Africa, Charlé Steyl is a clinical researcher and anesthesiologist who began using Prezi Present in 2017 to share her research. 
During a lecture for her master's program, she came across the tool and was so impressed that she decided to learn more because the storytelling aspect appealed to her. She's found that Prezi is a much nicer way to tell a story, even if it's a "boring academic story."
Charlé is also involved in research projects where she looks at patient-reported outcomes after surgery and anesthesia, then presents them at National Congresses and research meetings.
"It just always looks good, flows nicely, and it's a lot more intuitive for me as a presenter than something like PowerPoint." 
For example, she created a presentation highlighting data about pregnant women and female researchers. Since it's an academic story, she needs to show how important the data is, which Prezi enables because "it's beautiful, it's part of the storytelling, and it's far more satisfying." 

Charlé said that people have come up to her many a time after a presentation to ask how she made her slides because "it was so striking." As an audience member, she said she also enjoys Prezi more than traditional PowerPoint presentations. 
How Prezi is the "purple cow," or the most remarkable technology in presentation software 
In 2011, Dr. Vishal Marwah was invited to give a talk on design thinking. It was the night before his talk, and he had completed his 110-slide presentation. However, he wasn't satisfied with it. 
At 9 p.m., he turned to Google and searched "How do you make your presentations more creative?" and that's when he found Prezi. 
"It was such a simple tool that allowed me to zoom in and out, and create these cool effects," Vishal said. "I was so impressed that I sat through the night and completely redid my presentation in Prezi." 
"Prezi is like a purple cow. I feel like Prezi gives me that edge where I'm able to not just educate the audience, but entertain them and provide an immersive experience." 
Vishal is a physician, entrepreneur, and startup coach, and has run an organization called the Nutritionist Entrepreneurship Program for the last seven years. They've trained close to 3K+ nutritionists to help them start their own businesses to become financially independent. 
Vishal was a physician and then worked in global health at the Mount Sinai Hospital in New York. There, he was experimenting with the model of health promotion and disease prevention, and he figured out that other doctors and nutritionists struggled with business skills, leading him to create the program. 
In 2020, he rediscovered Prezi, specifically Prezi Video, which he uses regularly for sales webinars and meetings. And above all, he loves that he can create a connection with his audience — "the feature where I can insert myself in the presentation is magical!"
Want even more inspiration? Check out our other user stories to see how presenters like you have used Prezi to drive engagement and impact.