You're about to click on the Zoom link, walk into a meeting room, or step onto a stage where you'll be addressing hundreds of people. Wherever you're presenting, once you're in that spotlight, you should already know how to start off a presentation. If you're hoping to wing it, think twice. The first few minutes (and even seconds) of your presentation are more crucial than you think.
A study by Microsoft regarding transient attention spans found that the average attention span for people is only around 8 seconds (in the study, it refers to the average time spent on a web page). It doesn't mean that each of us can only focus for 8 seconds, but it means that we need to develop curiosity in these 8 seconds to continue listening, watching, or reading. If that doesn't up the stakes for your intro, we don't know what does.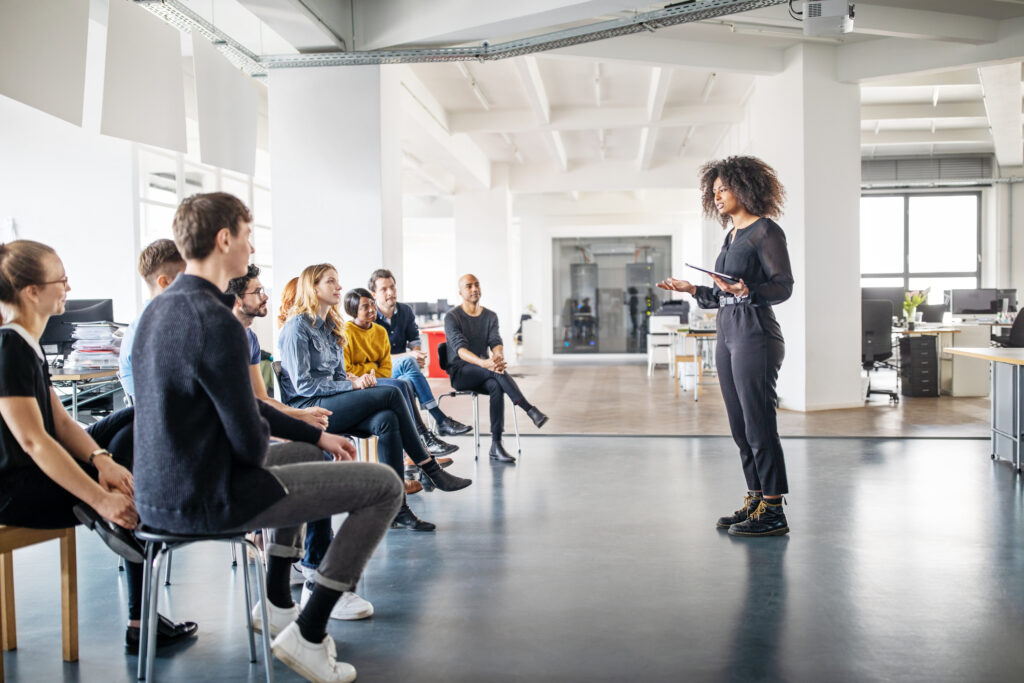 If you've successfully engaged your audience in the first 8 seconds, you still need to keep them as interested as possible. We all know how easy it is to lose attention in today's information-saturated environment. 
So, before stepping on stage, whether virtually or in person, carefully plan out the first few minutes to capture your audience's attention. Learn how to start a presentation with these five tips so you can grab and hold your audience's attention throughout your presentation.
#1 Start with an eye-catching visual
Did you know that our brains process visual information 60,000 times faster than text? Visuals are easier for us to process and remember, so starting with a visual can be a great way to engage your audience from the beginning. 
For example, instead of opening with a sentence, saying how much plastic is dumped in our oceans every year, showcase an image of The Great Garbage Patch in the Pacific Ocean. You can accompany your image with a sentence or two, pointing out some shocking numbers and facts to really drive your point home. With a visual, you'll be able to make a greater impact and evoke strong emotions that will captivate your audience.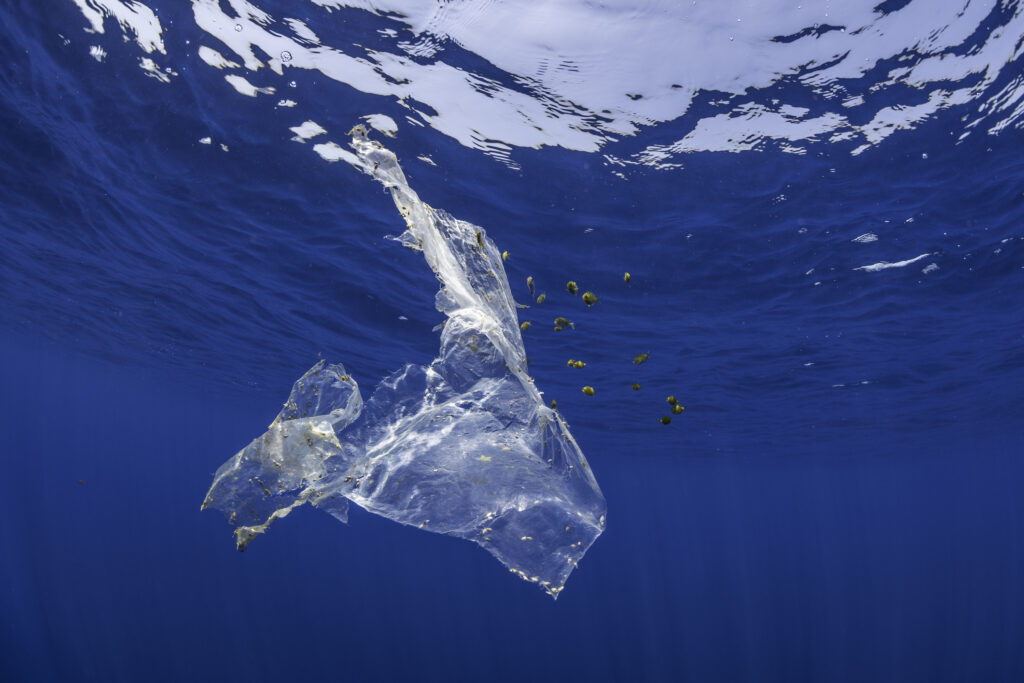 You can also showcase a short clip of the garbage patch or display a data visualization with a shocking statistic. Consider what kind of visual showcases the subject matter best and what makes the most impact. 
If you're presenting online, avoid sharing your screen to showcase your visuals. The extra time it takes to share your screen can also create an awkward pause and make your presentation less exciting. Plus, you'll be hidden behind your content, so people won't be able to read your emotions or body language while you speak. Instead, show your visuals next to you using Prezi Video, our video presentation software. You'll be able to easily go from topic to topic while maintaining eye contact with your audience, making your presentation much more engaging. If you want to give Prezi Video a try, create your first video here or watch this video to see it in action:
#2 Tell a story
Storytelling is one of the most effective ways to capture your audience's attention and evoke emotions. Starting your presentation with a story can take your audience to a different time and place, and fully immerse them in the topic you're about to cover. A study on neural coupling found that people's brain waves can start to synchronize with those of the storyteller as they're listening to the story unfold. So, not only can you mentally transport your audience to a time and place of your choosing, but you can also literally be on the same wavelength. 
To make this fascinating impact, you can't just start telling a story without thinking about the plot line and the way you're going to go about it. You'll have to practice your storytelling skills beforehand and go over the plotline several times to get it right. 
It's important to choose a story that reflects what your presentation is going to be about. For example, talk about your personal experience or mention a historical event, but always tie it in with what you're going to present. It's best to keep it short so your audience doesn't get bored or distracted. 
To enhance your storytelling, use visuals, like images or videos. You can also add some entertaining aspects to your story by including stickers or GIFs.
Elena Valentine shows how to start a presentation with a story in her video. See how she grabs attention here, and watch till the end for more storytelling tips.
#3 Involve your audience
Grab their attention by making your presentation more interactive
Involving your audience is how to start a presentation in the most interactive way possible. Active participation is great for establishing a closer connection with your listeners and obtaining their attention right away. 
There are many ways you can involve your audience, but one of the simplest ways is to ask a question. For example, you can ask: "Who has ever felt anxious about public speaking? Raise your hand!" In a virtual presentation, you can ask the same question and ask people to respond in the chat. If you're using Prezi Video, your team will be able to react with a "waving hand" emoji that appears next to them in their video feed. See how it works.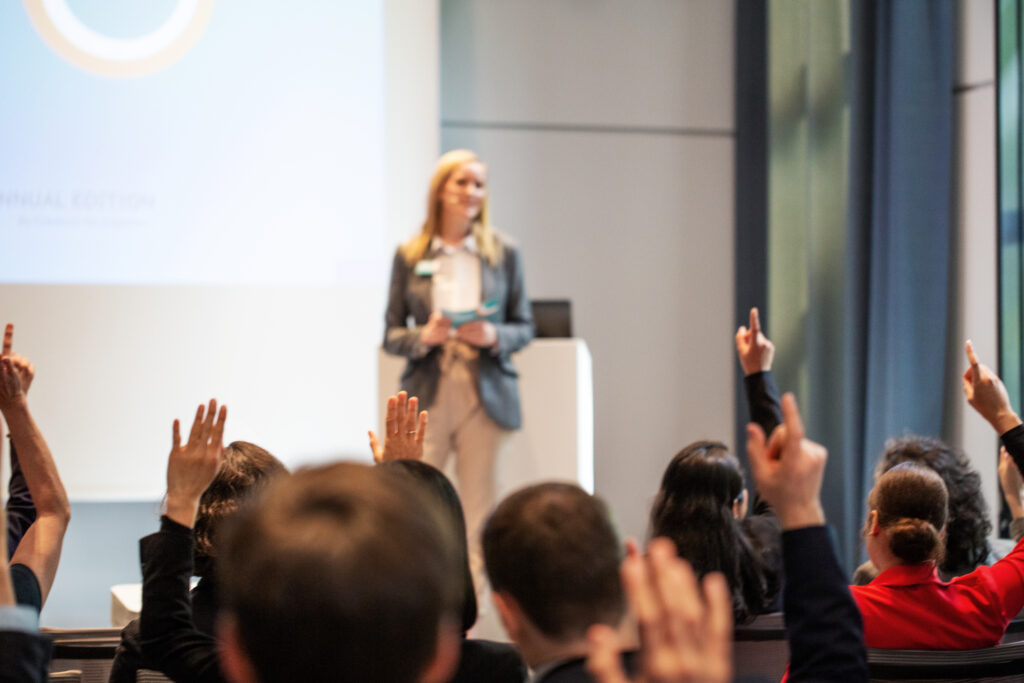 Make sure to ask a relevant question that ties in with your topic and will get a reaction from the audience. For example, don't say: "Raise your hand if you're always on the edge of your seat." It's doubtful that you'll get a huge reaction from your audience as this statement refers to a very small group of people. Also, avoid open-ended questions, like "How are you feeling today?" or "What do you think about this topic?" right at the beginning of your presentation – you'll probably just get an awkward silence. People need to warm up to answering or asking questions, that's why it's best to ask questions in the middle of your presentation or towards the end.
#4 Show a shocking statistic
Did you know that 71% of mobile users in the U.S. usually sleep next to their phones? Or that Millennial smartphone users in the U.S. unlock their devices about 63 times a day? It looks like the strongest relationship many of us will have is with our phones. 
Starting your presentation with a shocking statistic is a great way to capture your audience's attention from the get-go and introduce the topic right away. To make an even greater impact with the statistic, include a data visualization that illustrates the numbers in an engaging way. Again, visual components will work in your favor to help your audience comprehend the information and make it more memorable. Also, make sure to use visual metaphors like icons or stickers to make your data visualizations more appealing to the eye. 
If you're not sure how to create a data visualization, check out Prezi Design. In Prezi's library, you'll find various templates that are easy to try out and edit to your liking. 
#5 Begin with a problem statement
Those who know how to start off a presentation with a hook are good at evoking curiosity. You can do it, too. Introduce a problem that you'll solve during your presentation. Point to a topical issue that your audience can relate to, state it in the first moments of your presentation, and accompany it with visuals. 
Starting with a problem statement will put your audience into action mode to try to solve it. They'll be curious to know possible solutions and your take on it. Introducing a problem that you know a lot of people are struggling with is especially effective in holding everyone's attention. You want the audience to care about the issue and want to solve it. For example, if you're talking about climate change, make it more personal by pointing out how it can and will affect everyone individually. Bringing the problem closer to our daily lives and experiences will intensify the need to solve it and people will be interested to know more about possible solutions. 
The last two essentials
Starting your presentation right is crucial. It defines how much attention your audience will dedicate to your speech and slides. It also establishes how confident you'll feel and appear in front of everyone. For example, if at the beginning of your presentation you get lost in your story or appear underprepared, you'll get anxious and the audience will notice it (and it may just go downhill from there). You want to avoid that scenario at all costs. So, preparing how to start a presentation ahead of time will ensure that you make the best of the first 8-plus seconds that you have to wow everyone in the audience.
Whether you choose to tell a story, share a shocking statistic or showcase an eye-catching visual, make sure that you're scoring in the following two areas:
You appear confident when presenting 


You work with easy-to-use tools that highlight the best of your content 
Regarding confidence, we have a great video on public speaking tips to build your confidence by the founder and CEO of Soulcast Media, Jessica Chen. And concerning the tools – you know where to find us.