To support educators wanting to improve their edtech skills, Prezi has created the Prezi Certified Educator Program. The core of the program centers on combining the pedagogy essential for effective hybrid and blending learning with the fundamental skills to guide educators on how to use Prezi Video and the Prezi platform. The Prezi Education Team designed the program, built around a series of short, online courses to focus on effective uses of Prezi tools to support instruction, whether hybrid, blended, or in the classroom.
The courses take a pedagogy-first approach emphasizing the "why" for using the tools, in addition to the "how," with detailed tutorials for learning how to use the products while offering optional student extensions that include project-based learning activities to use with students. The courses are guided by the ISTE Standards for Educators and Students.
Educators who complete the requisite coursework earn badges and certificates of completion which can be used to support continuing education requirements, if applicable to their school, district, and state. The program is free to educators.
The program includes two tracks: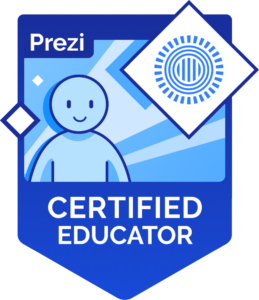 Prezi Certified Educator is designed for educators from K-12 thru higher education who want to improve their skills using Prezi tools with their students.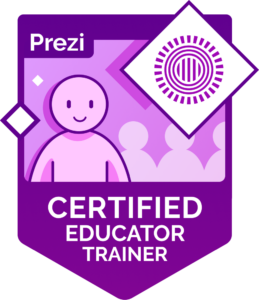 Prezi Certified Educator Trainer focuses on educators and teacher leaders who train teachers, providing unique support and resources to help them in their training activities.
This first series of courses focuses on the creation of video to support hybrid and blended learning, as well as the creation of instructional videos. It features basic and advanced uses of Prezi Video for creating content, in addition to guidance and tips for using Prezi Video live in online classrooms with video conferencing tools like Zoom, Microsoft Teams, and Google Meet. The Prezi Design course focuses on creating visually engaging classroom content from infographics to dynamic online posters.
Learn more about the Prezi Certified Educator program requirements and course options here. Interested in joining the Prezi Educator Community – visit the same page.