With the launch of our new Prezi in the Classroom series, we aim to deliver compelling, thoughtfully constructed lesson plans that will help you pique student interest and inspire them to communicate what they know with creativity and confidence. In this edition, we help you tackle infectious disease (specifically coronavirus). We also explore influential women – from historical pioneers to today's leaders – in celebration of Women's History Month.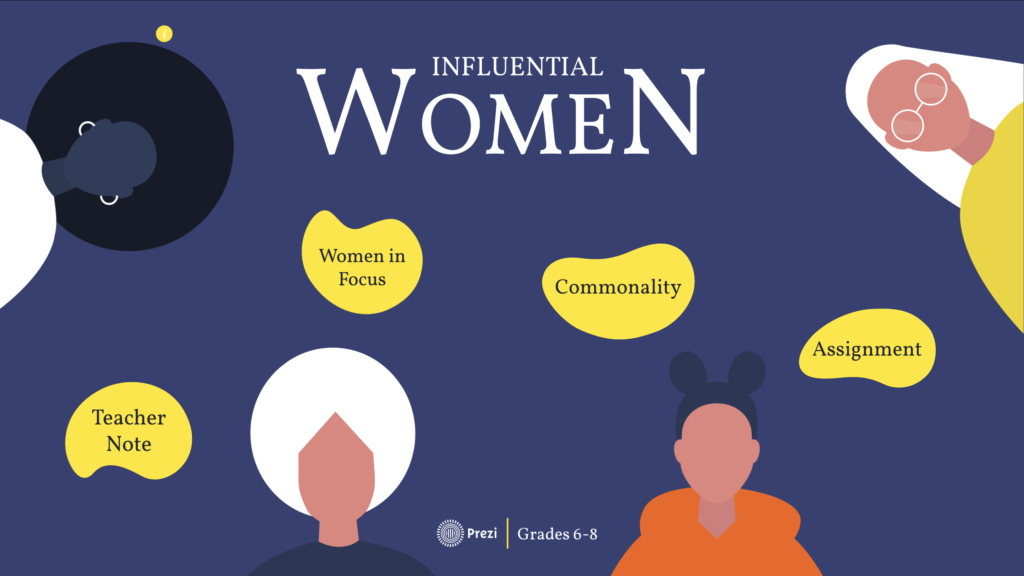 While these lessons are designed to be engaging and thought-provoking, they'll also offer student choice in assignments. Plus, any Prezi lesson we create is designed to be reusable and a free, open educational resource, so you can always click "Make a copy" to customize and add your own content. Our assignments challenge students to develop their communications skills and competencies, as we believe these will serve them well in college, career, and life.
Prezi as an educational aid
At Prezi, we create tools and products that turn people from being simply consumers of content to creators. For over 10 years, our expert team of developers and creators have been building tools that make presentations visually compelling. During this time, we've seen people around the world create more than 360 million Prezi presentations (and counting). We want to support you and your students to effectively use digital tools that combine critical thinking, and the ability to synthesize thoughts and ideas, into clear, creative, and effective communication.
Today, teachers are using Prezi tools to engage students in a variety of ways, including flipping the classroom from traditional direct instruction, providing study guides, and facilitating online learning. Rachael Streitman, an 8th grade teacher, used Prezi Video to create an excellent flipped-classroom lesson — go behind the scenes and learn how and why she did it in her guest post on teaching the Enlightenment.
We've also released a beautiful series of lesson plans focused on climate change. These are cross-curricular and span K-12 to help you address the many challenges climate change poses today and for our future.
Grab their attention by making your presentation more interactive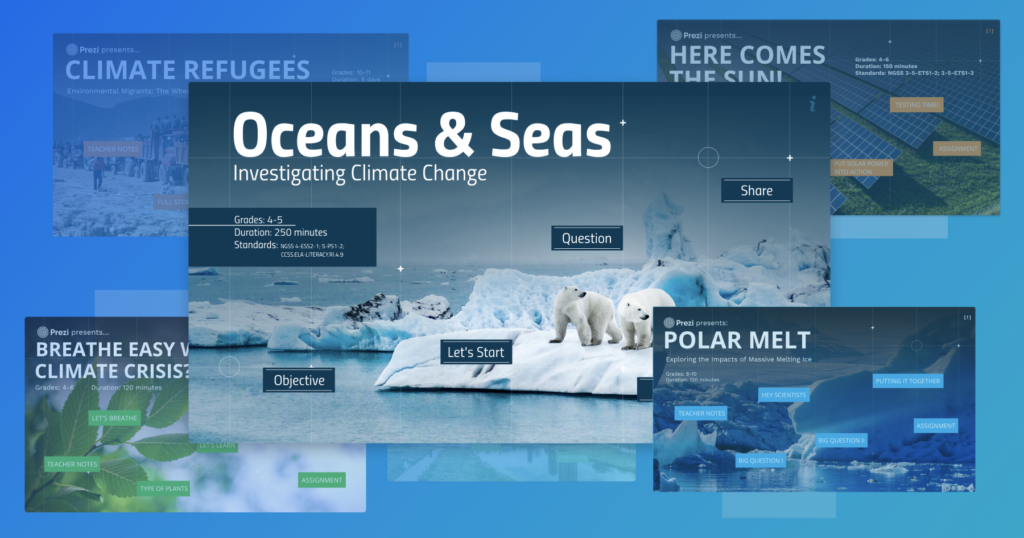 What exactly does Prezi in the Classroom provide?
Each edition of Prezi in the Classroom will feature lesson plans that are standards-aligned, sources cited, and include creative assignments that encourage students to demonstrate and show their skills as creators. When designing lessons and assignments, we consider ISTE Standards for Students, specifically Knowledge Constructor, Creative Communicator, and Global Creator, and the Common Core Literacy Standards focused on Speaking & Listening to align with what your students need to focus on. That said, you are always free to make copies of any Prezi presentation we create and edit them to best suit the needs of your students.
The Prezi Education Team and our Prezi Teacher Advisory Board will provide teachers with how-tos when using the platform. There will be examples and mini-lessons to make sure that Prezi is maximizing time in creating content that works for the teacher. Follow us on Facebook or Twitter to stay updated on when new material is available.
Tracy Leonard, Prezi Teacher in Residence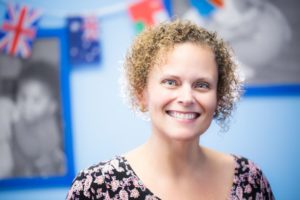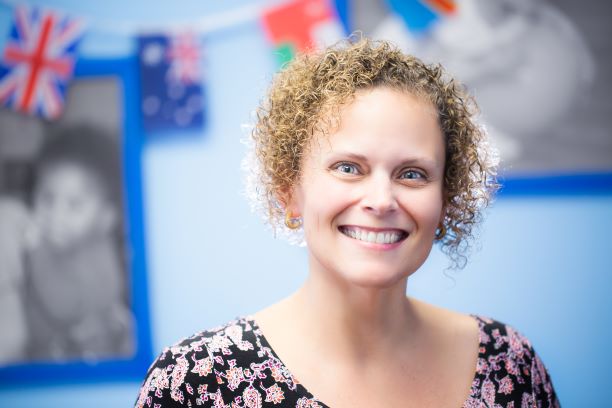 Tracy has taught in elementary and middle school classrooms, and served as a school site administrator for a PreK – 8 campus that integrated the Core Knowledge curriculum with state standards. Over the past 10 years, her teaching has turned to adults offering professional development and conference workshops across the country.