If you attended ServiceNow's K23 Conference in May, you may have spotted the Prezi easter eggs woven throughout the conference. 
Knowledge 2023 spotlighted new technologies, discussed business transformation, and sparked innovative ideas with their 15,000+ attendees. 
With over 200,000 organizations and the majority of the Fortune 500 using Prezi, David Giammona, ServiceNow's Senior Program Manager for Social Learning Framework, chose to highlight the software at K23. This is due to Prezi's exceptional ability to create engaging content that immerses speakers in their material through cinematic movement and dynamic visuals.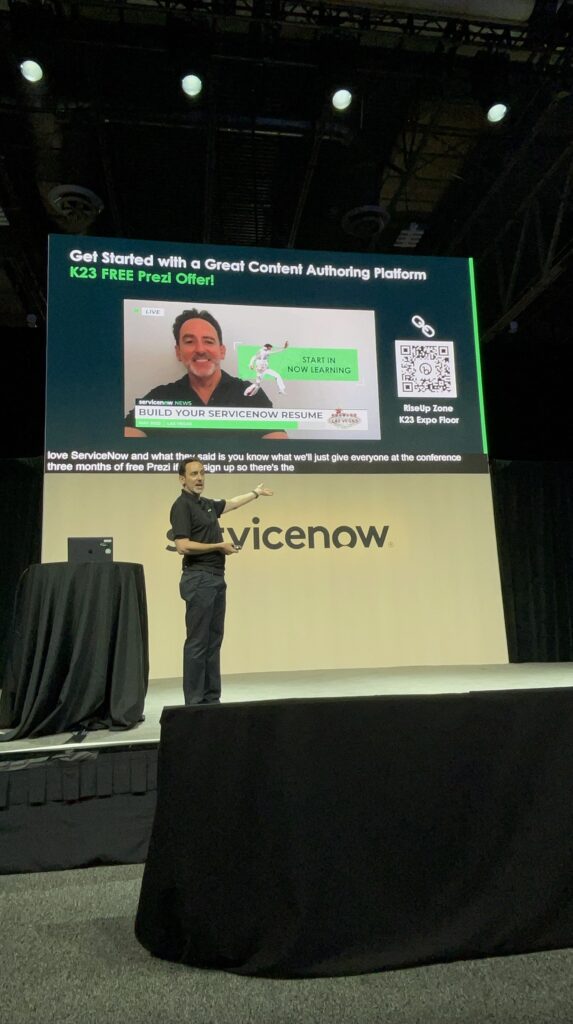 Empowering through innovation: RiseUp for ServiceNow and the Impact of Prezi
A notable initiative in their recent endeavors is the RiseUp for ServiceNow program. Its ambitious goal aims to empower a million individuals with skills on the company's platform by 2024. The program's focal point revolves around holistic competencies and essential "power skills" such as critical thinking, interpersonal communication, and creativity. David identified Prezi as the ideal tool to help put their mission into action and capture their progress along the way. 
"We're really looking to put a tool like that into our community's hands, especially with our RiseUp with ServiceNow initiative to help our users build those skills and share their message. Prezi is a great tool to help tell that story." 
Elevating resumes and reaching new heights for creativity 
During the conference, Prezi took center stage at the Credentialing Station and the Build Your ServiceNow resume station, attracting over 200 attendees. David led a live demonstration of Prezi to show attendees how they can use the tool to create and enhance their resumes. Conference-goers could also view a recorded Prezi Video, which was displayed at the booth to show users how to bolster their resumes. 
When people walked by the booth, it looked like they were watching a newscast making it more "eye-catching and dynamic, where people could see themselves in the video product." 
Prezi was a natural tool to fold into the ServiceNow resume, according to Bianca Liriano, Program Specialist, Learning Experience and Innovation. 
"There's a content creation component to the resume. We want people to be able to get creative and kind of show their portfolio and be able to speak to their experience," Bianca said. "And with Prezi Design and Prezi Video, you really can use those two tools together to create content that then really, really supplements your ServiceNow resume in a powerful way. "
Grab their attention by making your presentation more interactive
Motivating people to engage in content creation can often prove challenging. One of ServiceNow's key messages is to show folks how to differentiate themselves. When they see Prezi, they are drawn to it," David said. 
"I think what Prezi does in itself is differentiated among what's out there in the industry, where you can show that level of engagement on recorded videos and graphics and video calls. It's really just embodying that idea of differentiation, David said. 
Revolutionizing visual content with Prezi
Prezi's unique features made it the go-to tool for several visual content displays at the 2023 conference. Specifically, Prezi was used to design a captivating presentation for ServiceNow's K23 5 RiseUp Augmented Reality Showcase Booths. Each monitor showcased a QR code and directions to fully immerse attendees in the experience.
"We didn't want the monitors to have static images at our booths. We wanted to create something that's really dynamic, creative, visually engaging, and easy to pull up, and Prezi made that really easy," Bianca said. 
Prezi was used at 8 total booths including the RiseUp VR and Accelerate Value VR booths where they displayed a looping video showing what to expect from the VR experience.
For an even more seamless experience, all they had to do was type up the URL to pull up the Prezi, and there was no need to download any software. 
For all attendees, we offered three months of unlimited Premium access to Prezi's complete suite, including Prezi Present, Prezi Video, and Prezi Design. Given the interest in this offer, we are extending it beyond attendees to anyone in the ServiceNow community. Redeem the offer here: https://resources.prezi.com/knowledge23
"We loved that there was a follow-through from the booth with the Prezi promotion because not only could we showcase it and get people excited about it and show them how to use it, but then we were able to give them this unique opportunity to try it out for themselves," Bianca said. 
Prezi and ServiceNow's collaboration
This is not the last of Prezi and ServiceNow's collaboration. Both Bianca, David, and the ServiceNow organization at large will continue to use Prezi for team meetings, presentations, virtual and in-person experiences, and more. 
"Our users choose Prezi more, especially for everyday settings. We really are trying to evangelize the product so that everybody uses it in their virtual calls too because visual presence is so important."