People are naturally visual creatures. We process images 60,000 times faster than text, and 90 percent of the information sent to our brain is visual. But many people still present using bullet points and blocks of text, which only makes it harder for audiences to process and retain the content. 
At the same time, you can't just add any random images into your presentations — after all, stock photos are notorious for being hilariously terrible. The key is to include excellent, relevant imagery, which is where our latest update comes in. 
High-quality images for more effective stories
To help you tell more compelling visual stories, we've partnered with Unsplash to integrate their vast library of hand-curated images directly into the Prezi Next editor. This library sets itself apart from other photo collections by giving you access to high-quality, high-resolution images taken by a community of over 150,000 photographers. Each image is then carefully curated to ensure you have the best visuals for your best ideas. 
And, with over a million images to choose from, the possibilities are endless for telling unique, memorable stories. Unsplash's library covers topics ranging from nature and travel to business and current events, and they feature an incredibly diverse group of people, so you'll be able to find the perfect picture to resonate with any audience.  
Grab their attention by making your presentation more interactive
Adding an image is easy. While in the Prezi Next editor, simply: 
Click the Insert button at the top of your screen, then select Image. 
Search through the Unsplash library by keyword. Once you find an image you'd like to use, just click on the thumbnail or drag and drop it into your presentation. 
From there, you can click on Edit image to crop the image, add filters, adjust the brightness and contrast, and more. Visit our support page to learn more about adding and editing images. 
Love a particular image? You can also hover over any photo and click on the photographer's name to see all of their images.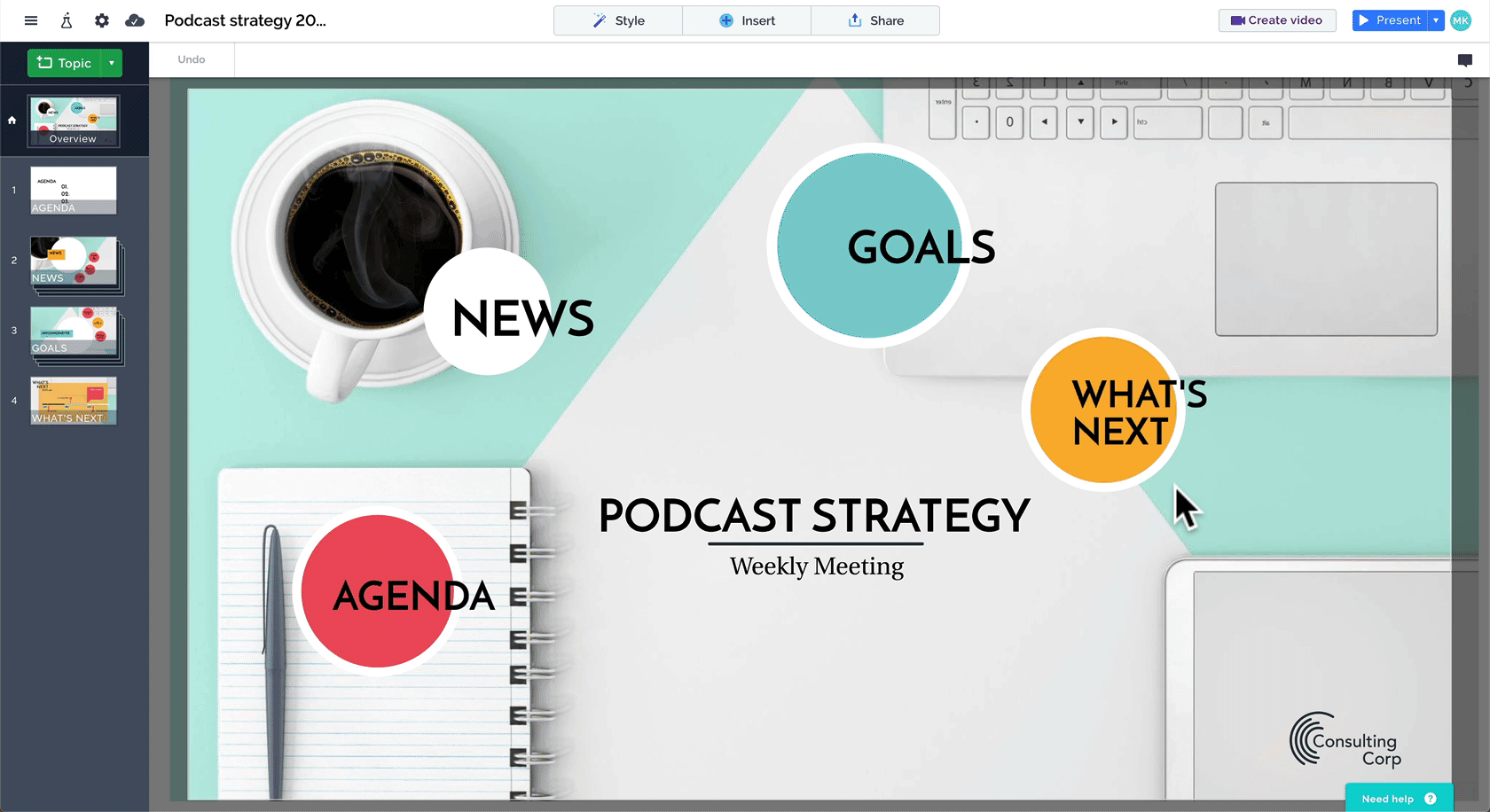 Our integration with Unsplash is only the beginning. We're planning to bring you even more tools in 2020 to help you tell visual stories across any medium, so stay tuned in the coming months for more exciting updates. Meanwhile, start adding stunning visuals to your presentation today from your Prezi dashboard.