It takes time for a company to get used to working remotely. For advice on making the transition smoothly, we sat down with Mandy Fransz, founder of Make the Leap Digital and remote work advocate, and picked her brain on remote work tips, her favorite tools, and her advice to teams new to the remote work life.
What is the number one tip you have for companies looking to put a remote work policy into place after COVID-19?
Remote work is not only about tools — it involves empowering your employees and management team with the right tooling, training, and support so they can work from wherever they feel happiest and most productive.
Think about potential challenges such as collaboration, communication, and feelings of isolation; but also hiring and managing remote teams, increasing employee productivity, and establishing an inclusive remote work culture. What tools do they require? What training or educational resources do they need? Who can they reach out to for tech support?
I recommend asking for feedback from current employees and consulting with both internal and external stakeholders to identify any gaps and opportunities regarding necessary tooling, training, and support to help you create a sustainable remote work policy.
What are the most common reasons companies hesitate to create a remote work policy? Why do you think remote work policies are important?
I believe the main reason why companies hesitate to implement a remote work policy is due to a lack of trust. Most traditional companies still measure their employees based on time spent inside the office rather than performance — hence, they might find it challenging to trust their employees in a remote work environment.
Another reason for companies to be hesitant is the fear of risking company culture. Especially for tech companies, where company culture mainly focuses on in-office perks and benefits such as free food, gyms, and meditation rooms, it can feel counterintuitive to allow employees to work remotely.
However, if implemented correctly, I strongly believe remote work policies with clear guidelines can benefit both company and employee, including increased productivity, improved work/life balance, attracting and retaining millennial talent, lower real estate costs, and reduced carbon footprint.
What's the one piece of advice you would share with professionals being thrown into a remote work setup who have never done it before?
Working from home can be quite lonely — according to Buffer's State of Remote Work 2020 report, loneliness is one of the top challenges for remote workers. I highly recommend joining an online community to connect with like-minded people and share experiences or discuss ideas. The Remote Workers on LinkedIn group, an online community for aspiring remote workers worldwide with currently +45,000 members, is a great place to start. Additionally, schedule regular virtual coffee chats with friends or consider joining a co-working space where they often organize local meet-ups, events, and workshops for remote workers in the area.
Could you share how you're using Prezi Video in your various communications, whether internally or externally?
Grab their attention by making your presentation more interactive
I've been using Prezi video for creating more engaging social media content such as remote work tips and event announcements. As a remote worker, I regularly lead virtual meetings, hence I can definitely see myself using Prezi Video more internally in the future as well, such as hosting more engaging client meetings and marketing reports. Overall, I think it's easy to use and the beautiful design features make a great first impression — even remotely!
What other tools are useful to you as a remote worker, and what do you use each of them for?
A couple of tools I often use as a remote worker are Gmail and Zoom video conferencing for virtual communication, Trello for project management, Google Drive and Slack for collaboration, and social media platforms such as LinkedIn and Sales Navigator for building a strong online professional brand (highly recommended if you want to get noticed by potential clients or recruiters for remote job opportunities). Finally, I use a productivity planner to prioritize my daily tasks, and meditation apps such as Headspace to keep up a healthy work/life balance.
What role do you think remote work will play in how we live and work in the future?
I believe that remote work is no longer the future of work, it is now. We have just gone through the world's largest remote work experiment; undoubtedly, it will change the way the world works. Companies need to adopt a sustainable remote work policy if they want to meet the changing demands of the global workforce and stay ahead of competition — especially after COVID-19.
To learn more remote work tips and advice, check out Mandy's video about how to successfully transition into remote work, or click here to download your free Remote Work Policy Checklist to get started.
About Mandy Fransz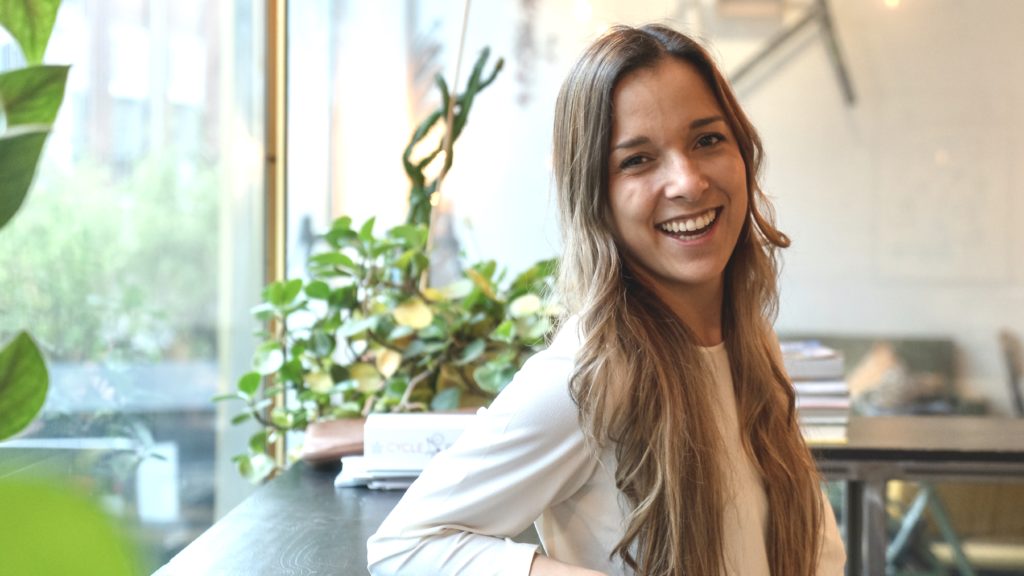 Mandy Fransz (29) is a Remote Work Advocate, LinkedIn Expert, and the founder of Make the Leap Digital, a boutique consulting firm helping businesses digitally transform the way they work. In 2019, she was nominated one of the most ambitious and inspiring women entrepreneurs in The Netherlands and she has been featured in several international publications including VIVA400, LINDA, and Algemeen Dagblad Rotterdam. Follow her on LinkedIn and Instagram.