Over the last year, the amount of time we've spent in virtual meetings has increased 5x — it's no surprise, then, that the sharp increase in meetings has also led to a rise in video conference fatigue. With many organizations shifting to a hybrid work model, 98% of meetings will now include at least one person joining remotely. That means that falling back on traditional ways to meet and communicate will no longer work — in order to engage your audiences, you'll need to dramatically rethink and reinvent your meetings. 
Meet the all-new Prezi Video 
That's why we're releasing the all-new Prezi Video to drive better engagement, collaboration, and productivity in your meetings. The new design, based on the feedback from thousands of users over the past year who have shifted to using Prezi Video in their virtual and hybrid meetings, now makes it easier for everyone to contribute in video meetings and to increase two-way engagement. Designed with industry-leading technology, Prezi Video allows you to bring any content alongside you on the screen with newscaster-level quality.
Instead of hiding behind a screen share (and losing out on crucial nonverbal cues), you can stay on the screen to deliver an enhanced meeting experience that elevates your brand, helps you stand out, captures your audience's attention, and drives active meeting participation. 
Explore everything you can do with the new Prezi Video: 
Import your existing Google Slides, PowerPoint,
and Prezi Presentations.
Switch view mode options to make your meetings feel more dynamic. 
Drive engagement with unlimited on-screen responses using text, GIFs, stickers, and images. 

Customize your view with a streamlined sidebar-only mode that attaches next to your video conference window.

For Prezi Teams users: Use branded templates to keep your meetings on brand and professional-looking.
Automatically pair with video conferencing tools like Zoom, Webex, and Microsoft Teams.

Stay on the screen while you share your desktop in your video conferences. 

Use more keyboard shortcuts for even more control over your content. 
Drive better engagement in your virtual meetings
Audience engagement is one of the top challenges we've heard from customers in their hybrid work. To drive engagement in your Zoom, Webex, and Microsoft Teams meetings, you'll need to incorporate movement into your presentations, whether that's through videos and GIFs, content transitions, or facial expressions and hand gestures. 
With Prezi Video, you can stay on screen to incorporate both visuals and nonverbal cues to set yourself apart from other organizations, all while staying on brand.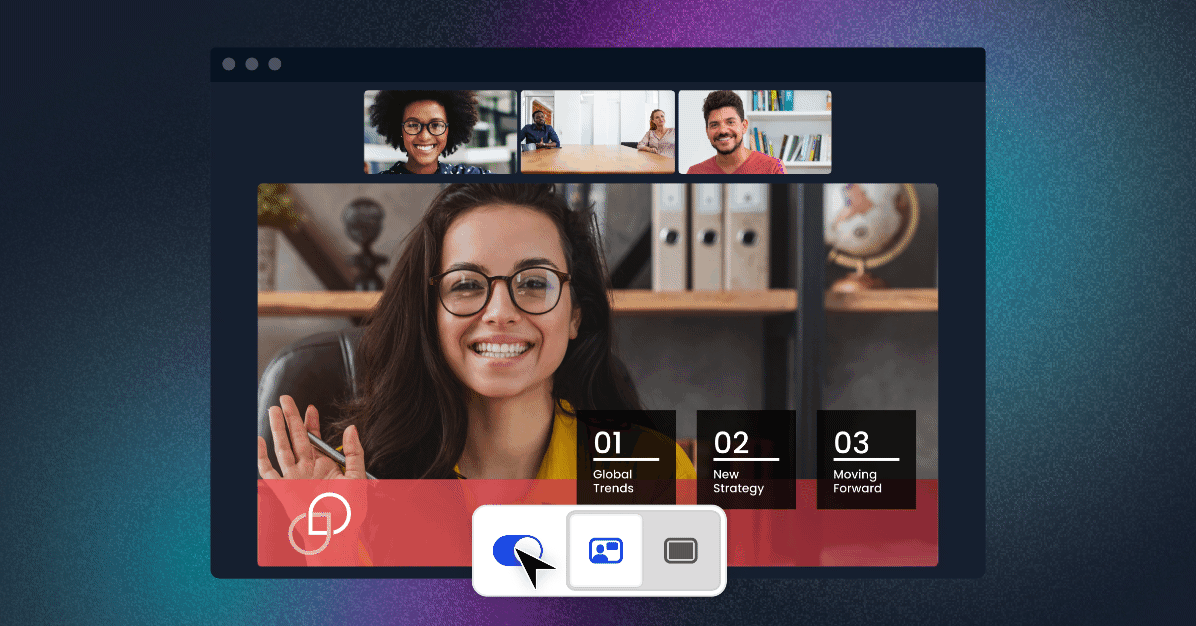 However, the true power of Prezi Video lies with its ability to turn your passive meeting attendees into active meeting participants, creating more inclusive meeting experiences that give everyone a voice. Use unlimited on-screen responses to elevate your communications through on-screen text, images, GIFs, and stickers. By adding two-way interaction back to your virtual meetings, you'll allow your audience to actively engage with everyone else without disrupting the flow of your meeting, resulting in more inclusive meeting experiences.
More flexibility and control 
When you're presenting virtually, the last thing you want to do is fumble around to find your notes or the next slide. The all-new Prezi Video features control options to let you present the way that suits you best. Switch between different view modes to make your meetings feel more dynamic — toggle between Floating Mode and Fullscreen Mode to highlight a key feature, emphasize a winning data point, or show off a product demo video.
If you want a bit more screen real estate, you can hide the main panel to show only the side panel, which you can attach next to your video conferencing panel for a quick view of all your slides. 
Or, you can show your presenter notes to stay focused on what's coming next and keep your meetings on track.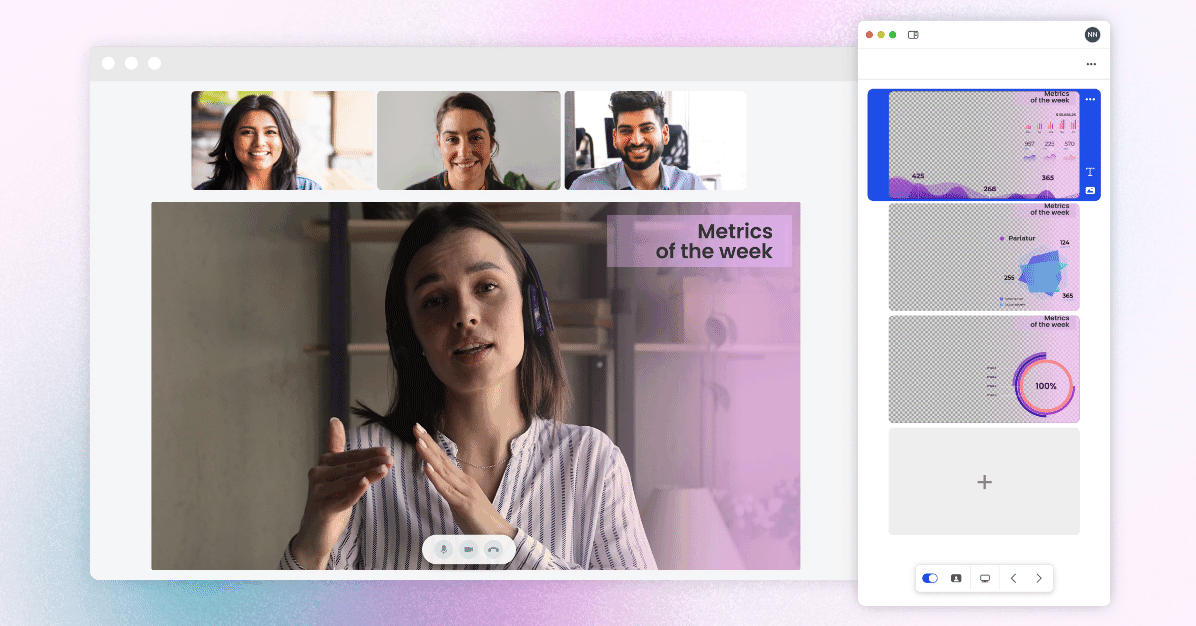 Additionally, the new dark and light modes give you better readability, no matter where (or when) you're presenting. 
Stay connected while you work remotely with Prezi Video
Easy to get started
You can create more professional-looking presentations without having to invest hours of time into learning new software. If you have existing Google Slides, PowerPoint, or Prezi content, then you're mostly there — simply import your slides with a single click and you'll immediately see how Prezi Video elevates your content. 
Once you're ready to present in your virtual meeting, you can automatically pair to your video conferencing tool of choice to seamlessly bring anything on screen with you. You can also take advantage of a wide range of keyboard shortcuts to streamline the entire process. 
Built for the entire organization 
No matter what your job function is, engagement should be a top priority in your workplace. Learn more about how Prezi Video can help you make an impact at your organization: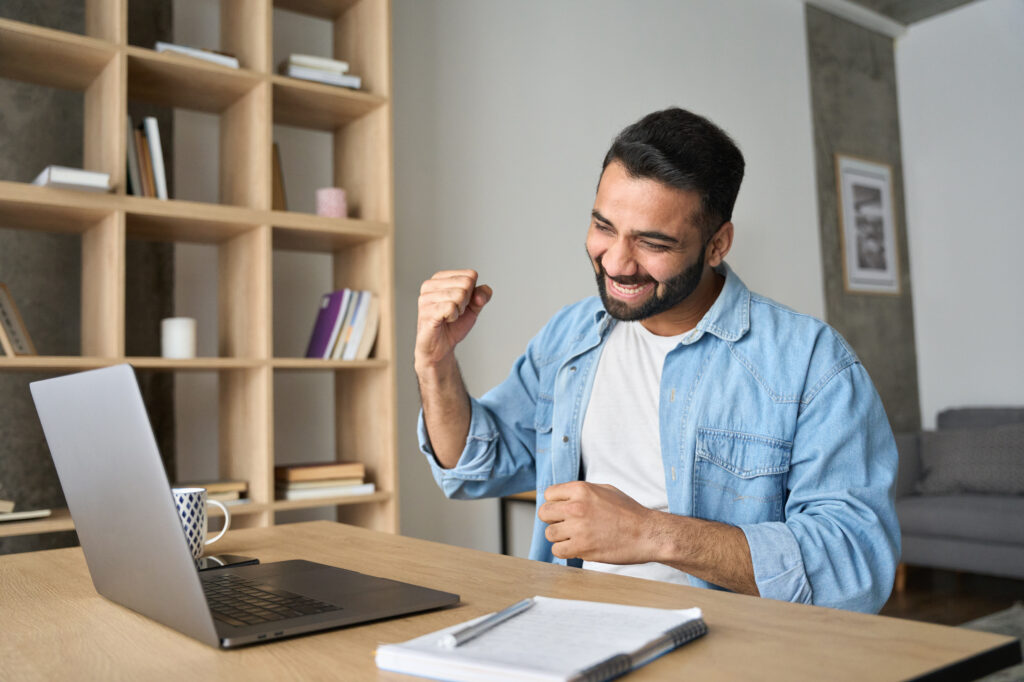 Every meeting
Making sure your entire organization stays engaged and connected is more challenging when people are working from home. Use Prezi Video to create a more collaborative hybrid workplace — not only are virtual meetings more engaging, but employees can also save time by sharing asynchronous videos (and canceling unnecessary meetings). 
Sales pitches and product demos
If you want to capture and keep your buyers' attention, you need to develop a good rapport and personal connection through that face-to-face connection. Remaining on screen with your content is vital to building that relationship. Create a more immersive experience that helps set you apart from competitors. 
You can also record a personalized video to use in sales outreach — with Prezi Video, you can provide a deeper level of personalization that your competitors aren't, driving better results. 
Virtual events and webinars
Create a branded and more polished experience to help you differentiate your brand, for webinars, events, meetings, and recorded videos that stand out.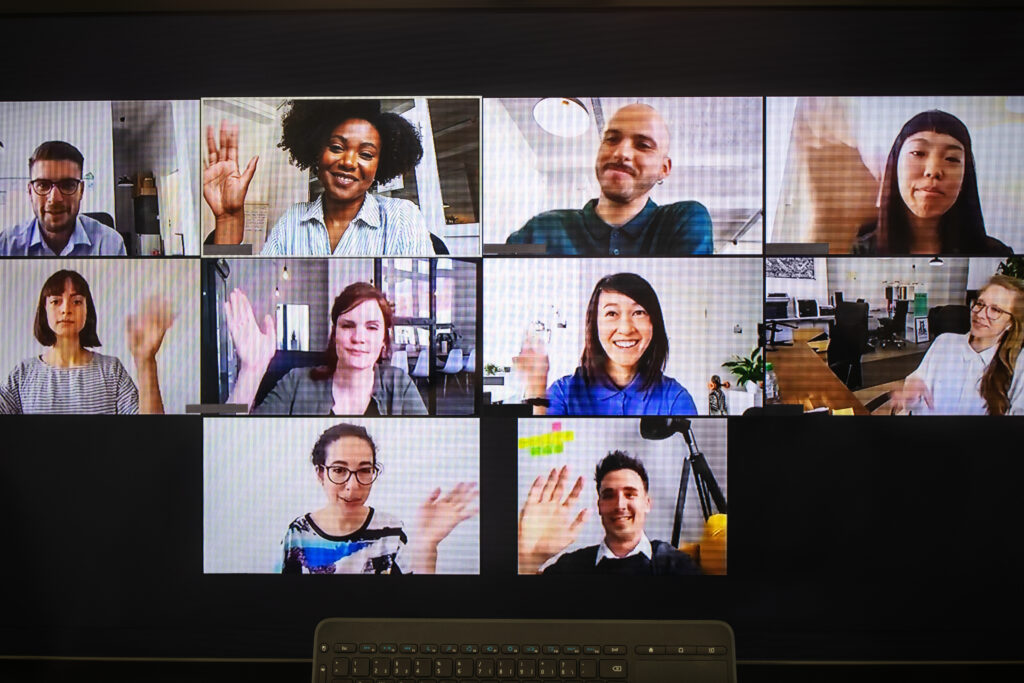 Virtual interviews and training 
Create a more inclusive culture for your hybrid and remote employees with Prezi Video. By giving people the ability to remain on screen alongside their content, you can avoid having faces disappear when content is shared. 
Plus, you can deliver fully immersive virtual interviews that attract stand-out candidates. Then, help them onboard and learn quickly with more engaging training sessions that are proven to improve information retention. Use on-screen responses to receive live feedback and easily answer questions to encourage active participation. 
It's time for better meetings
You can't simply copy-paste traditional tools and processes into the hybrid workplace and expect them to work. Use Prezi Video to create memorable meetings that are engaging, collaborative, and professional-looking. Try it now. 
Already have a Prezi account? Be sure to download the Prezi Video desktop app to get the best Prezi Video experience.