Prezi and creative freedom are virtually synonymous; one cannot exist without the other. We recognize, perhaps better than anyone, that when it comes to crafting presentations, creative freedom serves as the fundamental key that unlocks engaging, memorable, and impactful content, forging a profound connection with your audience. We also recognize the dedication our users invest in crafting presentations that leave a lasting impact on their audience. It's this dedication that inspires and drives us to provide you with an online presentation editor that seamlessly aligns with your unique vision and empowers your creativity.
That being said, we're thrilled to introduce Prezi's new look, fresh templates, and an open-space canvas editor that'll take you to the heart of Prezi, allowing you to be more creative than ever before. These updates will provide you with the tools and flexibility to design presentations that truly reflect your creative spirit, making the process as enjoyable as sharing your presentation with your audience. With Prezi's infinite canvas experience, you can craft presentations that not only deliver information but also express your unique personality and style, ensuring your message resonates deeply with your viewers. Let's take a closer look at what you can achieve with Prezi's presentation editor.
Breaking boundaries with Prezi 
With the new presentation editor, your presentation becomes a canvas where your imagination runs free. Embrace a fluid, dynamic canvas that empowers you to express your ideas in ways that truly resonate. With a limitless space, the presentation becomes a place where creativity blossoms, where each idea can be brought to life in a visually stunning and engaging manner.
Effortless navigation and modern UI
The updated presentation editor has a modern user interface that streamlines the content creation process. The context property bar, a game-changing addition, lets you effortlessly modify assets with just a click, saving you valuable time. Also, we've reimagined navigation controls, making sure you feel at home at Prezi whether you're using a trackpad or a mouse. The sleek, compact menus put every tool at your fingertips, ensuring your creative flow remains uninterrupted.
Empowering creativity
The updates underscore our commitment to empowering you to tell your stories your way. Whether you're innovating, exploring, or creating, you can do it without predefined boundaries. You have the freedom to add frames, objects, images, and videos exactly where you want them. Your message remains authentic, and your presentation is as captivating as your ideas. 
A glimpse of what's new
Create attention-grabbing presentations that can truly captivate and move your audience with these new updates we've brought to the table:
Fresh templates for varied styles: Discover a collection of over 100 new open canvas templates designed to cater to diverse presentation styles. Whether you're aiming for a professional look or a creative flair, we have you covered.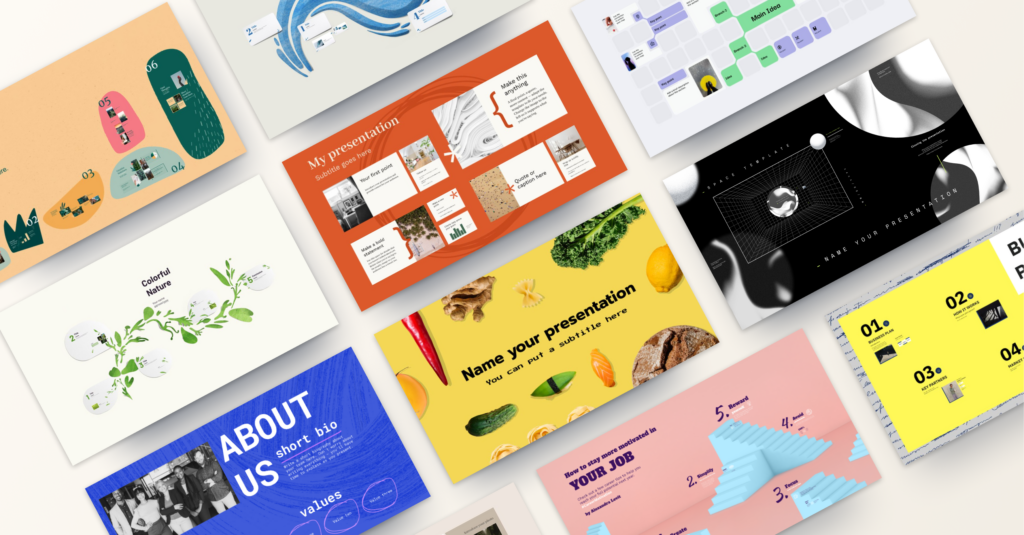 Expansive canvas editor: Experience creative freedom with an unlocked canvas that'll help you craft presentations that truly reflect your vision. You'll gain a comprehensive view of your work with a background overview frame, ensuring that no detail goes unnoticed.
Redesigned top menu: Navigate seamlessly with our redesigned top menu, ensuring easy access to all the tools you need.
Tailored navigation: Enjoy enhanced navigation with customizable options that align with your preferences. Plus, discover improved frame insertion options, streamlining your workflow.
Controlled zooming: You're in control of the pace, dictating how your audience experiences your presentation.
Grab their attention by making your presentation more interactive
On-canvas property bar: Access essential tools right where you need them with the on-canvas property bar, enhancing your efficiency.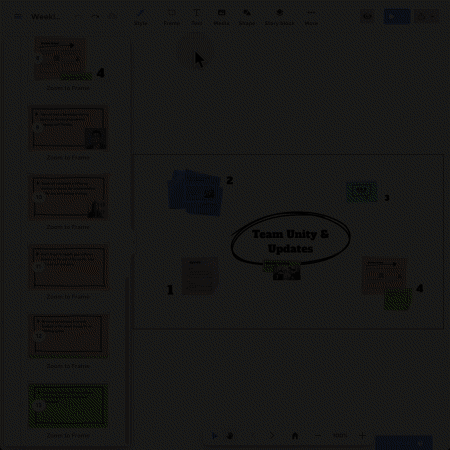 Integration of PowerPoint assets: Seamlessly integrate PowerPoint assets within frames, bridging the gap between different platforms.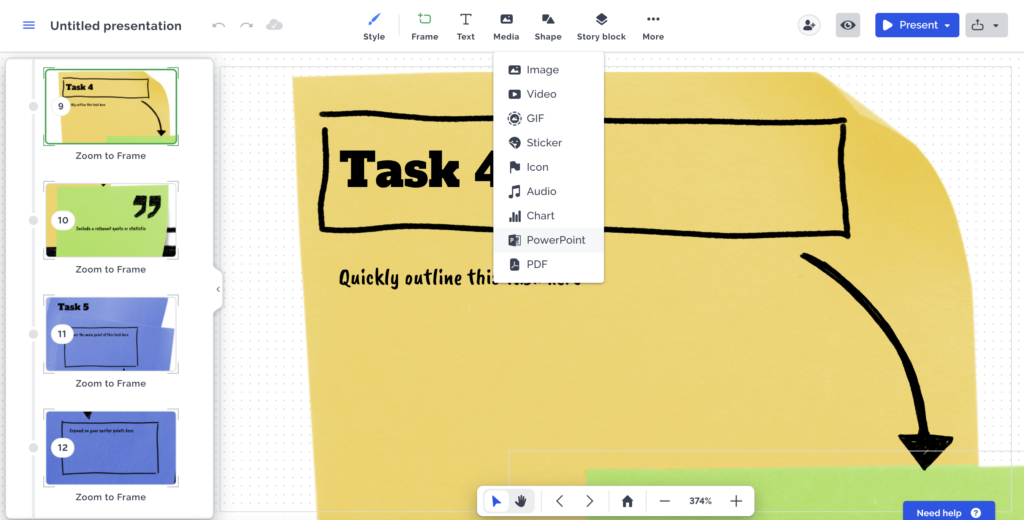 Flexible timeline sidebar: Choose to show or hide the timeline sidebar based on your editing needs, allowing you to maintain focus.
Rotation icon: With the updated editor, you can now easily access the rotation feature by simply clicking on the rotation icon. The easy access will streamline content creation and elevate your design game, offering intuitive control over object orientation. 
Bring objects forward and backward: Experience enhanced layer management, allowing you to effortlessly arrange objects in your composition. Bring objects forward or push them to the background, accessing multiple layers. The updated feature will provide you with newfound control over your design depth.
Unlocked value for Prezi users
The new presentation creation experience will benefit many. Let's explore a few cases where these features will prove to be particularly valuable:
Students and teachers: Educators and students will significantly benefit from these features to improve their teaching and learning materials. The flexible timeline sidebar allows educators to adapt their presentations to different learning contexts, keeping the focus on teaching content. The canvas presentation editor offers the creative freedom needed to design engaging and interactive learning materials. Also, the integration of PowerPoint bridges the gap between platforms, making it easy to incorporate existing content into new presentations. 
Marketing professionals: For marketing professionals, the combination of these features provides a powerful toolkit for crafting persuasive and attention-grabbing presentations. The new templates cater to various marketing styles, making it easy to create visually stunning presentations that resonate with the target audience. Also, the editor empowers you to design unique, dynamic visuals that align perfectly with the brand's identity. Also, the integration of PowerPoint assets bridges the gap between platforms, making it seamless to work with existing materials and maintain brand consistency. 
Sales professionals: Sales professionals often face the challenge of delivering compelling presentations that win over clients and prospects. Prezi's new features offer invaluable advantages in this case. New templates offer a quick and easy start, saving valuable time. Controlled zooming enables sales professionals to pace their pitches, ensuring that key information is highlighted at precisely the right moment, keeping the audience engaged. And the integration of PowerPoint assets streamlines the process of working with existing sales materials. Moreover, the use of Prezi Video, a dynamic addition to the Prezi platform, further empowers sales professionals. Prezi Video allows you to not only create engaging presentations but also deliver them with a personal touch during remote meetings. By appearing next to your content on-screen, you can improve your connection with clients and prospects, ultimately increasing the potential to win over the audience.
And that's only the tip of the iceberg! Try Prezi today and discover the value it brings to your presentations!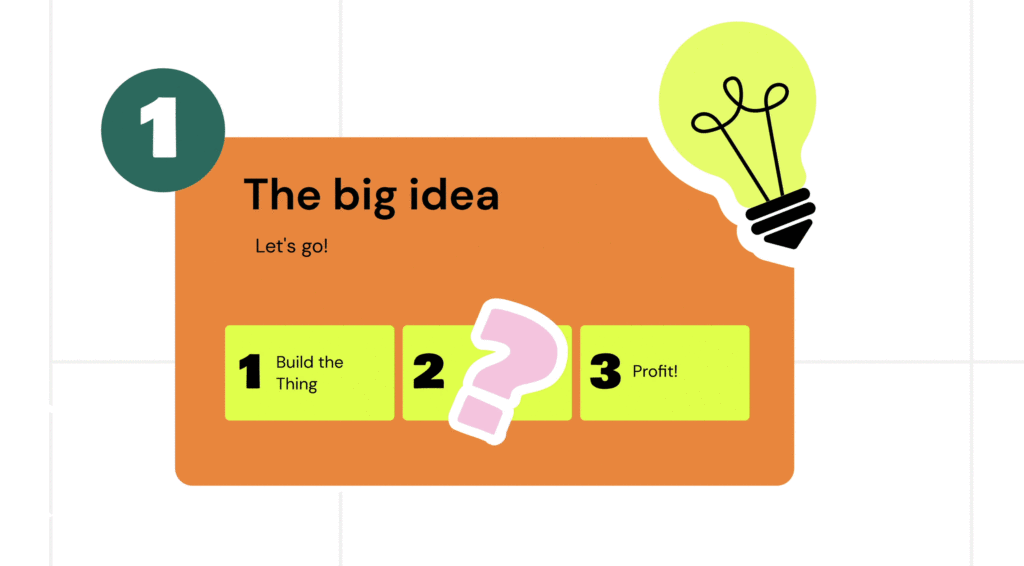 Embrace the future of storytelling with Prezi 
In essence, our latest updates bring an exciting blend of user-centric design, innovation, and user empowerment. Ultimately, these updates underscore our dedication to your creative journey. With the updated Prezi canvas experience, we continue to redefine how stories are crafted and shared, placing creativity and user empowerment at the forefront of presentation design. Whether you're an existing user eager to explore new possibilities or a newcomer seeking an intuitive and flexible presentation solution, the latest updates offer a compelling reason to embrace the future of visual storytelling – Prezi.