"Constraint as a catalyst for creativity" – The three Cs
Like many educators of all grade levels, virtual teaching during the pandemic became a crash course in learning new methods of engagement and building community in my courses. Without in-person engagement with students, I was left to my own devices – and the devices, methods, and techniques of many other educators – to attempt to duplicate a similar experience for my students, albeit shoved through the impersonal funnel of a webcam.
As a long-time user of Prezi, my attention has turned to seeing what was new with Prezi during the summer of 2020 and heading into an all-virtual academic year. What I  found were new tools to reframe my own teaching inside – and now outside – the classroom.
"Automatically Assess your Assumptions" – The three As
A mantra we profess in my Designing Creativity course at Washington University in St. Louis is to consistently question the assumption. Beginning in March of 2020 and heading into a new academic year, the university system at large defaulted to the assumption that Zoom (and the rather-limited options within it) was the only way to translate in-person classroom teaching to a virtual setting. In every virtual class that followed, the student had a different experience from everything they had experienced to that point: The content was the focus and the instructor was relegated to a small thumbnail in the top-right corner of the screen.

GONE was literally ANY kind of focus on the instructor as a co-equal feature of the classroom. Powerpoint slides and a small instructor thumbnail made it a slog for a student to remain engaged and resist "checking out" of the lecture entirely. With Prezi Video, I could design my lecture so that I was on equal footing to the content I was presenting. I could play with it, reference it in funny ways, and generally interact with it as I would in an in-person classroom.
The above clips are from the Beyond Boundaries Program information sessions I hold each week. Prospective student attendee reviews of those information sessions often reference the presentation itself (the Prezi Video software) almost as much as the information itself. Here are a few examples:
"The professor talked about the program in the most effective way possible."


"It was incredibly made and felt like a well thought out presentation while still staying informal and open to questions."


"The overall presentation was not only intriguing to listen to, but visually pleasing as well. The layout of the information flowed easily from one idea to the next and provided every piece of information that was necessary."


"Interactivity and Improvisation aid Instruction" – The three Is
Stay connected while you work remotely with Prezi Video
Students know you are human and not an automaton. They can appreciate an instructor who is doing their best to craft a lecture. It follows that they implicitly understand that glitches, well, they happen. Glitches are surprises to you as well as the student. Roll with them! Surprises means the student is engaged and the anticipation keeps them in the moment.
As a drama professor, I like to have a loose script of sequential topics and a tech checklist that act as my guide, and I begin each class with the knowledge that I may have to improv my way out of a hiccup or two. Like a performance, this gets me "cued up" for the class.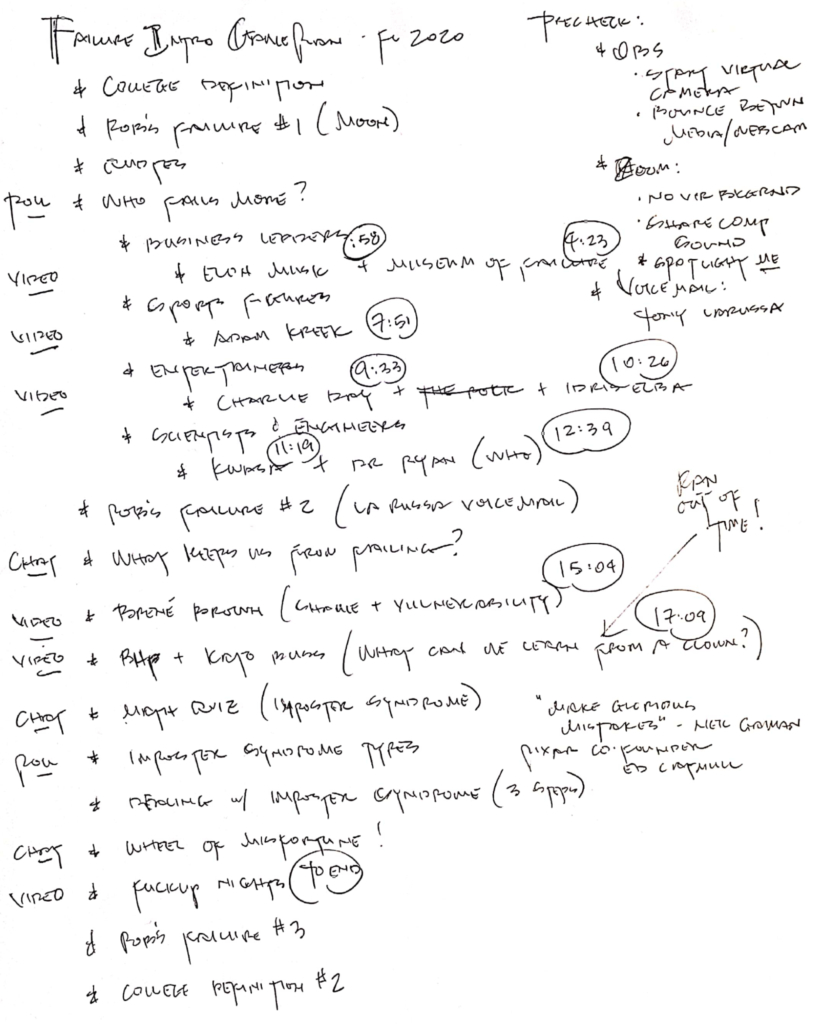 Every instructor has their own "faves" when it comes to instructional technology, but another design mantra comes into play here: Less is more. Simply interacting with students via the chat or a poll and maintaining your face-to-face connection makes all the difference in engaging your students.
I leave you with a couple of examples, including the "Wheel of Misfortune" example from the above notes:
About the author: Robert Morgan
Rob is in his 11th year of teaching at Washington University having relocated to St. Louis.
Rob has designed professionally in the areas of theatre, film, museum, and theme park venues.  Avatar the Exhibition, a museum exhibit originally designed for Experience Music Project in Seattle, toured in the U.S. and Canada for 3 years.
Directing the Beyond Boundaries Program gives Rob the opportunity to work with a select group of students who desire to collaborate across disciplines and interact with multiple schools and departments.