2020 was a truly transformational year. From the way we live to the way we work, there was a drastic change in all aspects of our lives. As social distancing and travel bans became the norm, face-to-face client meetings were replaced by virtual ones.
Even as we transition back to some semblance of normalcy, it's likely that virtual client meetings may become more mainstream. For that reason, it's important that your team understands the unique approach required to handle virtual client meetings effectively. To help you train your team on the process, we've compiled a list of tips for virtual client meetings.
Prepare in advance
Physical client meetings can be intimidating. When you're seeing them on-screen, it does take away some of the pressure from the situation. However, that doesn't mean it's okay for your team to slack off. It can be more challenging to impress someone virtually, so your team needs to be prepared well in advance.
The first step is to set a clear agenda for the client meeting and share it with them beforehand. That way, both parties involved are clear about the expectations. In addition to this, your team should also prepare notes listing all the main points to discuss. It is also a good idea to be ready with answers to concerns that they are likely to raise.
Another point to consider while preparing for a virtual client meeting is the guest list. All online meetings involve awkward silences, interruptions, and even technical glitches. To avoid a lot of confusion, invite only those team members who are essential for the conversation in the meeting.
Schedule client meetings
Setting up a client meeting can be daunting, especially if different time zones are involved. Your clients may have other commitments or have conflicting schedules that make it difficult to set up meetings. That's why it is recommended that your team reaches out to clients far in advance.
To find the right time frame across multiple locations, your team can use tools like Worldtimebuddy, World Clock Meeting Planner, and others. If last-minute meetings need to be scheduled, make sure your team verifies that there are some open overlapping time blocks. It is also a good practice to send reminder emails to everyone who is invited to the meeting.
Get acquainted with tech tools
One of the biggest factors that can influence your virtual client meeting experience is the technology you use. While there are multiple software programs that enable teams to host client meetings, not all of them offer the same features. 
Zoom makes it possible to share your screen and conduct polls to make your client meetings more engaging. Programs like Prezi Video enable you to add graphics to your screen in real-time. With this feature, you can give in-depth presentations during your client meetings. For instance, here's a screenshot from a project status meeting using Prezi Video: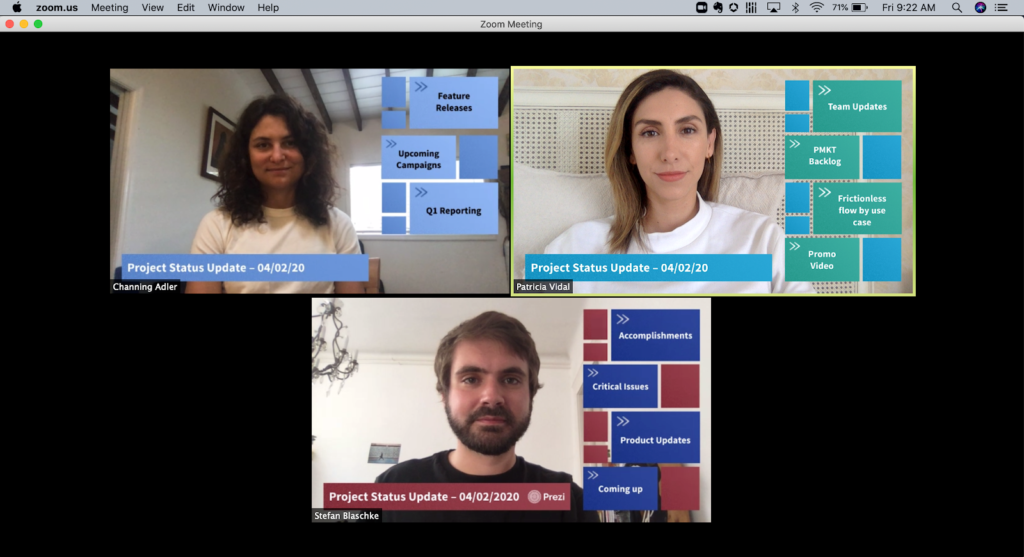 Invest some time into researching the best tools out there. Depending on your team's requirements, pick the ones that are best for your organization. Before any virtual client meeting, it's important to do a test run so that everyone on the team is comfortable with the tools. Give them a training session if required.
During the test run, make use of audio, video, and all the other features that you expect to use in the actual client meeting. Of course, there may be some unforeseen glitches, but it's best to be prepared as much as possible.
Practice virtual meeting etiquette
As remote work and virtual client meetings become more common, there is a whole new customary code of behavior that is considered polite. Before your team attends a client meeting, it's important to make them aware of what is considered professionally acceptable.
Stay connected while you work remotely with Prezi Video
Some virtual meeting etiquette to keep in mind include:
Dress professionally.


Arrive early or on time.


Be mindful of time differences.


Don't talk over someone.


Introduce everyone at the beginning of the meeting.


Make sure your home office or the area in your frame doesn't look cluttered.


Find a quiet area to sit.


Make sure your room's lighting isn't too dark or bright.


Keep your webcam at eye-level at a spot where it stays steady.


Turn off notifications from other apps.


Avoid multitasking.


Look at the webcam when you are talking, not at the screen.


Don't eat or drink during the meeting.


Ask questions at regular intervals
The biggest advantage of face-to-face meetings is that your team members can look at your clients' body language. Even if they may not be saying something explicitly, it is possible to pick up on non-verbal cues.
However, virtual client meetings do not provide that opportunity. Sure, your team may be able to see your clients' faces but it may be challenging to pick up on cues based on what's visible on their screens. Similarly, clients may also find it difficult to read facial expressions.
To bridge this communication gap, encourage your team to ask open-ended questions at regular intervals. But they should be directed towards specific people, otherwise it can lead to an environment of chaos where people may be interrupting each other constantly.
Instead of asking, "Do you think the proposal requires changes?" it's a better idea to be more specific and say, "Do you think the proposal requires changes, Kate?" It's also important to lead the discussion in such a way that everyone gets a turn to voice their opinions.
Follow up
At the end of an effective meeting, everyone knows what the next course of action is. All issues may not be resolved, but everyone should be on the same page about what's next.
Before ending a virtual client meeting, your team should discuss the following points:
Are there any deliverables?


What are the next steps to be followed?


Who is responsible for following up on the given tasks?


When will the next meeting be held?


In addition to this, you can also send a feedback survey to gauge how the client meeting went. You may also send follow-up emails and reminders to touch base with your clients after the meeting.
If you follow the steps mentioned above, your team will be prepared to conduct successful virtual client meetings. Whether they are working with a group of clients or have one-on-one meetings, they will be able to interact confidently. But the responsibility to train them well in advance rests on your organization's leadership.
About the author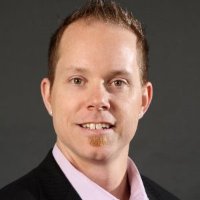 Shane Barker is a digital marketing consultant who specializes in influencer marketing, content marketing, and SEO. He is the Co-Founder of Attrock, a digital marketing agency. He has consulted with Fortune 500 companies, influencers with digital products, and a number of A-List celebrities.
Connect with Shane on social: