Nowadays project teams have become more diverse, dispersed, adaptive, and virtual than ever. As a result, team collaboration now is even more complex and, at the same time – even more critical.
Learn why collaboration is important, as well as the benefits of teamwork for organizations, teams, and individuals. Let's dive right into it.
The importance of collaboration for organizations
Organizational success depends on how well its employees and teams work together to achieve business goals. Here are three crucial reasons why collaboration is important for companies.
Driving force for growth and innovation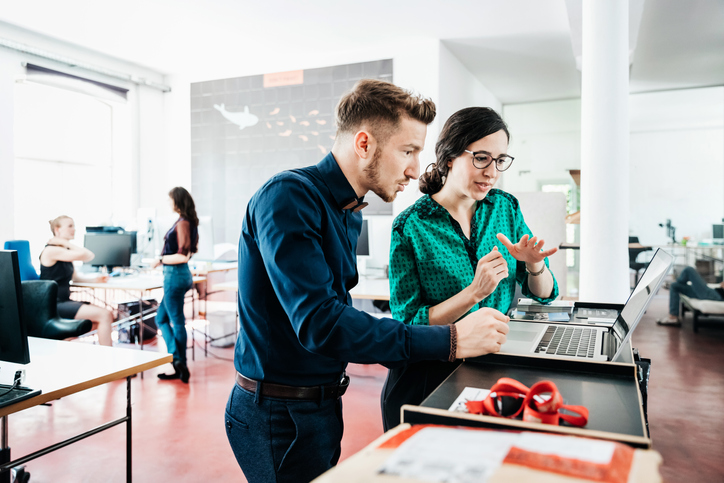 Innovation is one of the engines that drive businesses toward success and build competitive advantages. But how do people come up with innovative ideas? 77% of the world's most innovative companies name an open structure for internal and external collaboration as one of their most advancing factors.
The power of collaboration lies in exchanging ideas, viewpoints, and experiences among team members. That's why it's so important to involve people from different professional backgrounds or departments in decision-making. It will ensure a comprehensive view and additional ideas that can accelerate innovation, development, and growth.
Support purposeful collaboration 
Studies have shown that organizations promoting collaboration and teamwork within and between working groups are 5 times more likely to achieve higher performance. However, in reality, that's easier said than done.
While most organizations claim open and collaborative cultures, only a small portion of them achieve excellent performance, according to the study. Companies need to provide employees with a purpose in order to drive productive collaboration.
Here are a few factors that can help you estimate how purposeful collaboration is at your company:
How does the information flow through your organization?
How are decisions made?
What's the physical design of your workplace? Does it promote collaborative working?
Are your employees well-equipped with online collaboration tools?
How do you manage an equal collaboration experience for hybrid teams?
How do you measure and reward collective success?
Another common challenge is that most organizations reward individual achievement, not team accomplishments. However, considering all the factors for why collaboration is important, businesses have to find ways to recognize and reward individuals, leaders, and teams who support productive collaborative behaviors.
Avoid the disruptive silo mentality
The silo mentality is when specific departments or teams avoid sharing information or working together with others in the same company. Departmental silos are a growing pain for most organizations of all sizes. This behavior can reduce efficiency in operational processes, diminish morale, and may damage company culture in general.
Breaking down silos isn't an easy task. It's the responsibility of the leadership team to recognize this silo mentality and rise above to create an effective long-term solution. It's worth it though – cross-departmental collaboration and training are one of the most important steps toward business success.
The importance of collaboration for teams
We've heard the old saying – teamwork that makes the dream work. But what's really behind the power of teamwork and collaboration?
More motivated and engaged team members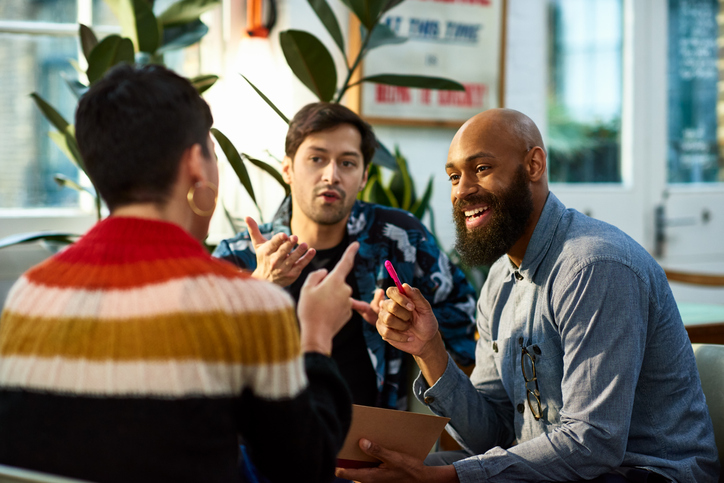 Individuals working collaboratively on challenging tasks have 64% higher motivation to finish the job than their solitary peers. Like kids who love playing with their friends, these individuals express greater interest in and enjoyment of the task. What's even more important – this collaboration leads to better task performance.
Within remote and hybrid work environments, team collaboration is even more critical. It helps to lower fatigue levels, requires less self-regulatory efforts to persist on the task, and definitely adds the joy of working together.
Team synergy as the fuel for success
Simply defined, synergy means that the whole is greater than the sum of its parts. When collaborating in a team, every one of its members comes with a unique experience, skillset, viewpoint, and perspective. All that combined works really well for the team's performance and problem-solving.
Stay connected while you work remotely with Prezi Video
Synergy in a team means that you don't vote for proposals or choose from existing ideas whenever you need to make a decision. Instead, you combine all the knowledge and ideas amongst your team to collaboratively build a new alternative – something better that wasn't on the table before.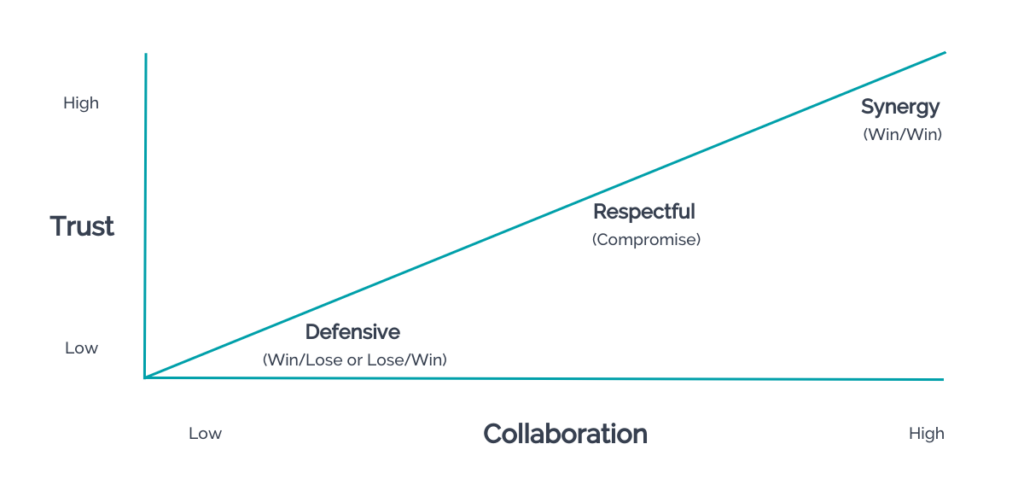 A leader can help the team achieve a state of synergy by collaborating, encouraging open communication, and building trust among its members. In his book "The 7 habits of highly effective people," Stephen Covey wrote: "Once people have experienced real synergy, they are never quite the same again. They know the possibility of having other such mind-expanding adventures in the future." That's the path towards achieving team success. 
Individual objectives lead to common goals
Most likely, your team has several goals for this quarter or a specific project. Even if you need to put a lot of individual effort to reach the objective, project collaboration also plays a vital role in goal achievement.
Aligning individual roles, responsibilities, and objectives toward joint success can streamline your team's workflow. Members who share their knowledge and support each other lead your team to increased productivity and higher-quality outcomes. Also, being on the same page helps to avoid misunderstandings, communication failures, and redundancies.
Joy to the world – and your team
Besides all the performance-related benefits, collaboration makes teammates happy — especially the remote ones. In fact, remote workers admit that difficulties with communication and collaboration are among the top 5 struggles with working from home.
Of all the greatest collaboration tools, Prezi Video is the easiest way to drive real engagement in your hybrid and virtual meetings. As it puts you and your content together on-screen during meetings and presentations, your teammates will still see you even if you screen-share graphics or slides. And this facetime really matters.
Prezi Video also allows every meeting attendee to interact using live on-screen GIFs, emojis, and text instantly. So, whether it's a weekly catch-up or any other meeting, you can spark that collaboration joy in any virtual conferencing space.
The importance of collaboration for individuals
Why is collaboration important for you as an individual employee or team member? Apart from all the benefits mentioned above, here are a few more.
Learning from each other
Of course, we could put organizational learning in the section about benefits for business, but it's also a massive value for you as a professional. Collaborating with your teammates and others is probably the best school, training, or mentorship program you could possibly have.
You can ask for feedback and opinion, share your knowledge, find out how others are approaching their side of the project, what tools they are using, the best practices, and much more. 
Here are three main directions you can gain new knowledge through collaboration and teamwork:
Learn from your team. When you're in a group of professionals from the same or similar fields, you're able to deepen your expertise. For example, imagine you're an email marketing specialist. In that case, you can gain a lot from cooperating with your marketing peers – discovering new ideas for your email campaigns or a more profound comprehension of other marketing areas can help you grow as a professional.
Learn from other teams. Mixed-skill teams are sooo eye-opening! Cross-functional collaboration has many benefits, but a broader perspective and new viewpoints for you as an individual are irreplaceable.
Learn from the process. Apart from gaining new professional skills, you're also learning how to collaborate with others. And it's not just about your work peers – you can transfer this experience to any other interaction. Teamwork teaches us how to communicate, solve problems, make an argument, debate, plan our time, be accountable, and many other skills that are crucial in every step of our path, both professional and personal.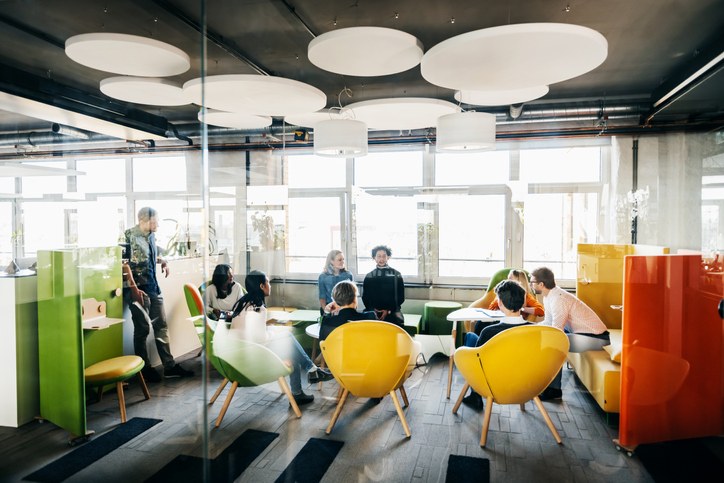 Bonding with your teammates
Trust within the team, open communication, and shared values are fundamental bricks for productive collaboration. But you can't mechanically create this sense of belonging – it's the outcome of teamwork. Yes, it is a full circle – you need to work as a team to collaborate successfully, and you need to experience collaboration to feel like a team. 
So, apart from tasks, deadlines, and accountabilities – enjoy being with your team, especially in online collaboration and virtual meetings. Find things that you all have in common, for example, love for Italian food or "The Office" series. Make it your thing – enter team meetings with an inspirational quote right next to you or react to your boss' speech with a GIF from your favorite Office episode. Small things matter, especially when it comes to bonding with your teammates and having fun at what you do.
Michael Jordan once said, "talent wins games, but teamwork and intelligence win championships." We couldn't agree more. Collaboration is fundamental for organizational success, team performance, and individual growth.
Learn new skills and try Prezi Video for more engaging and purposeful meetings to boost the outcomes of collaboration and teamwork.