The science doesn't lie: The Earth is getting warmer. Yet, confusion persists among the US public about what to believe and who to listen to. At Prezi, we look to data and vetted, reputable resources to form our positions. We believe the climate crisis is a defining issue of our time and that it's time to take action. How we respond as a planet will either inspire international convergence to solve this complex set of problems, or else we'll draw out the worst of humanity and focus on temporary profit over the lives of our children, grandchildren, and future generations. 
So, where does education fit in this? EVERYWHERE! 
Before we get into how climate change education can help, let's back up and take a look at the contradictions between public opinion and reality. 
The gap between public opinion and science
In a recent study by NASA (2020), roughly 97% of all scientists believe climate change is happening and that it is caused by humans. Most of the remaining 3% of scientists still believe climate change is happening, but they cite natural cycles of the planet as the cause. In contrast to these percentages, the Yale Public Opinion Map on Climate Change (2019) highlighted that only 48% of the public believes that climate change is real. The gap between public opinion and the beliefs of the scientific community is striking, and it points to the need for clarity and education.
Data from the Yale Public Opinion Map on Climate Change (2019) surveys also show a mismatch between public opinion and the science of climate change and how we respond to it. For example, 67% of respondents believe that climate change is happening, while only 53% believe that it's mostly caused by humans. But regardless of these numbers, an overwhelming percentage of respondents (75%) believe that climate change should be taught in schools.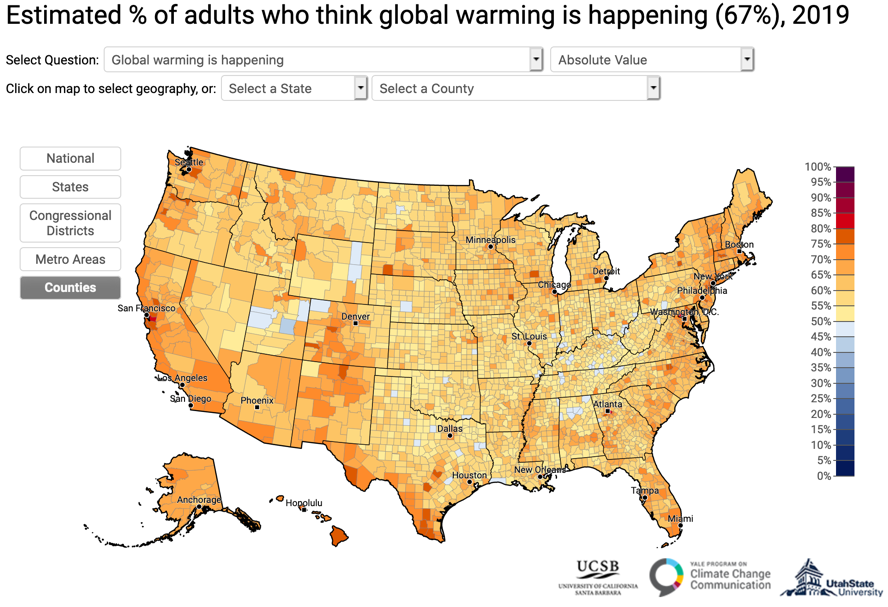 Tackling climate change in schools
But is climate change being addressed in schools? According to a study by NPR (2019), the answer is…not really. While millions of students around the globe march on Earth Day and most states have classroom standards that mention human-caused climate change, many teachers still aren't talking about the subject. And sadly, fewer than half of parents have discussed the issue with their children. Hence, we have a huge knowledge gap that is ripe to be filled with disinformation.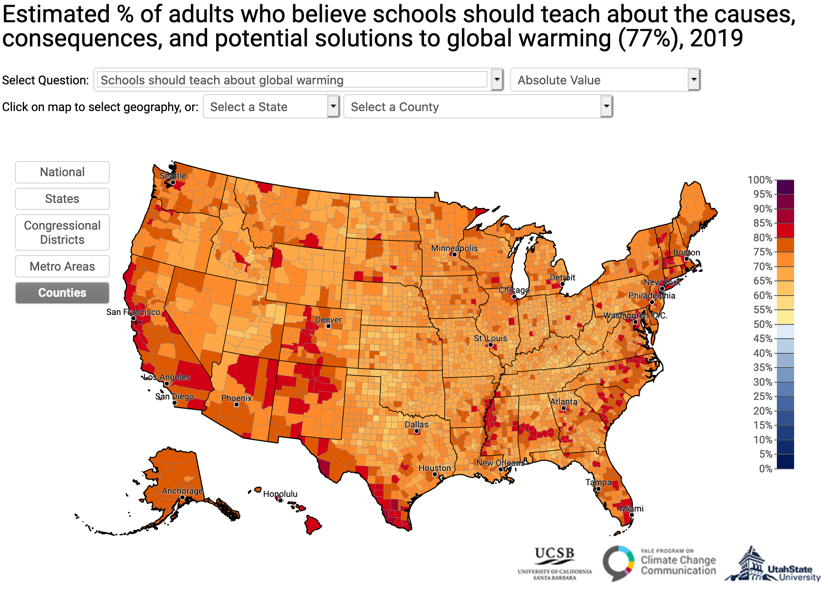 How do we make sense of this lack of response from the education community? The NPR (2019) study also revealed that while 86% of teachers think climate change should be addressed in schools, only 45% of teachers actually do. As an explanation, 65% of teachers say that it is not related to their subject area, and 20% of teachers say their students are too young to address the topic. Another 17% say they don't know enough about the topic or don't have proper materials to do so.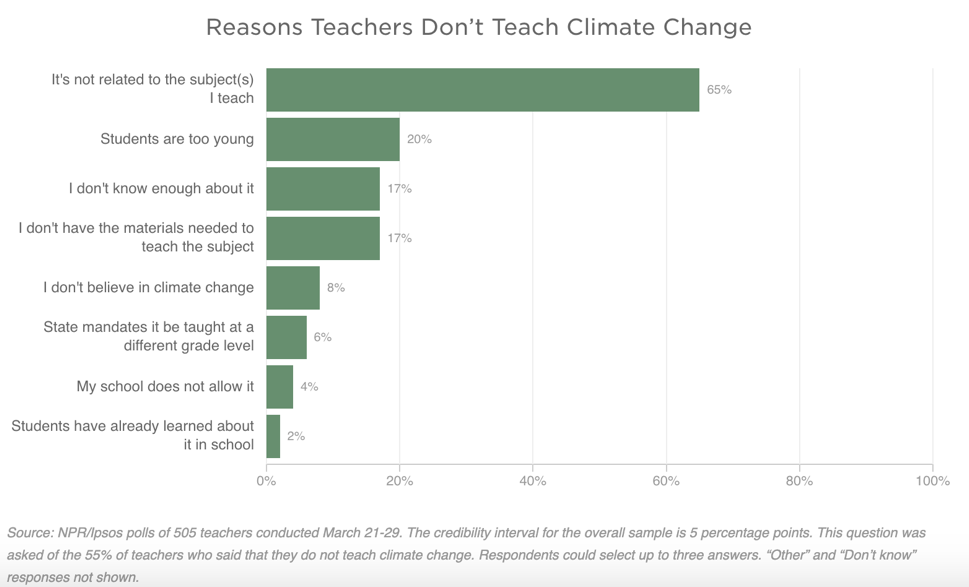 Grab their attention by making your presentation more interactive
A multidimensional approach
If we unpack this data, such arguments run the gamut from reasonable to ill-informed. First, let's address the reasonable comments. Standards by in large don't address climate change until about fourth grade, so it is easy to see why 20% of teachers point to their students being too young. Additionally, in an attempt to depoliticize content for the sake of sales, many textbook publishers have couched the issue of climate change by either giving it short shrift or decontextualizing it so as to not show the human impact on the climate. Consequently, teachers feel they don't have adequate material to teach the subject (even though Open Educational Resources from CLEAN.net, Climb Time, NASA, NOAA, National Geographic, and other eco-conscious organizations abound).
However, we may want to rethink the argument that "it's not related to the subject I teach." We believe climate change can and must be taken up as a multiple disciplinary endeavor since the reality of most pressing issues tend to be multidimensional. Let's skip the siloing of disciplinary knowledge. Climate change is not just a topic for science classrooms. It clearly impacts areas associated with social science since humans are impacted by it both physically and psychologically. It also relates to English language arts since understanding and critically thinking through arguments is paramount to debunking myths and to building sound arguments that are based on researched claims and evidence. 
Given all this data, we believe we all have a role to play in addressing the climate crisis, and we want to support teachers as they educate themselves and their students about the causes and effects of climate change.
A climate change series for the classroom
In response, from now until June, Prezi has released a series of climate change lesson plans and Prezi videos that were adapted and assembled from Open Educational Resources (OER) and lesson plans from other reputable sources. Check out Prezi on climate change where you'll find more info and lesson plans on the following topics:
These lesson plans are great for Earth Day prep and can easily fit into an existing curriculum. Each lesson plan cites its sources and contains links to other lesson plans, student handouts, and simulations. Take a look, make a copy, and modify any presentation to suit the needs of you and your students. Let us know how it goes — we look forward to hearing how Prezi's lesson plans have helped you teach climate change to your students. Let's work together to tackle climate change, one class at a time!
Your Friend in C02 Reduction,
Paul Teske
Teacher in Residence @ Prezi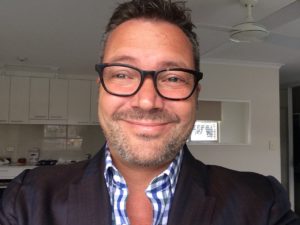 Paul has worked in education for over 25 years as a teacher and in education technology companies. He is the founder of Education Impact Exchange. He taught English Language Arts, and ran after-school technology programs for K-8 students. Paul holds a Ph.D. in Education from the University of Washington.