You never know when that golden opportunity to pitch your big idea might come knocking—will you be ready when it does?
That question is one that Jake Siep, founder and CEO of Compgun, asked himself when he was in the process of pitching his business. Like any other startup, Siep and his team needed investment to get their idea off the ground. They put together a dynamic pitch deck using Prezi.
"I figured everybody either has a PowerPoint or a Google Slide presentation, and I wanted to do something that would position us in a new and innovative way. That's why we decided to use Prezi for our investor pitch," Siep says.
Having a killer deck isn't always enough, however, in the cutthroat world of fundraising. Siep knew that he might run into potential investors anywhere he went—in Silicon Valley, you never know where you might find your next round of funding. So Siep made sure that he always had his presentation loaded and ready to go on his phone, with Prezi's mobile app. And it's a good thing that he did.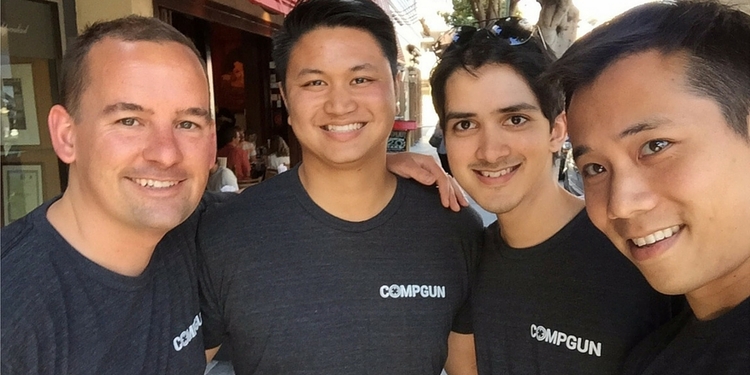 Grab their attention by making your presentation more interactive
By pure coincidence, Siep ran into an investor with whom he had been casually speaking at Outside Lands, an annual festival that takes place in San Francisco. Cell service on the festival grounds was spotty at best—anybody who's ever been to a huge concert knows that signals can be unreliable—but Siep was prepared.
" At the time, I had our investor pitch prezi already loaded on my phone in the Prezi iPhone app—so I handed the phone over to him and showed him how to navigate around."
Thanks to his foresight, Siep was able to give his presentation at the drop of a hat. He didn't have to wait for anything to load or download, because it was available offline on his phone. Siep's seamless presentation was so impressive that the investor took notice.
"He might have seen a Prezi before, but he sure as heck had not seen it on a mobile app. I think he was surprised and blown away," Siep says. "He didn't really say much at the time, but he did say that he got the idea—our prezi was effective in communicating that to him. I think he was impressed by my having the presentation loaded and ready to go, in my pocket on the spot. Later, after a follow-up conversation, he decided to invest in the company."
If you want to make an impression, you need to be ready to give your pitch anytime, anywhere. Prezi's mobile apps—for iOS and Android—make it easy to carry your deck around in the palm of your hand. And starting today, you can save your prezis offline in ourAndroid app, so no matter where you go, whether or not you have access to wifi, you'll be able to give your most important presentations.