Artificial Intelligence (AI) is all the talk now. You can find Artificial Intelligence presentations, articles, books, and other sources to learn about it. Ultimately, AI is no longer confined to a niche group of tech experts and intellectuals; it has become a widely discussed topic. When discussing what AI is all about or introducing a new AI functionality, it's important to present it with the same innovative enthusiasm that surrounds the subject. That's why in this article, we'll delve into the topic of AI and provide tips on how to make your presentations on AI topics highly captivating and engaging.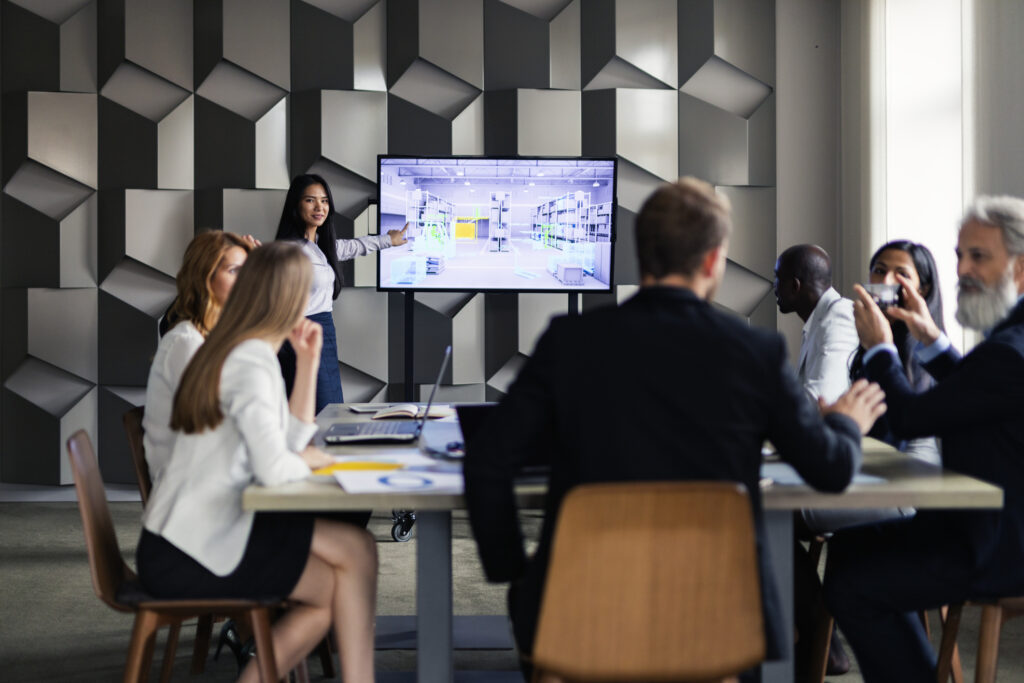 Why Artificial Intelligence presentation topics have become so popular
Artificial Intelligence excites us because it's changing our world in big ways. From self-driving cars and virtual helpers to health checks, AI is everywhere in our daily lives. It's pushing new ideas, making things more efficient, and helping in decision-making across many fields.
Businesses are leveraging AI to gain a competitive edge, healthcare professionals are harnessing it to save lives, and educators are using it to enhance learning experiences. As a result, AI has become a hot topic in boardrooms, labs, and classrooms worldwide.
Understanding Artificial Intelligence
Artificial Intelligence (AI) lets computers perform tasks typically requiring human cognitive abilities. This includes understanding language, spotting trends, tackling problems, and making smart choices. AI achieves this by analyzing extensive datasets and using intelligent algorithms. 
Here are some examples of AI you may encounter on a day-to-day basis:
Delivery robots
AI-driven delivery robots have become increasingly common, like those from Serve Robotics in the US to bring online orders to customers' doors. These robots rely on AI to navigate streets and sidewalks, avoid obstacles, and ensure they deliver orders on time.
AI voiceovers for video editing
AI has entered the realm of video production, allowing for polished voiceovers. Many have noticed on social media that AI can turn written words into lifelike speech, improving videos without relying on human narrators.
Virtual assistants
Virtual assistants like Siri and Alexa exemplify AI's role in daily life. They understand and respond to natural language commands, assisting users with tasks such as setting reminders, answering questions, and controlling smart devices.
Healthcare diagnostics
AI is crucial in healthcare as it helps analyze medical visuals such as X-rays and MRIs, spotting diseases early on. It also helps doctors by sifting through vast amounts of patient information to guide treatment choices.
AI customer service
Have you ever tried to contact a company and encountered a pop-up typing robot in the corner of your screen? This is likely one of the AI forms that many of us have come across. AI customer service has revolutionized the way businesses deal with customer inquiries.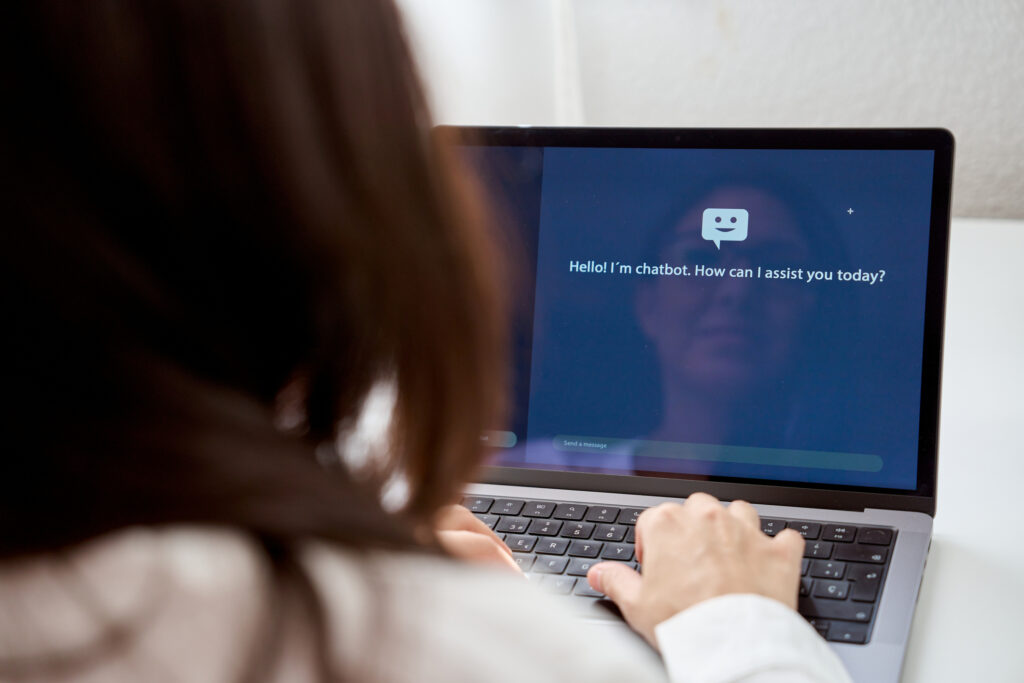 The practical uses of AI, like the examples shown above, come from processing large amounts of data and applying advanced algorithms, showing how AI can improve different parts of our daily lives.
What is an Artificial Intelligence presentation? 
An AI presentation aims to teach the audience about a part of AI that suits their field or interests. These presentations break down the confusing stuff about AI to make it easy for everyone to understand. They share helpful ideas, show real-life examples, and explain how AI is changing different areas. With high-quality images, engaging structure, and useful examples, AI presentations help people see why AI is important and how it can be useful. They encourage people to talk about AI and understand what it's all about.
Creating an engaging Artificial Intelligence presentation
If you're planning to create a presentation on AI, follow these steps: 
Choose an AI topic
Choosing the right AI topic is your first step. Think of it as setting the stage for your Artificial Intelligence presentation. Here's how to navigate this:
Audience relevance: Your chosen topic should resonate with your audience. Consider their interests, needs, and expectations. If you're presenting to a healthcare audience, delve into "Artificial Intelligence in healthcare." For tech enthusiasts, explore "AI in emerging technologies." The goal is to make your Artificial Intelligence presentation relatable and valuable to your specific audience.


Hot topics: AI is a vast field, so stay updated on the latest trends and hot-button issues. Ethical considerations, AI's impact on the job market, and its role in shaping the future are all intriguing angles. Don't be afraid to think outside the box and explore uncharted territory.


Industry relevance: If you're representing a particular industry, tailor your topic accordingly. For instance, if you're in the finance sector, consider "AI in financial services." Highlight how AI solutions are transforming and improving that specific field.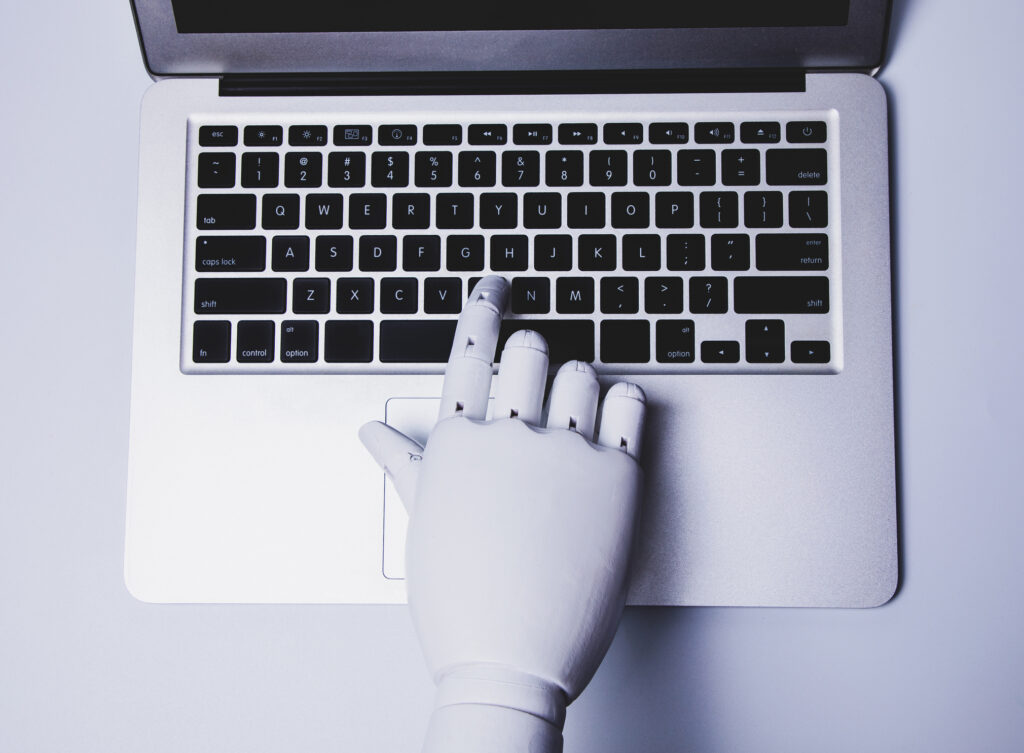 Explore examples of Artificial Intelligence topics for presentations
AI in healthcare: You could explore how Artificial Intelligence transforms the healthcare industry, from medical diagnosis to drug discovery and patient care.


Ethical considerations in AI: Delve into the ethical challenges posed by AI, including issues related to bias, privacy, and job displacement.


AI and education: You could discuss how AI is revolutionizing education, from personalized learning experiences to automating administrative tasks in schools and universities.


AI in business: Explore how businesses are leveraging AI for tasks like data analysis, customer service, and process automation, leading to improved efficiency and decision-making.


AI in finance: You could examine the impact of AI on the financial sector, including algorithmic trading, fraud detection, and customer service in banking.


AI and autonomous vehicles: Discuss the role of AI in self-driving cars and its potential to revolutionize transportation.


Natural language processing (NLP): Dive into NLP and its applications, such as chatbots, sentiment analysis, and language translation.


AI in robotics: Explore how AI is driving advancements in robotics, leading to applications in manufacturing, healthcare, and more.


AI and creativity: You could discuss how AI is being used in creative fields like art, music, and literature, generating unique and innovative content.


The future of AI: Predict where AI is headed in the coming years, including its potential impact on society, jobs, and technology.

Grab their attention by making your presentation more interactive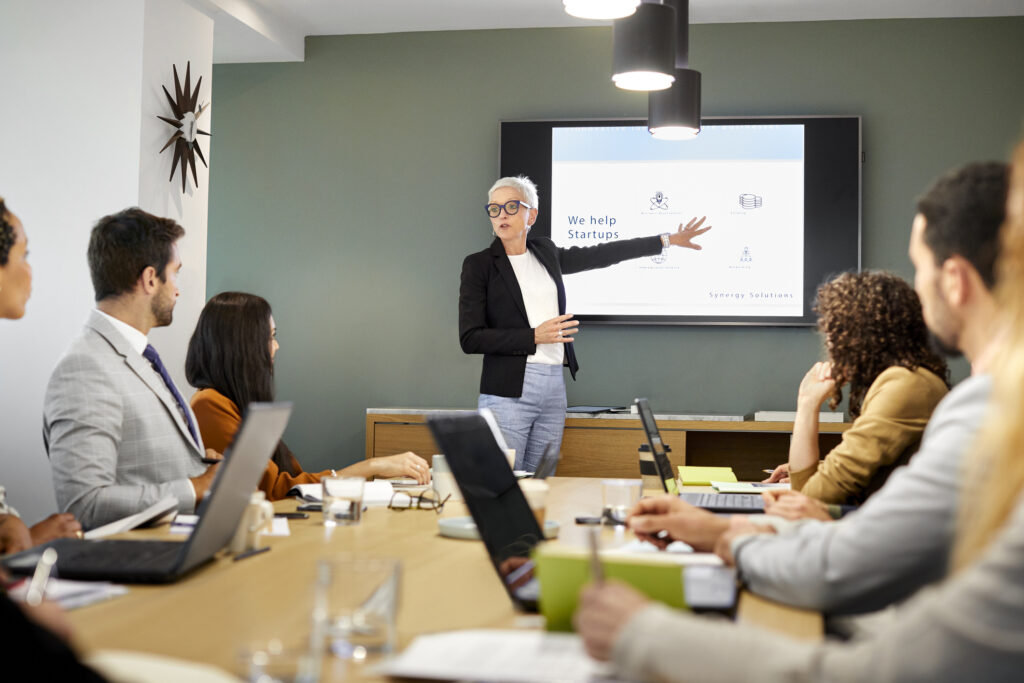 3. Craft your presentation
Once you've chosen your Artificial Intelligence topic, it's time to create the presentation. Make sure to follow these tips to craft a highly engaging story:
Engaging introduction
Your presentation should start with a bang. Hook your audience from the get-go with a compelling introduction. Share a fascinating AI-related fact, an attention-grabbing quote, or a relatable anecdote. Capture their curiosity right from the beginning.
Visual appeal
Remember that a picture is worth a thousand words. Utilize visuals such as graphs, charts, diagrams, and images to illustrate your key points. Visual aids not only enhance understanding but also keep your audience visually engaged. Make complex AI concepts visually digestible.
Real-world examples
Ground your Artificial Intelligence presentation in the real world by incorporating concrete examples and case studies. Share success stories where AI made a significant impact. Use these examples to demonstrate how AI isn't just a theoretical concept but a practical solution that brings tangible benefits.
Relevance focus
In the vast landscape of AI, stay focused on what's most relevant to your audience. Avoid overwhelming them with overly technical details. Instead, tailor your content to address the aspects that directly affect their lives or work. Explain how AI is a solution to real-world challenges.
Final thoughts
When wrapping up your presentation on Artificial Intelligence, aim to leave a lasting impression on your audience. Make sure they reflect on the insights you've shared. Here's how to craft a memorable ending:
Highlight the essentials: Briefly go over the primary messages from your presentation. This strengthens the main ideas for your audience, making them more memorable.


Stimulate reflection: Prompt your audience with questions that make them think deeply about the content they've just heard. Aim for questions that promote discussion and challenge their viewpoints.


Present a future outlook: Describe what the future might hold with AI's continued growth and its potential effects on our lives. Inspire your audience to look forward with excitement and wonder about the possibilities ahead.


End with an inspiring quote: Conclude your presentation with an inspiring quote related to AI or innovation. A well-chosen quote can leave a lasting impression and motivate your audience to explore AI further.


Call to action: Encourage your audience to take action. Whether it's suggesting further reading, inviting questions, or proposing a challenge related to AI, give your audience a clear next step to engage with the topic.
Creating an AI presentation that resonates with your audience depends on these two key steps. By choosing the right topic and crafting your presentation thoughtfully, you'll educate your audience in a captivating way, leaving them with a deeper understanding and appreciation for the exciting world of Artificial Intelligence.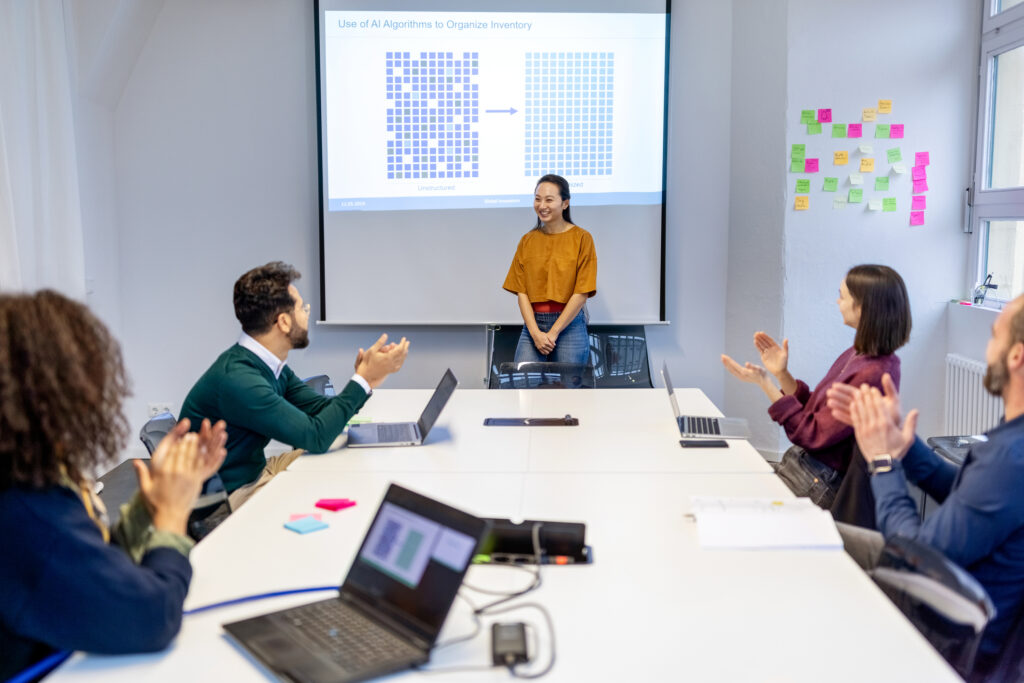 Why choose Prezi for AI presentations?
When it comes to sharing the magic of AI with your audience, Prezi stands out for a handful of reasons. 
Captivating visuals
Imagine telling your AI story with a tool that weaves a dynamic, non-linear narrative. Prezi lets you craft visually stunning presentations that'll impress your audience. Think of it as the key to making complex AI concepts not only understandable but also captivating.
Smooth transitions
Prezi's zoomable canvas and cinematic transitions make the presentations even more engaging. You can seamlessly zoom in for detail and pan out for the big picture. This makes your presentation journey much more captivating to follow.
Templates to jumpstart creativity
Don't want to start from scratch? No problem. There are plenty of customizable presentation templates to choose from. By creating your presentation from a template, you'll save valuable time and effort. Also, you'll be able to focus more on the content of your AI topic, making sure it comes across the way you intend it to. 
Storyboard for structure
Prezi's storyboard function is an excellent choice for your AI presentation. Rather than having a block of slides, Prezi lets you lay out your topics visually. You might begin with AI's history, move to its use in various sectors with real-life instances, and end with what's next for AI. It helps you design an engaging and coherent narrative for your viewers.
Artificial Intelligence presentation example
Still, wondering how Prezi can boost your AI presentation game? Take a look at the following presentation AI presentation by David Vandegrift. This presentation offers an easy-to-follow history and definition of AI, presented in a way that leaves a memorable impression. You can use the outline of this presentation to spark creative ideas for your own Artificial Intelligence presentation.

Make your AI presentations more engaging with Prezi
AI has got our attention, and there's already a sea of AI presentations out there. As you're looking to create a presentation on an AI topic, remember to make sure it's as engaging as the topic itself. With Prezi, you can weave a narrative that not only educates your audience about AI but also leaves them inspired by its boundless possibilities.
So embrace the AI wave, and spark curiosity for your audience. With Prezi, you're not just delivering a presentation; you're crafting an experience that lingers long after the applause. Explore more presentation examples and start creating your own today!