Presenting in front of an audience, whether a small group of colleagues at work, a classroom full of students, or an audience of potential investors for your personal project, can be a nerve-wracking experience. The pressure to convey your ideas clearly, engage your audience, and make a lasting impression can feel overwhelming. However, with the right preparation and approach, you can confidently deliver a good presentation that captivates your audience and achieves your desired outcomes.
In this article, we will delve into seven key elements that are essential for giving a good presentation. These elements encompass both the preparation and delivery aspects of presenting, ensuring that you are thoroughly prepared and equipped to deliver a compelling presentation. From understanding your audience and creating a strong structure to incorporating effective design practices and storytelling techniques, we'll provide you with practical tips and strategies to develop good presentation skills. With these key elements in your arsenal, you will be well on your way to giving a presentation that makes a lasting impact.
If you'd like to watch a video on how to give a good presentation featuring a Prezi Video presentation template, check it out here:
What makes a good presentation
Before we dive into the seven key elements of a good presentation, let's first explore what initially makes a good presentation.
As a matter of fact, what makes a good presentation is a combination of several components. First, it should be well-prepared, with thorough research on the audience and tailored content that is relevant and engaging. A survey by the National Speakers Association revealed that 74% of audiences pay closer attention to presentations that are tailored to their needs and interests. This emphasizes the importance of researching the audience to understand their preferences, expectations, and knowledge level and creating content that aligns with these factors.
Another key element to a good presentation is a strong structure with a clear beginning, middle, and end helps to keep the presentation organized and easy to follow. The Serial Position Effect, a concept from memory research, proves this point. It indicates that people tend to remember information presented at the beginning and end of a sequence better than information presented in the middle. By structuring a presentation with a clear beginning and end, the presenter can take advantage of this effect and ensure that key points or main messages are more likely to be remembered by the audience. To learn more about how to structure your presentation effectively, watch our video on this topic:
Also, effective design practices, such as visually appealing slides and appropriate use of images and visuals, enhance the overall visual appeal of the presentation. In fact, research has shown that incorporating visual aids into presentations increases their persuasive power by 43% compared to those without visual aids. By utilizing visual aids and spatial relationships to simplify complex ideas and make them accessible, presenters can effectively capture their audience's attention and keep them engaged throughout the entire presentation. And that's exactly what a Prezi presentation can offer to you. This also ties in with storytelling, which is another key technique presenters use to deliver good presentations. 
Storytelling techniques, including personal anecdotes and real-life examples, can captivate the audience and make the presentation more memorable. A study by Harvard University found that presenters who use storytelling techniques in their presentations are able to capture and maintain the audience's attention for longer periods of time, resulting in better overall comprehension and retention of information.
Lastly, practice and rehearsal are crucial for delivering a polished and confident presentation. The more a presenter practices and rehearses, the more confident they become in their presentation skills. Confidence is a key factor in delivering an effective presentation, as it helps the presenter establish credibility and engage the audience. Confidence also allows the presenter to handle unexpected situations, such as technical glitches or difficult questions, with poise and professionalism.
When all these elements come together, it results in a good presentation that leaves a lasting impression on the audience.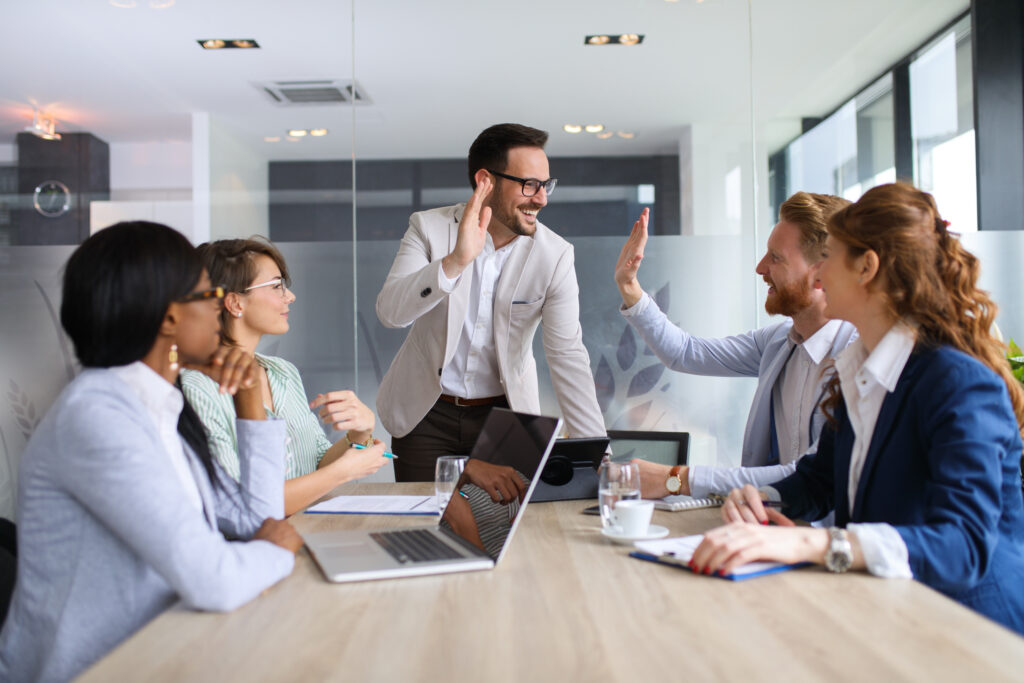 How to give a good presentation 
Now that we've established what makes a good presentation, explore how you can ensure that your next presentation is set up for success and makes a memorable impact on your audience.
Prepare for Success
Thorough preparation is essential for giving a successful presentation. Start by researching and gathering information on your topic. Dig deep into your subject matter to ensure that you have a solid understanding of the content you'll be presenting.

What you can also do is organize your thoughts and create an outline to guide you through your presentation, using a mind map that you can create on Prezi. This will help you stay focused and ensure that your presentation flows logically from one point to the next.

Practice your delivery multiple times to build confidence and identify areas that may need improvement. Rehearsing will also help you manage your time effectively during the actual presentation, allowing you to stay on track and deliver your message with clarity and confidence.
Know Your Audience
Understanding your audience is a critical component of delivering a good presentation that truly resonates with them. Taking the time to thoroughly consider who your audience is and what they are interested in can greatly enhance the impact of your presentation. Start by researching and analyzing your audience demographics, such as their age, education level, professional background, and interests. Also, consider their prior knowledge and familiarity with your topic, as well as their expectations and goals for attending your presentation.
Once you have a clear understanding of your audience, tailor your content to meet their specific needs and expectations. Use language that is appropriate and understandable to your audience, avoiding jargon or technical terms that may be unfamiliar to them. Craft your message in a way that is relevant and relatable to their interests, concerns, and experiences. This will help you establish a connection with your audience and make your presentation more engaging.
In addition, incorporating relevant examples or anecdotes that your audience can relate to can be highly effective. Real-life examples, case studies, or anecdotes that are relevant to your audience can help illustrate your points and make your content more relatable and memorable. This creates a sense of connection and relevance, as your audience can see how your topic directly applies to their own lives or work.
By connecting with your audience on a personal level, you can captivate their attention and keep them engaged throughout your presentation. When your audience feels that you understand their needs, interests, and expectations, they are more likely to actively participate and remain attentive. Tailoring your content and language to your audience's preferences and using relatable examples can create a sense of rapport and trust, which enhances the overall impact of your presentation.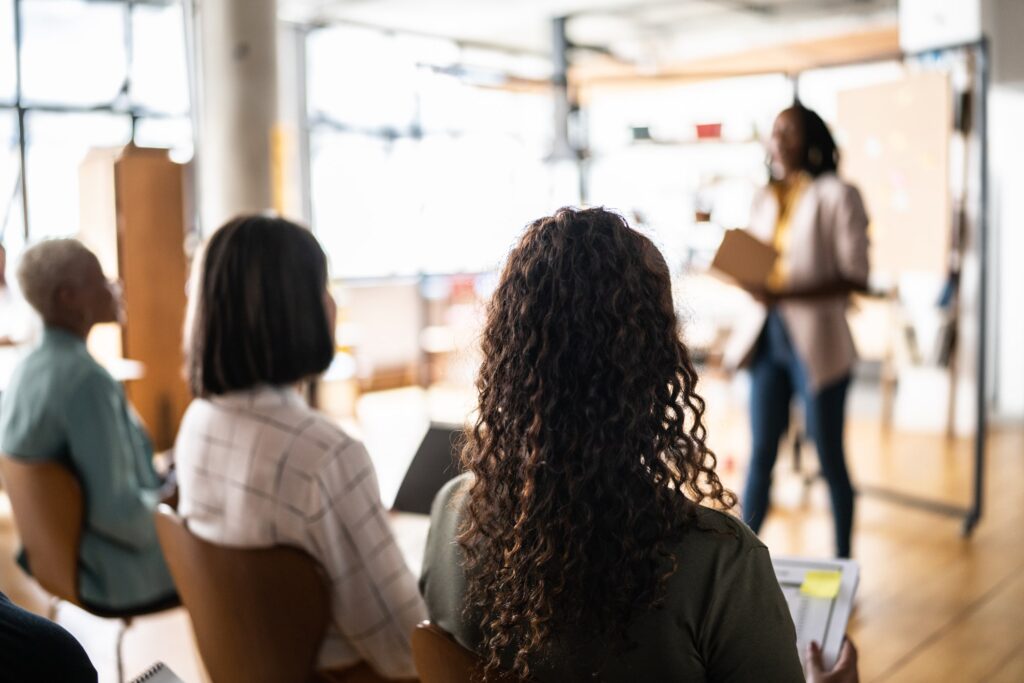 Create a Strong Structure
A well-structured presentation is key to keeping your audience engaged from start to finish. Your structure should include an attention-grabbing introduction, a clear and organized body, and a strong and memorable conclusion.
Introduction
Your introduction sets the stage for your entire presentation and presents an opportunity to make a lasting impression on your audience. It's your chance to captivate their attention right from the start and create a sense of anticipation for what's to come. To achieve this, start with a hook that grabs their attention and piques their interest.
One effective way to hook your audience is by using a compelling statistic that is relevant to your topic. It can be a surprising fact, a startling figure, or a thought-provoking data point that immediately captures your audience's attention. This can create a sense of intrigue and curiosity, motivating your audience to lean in and listen attentively to what you have to say. And you don't need to outsource a data visualization tool to create a visually appealing chart or map – you can use Prezi Design and incorporate charts, graphs, and maps into your presentations like in the example below.
Another effective approach is to start with a thought-provoking question that encourages your audience to reflect and engage with your topic. It can be a rhetorical question that stimulates their curiosity or a direct question that prompts them to think about their own experiences or opinions related to your presentation. This can help establish a connection with your audience and encourage them to actively participate in your presentation.
Alternatively, you can begin your introduction with a powerful quote that is relevant to your topic. A well-chosen quote from a reputable source can instantly grab your audience's attention and lend credibility to your presentation. It can also evoke emotions or convey a sense of urgency, compelling your audience to sit up and take notice.
In addition to using verbal hooks, visual aids or multimedia can also be effective in creating an attention-grabbing introduction. Incorporate relevant images, videos, or slides that are visually appealing and enhance your message. This can add an element of visual interest and help reinforce your key points.
However, it's crucial to ensure that your introduction is not only attention-grabbing but also relevant to your topic and sets the tone for the rest of your presentation. It should provide a clear transition into the main content of your presentation and establish the context for what is to follow. This helps your audience understand the purpose of your presentation and sets their expectations for the remainder of your talk.
Discover more ways to start a presentation by watching this video:
Body
Once you have successfully captured your audience's attention with a compelling introduction, it's crucial to deliver your main points in a clear and organized manner. This ensures that your audience can easily follow along and grasp the key messages you are conveying. 
Organizing the body of your presentation can be done in different ways, depending on your topic and audience. One common approach is to use a chronological order, where you present your ideas in a sequence that follows a timeline or a sequence of events like in the Prezi presentation below. This can be effective when you are presenting historical information, explaining a process, or discussing the progress of a project or an initiative.

Another approach is to organize your content by priority. This involves presenting your ideas in an order of importance, starting with the most critical or impactful point first and then moving on to the lesser ones. This can be useful when you are discussing a series of ideas or recommendations, and you want to emphasize the most important ones to your audience.
Alternatively, you can organize your content by theme. This involves grouping related ideas together and discussing them in a cohesive manner. This approach is useful when you are presenting different aspects or perspectives of a broader topic, and you want to highlight the connections between them.
Whichever organizational approach you choose, it's important to use transitions between your ideas to create a smooth flow. Transitions can be in the form of verbal cues or visual aids, such as signposts, that indicate a shift from one idea to another. This helps your audience to follow along easily and understand the logical progression of your presentation.
Visual aids, such as graphs, charts, images, or videos, can be valuable tools to enhance your message and make your content more engaging. They can provide visual representations of complex information, support your key points, and make your content more memorable. However, it's crucial to be mindful of the pacing of your presentation and avoid overwhelming your audience with too much information. Use visual aids judiciously and ensure they are relevant and supportive of your main message.
Conclusion
Ending your presentation with a memorable conclusion is a crucial opportunity to reinforce your main points and leave a lasting impression on your audience. By summarizing your key messages and tying them together in a cohesive manner, you can create a powerful ending that resonates with your audience.
One effective way to reinforce your main points is to concisely summarize your key messages. This can help reinforce the key takeaways from your presentation and ensure that your audience remembers the most important information. You can also use this opportunity to highlight the significance of your key messages and emphasize their relevance to your audience.
In addition to summarizing your main points, you can also include a call to action in your conclusion. This can be a specific next step that you want your audience to take after your presentation, such as signing up for a newsletter, visiting a website, or taking action on a particular issue. 
Furthermore, you can offer a final thought or reflection in your conclusion. This can be a powerful way to leave a lasting impression on your audience and encourage them to reflect on the content of your presentation. 
To make your conclusion even more impactful, consider using visual aids or multimedia. Visuals such as images, icons, stickers, GIFs, and more can add an extra layer of engagement and creativity to your conclusion, all of which you can find in Prezi's media library. 

Use the best design practices
The visual aspect of your presentation is crucial in creating a memorable and engaging experience for your audience. Follow these best design practices to ensure that your presentation is visually appealing and effective:
Easy to read and understand
When creating your presentation, it's essential to ensure that you use a legible font size and style. Choosing a font that is easy to read, even from a distance, can greatly enhance the clarity of your content. Additionally, leaving ample space between elements and text is crucial to avoid a cramped and cluttered appearance. This allows your audience to easily process the information without feeling overwhelmed. Opting for a clean and simple layout that logically organizes your content can further aid in comprehension. Avoid unnecessary elements or distracting visuals that may divert your audience's attention from the main message. Clutter can hinder the audience's ability to understand your content, so it's best to keep the design minimalistic and focused. By following these guidelines, you can create a visually appealing and effective presentation that effectively conveys your message to your audience.

Simplicity
Grab their attention by making your presentation more interactive
In the realm of design, the principle of "less is more" holds true. Embracing simplicity and minimalism can result in a more impactful and effective presentation. One effective strategy is to remove unnecessary design elements that don't contribute to the main points of your content. By doing so, you can streamline your visuals and direct your audience's attention to the key information you want to convey.
Consistency is also key in design. Choosing a harmonious color scheme that complements your content and aligns with your brand or message can enhance the visual coherence of your presentation. Avoid using too many colors or conflicting color combinations that can be distracting or overwhelming. Keeping your visual aids clean and uncluttered, with ample whitespace, can help create a sense of balance and ease of comprehension.
A simple and visually appealing design can greatly assist in conveying your message. It allows your audience to focus on the content without unnecessary distractions. A clutter-free design can also help in improving information retention, as it makes it easier for your audience to absorb and retain the key points of your presentation.

Storytelling
One effective way to elevate your presentation to the next level is by incorporating a motion-based presentation tool like Prezi. Prezi offers a unique and dynamic way to illustrate the connections between different ideas, creating a visually captivating and engaging storytelling experience. By utilizing motion, zooming, and panning effects, you can create a seamless flow of content that guides your audience through your presentation with fluidity and purpose.
A motion-based presentation can be particularly valuable when explaining complex concepts or showcasing intricate relationships between ideas. It provides a visually appealing way to showcase the relationships, patterns, and interactions between different elements, making it easier for your audience to grasp the content and retain the information. 
In addition to the visual benefits, a motion-based presentation also allows you to inject your own personal style and creativity into your presentation. You can customize the motion paths, zoom levels, and transitions to create a unique and memorable visual experience that aligns with your content and delivery style. This can help you stand out from traditional slide-based presentations and create a lasting impression on your audience.

Visual Aids
Visual aids are an invaluable tool in presentations as they can greatly enhance the impact and effectiveness of your content. Whether it's charts, graphs, images, or videos, strategic use of visual aids can add depth and clarity to your presentation, making it more engaging and memorable for your audience.
When using visual aids, it's essential to ensure they are relevant to your content and directly support your main message. Choose visual aids that complement your presentation goals and help clarify complex information or concepts. For example, using charts and graphs to present data can provide a visual representation that is easier to understand and interpret than raw numbers.
However, it's important to strike a balance and avoid using too many visual aids that may overwhelm or distract your audience. Too many visuals can cause sensory overload and detract from your main message. Instead, use visual aids selectively and purposefully, focusing on those that directly support your key points and enhance audience understanding.

Engage Your Audience
Engaging your audience is critical to keeping their attention and making your presentation memorable. Use the following techniques to actively involve your audience during your presentation:
Questions and polls
By actively involving your audience in the presentation process, you can encourage their participation and keep them engaged throughout.
Asking questions can be a powerful tool to gauge your audience's understanding of the content you are presenting. You can ask open-ended questions that require thoughtful responses or closed-ended questions that prompt quick answers. This not only allows you to assess their comprehension of the material but also encourages them to actively think about the topic and participate in the discussion.
It's also important to create a supportive and inclusive environment where participants feel comfortable sharing their thoughts and opinions. Encourage them to ask questions, provide feedback, and actively participate in the discussion. Acknowledge and appreciate their contributions, and use their feedback to further enhance your presentation.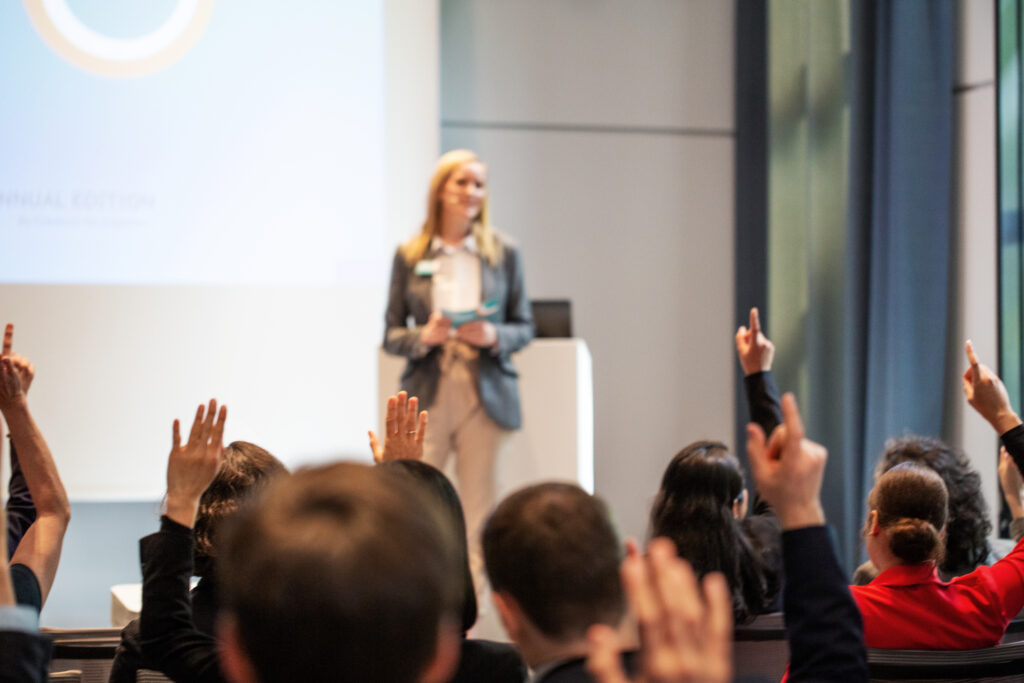 Interactivity
Incorporating interactive elements into your presentation can elevate your content to a whole new level by actively involving your audience in the learning process. By going beyond traditional lecture-style delivery, you can create a dynamic and engaging experience that resonates with your audience and leaves a lasting impression.
One effective interactive element is demonstrations. Showcasing practical examples or demonstrations of concepts, products, or processes can help your audience visualize how things work in real life. This hands-on approach allows them to see your content in action, making it more tangible and relatable. You can use props, visual aids, or multimedia tools to enhance your demonstrations and create a memorable experience for your audience.
Group activities are another powerful interactive element that promotes active participation and collaboration. Break your audience into smaller groups and assign them tasks or activities related to your content. This could include brainstorming sessions, role-plays, simulations, or problem-solving exercises.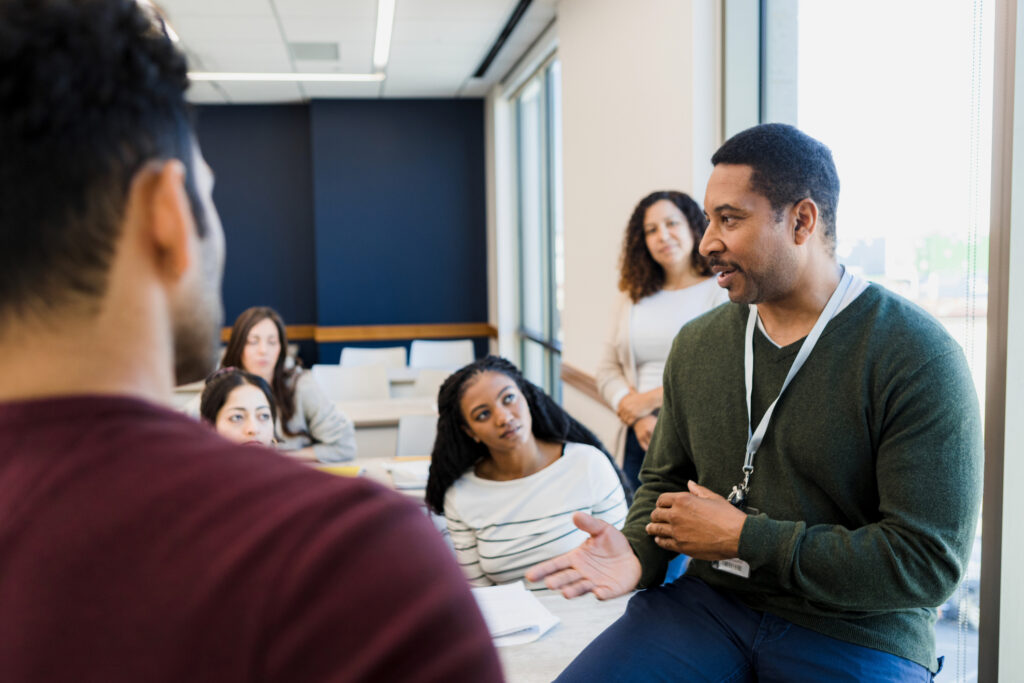 Case studies are yet another valuable interactive element that can bring real-world relevance to your content. Presenting relevant case studies or scenarios that reflect the challenges and opportunities your audience may face can help them apply your content to practical situations. 
Incorporating interactive elements into your presentation not only makes it more engaging and relevant but also fosters active learning, enhances retention, and encourages audience participation. 
Eye contact and body language
Maintaining eye contact with your audience is a powerful communication technique that helps establish a connection and build rapport. When you make direct eye contact with individuals in your audience, you convey confidence, sincerity, and respect. It shows that you are present and attentive and that you value their attention and participation.
In addition to eye contact, your body language plays a crucial role in projecting confidence and engagement during your presentation. Stand tall and maintain a good posture, as it conveys confidence and authority. Avoid slouching or fidgeting, as it can detract from your message. Use purposeful hand gestures to emphasize key points or to illustrate concepts, as they can add dynamism and expressiveness to your presentation. If applicable, move around the stage or the room to engage with different parts of the audience and create a connection with everyone in the room.
Confident body language also includes facial expressions, tone of voice, and overall energy. Smile genuinely and use a warm and friendly tone of voice to create a positive and approachable presence. Show enthusiasm and passion for your topic through your gestures, facial expressions, and vocal intonation. Your energy and enthusiasm can be contagious and can help keep your audience engaged and attentive.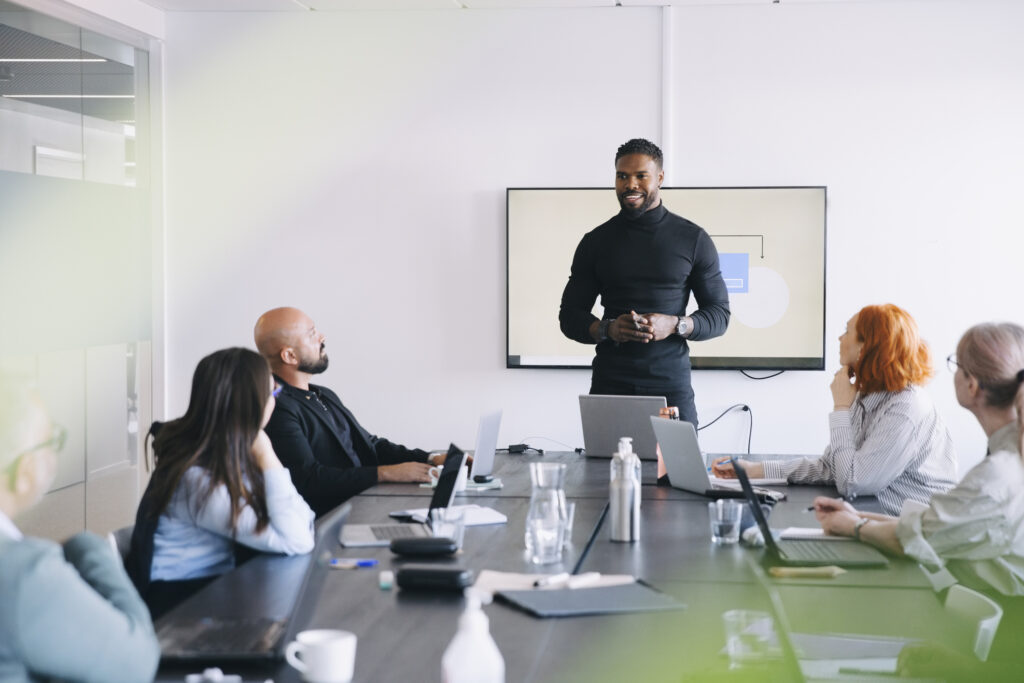 Storytelling
Storytelling is a powerful tool that can make your presentation more relatable and compelling to your audience. By incorporating storytelling techniques, such as sharing anecdotes, case studies, or personal experiences, you can create a narrative that resonates with your audience on an emotional level and helps them connect with your content.
When using storytelling techniques, it's important to keep in mind the purpose and relevance of the stories you share. Ensure that your stories directly support your main message and contribute to the overall flow and coherence of your presentation. 
Manage nerves and handle questions
Managing nerves and handling questions effectively are crucial skills for a successful presentation. Here are some tips on how to not be nervous for a presentation.
Practice, practice, practice
As you devote more time to practicing, honing your skills, and refining your presentation, you will notice a tangible increase in your self-assurance. The process of rehearsing your content, timing, and delivery multiple times is essential for building a robust sense of confidence and reducing any lingering nervousness that may arise. The more effort you put into practice, the more comfortable and prepared you will feel when it comes time to deliver your presentation. So, don't hesitate to invest ample time and energy into rehearsing, as it will undoubtedly pay off in terms of boosting your confidence and ensuring a successful presentation.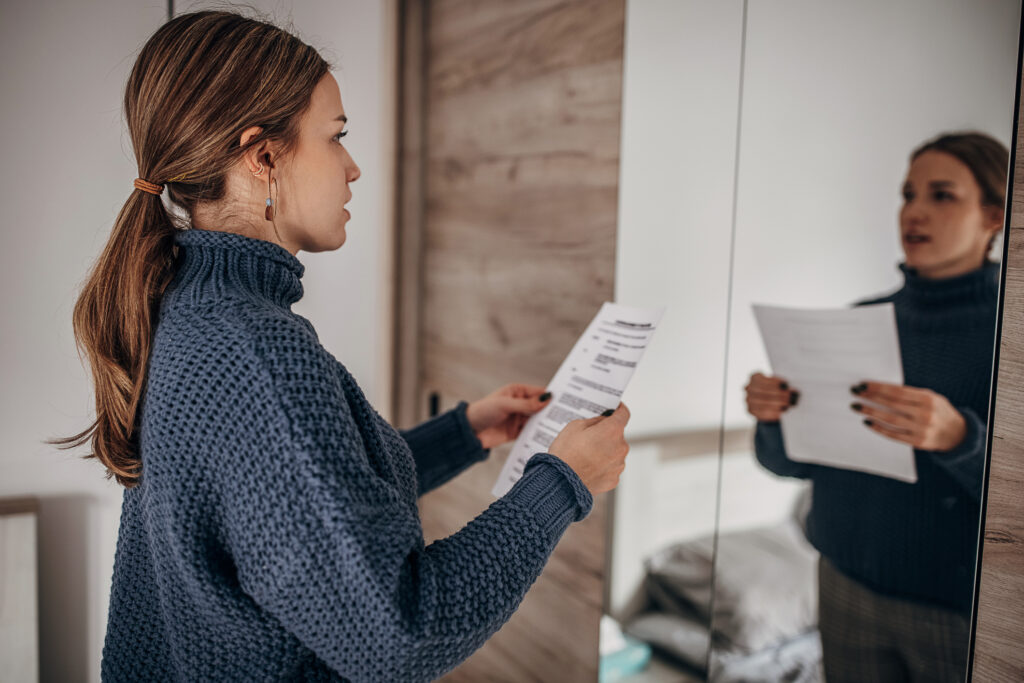 Prepare for questions
Anticipating potential questions and crafting thoughtful and concise answers is a crucial step in preparing for your presentation. By considering the possible inquiries that your audience may have, you can proactively address them, demonstrating your expertise and preparedness. 
Take the time to thoroughly research and gather information to ensure that your responses are accurate and relevant. When the time comes for questions during or after your presentation, remain open and approachable, encouraging audience participation. 
Responding with confidence and professionalism will not only showcase your knowledge but also establish your credibility as a speaker. Plus, your ability to handle questions with confidence and professionalism will leave a lasting impression on your audience and enhance the overall effectiveness of your presentation.
Stay calm and composed
Feeling nervous during a presentation is entirely normal, but there are strategies you can employ to manage those nerves and deliver a confident performance. One effective technique is to take deep breaths, allowing yourself to inhale deeply and exhale slowly to calm your nerves and regulate your breathing. Remember to breathe from your diaphragm, as this can help you relax and maintain a steady voice.
In addition to deep breathing, remind yourself that you are the expert on your topic. You have put in the time and effort to research and prepare for this presentation, and you are well-equipped to share your knowledge with your audience. Embrace the confidence that comes with being knowledgeable about your subject matter, and let that knowledge guide your delivery.
During the presentation, if you are faced with questions that catch you off guard or make you feel anxious, take a moment to pause and gather your thoughts. Don't rush to respond, as this can result in hasty and incomplete answers. Instead, take a deep breath, maintain eye contact with the questioner, and thoughtfully compose your response. If needed, ask for clarification or repeat the question to ensure you fully understand it before responding.
If you want to learn more about how to give a good presentation without being nervous, watch the following video: 

Be genuine
In the event that you encounter a question during your presentation for which you do not know the answer, it's important to prioritize honesty and transparency. Resist the urge to guess or provide inaccurate information, as this can undermine your credibility as a presenter. Instead, be upfront and candid with your audience, acknowledging that you don't have the answer at the moment.
A professional approach in such situations is to offer to follow up later with the correct information. You can assure the questioner that you will make the effort to research and verify the accurate response after the presentation, and then provide it to them in a timely manner. This demonstrates your commitment to accuracy and your dedication to providing reliable information to your audience.
By being honest and transparent about not knowing the answer, you uphold your integrity as a presenter and maintain the trust of your audience. It's far better to admit when you don't have the information rather than provide incorrect or misleading answers that can lead to confusion or misinformation.
Stay Positive and Confident
Lastly, stay positive and confident throughout your presentation. Believe in your content and your ability to deliver it effectively. Keep a positive attitude, smile, and connect with your audience. Remember, confidence is contagious, and a confident and positive presenter is more likely to captivate their audience and deliver a successful presentation.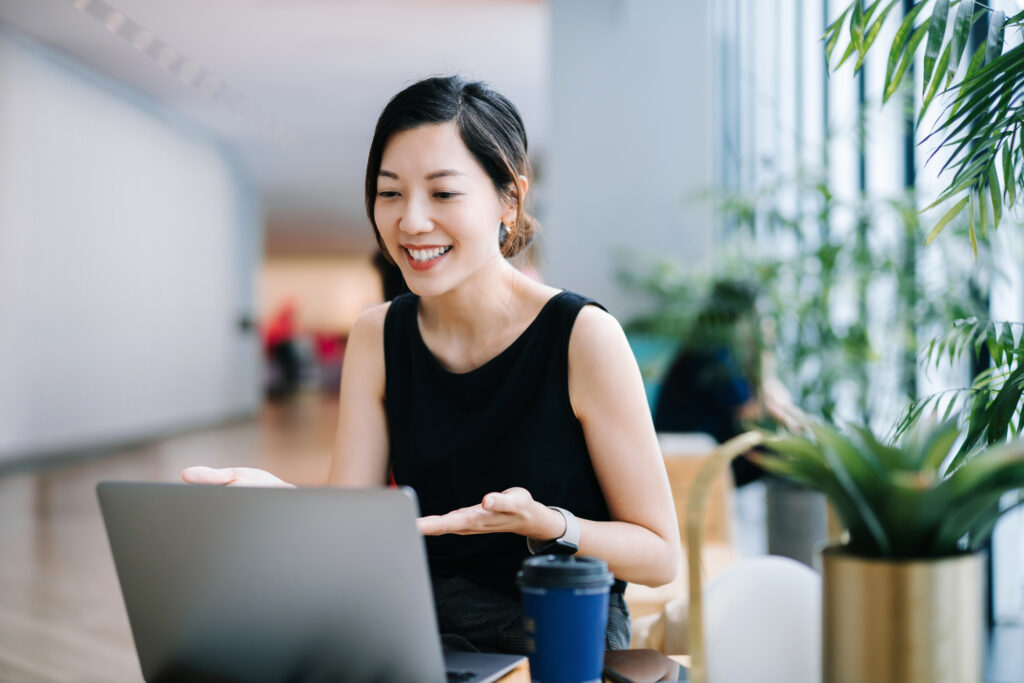 Conclusion
In conclusion, giving a good presentation goes beyond just having great content. It requires careful planning, understanding your audience, creating a clear structure, implementing effective design practices, engaging your audience, managing nerves, handling questions with grace, seeking feedback for improvement, and maintaining a positive and confident demeanor throughout. By incorporating these key elements into your presentation strategy, you can elevate your presentation skills and deliver memorable and impactful presentations that leave a lasting impression on your audience. Remember, preparation and practice are essential, and it's normal to feel nervous, but with the right techniques and mindset, you can overcome those nerves and deliver a presentation that truly shines.