Marketers need to collaborate with different teams across the organization in order to deliver impactful content. But that can be challenging in the hybrid workplace, where most people are distributed and working remotely. That's why we turned to top marketers for their hybrid work model best practices. Check out their videos below — recorded in Prezi Video —  to learn more.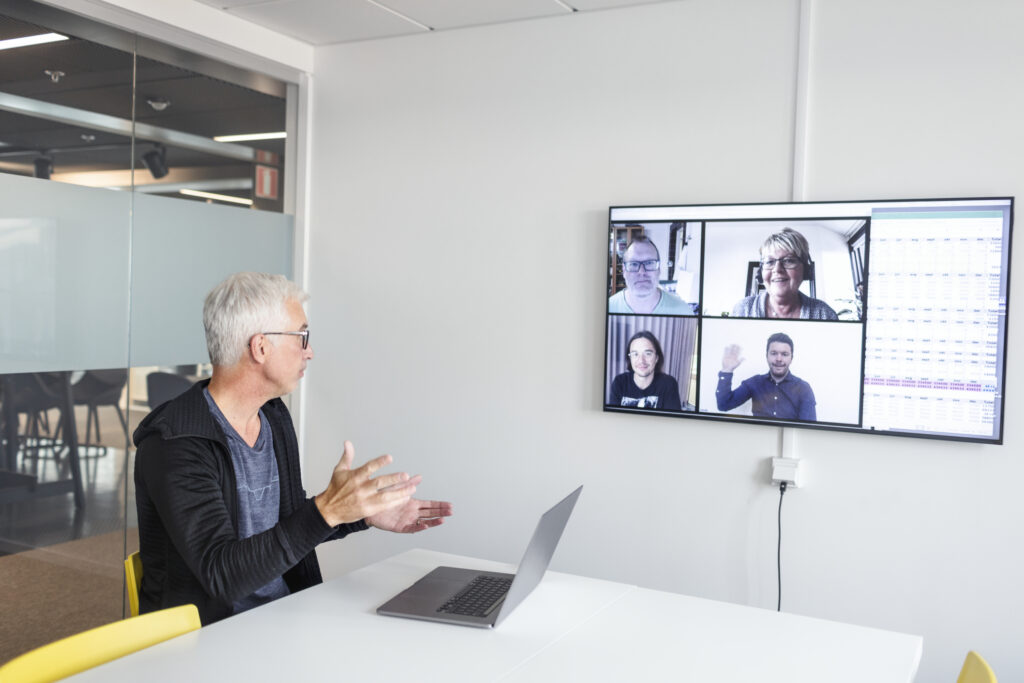 Improving collaboration in the hybrid workplace
Whether they're creating one-pagers and customer stories for sales teams or helping product teams promote a new feature, marketers often have to work cross-functionally. In order to work seamlessly with hybrid or remote colleagues, though, you'll need to update your processes. 
Ashley Faus, the Content Strategy Lead for Software Teams at Atlassian, points out that it's important to treat our colleagues like our customers by applying the three Cs: context, content, and comments. For example, at Atlassian, they've implemented a work-life impact play to better understand everyone's remote work situations and adjust their processes accordingly:
Jenn Barkley, the VP of Field Marketing for Cybersource at Visa, also emphasizes the importance of knowing your audience. She adds the need to create cohorts that give each member a specific role or responsibility, and to be sure to embrace both extroverts and introverts in the way you communicate: 
Creating impactful and memorable content 
Sorting out your internal processes will set you up for success, but ultimately, your job is to create content for customers and prospects. Ashley shares some tips to help you create social media posts that engage your audience and increase brand awareness. In her Prezi video, she highlights the questions you should be asking yourself before creating content, as well as the 10 tropes that are great to use in your own posts:
Stay connected while you work remotely with Prezi Video
You should also keep in mind that you're not limited to only having fun with social media copy. Crystal Washington, a technology strategist and futurist, recommends gamifying your client presentations. In fact, she suggests adding a fun element to your presentations every 10 to 15 minutes in order to get your audience's attention and keep them engaged. 
Watch her video for five ways to gamify your content, including polls, surprise guests, and a "wheel of names":
Going to market quickly
No matter how incredible your content is, though, if you're not able to go to market quickly, then the content will rapidly lose its value. This is especially true in the hybrid workplace, where you need to communicate and collaborate effectively online in order to coordinate campaigns and product launches. 
Randy Frisch, the CMO at Uberflip, emphasizes just how crucial speed is in marketing. Too often, marketers are affected by scope creep and technology that serves to help the team "get by" versus "kick ass." In his video, Randy details the steps you'll need to take in order to remove the "launch gap" and prioritize speed at every step: 
Your marketing content should always focus on the "customer," whether that's a user, a prospect, or a colleague. Get even more tips on how to engage your customers online by watching our hybrid work webinars or downloading our ultimate guidebook to hybrid meetings.