In the realm of public speaking and professional communication, mastering different presentation styles is essential for engaging and captivating your audience. Whether you're delivering a business pitch, an educational lecture, or a sales presentation, the way you present your content can make a significant impact on conveying your message effectively. This article aims to explore various presentation styles and highlight the versatility of Prezi presentations that can elevate your delivery to new heights. From the classic approach to storytelling and demonstrations, we'll delve into how Prezi can support and enhance each presentation style.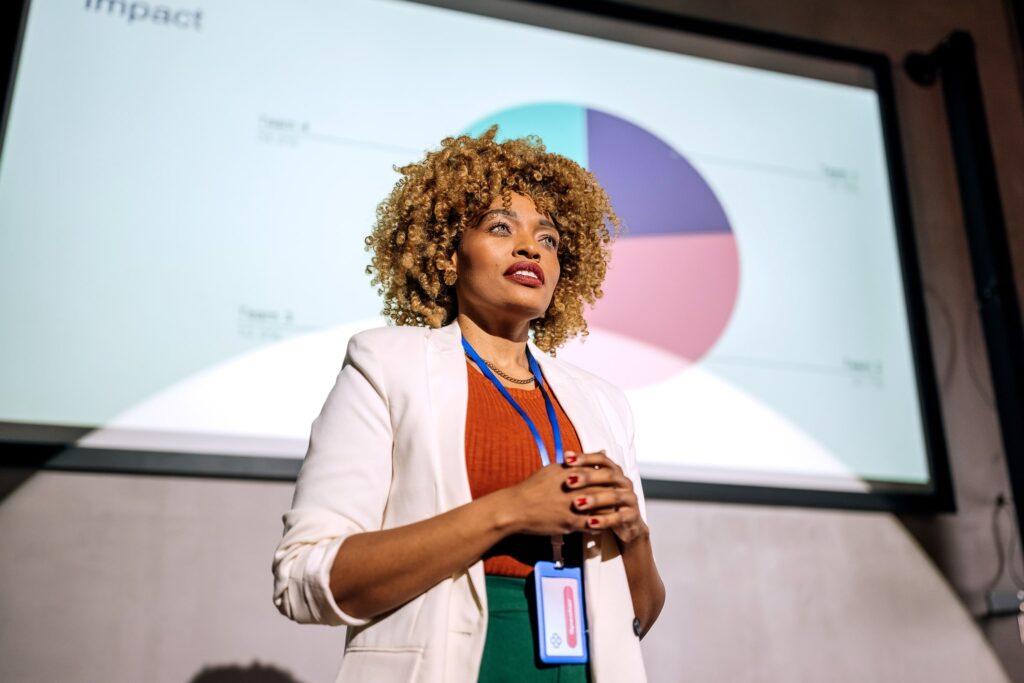 Why is it important to choose the right presentation style?
Selecting the appropriate types of presentation styles is crucial for effectively delivering your message and engaging your audience. The choice of style can significantly impact the overall effectiveness and success of your presentation. Here are some reasons why it's important to choose the right style for your presentation.
Audience engagement
Different presentation styles have varying levels of audience engagement. By selecting a style that aligns with your audience's preferences and expectations, you can enhance their level of engagement and create a more impactful presentation. For example, an interactive style may be ideal for engaging a tech-savvy audience, while a visual style can captivate visually-oriented individuals.
Message clarity 
Each presentation style has its strengths in conveying specific types of information. For instance, a storytelling style is effective for presenting narratives and evoking emotions, while a demonstration style is suitable for showcasing the practical application of a product or process. Choosing the right style ensures that your message is communicated clearly and resonates with your audience.
Retention and memorability
A well-suited presentation style enhances the audience's ability to remember and retain information. By utilizing visuals, interactive elements, or a freeform approach, you can create a memorable experience that helps your audience internalize and recall key points long after the presentation is over. The right style can make your content more memorable, increasing its impact and effectiveness.
Personal connection
The presentation style you choose can also influence the level of personal connection you establish with your audience. Some styles, such as a freeform or conversational approach, foster a sense of rapport and authenticity. By selecting a style that aligns with your personality and communication style, you can establish a stronger connection with your audience and create a more engaging and relatable experience.
Brand representation
Your presentation style should also align with your brand identity and values. Consistency in style and tone across your presentations helps build brand recognition and reinforces your messaging. Choosing a style that is consistent with your brand image ensures a cohesive and professional representation of your organization or personal brand.
Audience needs and preferences
Understanding your audience's needs, preferences, and expectations is paramount when choosing a presentation style. By considering factors such as their industry, demographics, and familiarity with presentation formats, you can tailor your style to cater to their specific requirements. This customization enhances their overall experience and increases the likelihood of achieving your presentation goals.
To explore the different presentation styles in a video format, watch our comprehensive video on this topic:
Classic presentation style
The classic style of presentation serves as the foundation for many public speeches and business presentations. It follows a structured and logical approach, with a clear introduction, main points, and conclusion. This style often utilizes bullet points, accompanied by concise explanations. By employing the classic style of presentation, speakers can effectively communicate their ideas, engage their audience, and leave a lasting impact.
Integrating Prezi into the classic style of presentation introduces an interactive dimension, enabling you to craft visually appealing slides that captivate and sustain audience interest. Through Prezi's dynamic capabilities, such as zooming and panning, you can accentuate essential details and maintain an engaged audience from start to finish. For a classic presentation style, check out the following Prezi presentation templates.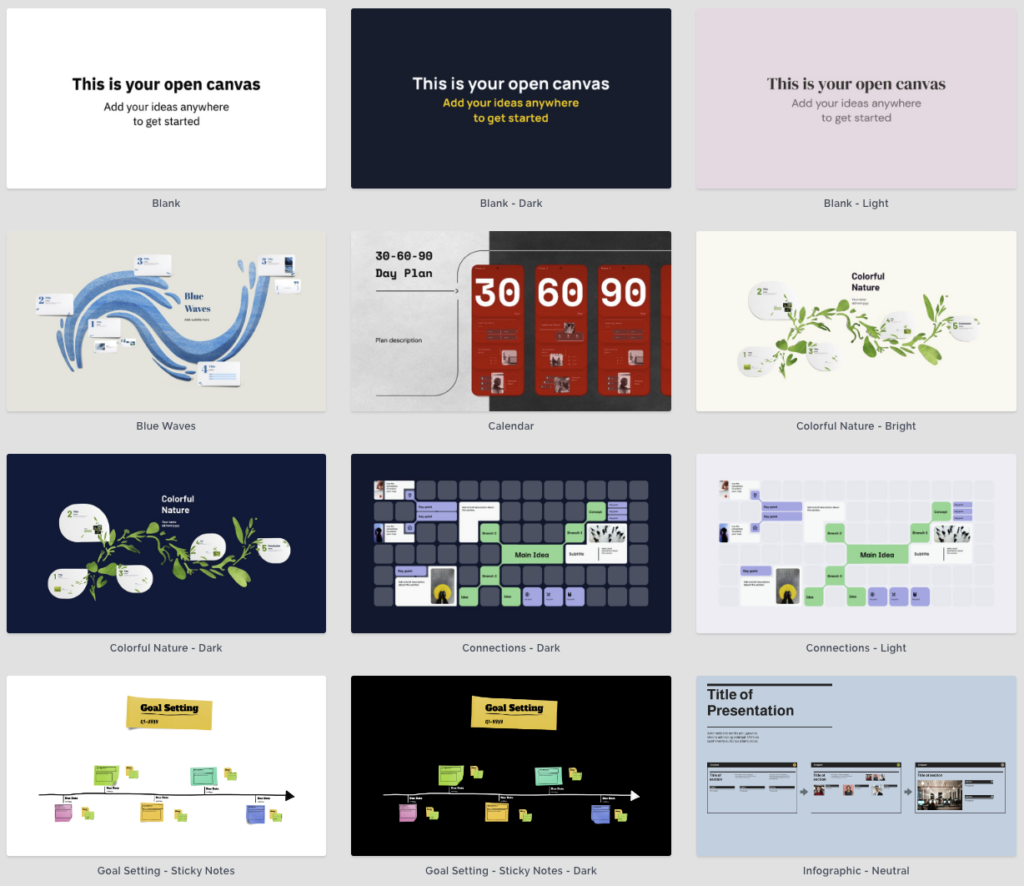 Storytelling presentation style
Storytelling is a powerful technique that can breathe life into your presentations. It goes beyond simply relaying facts and figures. It taps into the power of narrative, engaging the audience's imagination, emotions, and personal experiences. Through storytelling, you can create a shared experience with your listeners, allowing them to relate to your message on a deeper level. By presenting information in the form of a story, you can captivate attention, maintain interest, and ensure better retention of key points. 
Grab their attention by making your presentation more interactive
Storytelling also provides a framework for organizing complex information, as it follows a natural progression of beginning, middle, and end. It allows you to introduce characters, conflicts, and resolutions, which help in clarifying concepts and illustrating the practical applications of your ideas. This style invites active participation from the audience, as they become invested in the narrative and eagerly anticipate the outcome. Overall, storytelling is a potent tool that enriches presentations by fostering emotional connections, enhancing understanding, and leaving a lasting impact on your audience.
Prezi offers a range of templates and design options that enable you to create visually stunning storytelling presentations. You can incorporate images, videos, and other multimedia elements to enhance the storytelling experience. With Prezi's seamless transitions and cinematic effects, you can take your audience on a captivating journey, effectively conveying your message in a memorable way.

Demonstration presentation style
Demonstration presentations are particularly useful when showcasing a product, process, or concept. This style involves actively illustrating how something works or how to perform a task. Furthermore, the demonstration presentation styles cater to different learning styles, accommodating visual, auditory, and kinesthetic learners. Through a combination of visual aids, live examples, and interactive elements, this style ensures a memorable and impactful experience that resonates with the audience long after the presentation is over.
Prezi's interactive features allow you to embed videos, animations, or step-by-step visual guides to provide a clear demonstration. You can create a path through the presentation that guides the audience through each step, ensuring a smooth and engaging experience. Prezi's flexible canvas provides ample space to showcase details and highlight important features, making your demonstration impactful and informative.

Interactive presentation style
The interactive presentation styles break away from the traditional one-way flow of information and encourage active participation from the audience. It involves incorporating interactive elements, such as quizzes, polls, and collective exercises, to engage the audience and promote a two-way communication process. By embracing interactive presentation styles, speakers can transform their presentations into dynamic and engaging experiences that foster collaboration, encourage audience involvement, and create a shared learning environment.
With Prezi's interactive capabilities, presenters can spark discussions, successfully hold people's attention, and create a collaborative environment that keeps the audience involved and invested in the presentation. For an interactive presentation, discover the Prezi presentation example below.

Visual presentation style
A visual presentation style relies heavily on visually appealing elements to convey information. It emphasizes the use of graphics, images, charts, and infographics to enhance understanding and capture the audience's attention. 
This style leverages the principle of visual hierarchy, organizing information in a visually logical manner to guide the audience's attention and comprehension. Visual presentations not only make information more digestible but also enhance retention and recall. The combination of relevant visuals and concise text creates a harmonious blend that aids in understanding and increases the overall impact of the presentation.
Prezi provides a wide array of visually stunning templates, design elements, and multimedia integration options to create visually impactful presentations. Presenters can leverage Prezi's drag-and-drop editor to easily incorporate eye-catching visuals, ensuring that complex concepts are simplified and memorable. By combining Prezi's visual capabilities with storytelling techniques, presenters can create visually engaging presentations that resonate with their audience.

Freeform presentation style
The freeform style of presentation offers presenters the flexibility to adapt their content on the go, responding to audience reactions and tailoring the presentation in real-time. It allows for spontaneity, improvisation, and a more conversational tone. 
While it requires confidence, knowledge, and the ability to think on one's feet, the freeform style allows for a more fluid and natural presentation that can resonate deeply with the audience. It's a format that encourages active participation, facilitates meaningful discussions, and provides an opportunity for presenters to truly connect and build rapport with their listeners.
Prezi's open canvas and non-linear structure provide the perfect platform for freeform presentations. Presenters can navigate freely between topics, zoom in on important details, and adjust the flow based on audience engagement. Prezi's zooming and panning capabilities enable presenters to have a dynamic and fluid presentation, allowing for seamless transitions and a personalized delivery that connects with the audience.

Prezi for different presentation styles
Mastering various presentation styles is crucial for effectively conveying your message and captivating your audience. Prezi serves as an invaluable tool that enhances each presentation style, allowing you to create engaging, visually stunning, and interactive presentations. Whether you choose the interactive, visual, or freeform style, Prezi's features and versatility enable you to craft memorable presentations that leave a lasting impact. Embrace the power of Prezi as you embark on your journey to deliver exceptional presentations that captivate, inform, and inspire your audience. Elevate your communication skills to new heights of excellence and unlock the true potential of your ideas with Prezi's transformative capabilities.