Business training and coaching have become increasingly virtual over the years, whether through live video conferences or a series of recorded sessions. And it's easy to see why — not only does online training help learners review material on their own time, it's also great for accommodating people from all over the world. 
But oftentimes, virtual training sessions can run into the same challenges of any other video conference — establishing a human connection between the speaker and their audience. Because training is usually reliant on showing information, trainers have to share their screen, which results in them obscuring their body language and facial cues. And with a screen full of visuals and text in front of them, viewers are more tempted to read the screen instead of paying attention to the speaker. 
That's where Prezi Video comes in. We've seen more and more trainers and coaches adopt Prezi Video for their online sessions in order to stay front and center next to their content. Read on to learn why trainers are using Prezi Video for their virtual training sessions, and watch example videos made by trainers in the Prezi community.
Support more types of learning
Samantha Lee is Gitlab's Community Advocate and the founder of Digital Nomad Career Coach — she builds trainings that teach aspiring remote professionals how to apply for remote roles. She loves the ability of Prezi Video to reach more types of learners than other video platforms. 
"Prezi videos let me tease out key content to include as text on the page while showing video at the same time," says Samantha. "I love this aspect to the platform, as other recording software seem to prioritize one or the other – with Prezi, I can create trainings that support learners who learn best with either video or text."
See how Samantha highlights key points visually in her Prezi video on leveraging non-remote skills to get remote positions.
Reach a broad audience
Patricia Figueroa, founder of The Career Glow Up, used Prezi Video to provide tips for her large LinkedIn following. As she says, "Prezi has been amazing for disseminating 'insider' information as a previous recruiter to a general audience." Her video on connecting with recruiters has been viewed over 700 times on LinkedIn and generated substantial feedback. 
Prezi Video's visual format was extremely effective at getting her point across to a large audience, and she was able to add a voice-over to describe each point. Watch her video on recruitment here:
Show examples
When you're training a group of people about how to do something right, it helps to reference a good example. "Nothing beats real-world examples in terms of how to structure and format a resume," says Patricia. "I felt the platform was extremely effective in allowing candidates to be walked through my resume writing methods step by step in order to be able to create their own fully optimized documents."
Stay connected while you work remotely with Prezi Video
Watch Patricia's video on optimizing resumes for ATS here:
Look polished and professional
When you're putting together a virtual training, how you present yourself on video is key. Prezi Video makes your training sessions look professional and stand out compared to those using other video tools. 
Diana YK Chan, career coach, speaker, and trainer at My Marketability, loves the impact of Prezi Video. As she says, her training sessions look "more professional and polished" and "people are impressed." 
Watch her video on personal branding for inspiration on creating a polished, professional training session: 
Be creative
Prezi Video gives you a lot of freedom to present and design your content, much more than other video platforms; after all, online training is all about getting your material across in the most effective and engaging way possible. 
Compared to a lot of other tools available to trainers, Prezi Video provides a lot more flexibility. "As a video recording tool," Samantha says, "Prezi provides more opportunity to be creative than other tools I've used. I'm able to customize text, color, and graphic elements on my Prezi videos." 
At Prezi, our very own trainer Vince Giorgini provides virtual training sessions and on-demand training about the Prezi tools. See how he uses the side-by-side view of presenter and content to introduce the use of topics and subtopics in Prezi Video.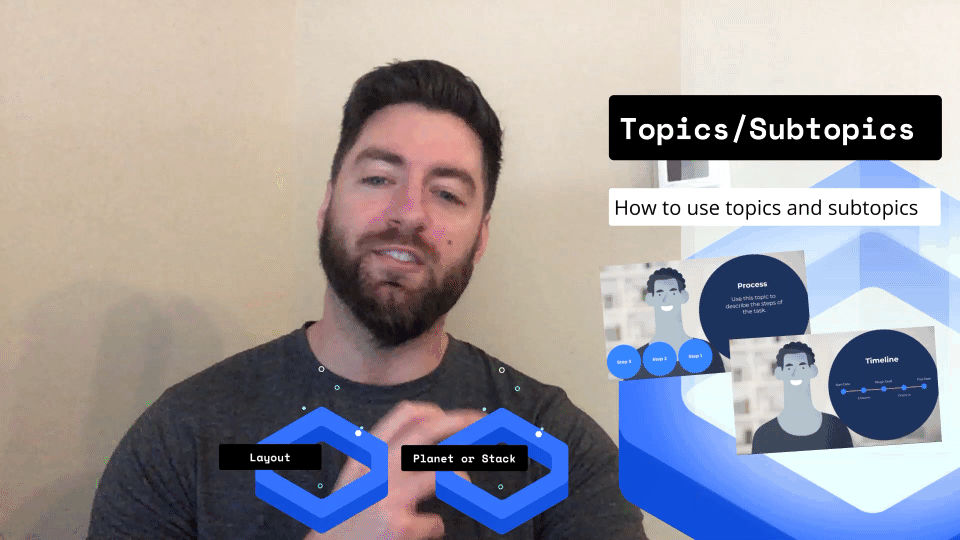 Learn how to create a Prezi video and customize it with your personal style, or find inspiration from other virtual training videos made by coaches in the Prezi community.