In the hybrid workplace, one of the top ways to keep employees motivated and engaged is by investing in virtual L&D (learning and development). By encouraging people to continually improve their skills, you'll not only help with their own professional growth, but also help them become more efficient in their work. Read on for a collection of virtual L&D tips (made in Prezi Video) from experts and thought leaders.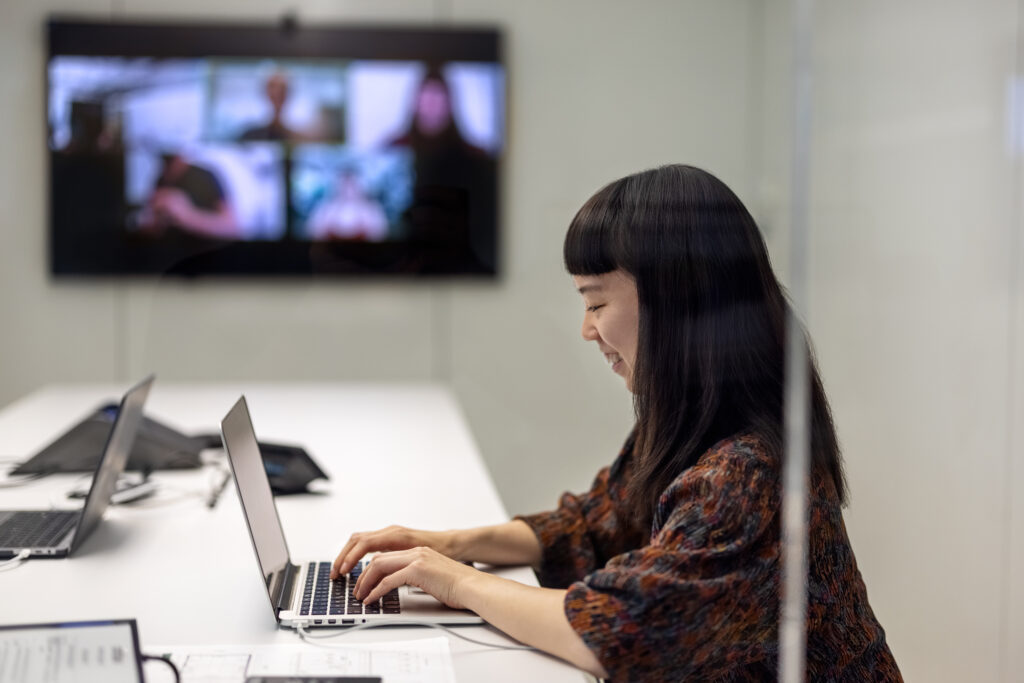 The bottom line: Learning matters 
To understand why virtual L&D is important for your business, you only have to look at any leading organization. Darren Shimkus, the CEO of edtech organization Modal.io and the former President at Udemy for Business, took a closer look at leading versus lagging organizations as part of Prezi's Big Ideas campaign. 
He found that leading organizations often implemented learning strategies, including encouraging employees to take smart risks, prioritizing knowledge and skills to compete in the future, and building opportunities for L&D into work. Find out more in his Prezi video: 
Why you should embrace collaborative learning 
Tom Baragwanath, Senior Content Editor at 360Learning, doesn't mince words when it comes to the state of L&D — simply put, there's currently an L&D crisis, and it's not just because of the pandemic. Completion rates for learning courses have been low, and according to a survey, 85 percent of respondents reported some degree of workplace disengagement. 
To combat this, Tom points to collaborative learning as the solution. That's because it's fundamentally "bottom up" — learning isn't something that happens to people, but instead becomes something people can take charge of themselves. Applying collaborative learning techniques to your virtual L&D initiatives will lead to learning that's fast, peer-driven, and distributed, leading to better completion and retention. Learn more in his Prezi video: 
Using collaborative learning for remote onboarding 
You can bring collaborative learning to the forefront of your organization by incorporating it into new employee onboarding. Robin Nichols, the Managing Editor at 360Learning, shares some simple tips to encourage collaborative learning, especially for remote teams. For instance, creating a communal "day one" for multiple employees can ease them into the company and build more camaraderie. 
Similarly, enabling public feedback on the onboarding material and providing some space for new hires to work together and communicate can give them a stronger sense of agency and curiosity right from the beginning. Get even more tips in Robin's Prezi video:
Stay connected while you work remotely with Prezi Video
Shifting from traditional learning to everyday learning 
In order for your virtual L&D initiatives to be successful, you'll need to move away from traditional learning courses and start adopting an everyday learning model. Alex Smith, an Account Executive at learning management systems company Docebo, explains that instead of having a dedicated course, you can find "courses" throughout your workday — it's just a matter of finding them. 
He points to the 70-20-10 model as the lens to view your workplace learning with: 70 percent of what you learn as adults at work is by doing, 20 percent is through collaboration, and only 10 percent is through formal training. Watch Alex's Prezi video for more insights:
Always be upskilling 
Shelley Osborne, the former VP of Learning at Udemy, draws parallels between everyday learning and your smartphone apps. Just as your apps get small updates throughout the year, you should also be constantly updating your skills and acquiring new knowledge. 
In her Prezi video, which was also featured in our Big Ideas campaign, she explores five ways that organizations can make learning core to the way they work, including making learning more agile, giving frequent feedback, and communicating the value of learning.
Make sure your learners are paying attention
Even if you convey the importance of learning, one of the key challenges in the workplace is getting employees to pay attention — as Tom mentioned earlier, many people are experiencing disengagement at work. Joshua Peterse, a Presentation Specialist at presentation agency Missing Link, explains how attention is now a diminishing resource, so creating compelling content is more important than ever. 
However, he emphasizes that simply making everything pretty isn't enough. Instead, you should consider your narrative first — a good presentation should be written before it's designed, and designed before it's delivered. Watch his video for examples and actionable tips to improve your virtual L&D materials: 
If you haven't already, start prioritizing virtual L&D in your workflow, especially for hybrid organizations. Not only will it help foster better collaboration in the hybrid office, you'll also help your employees become more engaged and productive. Share how your organization is embracing L&D by creating your own Prezi video, then tag it with #learninganddevelopment for a chance to be featured in our Video Gallery.