Presentation skills are a crucial aspect of communication in today's world. Whether you're delivering a pitch to potential investors, giving a lecture in front of a class, or trying to make a point at a meeting, your ability to effectively present your ideas can greatly impact your success. However, not everyone is a natural-born speaker. Many struggle with nerves and self-doubt when it comes to presenting in front of an audience. But don't worry! Improving your presentation skills is possible with practice and dedication. In this blog post, we'll provide you with practical tips that will help you become a confident and engaging speaker. From preparing your material to engaging with your audience, we'll cover everything you need to know to take your presentation skills to the next level. So whether you're just starting out or looking to refine your existing presentation skills, read on for all the advice and inspiration you need to succeed.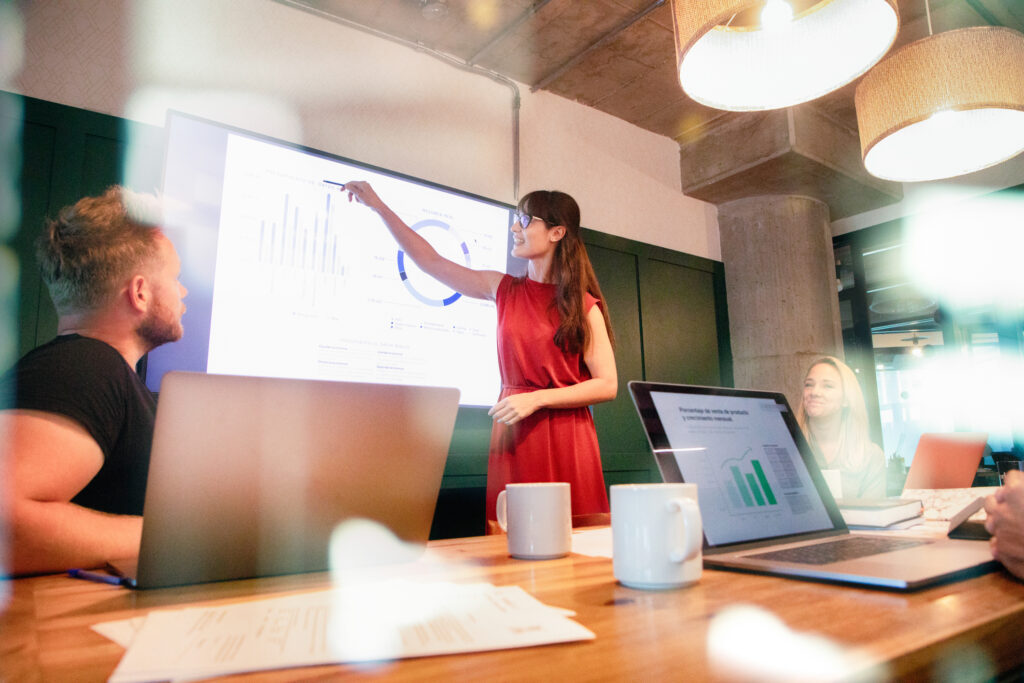 Types of Presentations
Before we dive into specific presentation skills, it's important to define the different types of presentations that may require different skills in how they're presented. There are several types of presentations you can choose from, each with its own distinct format and style. Let's take a look at some of the most common types of presentations:
Narrative presentations
In these types of presentations, the speaker focuses on telling a story that engages the audience and reinforces the main message. This type of presentation is perfect for engaging and entertaining an audience. It helps to keep the audience interested and focused and can be a great way to reinforce the main message. However, it can also be time-consuming to prepare a well-structured narrative.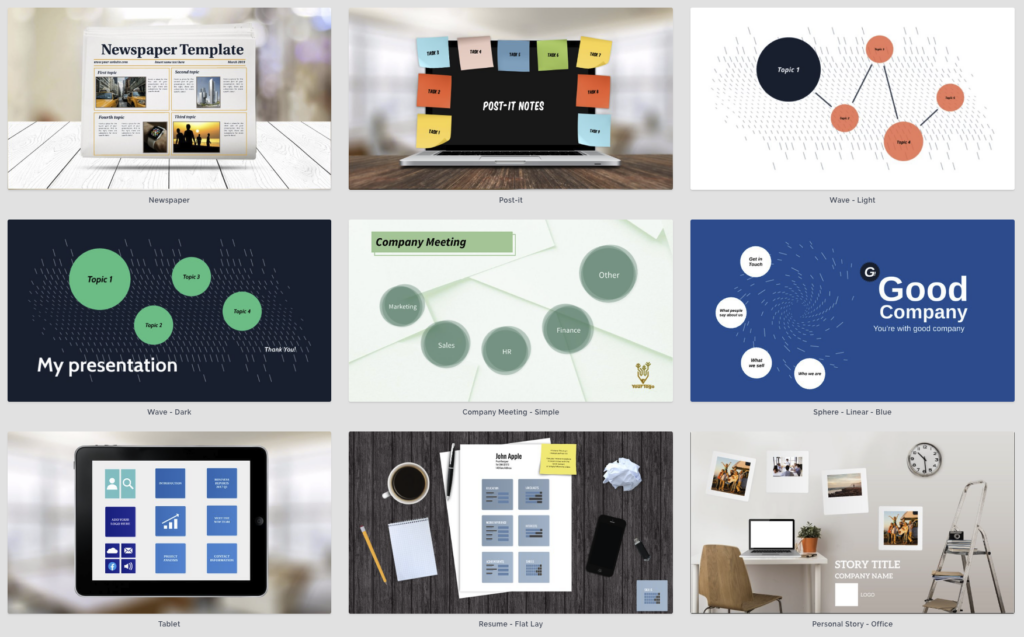 Informative presentations
These types of presentations are designed to provide information on a specific topic. The speaker focuses on delivering accurate and relevant information to the audience in an organized and straightforward manner. This type of presentation is great for providing accurate and relevant information to the audience. The organized and straightforward delivery makes it easy for the audience to understand and retain the information. However, it can be difficult to keep the audience engaged and interested if the presentation is too dry or lacks excitement.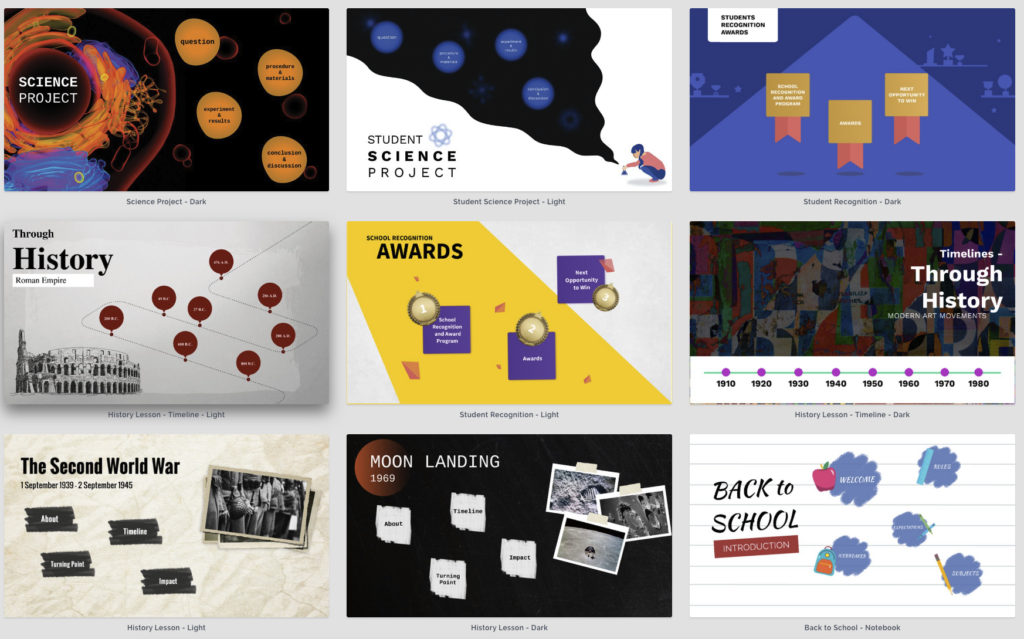 Persuasive presentations 
In persuasive presentations, the speaker aims to convince the audience to take a specific action or adopt a particular point of view. This type of presentation often includes arguments, statistics, and other persuasive techniques. However, if the arguments are weak or the persuasive techniques are ineffective, the presentation can fall flat and fail to achieve its intended outcome.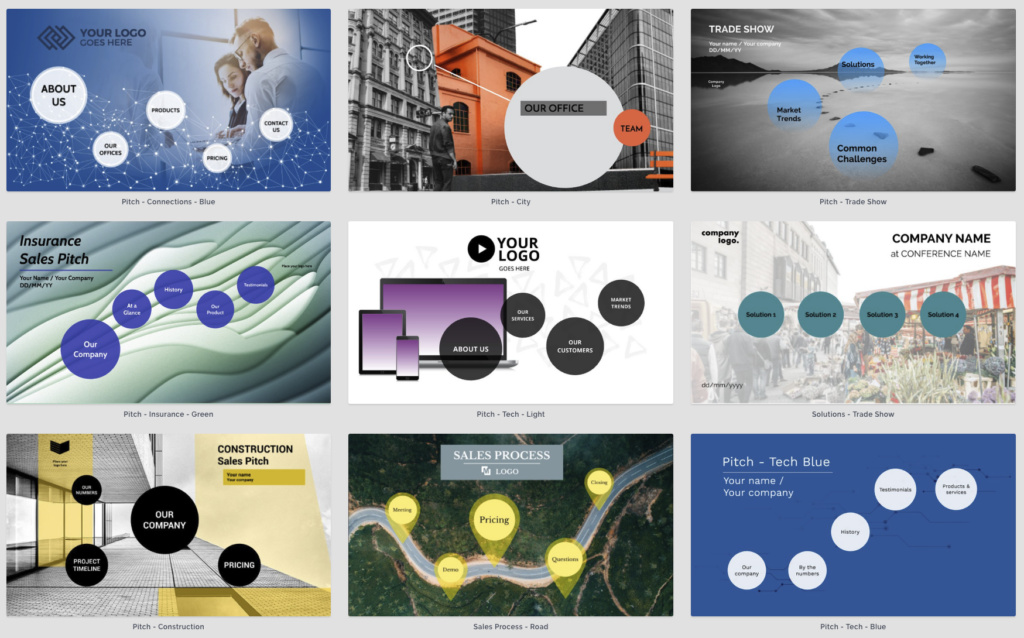 Demonstrative Presentations
These types of presentations focus on demonstrating a product or service to the audience. The speaker often includes visual aids, such as slides or videos, to help illustrate the key features and benefits of the product or service. However, it can be difficult to keep the audience engaged if the demonstration is too lengthy or repetitive.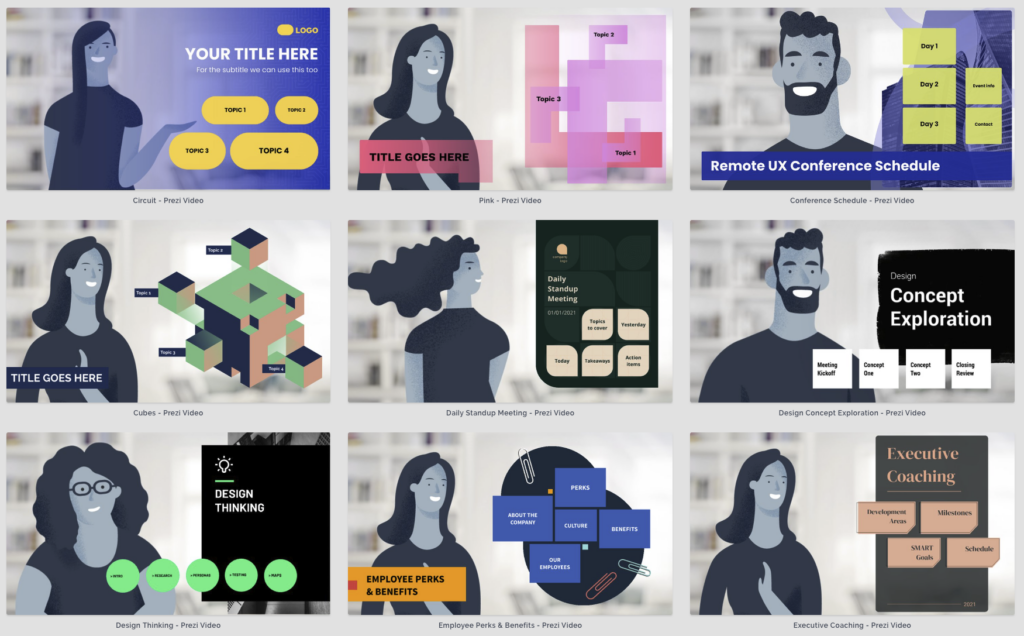 Instructional Presentations
Instructional presentations are designed to teach the audience a specific skill or provide them with step-by-step instructions. The speaker often uses visual aids, such as diagrams or slides, to make the instructions clear and easy to follow. It's perfect for teaching the audience how to perform a specific task. The use of visual aids, such as diagrams or slides, makes it easy for the audience to understand and follow the instructions. In this type of presentation, it's important to present the instructions in a highly engaging way so the audience doesn't lose interest.
Choosing the right type of presentation format can greatly impact the success of your presentation. Consider the audience, the message you want to convey, and the resources available to you, when deciding on the best presentation format for your needs. Once you've decided on a presentation format, you can move on to developing certain presentation skills that are most important for the specific case.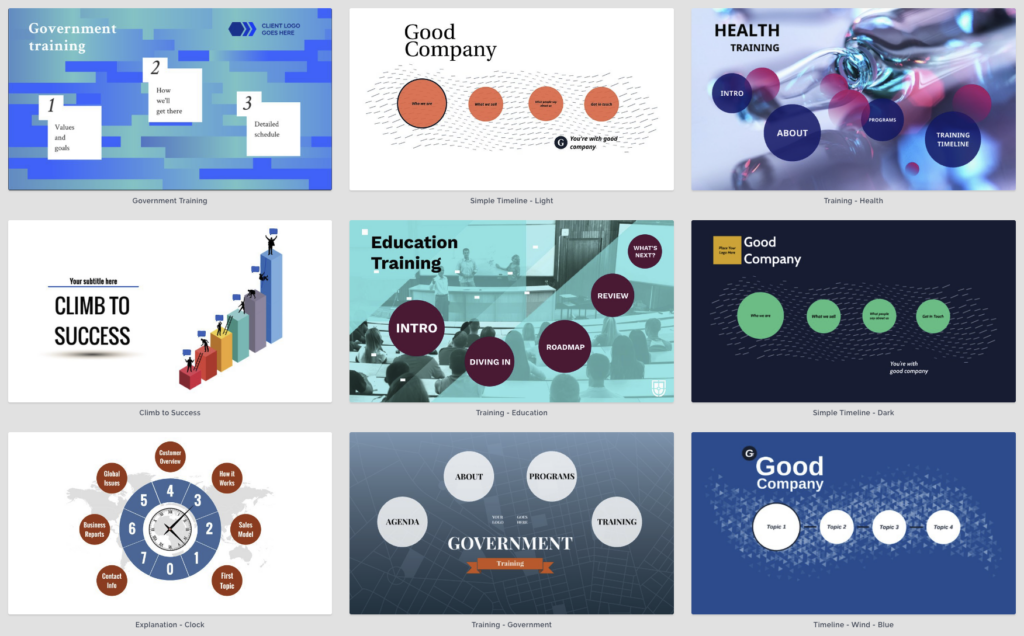 Presentation delivery methods
The way you deliver your presentation is crucial. Therefore, we want to highlight this aspect before we dive into other effective presentation skills. A delivery method can make or break a presentation, regardless of the quality of the content. There are various methods of presentation delivery. The choice of method depends on the type of audience, the topic of the presentation, and the desired outcome. Discover 4 ways you can deliver a presentation and what kind of skills and approach they require. 
Traditional delivery
One of the most common presentation delivery methods is the traditional method of standing in front of an audience and delivering a speech. This method is suitable for formal presentations, such as keynote speeches, lectures, and corporate presentations. This method requires the speaker to have excellent public speaking skills, including voice modulation, body language, and eye contact. A traditional presentation delivery usually follows a classical presentation outline that has a clear beginning, middle, and end. 


Visually-focused presentation delivery
Another method of presentation delivery is the use of visual aids. This method involves using multimedia tools, such as images, videos, and infographics. Visual aids are effective because they can help the audience to better understand complex information, and they can also serve as a reference for the audience to refer to after the presentation. However, visuals should not be the sole focus of the presentation, as they can distract the audience from the message. 
If you want to create a visually-focused presentation, discover different Prezi presentation templates, and be sure to add images, videos, data visualizations, GIFs, stickers, and other visuals that you can find in Prezi's content library and Prezi Design. 
If you want to learn more about the use of visuals in a presentation, and what are the best design practices, watch this video:
Interactive presentation delivery
Another way to deliver a presentation is by using interactive methods such as group discussions, role-plays, and simulations. This method is suitable for presentations that require the audience to actively participate in the presentation. Interactive presentations can be useful for training sessions, team-building exercises, and workshops. 
On Prezi, you can create highly interactive presentations where your audience can be active participants. Prezi's non-linear format allows you to jump between topics instead of flipping through slides, so your presentation feels more like a conversation than a speech.


Storyteller delivery
The last method of presentation delivery is storytelling. It involves the use of anecdotes, personal experiences, and stories to deliver a message. Storytelling is a highly effective tool because it can help the audience to relate to the message on a personal level. 
Storytelling can also be used to make a presentation more engaging and entertaining. 
If you want to visually showcase a relation between two aspects and capture the transitional movement in a timeline, use motion, zoom, and spatial relationships in a Prezi presentation to showcase the nuances of your story world. 
Regardless of the presentation delivery method, make sure to follow the best presentation practices:
Be well-prepared and knowledgeable about the topic. This can be achieved through research, practice, and rehearsal.


Use clear and concise language that is easy for the audience to understand. You should avoid using jargon and technical terms, or you can take time to explain them to the audience. 


Work on engaging the audience using eye contact, body language, and humor. This can help you establish a connection with the audience and make the presentation more engaging. 


Be mindful of the time and ensure that the presentation is delivered within the allotted time frame.

 
Use effective visuals, if applicable, to support your message without overpowering it.



Effective presentation skills
There are numerous skills that you can develop to improve your presentations. In this article, we've summoned the following 8 presentation skills that are essential to any presenter that wants to make an impact with their message.
1. Effective communication
Effective communication skills are critical when it comes to presenting information to others. Presentations require a clear and concise message, and communication skills are key in delivering this message to your audience. Good communication skills allow you to connect with your audience, build rapport, and maintain engagement throughout the presentation. In addition, communication skills allow you to articulate your ideas and arguments clearly, and to respond to questions or challenges effectively. 
To improve this skill, practice speaking in front of a mirror or recording yourself to identify areas where you may need improvement. Also, consider using vocal techniques such as varying your tone and volume to keep your audience engaged.
2. Confident body language
Confident body language is an essential presentation skill as it communicates to the audience that the speaker is credible, knowledgeable, and in control. A confident posture, eye contact, and gestures can help you establish a strong presence and build rapport with the audience. It also helps you to convey your message more effectively. 
To practice confident body language, start by standing tall with shoulders back and head held high. Also, make eye contact with the audience and use natural hand gestures to emphasize key points. It's also important to practice speaking clearly and with conviction, as this can further enhance the impact of confident body language during a presentation. 
If you're interested in learning more about body language, read our article on 9 secrets to a confident body language.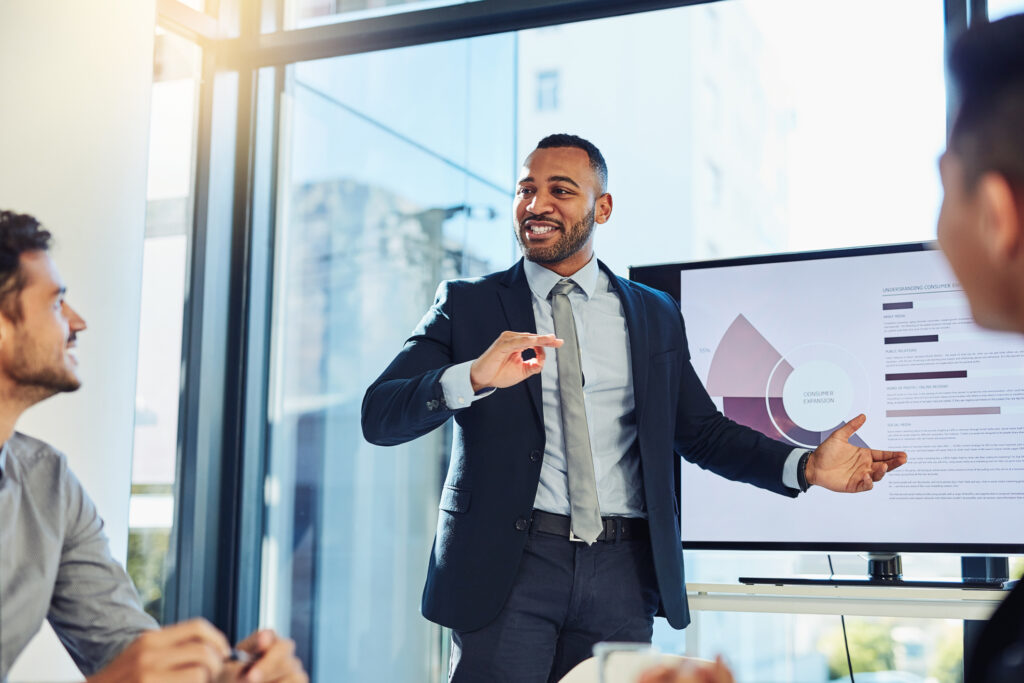 3. Audience engagement
Being able to engage your audience is a crucial presentation skill because it ensures that your message is well-received and understood. When you engage your audience, you capture their attention and maintain their interest throughout your presentation. This can make the difference between a successful presentation and one that falls flat. Holding the attention of your audience requires a combination of factors, such as having a clear message, being confident and comfortable in your delivery, using visual aids effectively, and connecting with your audience on a personal level. 
To improve this skill, you can practice rehearsing your presentation in front of friends or colleagues and seeking feedback. You can also try studying successful public speakers and their techniques and incorporating audience participation activities into your presentation to keep them engaged and interested. 
Additionally, you can engage your audience by opting for a motion-based presentation. It'll enhance the impact of your content and ideas, making it more captivating for your audience to watch than a slide-based presentation. On Prezi, you can use motion, spatial relationships, and zooming effects to create highly impactful presentations. 


4. Time management
Time management is an essential presentation skill as it helps to ensure that you deliver your message effectively and efficiently within the allotted time. Poor time management can lead to an unprofessional and unprepared presentation, leaving the audience disinterested or confused.
To practice good time management, begin by planning and rehearsing your presentation in advance. It's important to allocate sufficient time to each section and consider factors such as audience engagement and potential interruptions. You can also use time-tracking tools and practice pacing yourself during rehearsals to ensure you stay on schedule. By mastering time management, you can deliver a polished and engaging presentation, leaving a positive and lasting impression on your audience.
5. Content organization
Effective organization of presentation content is crucial for any presenter, as it determines the clarity and impact of the message. Organized content can help you convey your ideas in a logical and coherent manner, which aids in maintaining the audience's attention and retention of information. 
To ensure that your presentation's content is well-organized, it's important to follow a few key steps. 
Identify the main points you want to convey and arrange them in a logical order.


Create a clear outline that includes an introduction, main body, and conclusion.


Use transition words or phrases to smoothly connect each point to the next. 


Ensure that your presentation has a consistent flow and that each point supports your overall message. 

By following these steps, you can effectively organize your presentation's content and create a memorable and impactful experience for the viewers.
If you're creating a sales presentation, be sure to read our step-by-step guide on crafting a winning sales presentation.
Also, discover how to best structure your presentation based on your presentation goal in this video:
6. Storytelling 
Storytelling is a powerful presentation skill that can captivate your audience's attention and enhance the impact of your message. Stories allow us to connect with people on a deeper emotional level, and help us convey complex ideas in an easy-to-understand way. When we tell a story, we engage our audience, evoke their imagination, and inspire them to take action. 
To develop strong storytelling skills, you should practice telling stories with a clear beginning, middle, and end that convey a message or lesson. It's also important to incorporate sensory details, such as sight, sound, touch, smell, and taste, to help the audience visualize the story. Also, make sure to focus on the tone of your delivery, including voice inflection, body language, and facial expressions, to effectively convey the emotions and dynamics of the story. Finally, use one of Prezi's presentation templates like the one visualized below, or create your own story presentation on Prezi and visualize relations between topics, events, and characters using spatial relationships and visual hierarchy. 


By mastering the art of storytelling, you can deliver a powerful presentation that resonates with the audience and creates a lasting impression.
7. Adaptability
Adaptability is a crucial presentation skill – it allows you to adjust and respond to unexpected situations, changes, and challenges during the presentation. The key is to be properly prepared. This means researching your topic and practicing your presentation speech enough so that you're prepared for any changes or questions that may arise. When you're prepared, you'll feel more present and be able to read the room and adjust to your audience's needs and interests.

Also, be flexible and open-minded to new information, feedback, and audience reactions. This skill will enable you to think on your feet and modify your content or delivery style accordingly. 
Grab their attention by making your presentation more interactive
And lastly, you want to uphold the quality of your presentation no matter where you're presenting, online or offline. If you need to adapt your presentation to an online experience, use Prezi Video and simply import your already-existing Prezi, Powerpoint, or Google slides, and deliver the same level of presence and quality as offline. With Prezi Video, you can showcase your slides next to you on-screen as you present, keeping that face-to-face interaction. 
Make sure to check out Prezi Video templates that you can find in Prezi's template gallery.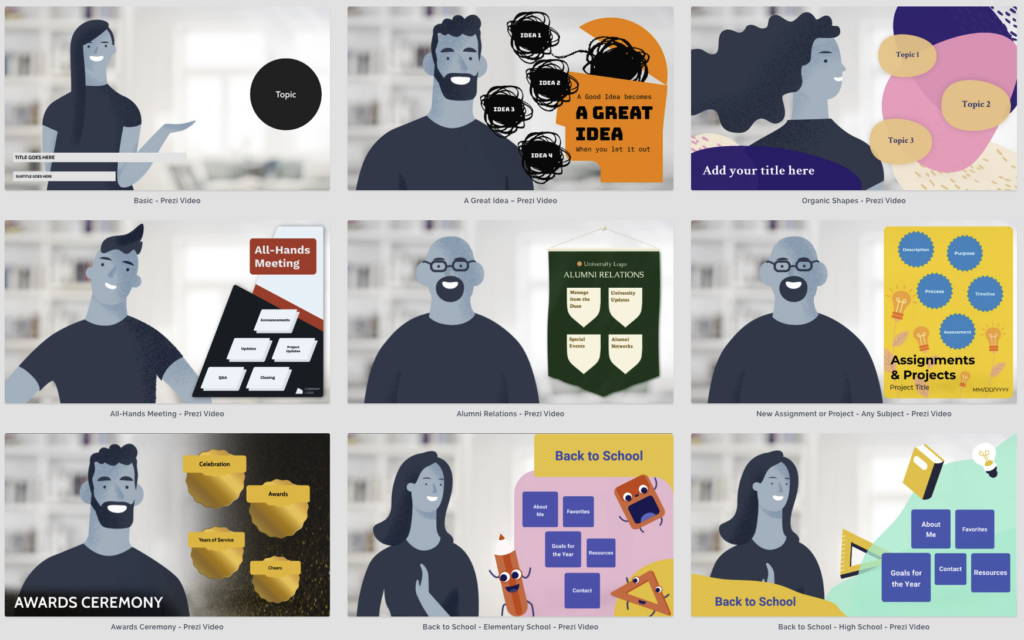 8. Confidence
Last but definitely not least, one of the key presentation skills a great presenter possesses is confidence. Presenting with confidence can help you engage your audience and convince them of your authority and knowledge on the topic at hand. When you exude confidence, the audience is more likely to trust you and your message, leading to better communication and understanding. 
Developing confidence can be achieved through several methods. Practicing your speech multiple times, visualizing a successful presentation, and focusing on positive self-talk are all techniques that can help boost your confidence. Additionally, learning to control body language and voice tone can also have a positive effect on confidence levels during your time in the spotlight. 
By implementing these strategies, you can build your confidence and improve your presentation skills each time you're speaking in front of an audience. 
Discover more about effective presentation skills in this video:
How to improve public speaking and presentation skills
While working on the effective presentation skills we listed above, you may feel nervous about public speaking in general. It's no secret that public speaking can be a daunting task for many people. However, if you want to be a powerful, confident, and impactful presenter, you need to overcome your fear of anxiety of public speaking and improve the way you feel and appear when presenting. 
If you want to learn more about different techniques that can help you calm down before a presentation, here's a helpful video for you to watch:
To help you become better at public speaking, we summoned 20 tips you can follow:
1. Practice, practice, practice
One of the most effective ways to become more comfortable with public speaking is to practice your speech as much as possible. When you practice, you can work out any kinks or rough spots that you may encounter when giving your speech in front of an audience. Additionally, practicing allows you to become more familiar with the material, making it easier to remember and deliver with confidence. While it may be tempting to simply read your speech from a script or cue cards, practicing your speech will allow you to internalize the material and deliver it with greater ease, flow, and naturalness. Therefore, it's highly recommended that you take the time to practice your speech as much as possible before giving it in front of an audience, whether that be your friends, family, or colleagues.
2. Use presenter notes 
Preparing for a presentation can be a lengthy endeavor, particularly if you aim to memorize the entire script. Trying to remember every point can be challenging. Plus, the stress of public speaking can cause you to overlook crucial details. Jotting down your talking points can help you stay organized and avoid forgetting any essential information. However, relying solely on flashcards or paper notes may not be ideal. Constantly glancing at sticky notes or looking away from your audience can disrupt the flow of your presentation and disconnect you from your listeners. Instead, try using presenter notes on Prezi, where you can easily add notes to each slide. While presenting, you'll be the only one that sees them, helping you deliver an impressive presentation with maximum confidence. 
3. Know your audience
When delivering a speech, it's important to analyze and understand the audience you'll be speaking to. By doing so, you can tailor your speech to their interests and needs. This means that you should take into account factors such as their age range, educational background, and cultural or professional affiliations. Additionally, it's important to research the topic you'll be discussing thoroughly and provide examples that are relevant to your audience. By doing this, you can ensure that your message will resonate with your listeners and leave a lasting impact.
4. Start with a strong opening
To really captivate your audience, it's important to start with a strong opening that grabs their attention and sets the tone for the rest of your speech. One approach could be to start with a thought-provoking question or a powerful anecdote that relates to your topic. Alternatively, you could begin with a surprising fact or statistic that shocks and intrigues your listeners. Whatever you choose, make sure it's attention-grabbing and relevant to the message you want to convey. Remember, the opening of your speech is your chance to make a lasting impression, so make it count!
Discover other ways to start your presentation speech and watch this video for more tips on starting a virtual presentation: 
5. Use humor
Using humor can be a great way to start off a presentation. It can help to reduce the tension in the room and make your audience feel more at ease. For example, you could start off with a joke or a funny story that relates to your topic. Alternatively, you could use a humorous image or meme to grab your audience's attention. Just be sure not to overdo it – too many jokes can detract from your message and make you seem unprofessional. Remember that the ultimate goal of your presentation is to communicate information and ideas effectively, so use humor wisely.
6. Incorporate stories
Using stories in your speech can be an incredibly powerful tool. Personal stories, in particular, can help illustrate your points and make your message more memorable. By sharing a personal experience, you can connect with your audience on a deeper level and create an emotional bond. This can help them better understand your message and remember it long after your speech is over.
One way to incorporate personal stories into your speech is to draw from your own life experiences. Think about a time when you faced a challenge or overcame an obstacle, and how that experience taught you something valuable. Share that story with your audience and explain how the lessons you learned can be applied to their lives as well.
You can also use stories to illustrate more abstract concepts. For example, if you're giving a talk about the importance of perseverance, you could share a story about someone who faced numerous setbacks but refused to give up. By sharing that story, you can make the concept of perseverance more concrete and relatable to your audience.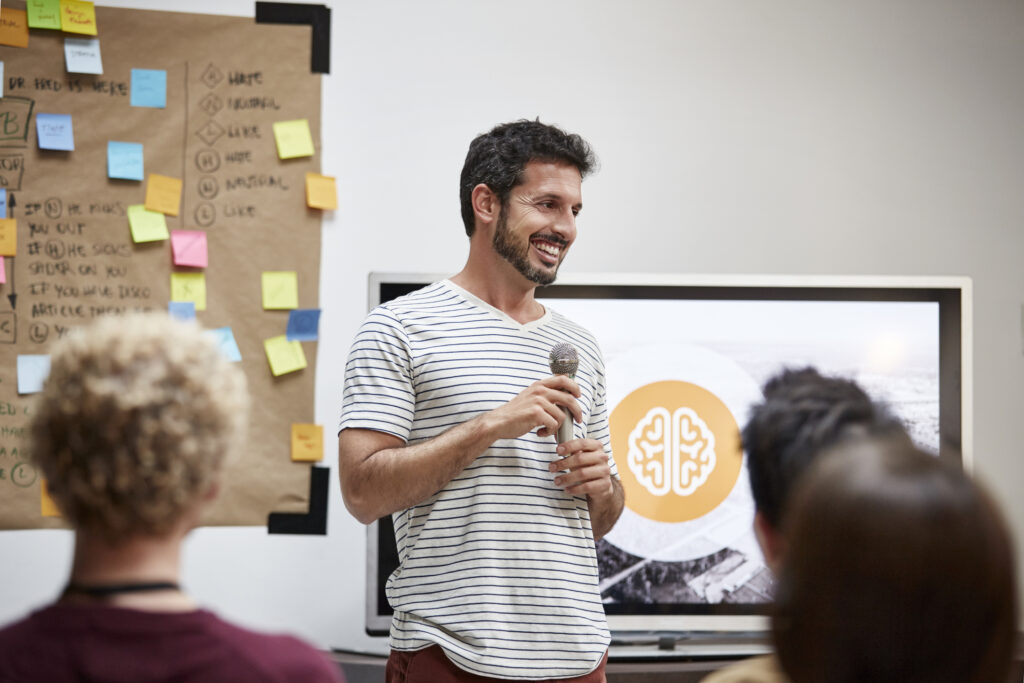 7. Use pauses
Using pauses is a great way to enhance your communication skills. In fact, when you take breaks in your speech, can help you gather your thoughts and think more clearly. Pausing also allows you to emphasize key points you want to make in your speech. Additionally, by using pauses strategically, you give your audience time to process the information you're sharing with them, which can help ensure that they understand and retain it better. All in all, incorporating pauses into your speaking style can be incredibly effective in making your message more impactful and memorable.
8. Speak clearly and loudly
When delivering a speech or presentation, it's important to speak in a manner that is clear and easy to understand. However, it's equally important to ensure that your voice is projected loudly enough for your audience to hear you. Speaking too softly can make it difficult for people in the back of the room or in larger spaces to hear what you're saying, which can lead to confusion and a lack of engagement. To avoid this, try to practice projecting your voice and enunciating your words clearly before you give your speech. You can also use tools like microphones or audio amplifiers to help ensure that your message is heard loud and clear by everyone in the room.
9. Take deep breaths
Taking deep breaths is a great way to help you relax and calm your nerves, but there are other things you can do too. For example, you might want to try some light yoga or stretching exercises to loosen up your muscles and release tension. Also, you could take a warm bath or shower to soothe your body and mind. Another option is to listen to some calming music or read a book that you enjoy. By taking the time to find what works best for you, you can develop a personalized relaxation routine that you can turn to whenever you need it.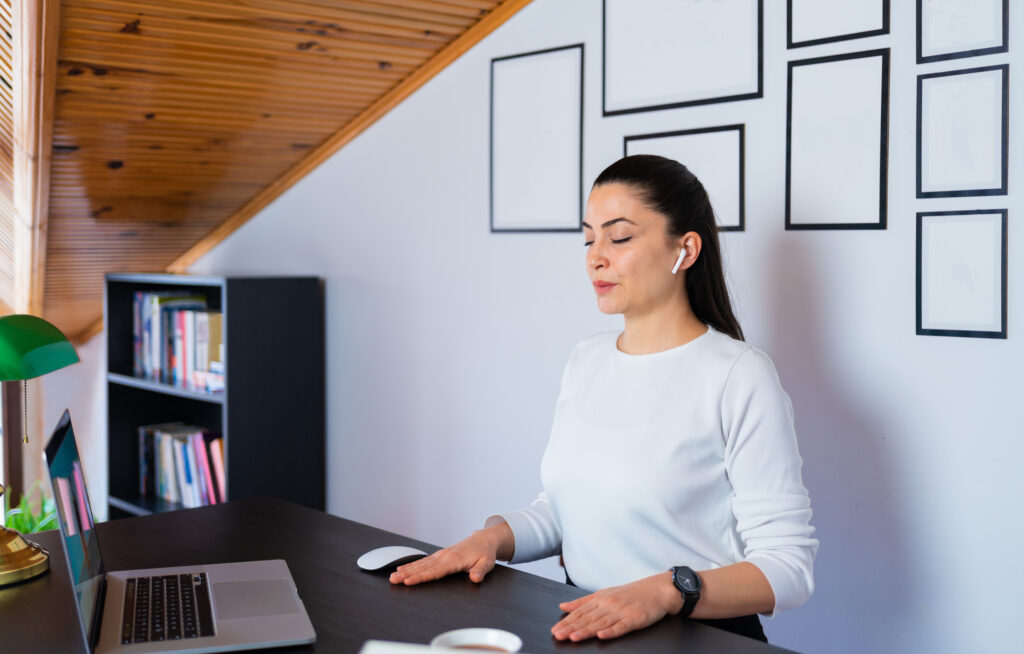 10. Use repetition
Repetition is a powerful tool that can help you drive the point home in your speech. By repeating key points, you can reinforce your message and increase your chances of being remembered. In addition, repetition can help you emphasize important ideas and create a sense of rhythm in your speech. It can also be used to build suspense and create a sense of anticipation in your listeners. With these benefits in mind, it's clear that repetition is an essential aspect of effective public speaking.
11. Use active verbs
One way to improve the effectiveness of your speech is to use active verbs. Active verbs help to create a more engaging and dynamic presentation, as they convey a sense of action and energy. By using active verbs, you can help to capture your audience's attention and hold their interest throughout your speech.
In addition to using active verbs, it's also important to consider the pace and rhythm of your speech. Varying the speed and tone of your delivery can help to keep your audience engaged and prevent them from becoming bored or disinterested.
Another way to enhance the impact of your speech is to use vivid language and descriptive imagery. By painting a vivid picture with your words, you can help to create a more memorable and impactful presentation. For example, instead of simply saying "the sky was blue," you could describe it as "a brilliant shade of deep blues, like the ocean on a clear summer day."
By focusing on these key elements of effective speechwriting, you can help to create a more engaging and impactful presentation that will leave a lasting impression on your audience.
12. Ask rhetorical questions
Rhetorical questions are a powerful tool that can help make your speech more engaging and interactive. They can be used to stimulate critical thinking, provoke curiosity, and encourage the audience to reflect on the topic at hand. By asking a thought-provoking question, you can capture the audience's attention and encourage them to think about the subject matter in a new and different way. Furthermore, rhetorical questions can be used to create a sense of anticipation and excitement, as the audience eagerly anticipates the answer to the question you have posed.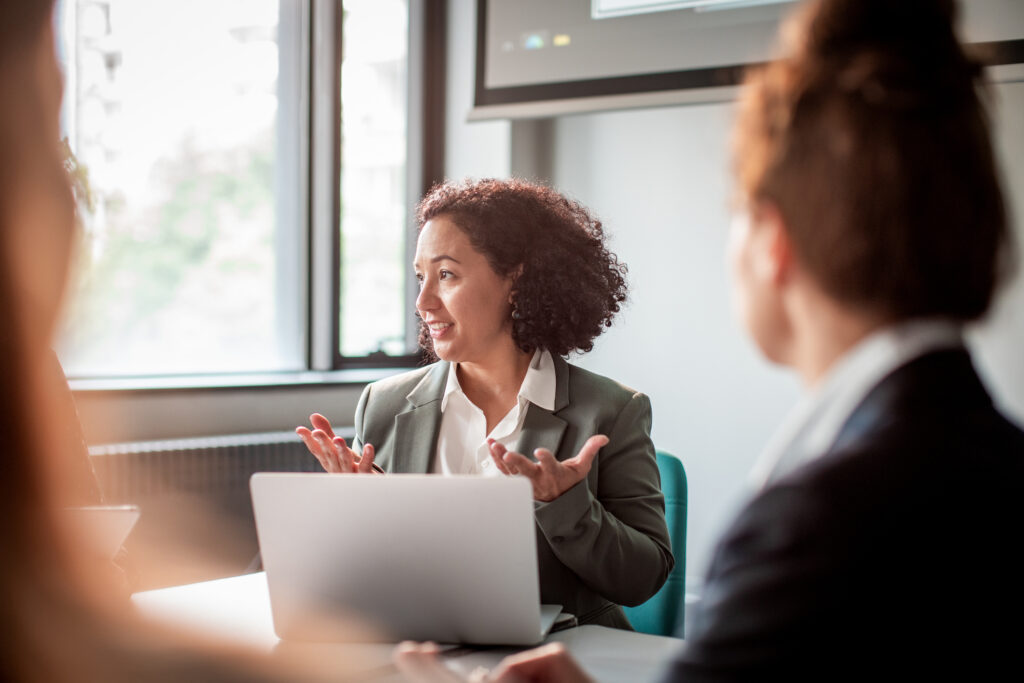 13. Use metaphors and similes
Metaphors and similes are powerful tools that can help individuals better understand complex concepts. They are like a flashlight that illuminates the dark corners of the mind, providing clarity and insight. By comparing two seemingly different things, metaphors and similes can create a bridge between the familiar and the unfamiliar, allowing individuals to grasp difficult ideas with ease. In our fast-paced world, where information overload is a common issue, the use of metaphors and similes can help cut through the noise and deliver a clear message. So, the next time you encounter a challenging concept, remember to use these techniques to shed light on the subject matter.
14. Prepare handouts
When giving a speech, it's important to remember that your audience needs to be able to follow along with what you're saying. One way to help them do this is by using handouts. Handouts can be a great way to enhance your presentation because they allow you to provide additional information that may not be covered in your speech. For example, you can use handouts to provide graphs, charts, or other visuals that illustrate your points. Additionally, handouts can be a useful tool for your audience to take notes and refer back to later. By providing handouts, you can ensure that your audience is engaged and able to fully understand the information you're presenting.
15. Incorporate props
Using props during your speech is a great way to enhance your delivery and keep your audience engaged. By incorporating visual aids such as props, you can help to illustrate your points and add depth to your content. Additionally, props can be used to make abstract concepts more concrete and easier for your audience to understand. For example, if you're delivering a speech on the importance of recycling, you could bring in a visual prop such as a bin of recyclable materials to help drive home your message. Overall, the use of props can help take your speech to the next level while making it more memorable and impactful for your audience.
16. Practice in front of a mirror
Another useful tip for improving your presentation skills is to practice in front of a mirror. Not only can this help you perfect your body language and delivery, but it can also give you a better sense of how you come across to others. Additionally, practicing in front of a mirror can help you identify any nervous habits or tics that you may have, allowing you to work on eliminating them before your actual presentation. Overall, incorporating mirror practice into your preparation routine can be a simple yet effective way to boost your confidence and improve your presentation skills.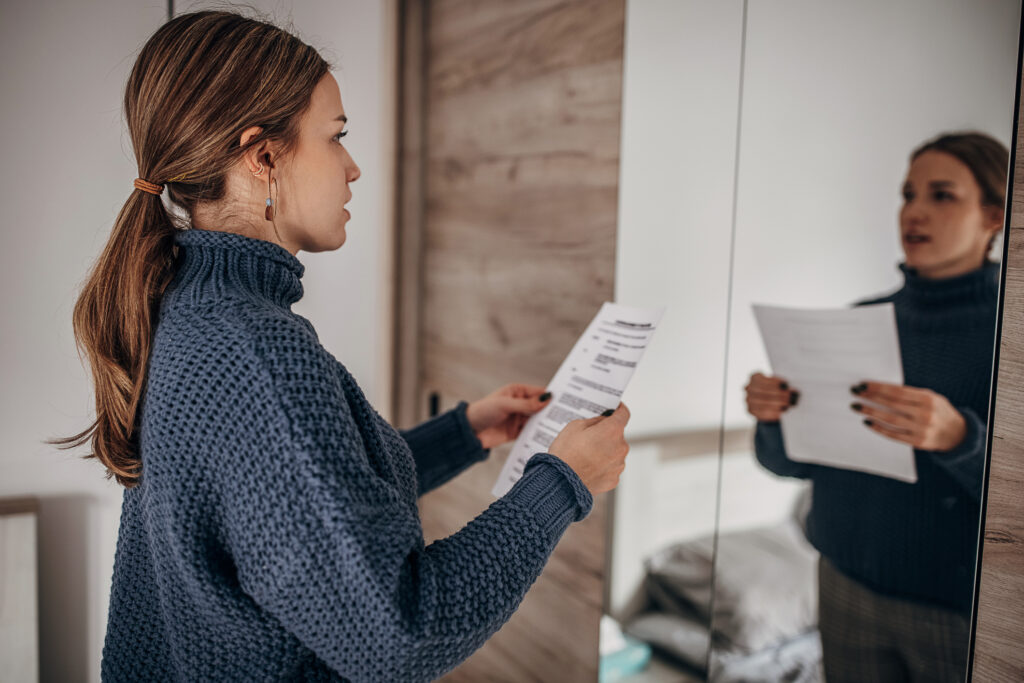 17. Join a public speaking group
Joining a public speaking group is a great way to improve your public speaking skills. Not only will you have the opportunity to practice speaking in front of others, but you'll also receive valuable feedback that can help you improve. Additionally, by joining a group, you'll have the chance to meet and network with other like-minded individuals who share a passion for public speaking. This can lead to new opportunities and connections that can benefit you both personally and professionally. Finally, being part of a public speaking group can also provide a sense of community and support, as you work together with others to achieve your goals and improve your skills.
18. Record yourself 
Another way to enhance your public speaking skills is to record yourself. By doing this, you can identify areas where you need to improve and refine your delivery. When you listen to yourself speak, you can pay attention to your pitch, pacing, and tone. You can also identify filler words or phrases, such as "um" or "like," that you might use unconsciously. Additionally, recording yourself can help you become more comfortable with the sound of your voice. This can be especially helpful if you're not used to hearing yourself speak for extended periods of time. Overall, recording yourself is a simple yet effective way to become a more confident and polished public speaker.
19. Learn to handle interruptions
One of the most common challenges that speakers face is handling interruptions. These interruptions can come in many different forms, such as unexpected questions, technical difficulties, or distractions in the environment. It's important to learn how to handle these interruptions gracefully, as they can often derail a speech and throw off the speaker's focus and confidence.
One key strategy for handling interruptions is to remain calm and composed. It's natural to feel frustrated or flustered when faced with an interruption, but it's important to take a deep breath and stay focused. Remember that interruptions are a normal part of public speaking, and they don't have to ruin your presentation. If you need a moment to collect your thoughts, don't be afraid to pause and take a few seconds to regroup.
By learning to handle interruptions with grace and composure, you can become a more effective and confident speaker. With practice and preparation, you can manage interruptions and keep your presentation on track, even in challenging situations.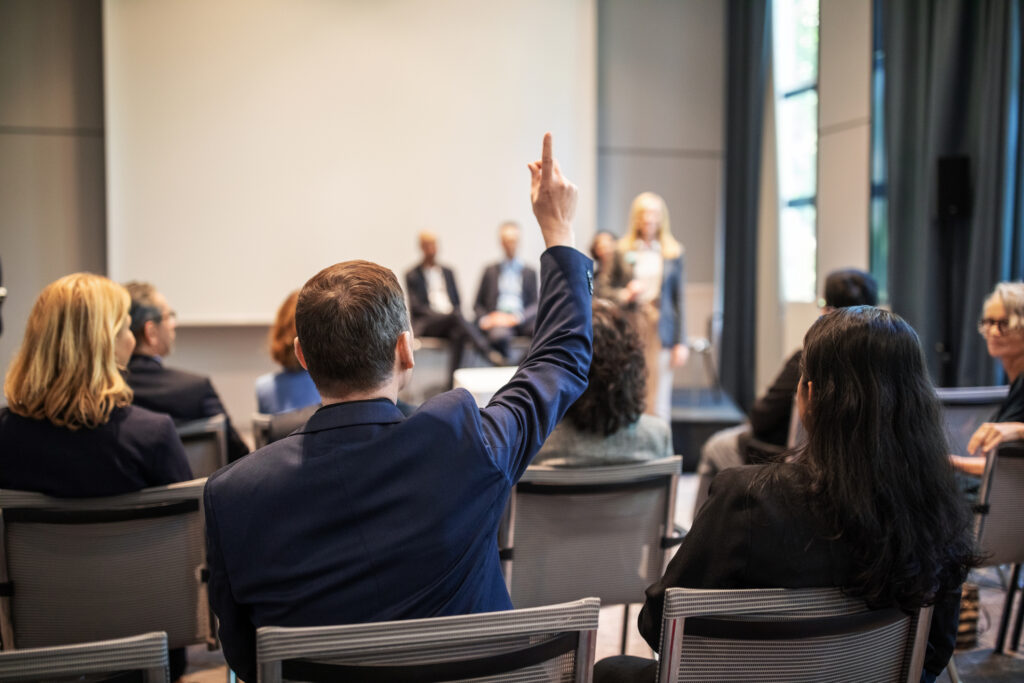 20. End on a strong note
When giving a speech, it's important to not only focus on what you say during the body of your presentation, but also on the way in which you conclude. A strong presentation should summarize the main points of your speech and leave a lasting impression on your audience. This can be achieved by reiterating your main points in a memorable way, making a call to action, or leaving your audience with a thought-provoking question. By doing so, you'll ensure that your message resonates with your audience long after your speech has ended.
Another useful technique is to anticipate potential interruptions and plan how to address them in advance. For example, if you're giving a presentation with a Q&A session at the end, be prepared for questions that might challenge your ideas or require additional information. It can be helpful to practice your responses to common questions ahead of time so that you feel more confident and prepared.
Discover other memorable ways how to end a presentation.
Conclusion
Effective presentation skills are key. While not everyone may be a natural-born speaker, with practice and dedication, anyone can improve their abilities to become a confident and engaging presenter. Whether you're pitching to investors, delivering a lecture, or presenting in a meeting, being able to effectively present your ideas can greatly impact your success.
Remember, becoming a great presenter is a journey that requires patience, perseverance, and constant improvement. Don't be afraid to seek feedback from others, practice regularly, and try out new techniques. With time, you'll become more comfortable and confident in your abilities to deliver engaging and impactful presentations.
In conclusion, improving your presentation skills is a worthwhile investment that can pay dividends in both your personal and professional life. So take the time to hone your abilities, put in the effort, and embrace the opportunities that come your way. With the tips and techniques we've provided in this blog post, you'll be well on your way to becoming a confident presenter.