You've just delivered a captivating presentation that had people hanging on your every word. Now you need to wrap it up and leave a lasting impression. After all, studies show people have an easier time recalling information presented at the beginning and end. So, you might be asking yourself: "How can I end my presentation in a memorable way?"
It's common to field questions at the end, but this can make your presentation less memorable and derail your message. If you're wondering how to end a presentation in a way that will engage your audience, try one of the 10 examples below.
Also, take notes on additional tips and tricks that can help you end your presentation with confidence and style.
1. Tell a compelling story
Offering a compelling story is a powerful way to end your presentation, especially if it's a personal one. Personal stories help create empathy with the audience, which makes it easier to get your key message across. Also, it is a creative way to summarize your main points and make sure that your message has a personal feel to it.  As an example, health and wellness presenters will often wrap up presentations with a story about a personal health scare and how a change in their lifestyle helped them live a better life.
Try using Prezi — and in particular, the animations — to create a presentation that promotes storytelling and keeps your audience interested. By zooming in and out at specific points, you can visualize your story as you tell it, which will help people remember your presentation. Check out our previous Prezi Awards winners for great examples of visual storytelling in action.
2. Add a call to action
It's not enough to assume your presentation will make people want to do something. Instead, you should be clear by including a call to action (CTA) at the end of your speech. Keep in mind that the CTA needs to be easily achievable and also relevant to your content. If people need to jump through hoops to do the action, then nobody will bother. Similarly, if you spent the entire time sharing a deeply personal story, then it wouldn't be appropriate to ask people to buy your product. 
Some examples of captivating CTAs:
"Start your journey towards X today!" 
"Make a change with X!"
"Create a better tomorrow for yourself with X!"
"Sign up now & get exclusive insights!"
When crafting your CTA, think about what is the next step you want your audience to take and why they would want to take it. This way, you can tie an actionable step with compelling reasoning.
3. Drop a surprising fact
You've followed the science behind good public speaking and have been able to maintain eye contact with your audience during your presentation. Now consider finishing your presentation with a surprising fact. Facts with statistical numbers work well to engage your audience, and you'll likely find a variety of facts related to your presentation topic if you search online.
By finishing your presentation off with a shocking number or fact, people will be more likely to remember your presentation. Also, if you incorporate a fact that can create some sort of emotion, whether positive or shocking or else, your presentation will become even more memorable. However, be aware to share something that creates an emotion you want your audience to be feeling. 
Tip: Be careful not to dump a bunch of numbers on the screen. Use the power of visuals to convey complex information in an impactful way. 
4. Share a quote
Using an interesting and relevant quote is a great way to end your presentation. However, to make sure the quote stays with your audience long after they leave the room, choose one they don't hear all the time. You can ensure your quote is fresh by looking for one from a modern leader or personality rather than one from a historical figure.
Just make sure your quote goes with the theme of your presentation. Additionally, if you can tie the quote back to a personal story, you'll leave your audience with a better grasp of the key points of your presentation.
Examples of powerful quotes you can leave your audience with:
"Don't worry about failure. You only have to be right once."
– Drew Houston, co-founder, and CEO of Dropbox
 "Don't ever make decisions based on fear. Make decisions based on hope and possibility."
– Michelle Obama, the former first lady of the United States
Grab their attention by making your presentation more interactive
"If you don't like something, change it. If you can't change it, change your attitude."
– Maya Angelou, writer
5. Use the rule of three
The rule of three is a simple and powerful way of communicating. The idea behind the rule of three is that it's easier for the audience to remember concepts, ideas, and beliefs when they're presented in patterns of three. You can find the rule of three almost everywhere you look.
As a real-life example of ending a presentation with the rule of three, Dianna Cohen, co-founder of the Plastic Pollution Coalition, wraps up her speeches on plastic pollution by stating, "We can save our oceans, save our planet, and save ourselves."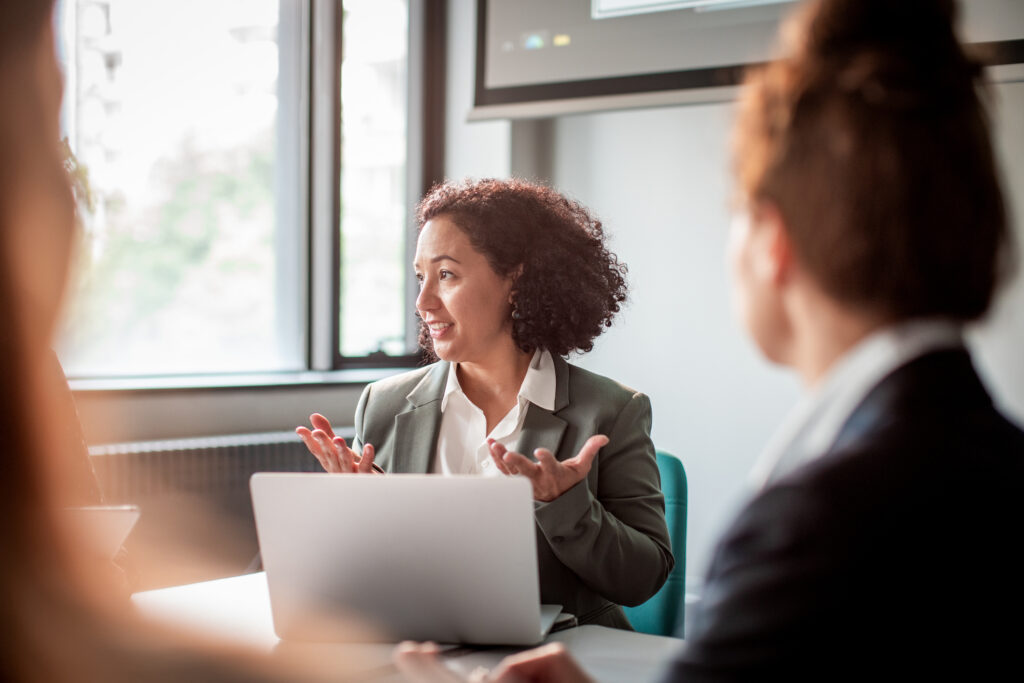 6. Refer back to your opening statement
If you're wondering how to end a presentation that's long or includes complicated information, try referencing your opening statement. This is also a good way to signal to your audience that things are coming to a close. By coming back to the opening statement, your audience will have a better understanding of how the different arguments all tie in together, to sum up, the message you are trying to deliver. 
To make it more interesting, you can also try injecting some humor or adding some extra insight to your message. However, don't just mention your opening statement but also show how your opening statement and the points you raised are linked to the closing argument.
7. Ask a rhetorical question
Just because you don't want to end your presentation slide with the audience's questions doesn't mean you can't finish your speech with any questions at all. Consider wrapping things up by asking your audience a rhetorical question. The key thing is to make sure the question is a strong one, as you want your audience to think about the question after they leave. 
At the end of your presentation, you can simply add, "is x the right answer to the question? That's for you to answer."
With a rhetorical question, your audience will leave your presentation thinking about their answer. Consequently, your presentation will stay in their minds a little bit longer and the question can even serve as a discussion starter later on. It's a great way to make your presentation more memorable.  
8. Sum it up with a short, memorable statement
Sometimes the best way to end your presentation is with one statement that pulls everything together. To make sure the main points from your presentation stay with your audience, consider how you can condense everything into a short and memorable statement that will stick with people once they leave the room.
Ensure that your statement is relevant and concise. For instance, you can end your presentation by saying, "If you were to remember one thing after this presentation, it's this … " Or, "Let's always … no matter how difficult/great/tragic/amazing it is."
9. Close with a powerful visual
Sometimes, visuals can say much more than words. If you want to end your presentation with a powerful note, show an image, drawing, short video clip, or another type of visual that ties in with your message. 
Visuals can help your audience retain information. In fact, 90% of the information received by our brains is in visual form. That is why, in some cases, visuals can leave a greater impact than a written or spoken word. 
For instance, if your presentation is about a charity project, you can end your speech by showing a picture of the team that was involved. Also, if you want to create captivating visuals, make sure to check out Prezi Design where you can easily create compelling infographics and reports, and find a wide selection of images, stickers, and GIFs.
10. Thank your audience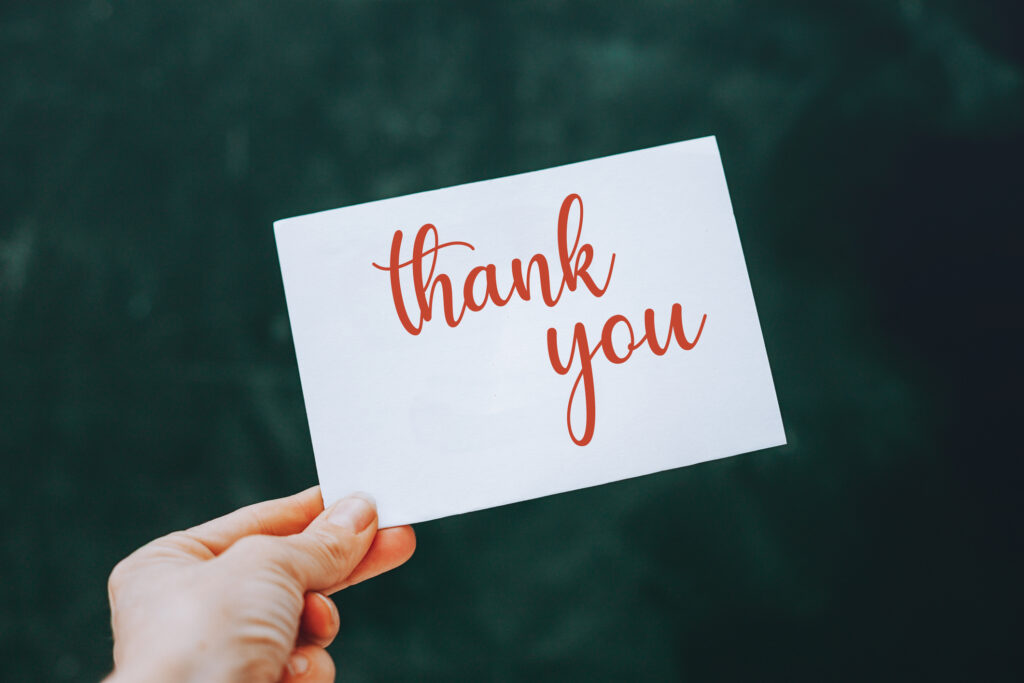 A short and sweet way how to end your presentation speech is with acknowledgments and giving thanks. By thanking your audience for listening and paying attention, you will make clear that this is the end of your presentation and that you appreciate their input in whatever way they contributed. You can also acknowledge your team or another person if they have helped you with your presentation or in other ways that tie in with your message. 
Tip: Don't just simply say "thank you" but truly express your gratitude in your own words. 
No matter how you end a presentation speech, the end goal is to have your audience remember your message. Use Prezi's visual presentation format to your advantage, and emphasize the importance of your message when you choose how to end a presentation.