An effective presentation can communicate key ideas and opinions, save time, and contribute to your overall success as a business, but good presentation skills don't come naturally to everyone. In this blog post, you'll find 14 effective presentation tips you can implement in your next presentation to make it a success. 
Whether you're preparing for an important presentation at work or school, or you're looking for ways to generally improve your presentation skills, you'll find these presentation tips useful. We've gathered a list to help you impress your audience from the get-go. You'll find tips for creating and presenting your slides, talking in front of an audience, and other effective presentation techniques to help you stand out.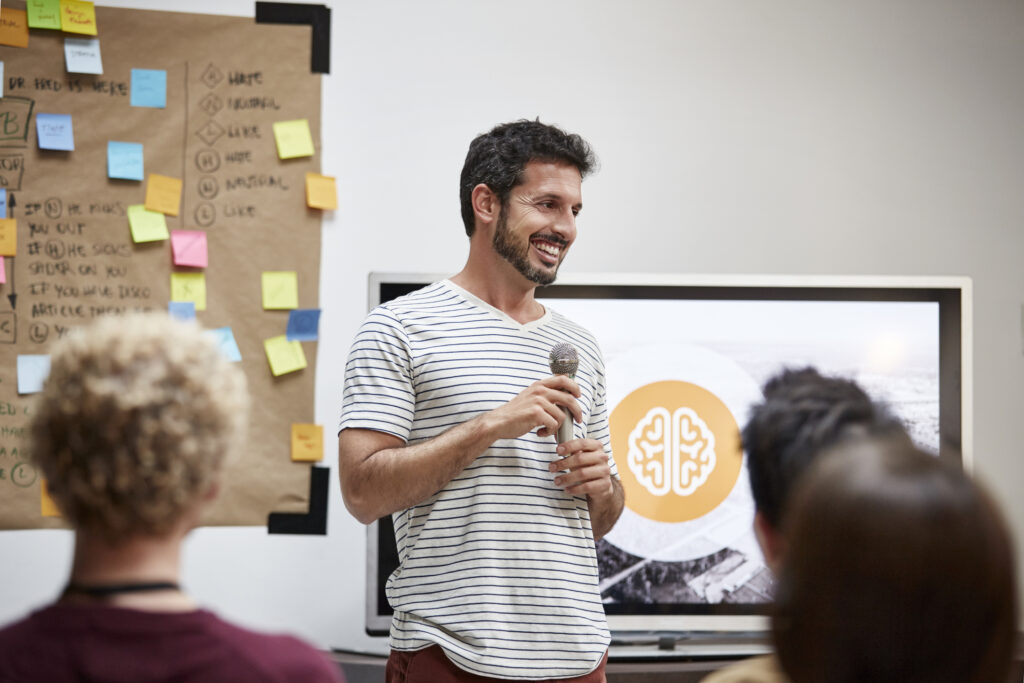 Most common presentation mistakes
Before we list our top effective presentation tips, let's explore the most common presentation mistakes. If you've made one or more mistakes in this list, you're not alone. Most people have made at least one mistake. However, what's important is to be aware of these errors and try avoiding them next time.
#1 A poor start
One of the most common mistakes people make is undermining the importance of the first few minutes or seconds of their presentation. 
Let's say you've practiced your key talking points meticulously and gone over your slides a million times, but when you're in the spotlight and need to say your first line, do you know exactly what to say to wow the audience? 
The start of your presentation is crucial. Not only because how you start sets the tone for the rest of your presentation, but also because people generally require around 8 seconds to decide whether they find the subject interesting enough to keep listening. Starting your presentation with a captivating intro is even more important than you think. To ensure you start off right, read our guide on how to start your presentation. 
#2 Lack of preparation
Yes, even though it's clear that you should prepare before giving a presentation, it's still a common mistake amongst presenters. Preparing content and talking points is an obvious start, but there are other steps that you might be overlooking.
Before you even join a meeting or walk into a room where you're going to present, consider the technical requirements and get familiar with the equipment. If you're presenting online, make sure to test-run your presentation and the visual aids you're going to use. The last thing you want is a broken video link, poor audio, or a weak connection when you're presenting. 
Also, consider the questions your audience might want to ask you about the topic. Think about how you'd answer those questions, or do even further research to really impress the audience with your answers. 
Explore other ways to prepare for a presentation to feel even more confident when presenting.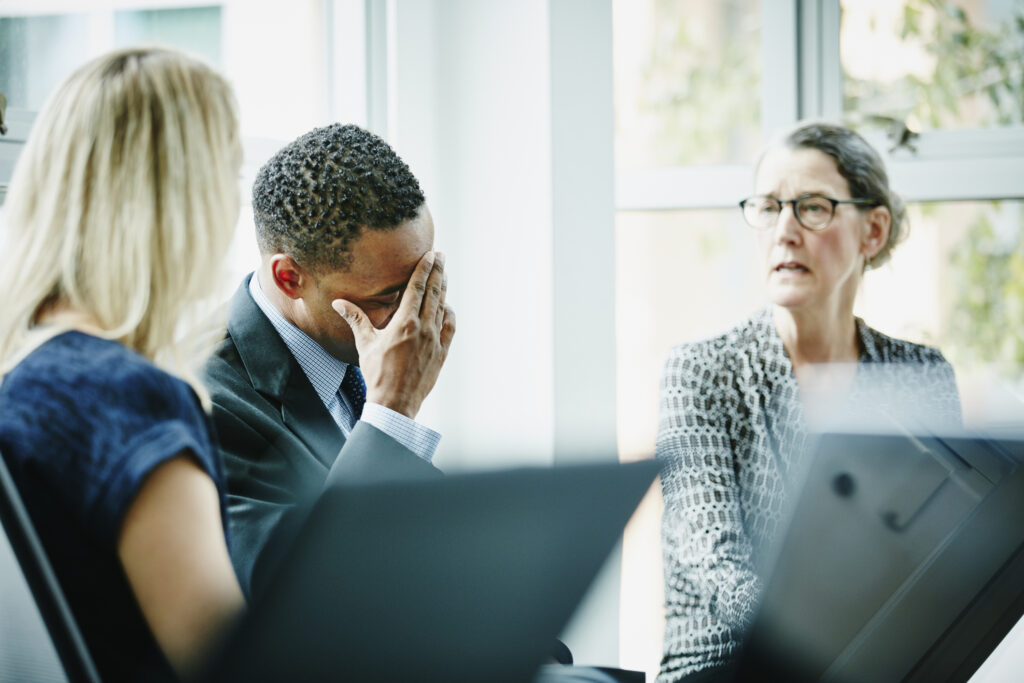 #3 Losing track of time
It's great to feel passionate about your topic. However, you'll have to consider your audience's level of interest and knowledge. Some details might seem fascinating to you, and you'd like to talk about them for hours, but for your audience, too much information will drain their energy and lose their attention. 
Therefore, make sure to keep track of time. Also, consider your audience's interests. A concise presentation is always better than a long one with a ton of information. Plus, you'll have a higher chance of keeping your audience's attention throughout the presentation. 
Effective presentation tips
Now that we've looked at some of the most common presentation mistakes – let's dive into effective presentation tips that'll help you excel in future presentations. 
#1 Tell a story
Stories connect, inspire, and empower people. Telling a story can entice action, help understand an idea, and make people feel connected to the storyteller. It's also one of the most effective presentation tips. A study by organizational psychologist Peg Neuhauser found that a well-told story is easier to remember than facts, which makes it a highly effective learning technique. 
With that in mind, telling a story when you're presenting can engage your audience and make it a more memorable experience. You can either share a personal story or a historical event, just make sure to have a clear connection between the story and the topic you're presenting.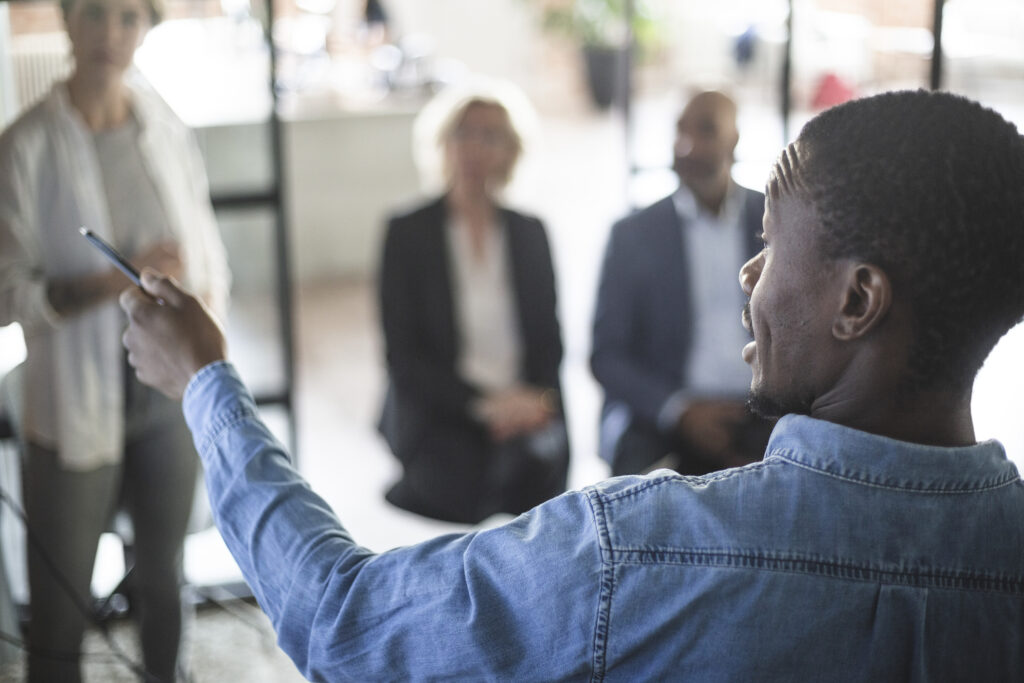 #2 Work on your body language
Body language can make a huge difference in how your presentation is perceived. It's one of the presentation tips you definitely shouldn't overlook. 
Body language says a lot about a person's confidence level, emotions, state of mind, and even credibility. For the audience, it's a way to understand what the person is saying and how interested they are in the topic. 
Therefore, work on your body language to better convey the message you're trying to communicate. Practice in front of a mirror before your presentation and be conscious of your hand gestures and facial expressions. 
#3 Understand your audience
Before crafting your presentation, you must know who you're speaking to. Understanding the interests, demographics, professional background, and other valuable information of your audience is crucial in making your speech successful.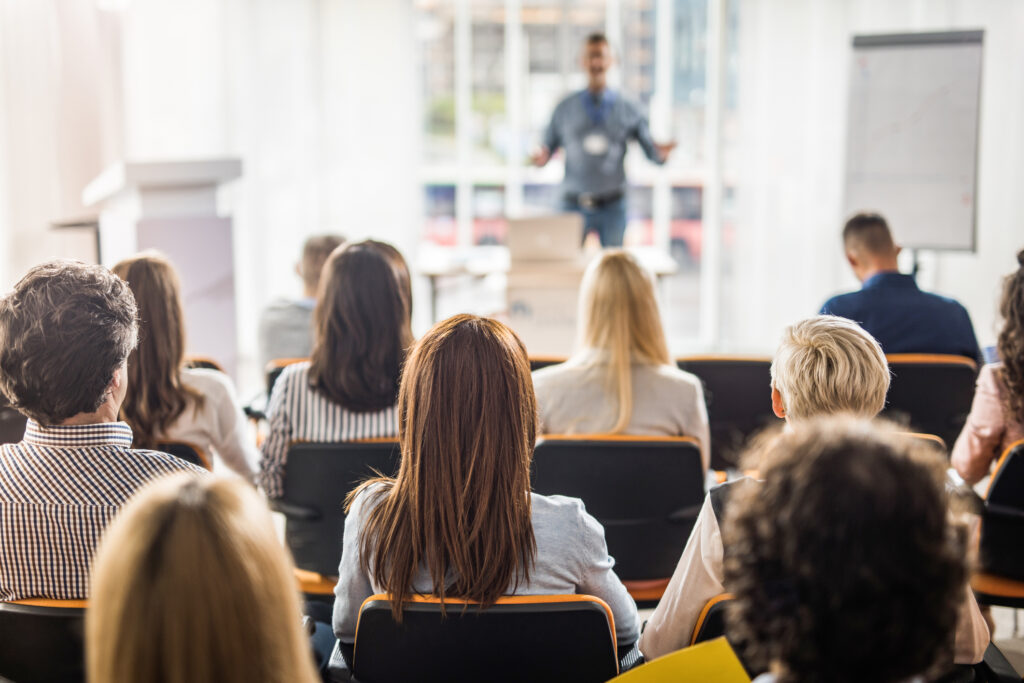 If you're speaking at an event, contact the organizers to get more information about other speakers and the audience. If you're presenting at work, you may already know your audience fairly well. Use this information to your advantage and create content you know they'll resonate with.
#4 Use high-quality visuals
What's one of the most effective presentation techniques? Use of visuals. They play a crucial role in your presentation. However, only high-quality visuals will make a good impression and effectively communicate your message. Use high-quality visuals like images, videos, graphs, maps, and others to really land your point. 
Using visuals is a great way to convey your ideas as they're easier to process than text. If you're not sure where to find great visuals, check out our blog post on presentation visuals for five free resources.
P.S. the Prezi library holds a variety of images, videos, GIFs, stickers, and other visuals, including different charts and maps to spice up your presentation. It's all available in your dashboard.
#5 Use data visualizations
Do you want to showcase statistics or other datasets in your presentation? Use data visualizations to make your data stand out and impress your audience. 
There's nothing more boring than a bunch of data presented in a flat way. If you want to tell a story with your data, use interactive infographics or slides enriched with eye-catching visuals. Showcasing data will make your ideas appear more trustworthy and credible.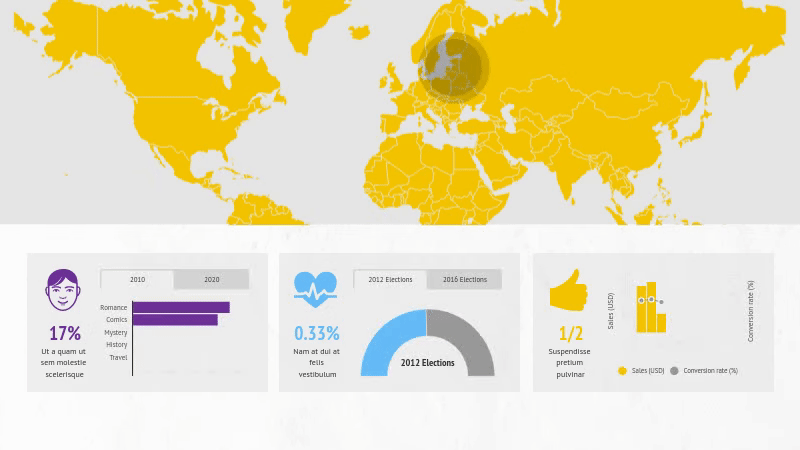 Prezi Design offers a range of templates to choose from. You can start creating data visualizations from scratch or choose a template and edit the data there. 
Grab their attention by making your presentation more interactive
#6 Make it engaging with interactive elements
It's not easy to deliver an engaging presentation. People can easily get distracted or try to multitask, especially in the virtual environment. Sometimes, it's difficult to focus on the speaker and the written text. Other times, the content just isn't impressive enough to hold the audience's attention. But it doesn't have to be this way.
You can make your presentation more engaging for everyone by including interactive content like graphs and charts. With interactive data visualizations, you'll make the data discovery process more engaging and exciting for your audience. 
Your audience will be able to hover over data points and click on certain icons or datasets to discover information on their own. Interactive visualizations will make the presentation more memorable and impressive. 
As you can see in the example below, you can discover different data by engaging with the infographic. 
#7 Stay consistent with fonts and color styles
You want your presentation to look visually appealing and highlight essential information. To make that happen, stay consistent with font styles and color schemes throughout your presentation. 
Use one or two fonts max to make the text easy to read and understand. Also, use a carefully selected color scheme that's not too distracting. If you're using Prezi Design, you can easily copy and paste styles by right-clicking on your data visualizations and selecting "copy styles." This makes it easier to stay consistent and saves time when picking matching colors. 
#8 Structure your presentation properly
Before creating your presentation, think about its structure. What's the main idea you want to convey? Use that as your starting point, and only include information that adds value to the narrative. 
Plan out the first topics carefully to properly introduce your argument. Add the essential information in the middle part of your presentation. Lastly, close your presentation with a summary of the main points and leave your audience with an afterthought. Also, plan when you're taking questions and for how long. 
For more insight, watch this tutorial on how to structure your presentation:
#9 Practice your public speaking skills
Public speaking may not be your forte, but you can get better with practice. Don't decline a great opportunity to share your ideas with a larger audience just because you feel nervous speaking in front of a group of people. 
One of the best ways to improve your public speaking skills is to practice in front of your family or friends – people you feel comfortable with. Also, focus on the topic you're presenting and get excited about the idea you want to convey. This way you'll appear more confident and feel less nervous about public speaking. 
Explore other public speaking tips from Jessica Chen, the founder, and CEO of Soulcast Media: 
#10 Show your slides next to you on-screen
If you're presenting on Zoom or in a virtual meeting, think twice before you share your screen. The days of hiding behind slides are over. People want to see and connect with other people, not sit through another run-of-the-mill screen share. To do that, use Prezi Video to showcase all your content right next to you in your video feed. 
As a result, your presentation will look more engaging than a traditional virtual presentation. Also, your audience will have the chance to read your body language and follow along with what you're saying even better. 
If you already have your slides prepared, don't worry – you can easily integrate them into Prezi. 
See Prezi Video in action and check out our video templates to get started.
#11 Calm down before presenting
Being in front of an audience can feel nerve-racking. However, there are ways to calm down before presenting that will make you feel more centered and confident. The last thing you want is all your hard work to go to waste just because of stress. 
Try breathing exercises or a five-minute guided meditation before presenting. The trick is to remove all distractions and focus on the present moment so you're not overthinking right before starting your presentation. Also, be fully prepared and know exactly what to say and when which will help you feel more collected. If you want to discover other ways to feel and look more confident, read how not to be nervous before a presentation. 
#12 Use transitions and animations 
Add movement to your slides with transitions and animations. You'll make your presentation more visually appealing and engaging. However, be careful not to overwhelm your audience with your choice of transitions and animations. 
Choose a transition that matches your presentation visually and use it throughout your presentation. Consider what animations will be relevant to your audience and select a few to add to your slides. Don't overdo it. Keep the focus on the message you're trying to convey, and use animations to only support that message. 
#13 Be enthusiastic 
When you're in a room with a positive and enthusiastic person, you can't help but feel uplifted as well. High-energy people have this effect on others. Most importantly, a lot of people tend to mimic people's behavior and mirror their energy when they feel a connection or relate to them. That's called the chameleon effect.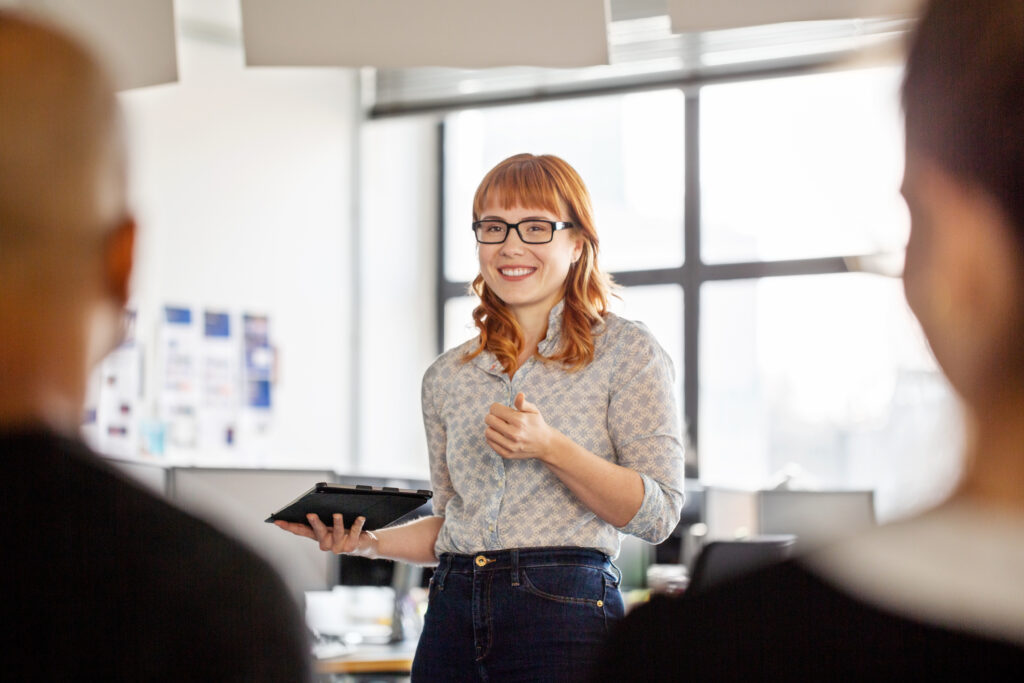 When you're presenting, you want your audience to feel curious about what you're presenting. You may also want to leave your audience feeling uplifted, interested to know more, or inspired. To have that effect on others, try to convey those emotions when presenting. Practice your speech, slow down your narration at times, or take a pause after you've delivered a statement, and use different presentation techniques to present your project and really drive your points home. 
#14 End your presentation in a memorable way
The first few minutes of your presentation are crucial for captivating your audience's attention. However, don't underestimate the importance of ending your presentation as powerfully as you started it. 
The way you end your presentation will play a crucial part in how your audience will remember it. You want to make a memorable impression by closing your presentation with a summarizing statement, a rhetorical question, a call to action, or another impactful way. Discover 10 ways you can end your presentation in our guide.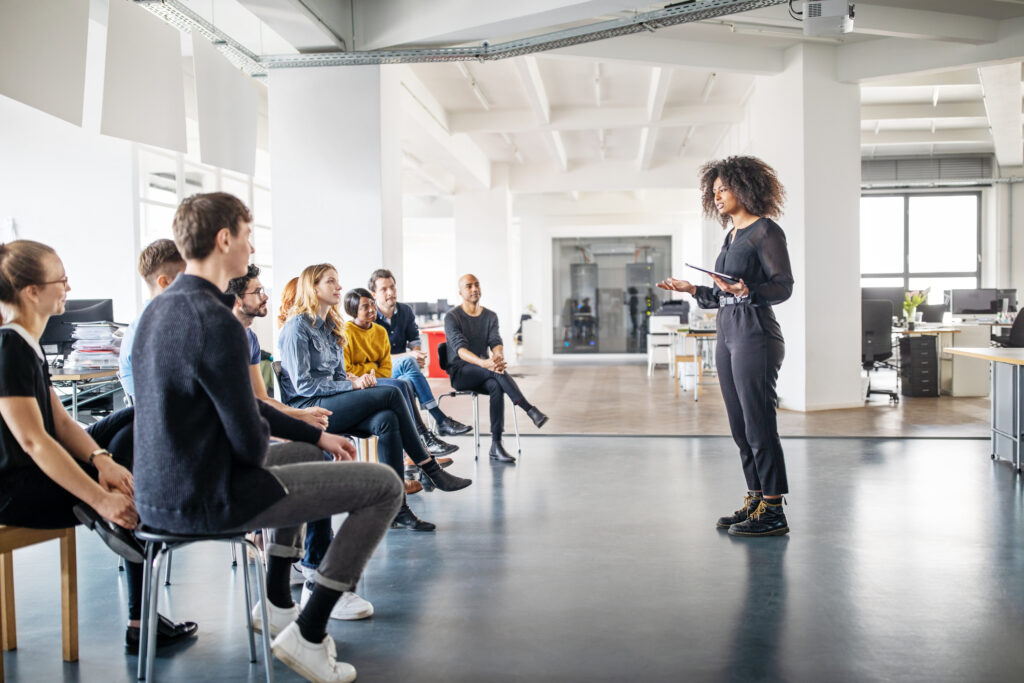 There are a lot of factors to consider when creating and delivering a presentation. You want your slides to look professional and visually appealing while conveying your main points. You also want to look and sound confident even if you're nervous about public speaking. Whatever your concerns may be, remember that preparation is essential. Practice and dedication are the keys to giving a successful presentation. Make sure to follow these effective presentation tips to excel in your future presentations. If you're interested in creating a captivating presentation with Prezi, contact us to learn more or try it for free.