Zoom meetings are some of the best places to show off your professionalism and make your brand look great – and they're not costly or time-consuming to prepare. With Prezi Video, you can add your organization's colors, fonts, and logo to any Zoom meeting. It's easy to set up and perfect for making a lasting impression on new customers and audiences. Zoom branding helps create consistency from meeting to meeting, keeping your audience on the same virtual page. 
To create a branded meeting on Zoom, you'll first need to set up your brand kit in Prezi (note: you'll need a Team's license for this – contact us for the details).
Watch this video to see how to add your brand's style to a Zoom meeting using Prezi Video:
For more details and info, read on to learn about brand meetings and how Prezi Video can help.
Set up your brand kit
Prezi brand kits provide a quick way to add your brand's colors, fonts, and logo to any project in Prezi. You can create more than one brand kit, which is perfect for those representing multiple brands or if your business is redesigning their brand. 
Before you can use your brand kit in a meeting or project, you have to set it up. Team admins will see the brand kit icon in the left sidebar of the Prezi dashboard. Click the '+' button to name your brand kit, upload your brand logo, and set up your brand fonts and colors. Once you click "publish,"  your team will have access to the brand kit and can start creating on-brand content. For more details, read this guide on setting up and using the brand kit and watch a quick run-through here: 
Use branded templates
Once you've published your brand kit, you have quick access to branded templates pre-built for Zoom meetings and Zoom presentations in Prezi. Using these branded templates allows you to pick and choose different styles and designs, all with your brand's colors, fonts, and logo built in. No matter what the reason is for your meeting, your content will look appropriate and on brand.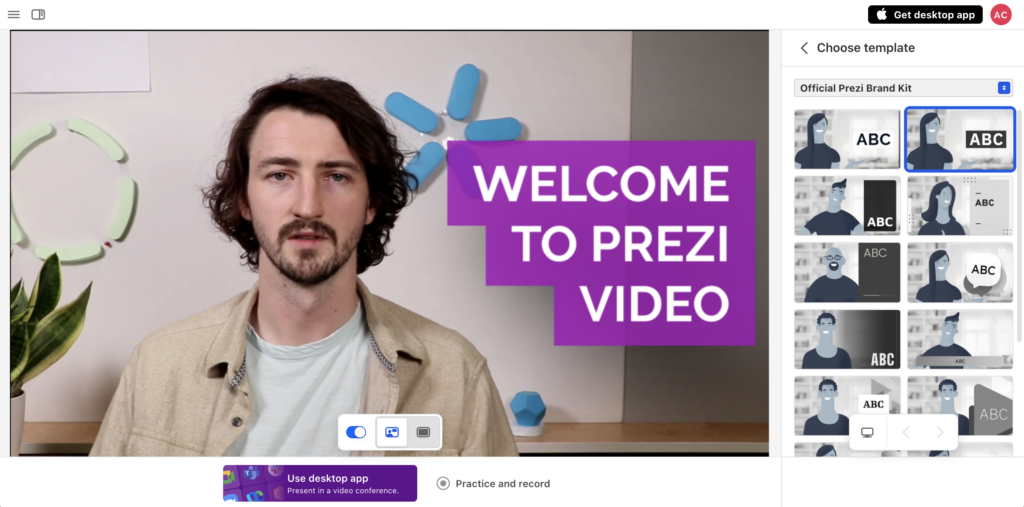 To find brand meeting templates, select "choose templates" in the Prezi Video editor. You'll then see all our pre-designed templates in the right-hand side of the screen. Select your brand kit in the drop-down list to automatically apply your brand's style to our templates. Select your favorite and see your brand take shape on the screen. 
Here's a video that guides you through these steps: 
Create a name tag so that attendees see your name and title
You can now add your name and job title to the bottom of the screen. This isn't required, but it makes you look so much more professional in a Zoom meeting and makes it easier for people to remember you after the meeting is done.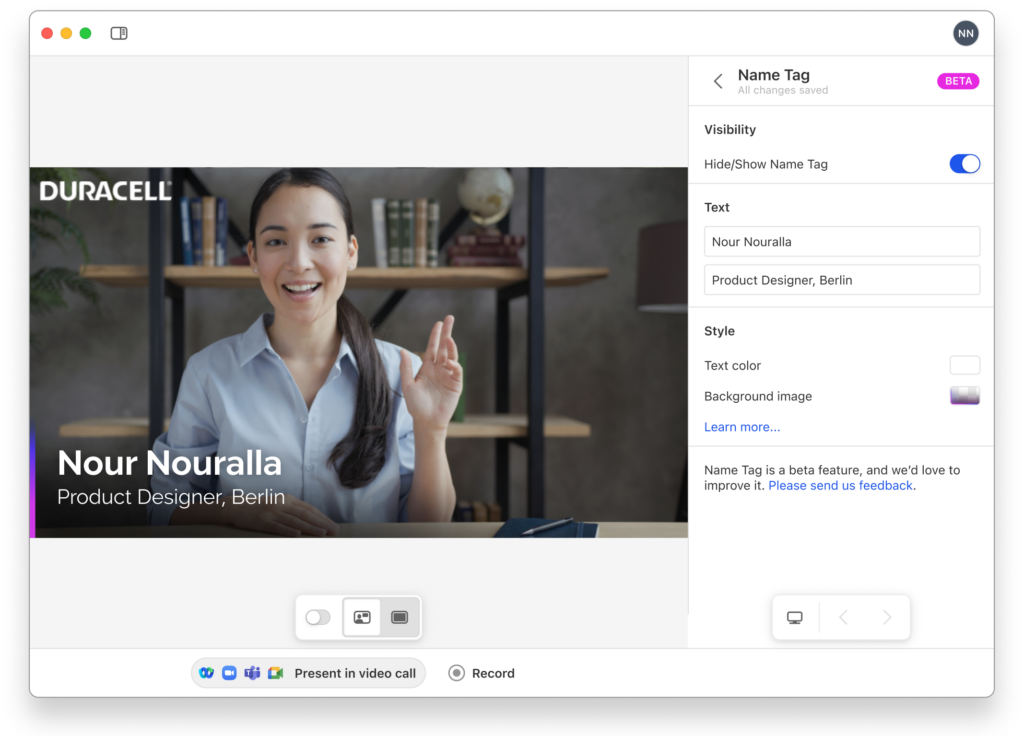 To add your name tag, open Prezi Video and click the three dots at the top right corner and select "name tag." Make edits to the text and style to further enhance your Zoom branding. 
Stay connected while you work remotely with Prezi Video
Read this step-by-step guide on adding a name tag Prezi Video to learn more.
Record a branded video instead
It's not always possible to schedule a meeting – sometimes, it's better to just send a video message instead (especially if you want to avoid meeting fatigue). Prezi allows you to create and record videos that are on-brand – perfect for sharing product updates, delivering company updates, or connecting with customers after-hours. 
Want to learn about how to record a video with Prezi? Watch this video: 
Zoom branding examples
There are a lot of ways to showcase your brand in Zoom using Prezi video. Here are a few of our favorite Zoom branding examples. 
In the Zoom branding example below, the Vodafone logo stays present in the top left corner throughout the entirety of the presentation. The colors, fonts, and style all match the brand guidelines. This leaves the audience with a clear understanding of the brand that is more likely to stick with them well after the Zoom meeting has ended.
In the next Zoom branding example, the presenter has her name and job title set up at the lower left corner and her company's name, Aquava, at the upper left corner. At the same time, you can see Aquava's brand color, blue, frames the content of her video, so the pitch looks more professional. This is the perfect example of using zoom branding.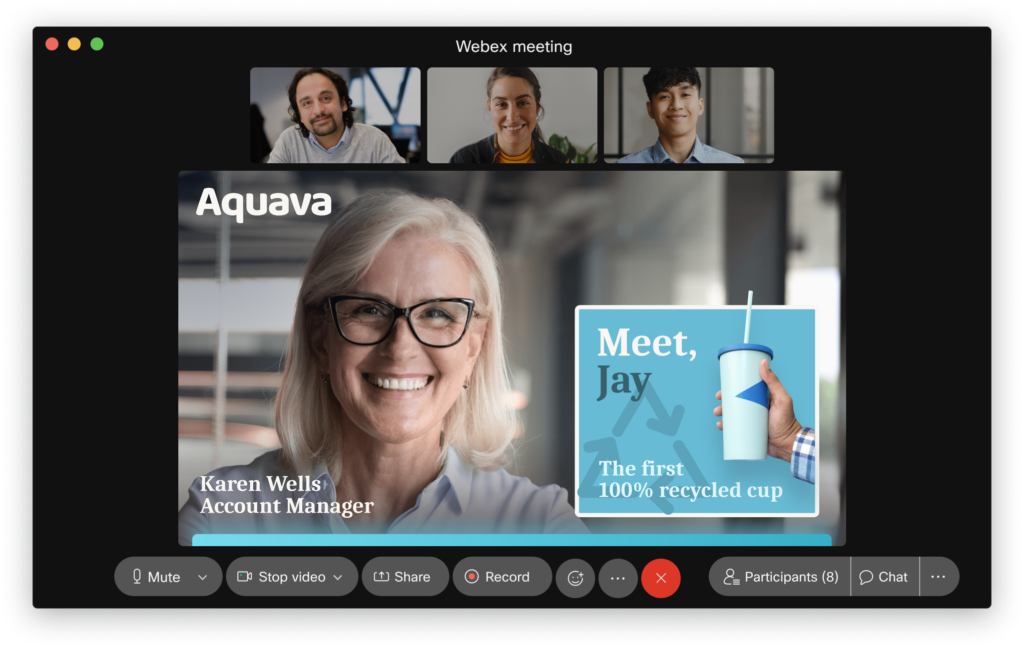 More resources to help you on your branding journey
You can't create a brand meeting overnight – your brand needs to be clearly articulated, your colors and style has to be on point, and your team needs to understand your company's vision first. Read on to discover a few resources to help you on your branding journey. 
Brand color

When thinking of the color red, does Red Bull or KFC come to your mind? Does the color green come to mind when you think of Spotify? One of the important elements of branding is your brand color. Colors trigger emotion, affect decision-making, lead interpretation, and strengthen brand awareness. Read this article about finding the right color palette for your brand to learn more about choosing your brand color. 
Things to consider before you start branding your business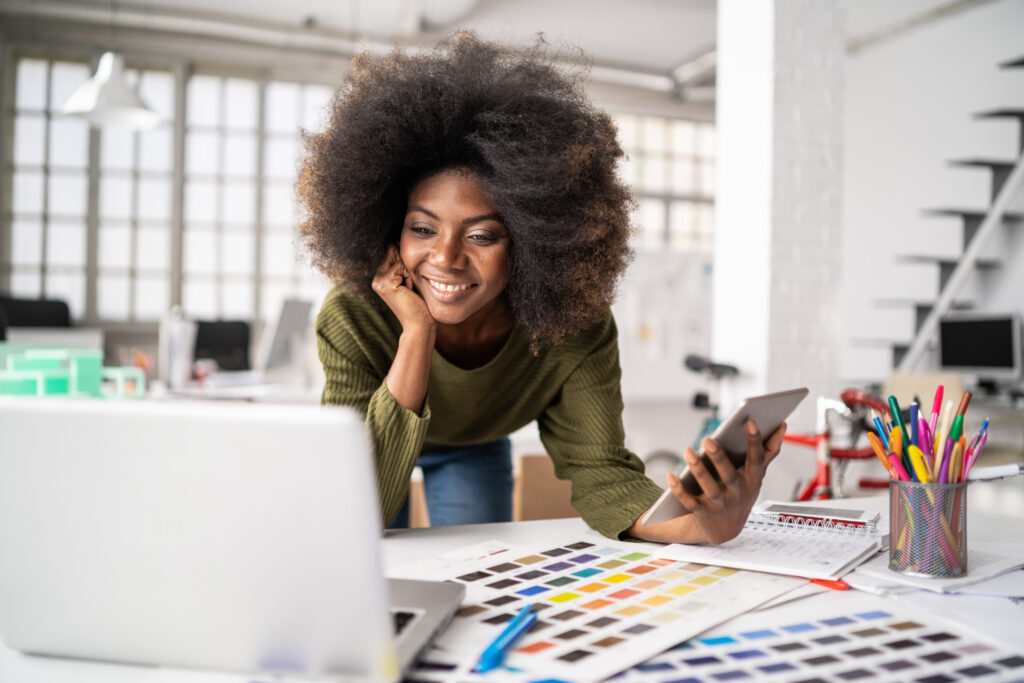 There are several steps to take before building your brand assets, including identifying your audience and who your buyers are, understanding your value proposition, and defining your brand value. If you want to learn more about the basic steps of branding, read our guide to branding your business.
Want to increase brand awareness and drive better business performance with your brand colors, font, and logo? Use Prezi brand kits to implement Zoom branding and hold more professional, engaging meetings.