Holding a meeting between in-office and remote workers can be tricky business. Historically, meetings have catered to people who are attending in person, with a speaker and a screen share for remote attendees being more secondary. With the future of work looking more and more hybrid, companies have to make a more conscious effort to include remote employees in their hybrid meetings.
Things like remote-first policies help build a workplace culture that gives all its employees equal opportunity to participate and gain visibility. Read on to learn how you can make your hybrid meetings more friendly to remote employees and help your hybrid team feel more unified.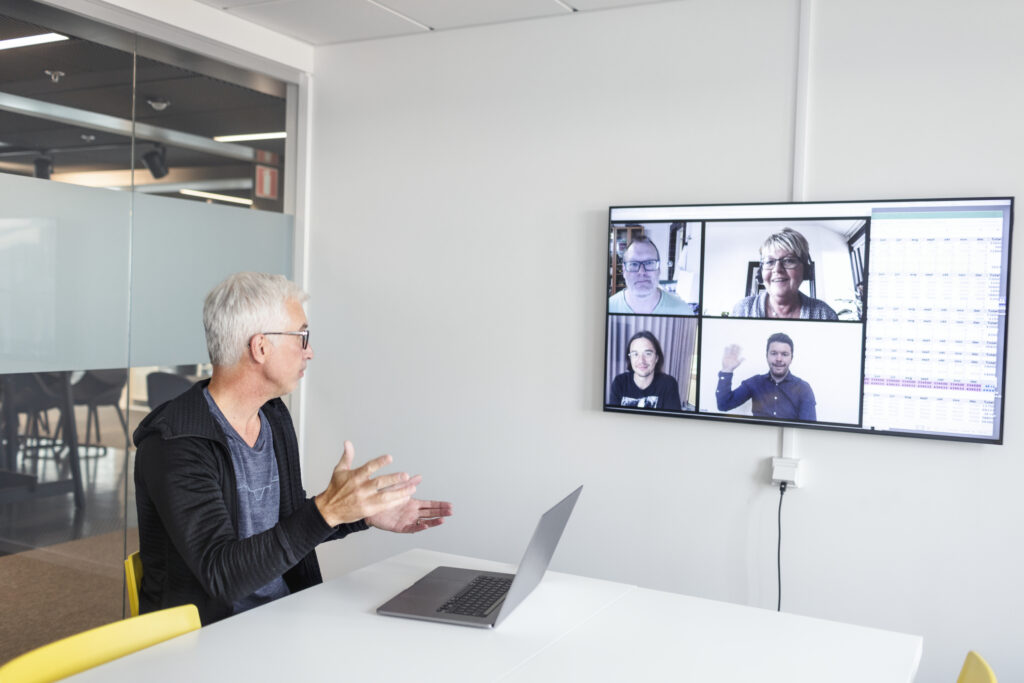 Use video
Video conferencing has been on the rise for years, but it was the pandemic that made video meetings the norm. After a year of working from home, your team is likely used to their fair share of video meetings. Now that some of your employees are back in the office, you should still have a video conference available for all of your meetings, but with a few new considerations.
Consider how the video looks for remote participants
Have a camera pointing at the conference room so that most, if not everyone in the room is visible to people attending virtually. This can be hard in a big meeting room with a lot of people, so make sure that presenters and the people speaking are in full view.
Be aware of screen shares that block presenters from view — this will make it difficult for remote attendees to read body language cues and get a sense of what's happening in the room. Unlike a traditional screen share, Prezi Video shows your content next to you on screen, so your remote meeting attendees get just as rich an experience as their in-office peers.
Make sure remote participants are visible
It's easy for people in the office to pay more attention to the others in the same room, especially as people are returning to the office and seeing each other in person for the first time in months. Your team is going to be excited to talk to one another in person again, but they can't forget about the people working from home.
Put your video conference in gallery mode and share the screen on a large monitor in the conference room. That way your remote attendees are visible even when they're not speaking.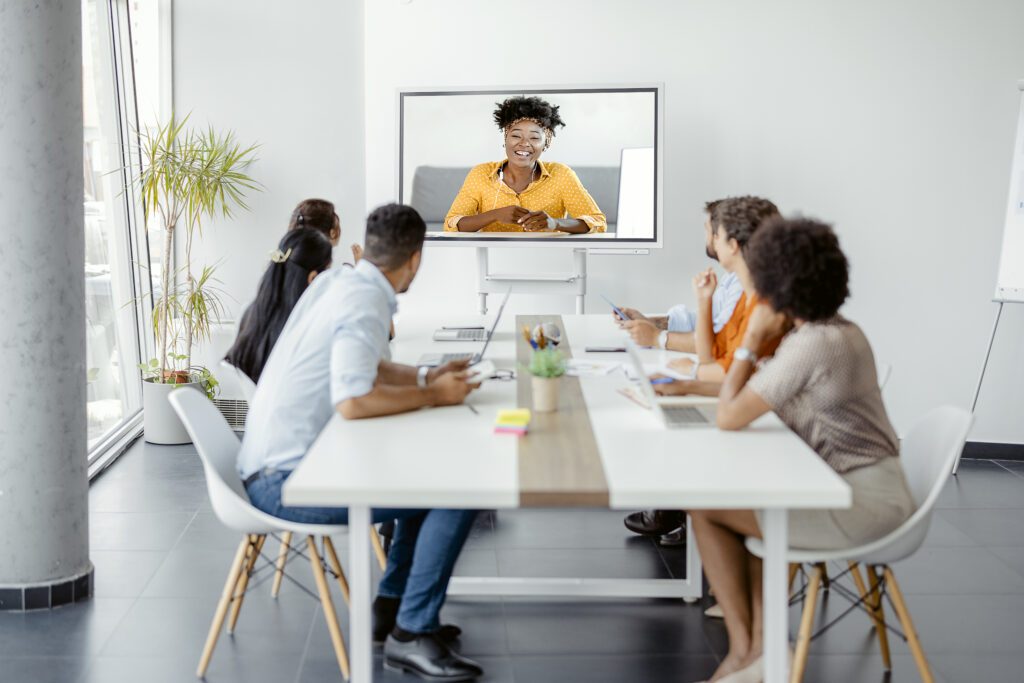 Make sure audio quality is good
In a perfect hybrid meeting, everyone on both sides of the meeting can hear each other and follow along. But we don't live in a perfect world. Sometimes the microphones in the conference room just aren't that good and sometimes it's hard to make out what the others are saying.
Encourage everyone on your team to speak clearly into their microphones. If you're in a large conference room, make sure presenters and speakers are sitting next to the microphone.
Acknowledge your remote attendees 
If you're a remote attendee, say "hi" when you join a meeting. It's a nice thing to do and it gives you a little extra visibility, so much so that it's one of the video conferencing best practices that carries into hybrid meetings.
Organizers should greet people as they join the video conference and chit chat with them before the meeting starts, not just with people in the room. When you involve remote people in the casual side of things, it helps your hybrid meeting feel more unified.
Stay connected while you work remotely with Prezi Video
Keep an eye out for unmuting 
As the meeting goes on, watch for people unmuting themselves and using emojis as signs that they want to say something. It's a challenge for remote workers to speak up in hybrid meetings without interrupting the flow of conversation in the room, so try to be an advocate on their part and call attention to them when it looks like they want to contribute.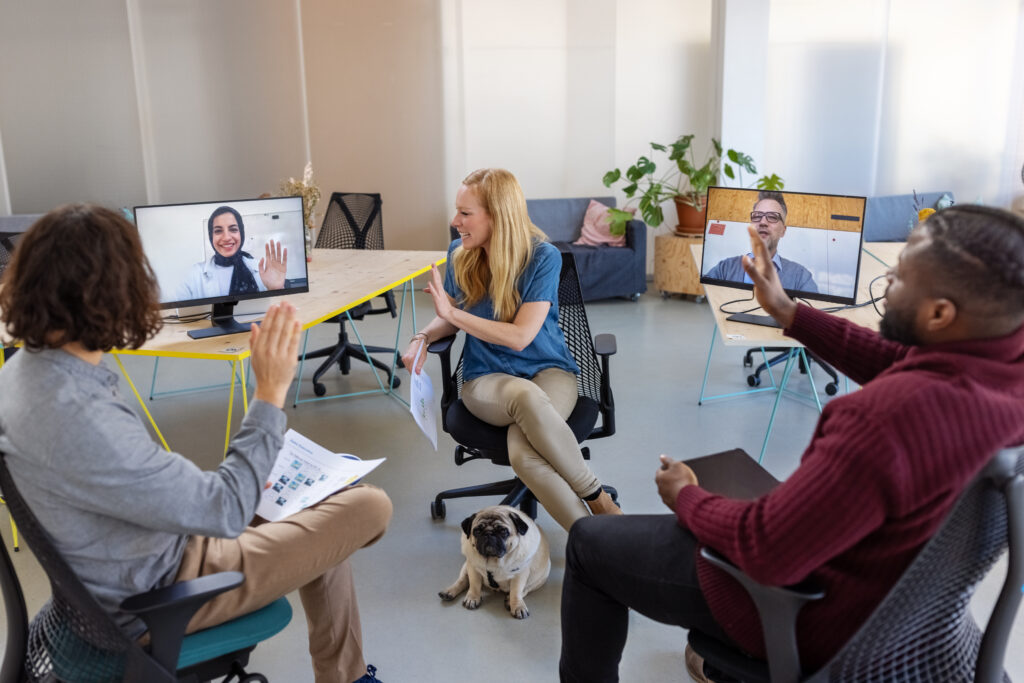 Schedule and plan meetings well ahead of time
Office workers are lucky to have other people working right next to them. It's easy to stop by a colleague's desk or take a conference room for a quick meeting. Hybrid meetings require a little more planning.
One of the reasons that people work from home is for the flexibility it allows them. Rather than assuming everyone is on the same traditional schedule, plan your hybrid meetings ahead of time so that people can accommodate their schedules and attend the meeting.
Design the meeting so all attendees can participate
Collaborating with your hybrid team looks a lot different than with a traditional team. Your brainstorm sessions, which may have once centered around a whiteboard or a wall of sticky notes, now need to take place online. Make your activities inclusive by setting up a virtual whiteboard or an online poll to get ideas from everyone.
In some cases, a virtual format is best. "For a truly collaborative meeting, where you want everyone's input and best thinking, then I would say put everybody in a virtual meeting," recommends Kevin Eikenberry, Chief Potential Officer of The Kevin Eikenberry Group. This equalizes the experience for everyone. 
Could this meeting be an email?
If you're already following all these guidelines and are still having trouble getting your remote and office workers to interact in your hybrid meetings, fear not. Some of your hybrid meetings may not even be necessary. It may have once been normal to get everyone in the room to sync on a project, but with the rise of collaboration tools like Asana, Trello, and more that make asynchronous communication a standard, your team can access and share updates on their own time.
As Jana Piske puts it in her video, your most important meetings are for team building, kick-offs, retrospectives, and time-sensitive subjects like brainstorms. Learn more in her Prezi video:
You can use Prezi Video to avoid another meeting by recording a video online and sharing it with your teammates. This is a great option when you need to make an announcement or share an exciting update, since your video will stand out compared to the other messages waiting in your team's inbox.
Holding a valuable hybrid meeting is surely going to be a learning experience for a lot of companies, but when you consider how remote workers can engage and get involved in the meeting, they'll go a lot more smoothly. Discover more workplace trends and tips on the future of hybrid work when you visit the Prezi Video Gallery.