Presentation design defines how your content will be received and remembered. It's responsible for that crucial first impression and sets the tone for your presentation before you've even introduced the topic. It's also what holds your presentation together and guides the viewer through it. That's why visually appealing, easily understandable, and memorable presentation design is what you should be striving for. But how can you create a visually striking presentation without an eye for design? Creating a visually appealing presentation can be challenging without prior knowledge of design or helpful tools. 
With this presentation design guide accompanied by Prezi presentation examples and templates, you'll have no problem creating stunning and impactful presentations that will wow your audience.
In this guide, we'll start by looking at the basics of presentation design. We'll provide a simple guide on creating a presentation from scratch, as well as offer helpful tips for different presentation types. In addition, you'll discover how to organize information into a logical order and present it in a way that resonates with listeners. Finally, we'll share tips and tricks to create an eye-catching presentation, and showcase some great presentation examples and templates you can get inspired by!
With our comprehensive introduction to designing presentations, you will be able to develop an engaging and professional presentation that gets results!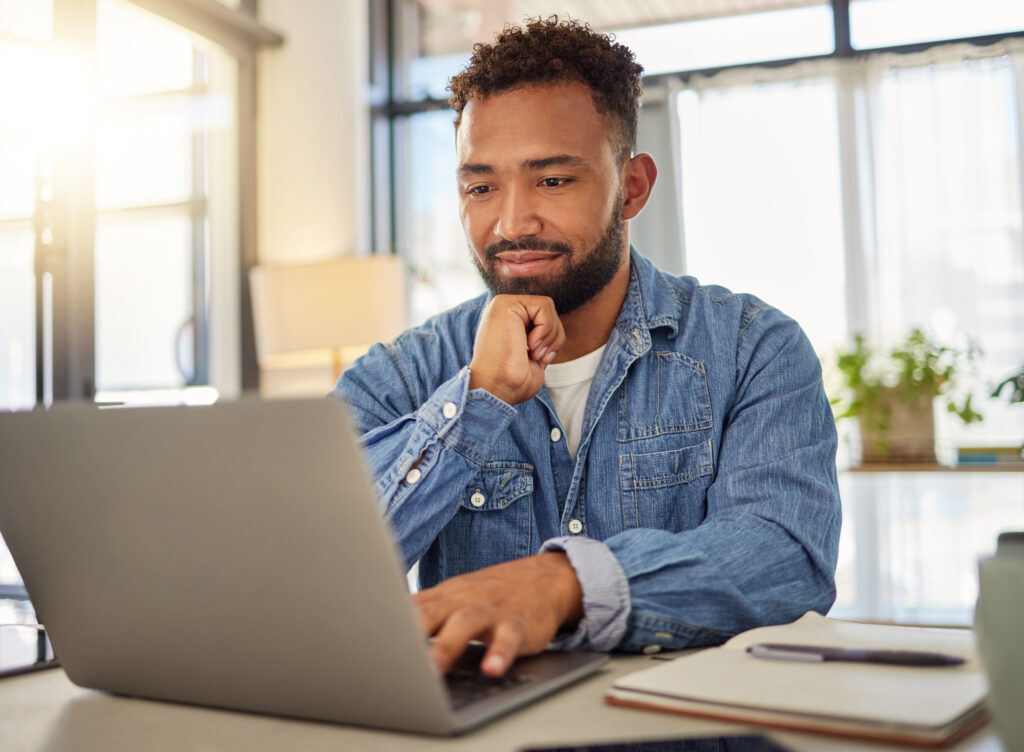 What is presentation design?
Presentation design encompasses a variety of elements that make up the overall feel and look of the presentation. It's a combination of certain elements, like text, font, color, background, imagery, and animations. 
Presentation design focuses on finding ways to make the presentation more visually appealing and easy to process, as it is often an important tool for communicating a message. It involves using design principles like color, hierarchy, white space, contrast, and visual flow to create an effective communication piece.
Creating an effective presentation design is important for delivering your message efficiently and leaving a memorable impact on your audience. Most of all, you want your presentation design to support your topic and make it easier to understand and digest. A great presentation design guides the viewer through your presentation and highlights the most essential aspects of it. 
If you're interested in learning more about presentation design and its best practices, watch the following video and get practical insights on designing your next presentation:
Types of presentations
When creating a presentation design, you have to keep in mind several types of presentations that shape the initial design you want to have. Depending on the type of presentation you have, you'll want to match it with a fitting presentation design.
1. Informative
An informative presentation provides the audience with facts and data in order to educate them on a certain subject matter. This could be done through visual aids such as graphs, diagrams, and charts. In an informative presentation, you want to highlight data visualizations and make them more engaging with interactive features or animations. On Prezi Design, you can create different engaging data visualizations from line charts to interactive maps to showcase your data.
2. Instructive
Instructive presentations teach the audience something new. Whether it's about science, business strategies, or culture, this type of presentation is meant to help people gain knowledge and understand a topic better. 
With a focus on transmitting knowledge, your presentation design should incorporate a variety of visuals and easy-to-understand data visualizations. Most people are visual learners, so you'll benefit from swapping text-based slides for more visually rich content.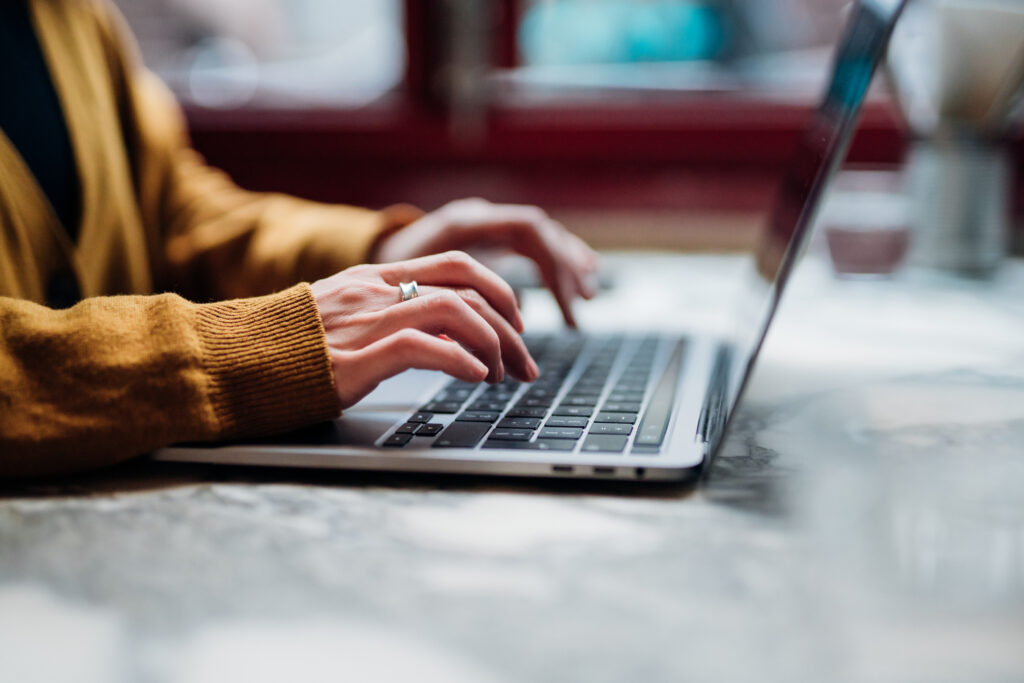 3. Motivational
Motivational presentations try to inspire the audience by giving examples of successful projects, stories, or experiences. This type of presentation is often used in marketing or promotional events because it seeks to get the audience inspired and engaged with a product or service. That's why the presentation design needs to capture and hold the attention of your audience using a variety of animations and visuals. Go beyond plain images – include videos for a more immersive experience.
4. Persuasive
Persuasive presentations are designed to sway an audience with arguments that lead to an actionable decision (i.e., buy the product). Audiences learn facts and figures relevant to the point being made and explore possible solutions based on evidence provided during the speech or presentation.
In a persuasive presentation design, you need to capture your audience's attention right away with compelling statistics wrapped up in interactive and engaging data visualizations. Also, the design needs to look and feel dynamic with smooth transitions and fitting visuals, like images, stickers, and GIFs.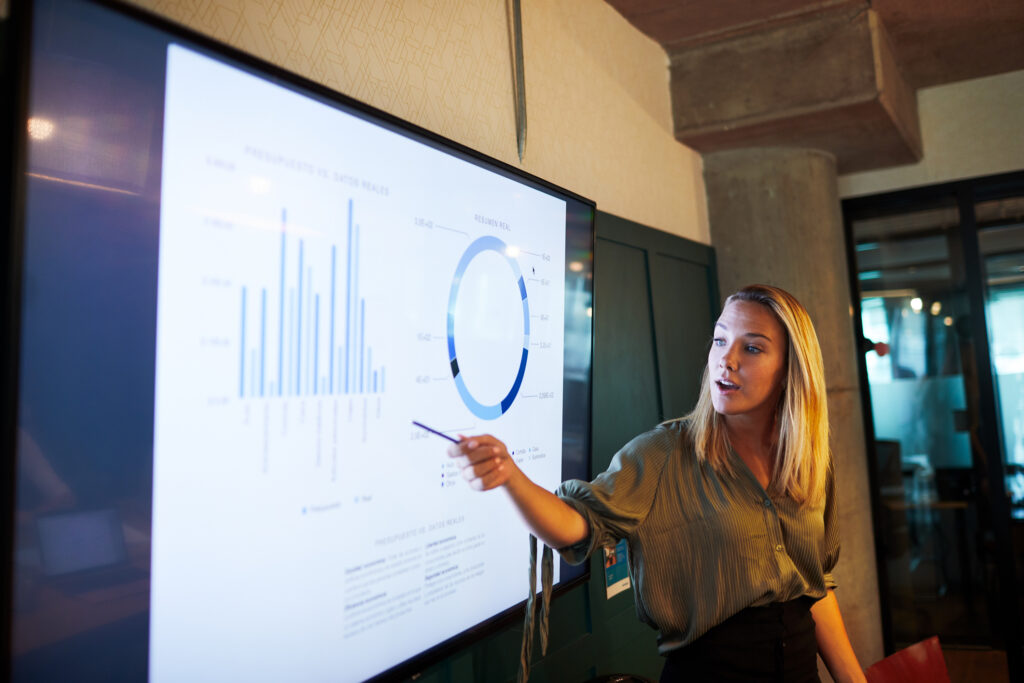 How to design a presentation
When you first open a blank presentation page, you might need some inspiration to start creating your design. For this reason, we created a simple guide that'll help you make your own presentation from scratch without headaches.
1. Opt for a motion-based presentation
You can make an outstanding presentation using Prezi Present, a software program that lets you create interactive presentations that capture your viewer's attention. Prezi's zooming feature allows you to add movement to your presentation and create smooth transitions. Prezi's non-linear format allows you to jump between topics instead of flipping through slides, so your presentation feels more like a conversation than a speech. A motion-based presentation will elevate your content and ideas, and make it a much more engaging viewing experience for your audience.
Watch this video to learn how to make a Prezi presentation:
2. Create a structure & start writing content
Confidence is key in presenting. You can feel more confident going into your presentation if you structure your thoughts and plan what you will say. To do that, first, choose the purpose of your presentation before you structure it. There are four main types of presentations: informative, instructive, motivational, and persuasive. Think about the end goal of your presentation – what do you want your audience to do when you finish your presentation – and structure it accordingly.
Next, start writing the content of your presentation (script). We recommend using a storytelling framework, which will enable you to present a conflict and show what could be possible. In addition to creating compelling narratives for persuasive presentations, this framework is also effective for other types of presentations.
Tip: Keep your audience in mind. If you're presenting a data-driven report to someone new to the field or from a different department, don't use a lot of technical jargon if you don't know their knowledge base and/or point of view.
3. Research & analyze 
Knowing your topic inside and out will make you feel more confident going into your presentation. That's why it's important to take the time to understand your topic fully. In return, you'll be able to answer questions on the fly and get yourself back on track even if you forget what you were going to say when presenting. In case you have extra time at the end of your presentation, you can also provide more information for your audience and really showcase your expertise. For comprehensive research, turn to the internet, and library, and reach out to experts if possible.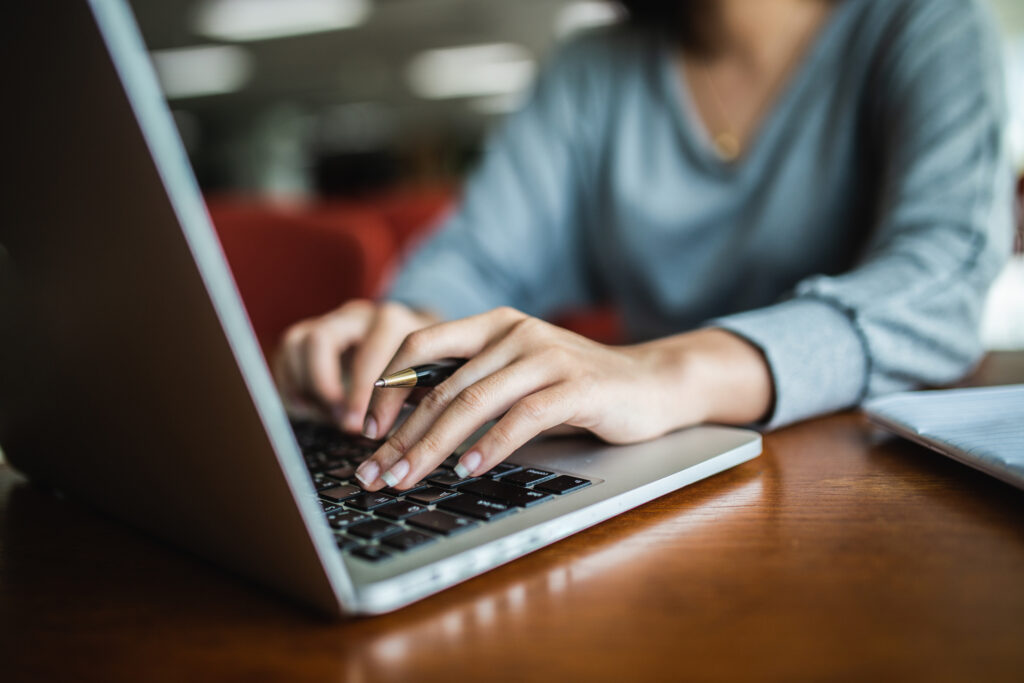 4. Get to design
Keeping your audience engaged and interested in your topic depends on the design of your presentation.
Now that you've done your research and have a proper presentation structure in place, it's time to visualize it.
4.1. Presentation design layout
What you want to do is use your presentation structure as a presentation design layout. Apply the structure to how you want to tell your story, and think about how each point will lead to the next one. Now you can either choose to use one of Prezi's pre-designed templates that resemble your presentation structure the most or start to add topics on your canvas as you go. 
Tip: When adding content, visualize the relation between topics by using visual hierarchy – hide smaller topics within larger themes or use the zooming feature to zoom in and out of supplementary topics or details that connect to the larger story you're telling.
4.2. Color scheme
Now it's time to choose your color scheme to give a certain look and feel to your presentation. Make sure to use contrasting colors to clearly separate text from the background, and use a maximum of 2 to 3 dominating colors to avoid an overwhelming design.
4.2. Content (visuals + text)
Add content that you want to highlight in your presentation. Select from a wide range of images, stickers, GIFs, videos, data visualizations, and more from the content library, or upload your own. To provide more context, add short-format text, like bullet points or headlines that spotlight the major themes, topics, and ideas in your presentation. 
Also, here you'll want to have a final decision on your font choice. Select a font that's easy to read and goes well with your brand and topic.
Tip: Be careful not to turn your presentation into a script. Only display text that holds significant value – expand on the ideas when presenting.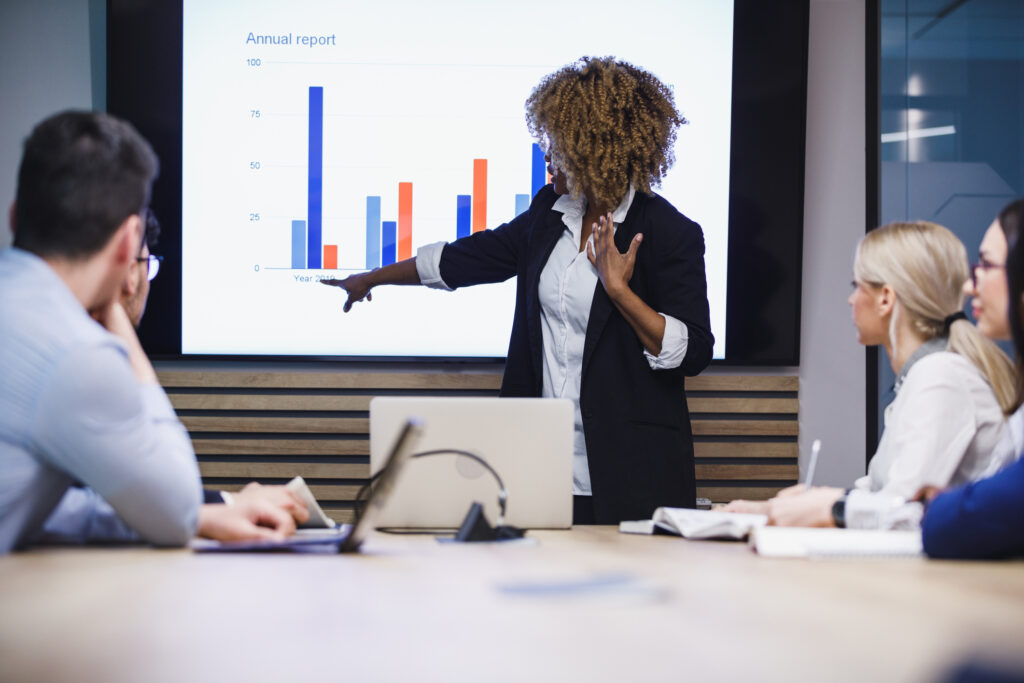 4.3. Transitions
Last but not least, bring your presentation design to life by adding smooth, attractive, and engaging transitions that take the viewer from one topic to another without disrupting the narrative. 
On Prezi, you can choose from a range of transitions that take you into the story world and provide an immersive presentation experience for your audience. 
For more practical tips read our article on how to make a presentation. 
Presentation design tips
When it comes to presentations, design is key. A well-designed presentation can communicate your ideas clearly and engage your audience, while a poorly designed one can do the opposite.
To ensure your presentation is designed for success, note the following presentation design tips that'll help you design better presentations that wow your audience.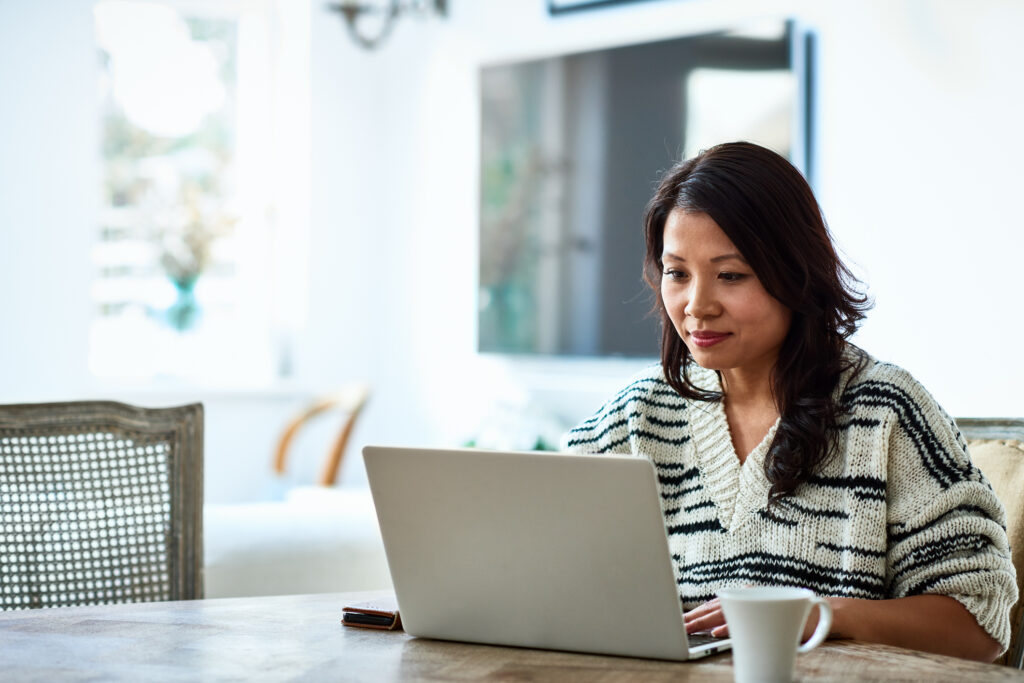 1. Keep it simple
Too many elements on a slide can be overwhelming and distract from your message. While you want your content to be visually compelling, don't let the design of the presentation get in the way of communicating your ideas. Design elements need to elevate your message instead of overshadowing it. 
2. Use contrasting text colors
Draw attention to important points with contrasted text colors. Instead of using bold or italics, use a contrasting color in your chosen palette to emphasize the text.
3. Be clear and concise. 
Avoid writing long paragraphs that are difficult to read. Limit paragraphs and sections of text for optimum readability.
4. Make sure your slide deck is visually appealing
Use high-quality images and graphics, and limit the use of text to only the most important information. For engaging and diverse visuals, go to Prezi's content library and discover a wide range of stock images, GIFs, stickers, and more.
5. Pay attention to detail
Small details like font choice and alignments can make a big difference in how professional and polished your presentation looks. Make sure to pay attention to image and text size, image alignment with text, font choice, background color, and more details that create the overall look of your presentation.
6. Use templates sparingly
While templates can be helpful in creating a consistent look for your slides, overusing them can make your presentation look generic and boring. Use them for inspiration but don't be afraid to mix things up with some custom designs as well. 
7. Design for clarity
Create a presentation layout that is easy to use and navigate, with clear labels and instructions. This is important for ensuring people can find the information they need quickly and easily if you end up sharing your presentation with others.
8. Opt for a conversational presentation design
Conversational presenting allows you to adjust your presentation on the fly to make it more relevant and engaging. Create a map-like arrangement that'll encourage you to move through your presentation at your own pace. With a map-like design, each presentation will be customized to match different audiences' needs. This can be helpful for people who have different levels of expertise or knowledge about the subject matter.
9. Be consistent 
Design consistency holds your presentation together and makes it easy to read and navigate. Create consistency by repeating colors, fonts, and design elements that clearly distinguish your presentation from others.
Grab their attention by making your presentation more interactive
10. Have context in mind
A great presentation design is always dependent on the context. Your audience and objective influence everything from color scheme to fonts and use of imagery. Make sure to always have your audience in mind when designing your presentations.
For more presentation tips, read the Q&A with presentation design experts and get valuable insights on visual storytelling.
Presentation templates
Creating a presentation from scratch isn't easy. Sometimes, it's better to start with a template and dedicate your time to the presentation's content. To make your life easier, here are 10 useful and stunning presentation templates that score in design and engagement. If you want to start creating with any of the following templates, simply go to our Prezi presentation template gallery, select your template, and start creating! Also, you can get inspired by the top Prezi presentations, curated by our editors. There you can discover presentation examples for a wide range of topics, and get motivated to create your own. 
Business meeting presentation
The work desk presentation templates have a simple and clean design, perfectly made for a team or business meeting. With all the topics visible from start, everyone will be on the same page about what you're going to cover in the presentation. If you want, you can add or remove topics as well as edit the visuals and color scheme to match your needs.
Small business presentation
This template is great for an introductory meeting or pitch, where you have to summarize what you or your business does in a few, highly engaging slides. The interactive layout allows you to choose what topic bubble you're going to select next, so instead of a one-way interaction, you can have a conversation and ask your audience what exactly they're interested in knowing about your company.
Mindfulness at work presentation
How can you capture employees' attention to explain important company values or practices? This engaging presentation template will help you do just that. With a wide range of impactful visuals, this presentation design helps you communicate your ideas more effectively. 
Business review template
Make your next quarterly business review memorable with this vibrant business presentation template. With eye-capturing visuals and an engaging layout, you'll communicate important stats and hold everyone's attention until the end.
History timeline template
With black-and-white sketches of the Colosseum in the background, this timeline template makes history come alive. The displayed time periods provide an overview that'll help your audience to grasp the bigger picture. After, you can go into detail about each time frame and event.
Storytelling presentation template
Share stories about your business that make a lasting impact with this stunning, customizable presentation template. To showcase each story, use the zooming feature and choose to tell your stories in whatever order you want.
Design concept exploration template
Not all meetings happen in person nowadays. To keep that face-to-face interaction even when presenting online, choose from a variety of Prezi Video templates or simply import your already-existing Prezi template into Prezi Video for remote meetings. This professional-looking Prezi Video template helps you set the tone for your meeting, making your designs stand out. 
Employee perks and benefits video template
You can use the employee benefits video template to pitch potential job candidates the perks of working in your company. The Prezi Video template allows you to keep a face-to-face connection with potential job candidates while interviewing them remotely.
Sales plan presentation template
Using a clear metaphor that everyone can relate to, this football-inspired sales plan presentation template communicates a sense of team unity and strategy. You can customize this Prezi business presentation template with your brand colors and content.
Flashcard template
How can you engage students in an online classroom? This and many other Prezi Video templates will help you create interactive and highly engaging lessons. Using the flashcard template, you can quiz your students, review vocabulary, and gamify learning.
Great presentation design examples
If you're still looking for more inspiration, check out the following Prezi presentations made by our creative users.
Social media presentation
This presentation is a great example of visual storytelling. The use of visual hierarchy and spatial relationships creates a unique viewing experience and makes it easier to understand how one topic or point is related to another. Also, images provide an engaging and visually appealing experience.
Leadership books presentation
Do you want to share your learnings? This interactive presentation offers great insights in an entertaining and visually compelling way. Instead of compiling leadership books in a slide-based presentation, the creator has illustrated each book and added a zooming feature that allows you to peek inside of each book's content.
Remote workforce presentation
This is a visually rich and engaging presentation example that offers an interactive experience for the viewer. A noteworthy aspect of this presentation design is its color consistency and matching visual elements.
A presentation about the teenage brain 
Another great presentation design example that stands out with an engaging viewing experience. The zooming feature allows the user to dive into each topic and choose what subject to view first. It's a great example of an educational presentation that holds the students' attention with impactful visuals and compelling transitions.
Remote work policy presentation
This presentation design stands out with its visually rich content. It depicts exactly what the presentation is about and uses the illustrated window frames in the background image as topic placements. This type of presentation design simplifies complex concepts and makes it easier for the viewer to understand and digest the information.
Conclusion
Everyone can create visually-appealing presentations with the right tools and knowledge. With the presentation design tips, templates, and examples, you're equipped to make your next presentation a success. If you're new to Prezi, we encourage you to discover everything it has to offer. With this presentation design guide and Prezi, we hope you'll get inspired to create meaningful, engaging, and memorable content for your audience!