With a rapid shift happening to online learning and remote teaching, we're facing new challenges in how we convey important content and focus our students on what is essential. We can no longer use proximity to bring kids back on task and 'teacher voice' doesn't quite play as well in an email or LMS update. Video has become an essential tool, and it is worth seeing how these teachers are creatively using video to move their classes online, share mini-lectures, and introduce new assignments.
Read on to learn about how Prezi Video can be used to enhance your classes and lesson plans, and get started with our top 10 tips for using Prezi Video in your online classroom.
Keeping the human connection with students
With Prezi Video, you can make something a little different. Prezi Video puts your content on the screen right alongside you, similar to a typical news broadcast. This enables teachers to maintain eye contact and use facial cues, while pointing to specific content for emphasis — all vital for maintaining student engagement. Prezi Video is free to educators and students, and you can find it in your Prezi Dashboard. Watch this short teacher's guide to help you get started using Prezi Video:
Tips for using Prezi Video
The content and 'the why' are the most important parts of your video. Do you want to convey content like in this example, or provide a video study guide to help students focus on what to study, or introduce a new assignment? As you think about your content, consider these 10 tips for using Prezi Video to help you get started:
Stay connected while you work remotely with Prezi Video
Let them see you. An online classroom may be a first for your students. You can reduce some of their anxiety by letting them "see" you, which is what Prezi Video was designed to do. Share the journey with them, even keeping in some of the bloopers and mistakes.

Find a way to incorporate established classroom routines (e.g., morning meeting, warm-up, essential questions, exit ticket, etc.). Maybe have them email you after viewing your video with their answer to an exit ticket so you can check for understanding.

Use Prezi Video templates to quickly get started and try your first idea. There are specifically designed templates on topics such as: new assignments, school-to-home communication for homework reminders and notes to parents, and a fun test review game. Each uses engaging graphic options, and you can easily modify them. You can also make a copy of another teacher's video by clicking "Create your own" to use their template. Find them under Advanced create in your Prezi dashboard.

If you have a PowerPoint or Prezi presentation, you can import it into Prezi Video and start with that content.

Record the Prezi Video in a bright room with light in front of you and a clean background. It will be less distracting for the students. If you do not have a camera and microphone for your computer or laptop, make sure to get one. Check out our simple tips for a professional home studio set up for more.

Keep it short and simple — a 5-7 minute video is effective (think YouTube). Even shorter is okay, too. You can add images, reference classwork, and take pictures of assignments or book pages so students are making connections with what you're teaching. See examples of these great videos made by teachers.

It will likely be easiest to just share a link to your video with students, either through your school's Learning Management System (LMS) or an email. 

Prezi Video works with popular video conferencing tools like Zoom, Webex, GoToMeeting, and Google Hangouts. When presenting your video so you can still see your students, shrink the size of the windows of your conferencing tool and Prezi Video so you can view them side-by-side for easier presenting. Navigate through your content using the Prezi Video app. Learn more with our trainings for teaching online with Prezi Video.

Think outside the box — use Prezi Video for fun (like this true/false quiz), read to your students (you can take pictures from the book and use them in the video), or model solving a problem for them (just like you would in the classroom on the whiteboard).

Clearly title your video and use the description for class name, date, and a brief description so students (and parents) know what it's for. You can also add relevant links to assignment docs or other materials they will need — here's a good example.
Prezi Video trainings and tutorials
We have free live training sessions and on-demand training videos — learn more here. Here's a short tutorial to help you get started with Prezi Video:
Tracy Leonard, Prezi Teacher in Residence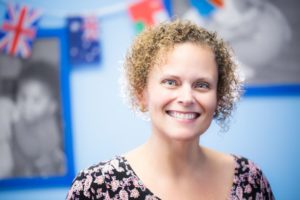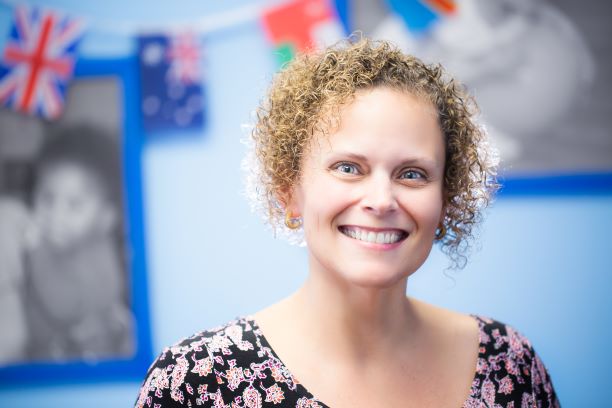 Tracy has taught in elementary and middle school classrooms, and served as a school site administrator for a PreK – 8 campus that integrated the Core Knowledge curriculum with state standards. Over the past 10 years, her teaching has turned to adults offering professional development and conference workshops across the country.