Gamifying lessons is a great way to make learning content engaging. Platforms like Kahoot and Quizlet help to keep learners engaged, while reinforcing key content. We're excited to release a new Prezi Video flashcard template that will bring a similar interactivity to your live Zoom classrooms or recorded videos – great for previewing content or content review. Use them for teacher-led activities, or have students create their own flashcards.
Keep reading to see a few different ways to use the new flashcard template and learn how to use it with Prezi Video.
1. Language learners
Whether you're teaching dual language learners or world languages, using the Prezi Video flashcard template can help prepare students for success. According to Colorin Colorado, previewing new vocabulary and then giving students multiple chances to interact with it is key to becoming English-proficient. In this Prezi Video example, the teacher is able to assign the video in a flipped classroom model by asking them to watch the video prior to coming to class. This exposes the students to the new vocabulary before it is introduced in the class lesson. 
The video allows students to hear the correct pronunciation, while viewing it in their native language and seeing it in a visual representation. Teaching the vocabulary thematically is also helpful for dual language learners, allowing them to make connections and find similarities in the words while setting them up for success in other subject areas.
If you're a foreign language teacher, you can use it in a similar manner — help students hear the correct foreign language pronunciation (or perhaps view the American Sign Language for it) and also see it written in both English and the foreign language.
As a bonus for you, you're also creating a library your students can refer back to.
2. Previewing content or study review
In this example, I've taken one of our most-viewed Prezi videos, The Age of Enlightenment by Rachael Streitman, a middle school social studies teacher in Cleveland, OH. In the video, she introduces a complex time period of history, requiring students to think critically, and introducing many new and unfamiliar terms.
Using flashcards, you can help guide students to these key terms and use it as a check for understanding based on what they've watched or read. This could also be adjusted slightly as a means to preview content prior to the lesson, demystifying unique terms and guiding student focus.
3. Memorization and preparing for the test
Stay connected while you work remotely with Prezi Video
As much as we might bristle at the notion of rote memorization, there are situations where memory recall is required, such as learning new vocab, studying multiplications tables, or preparing for a test. Quizlet wouldn't be as popular as it is without this need. And index cards, seem, well, a bit dated.
Enter the Prezi Video flashcard template. With it, you can gesture for emphasis and help students hear the terms. Or, you can turn it over to them to create flashcards for themselves as a practice exercise or perhaps quiz each other live in a Zoom breakout room.
Here's one example using the flashcard template in Zoom as a class-based review. This could easily be combined with Kahoot or even a simple Google Form.
How to use the flashcard template with Prezi Video
Prezi Video templates are based on Prezi presentations — the primary difference is everything is adjusted so you can be on-screen alongside your content, whether while recording a video or going live in Zoom or another video conferencing platform. If you're not familiar with Prezi presentations, fear not, as the purpose of the template is to get you started quickly, allowing you to fill in your own content.
Visit the flashcard template page and click "use this template" to get started with your own content. For more assistance, check out this article on making a presentation from a template or visit our on-demand tutorials to learn more.
We're excited to see how you (and your students) might use the flashcard template with Prezi Video. If you have an idea, send us a note at prezieditors@prezi.com and we may feature it on our Teacher Gallery.
Tracy Leonard, Teacher in Residence @ Prezi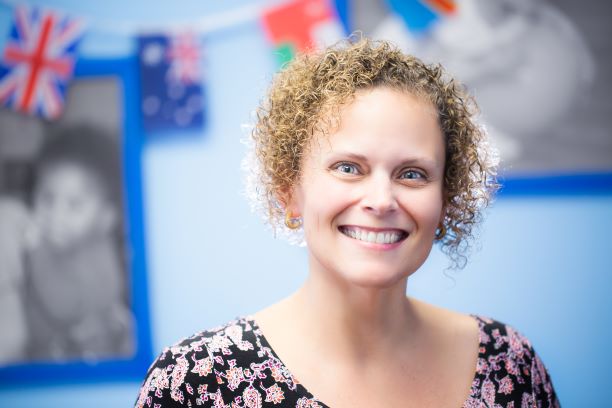 Tracy has taught in elementary and middle school classrooms, and served as a school site administrator for a PreK – 8 campus that integrated the Core Knowledge curriculum with state standards. Over the past 10 years, her teaching has turned to adults offering professional development and conference workshops across the country.
Related posts