What are some practical tips for virtual meetings? How can I improve engagement in virtual meetings? In this article, you'll find useful answers to those questions.

In today's workplace, virtual meetings are nearly unavoidable. As more companies switch to a remote or hybrid work model, virtual meetings are becoming more important and necessary to maintain an efficient information flow. With a little preparation, virtual meetings can be a useful way to connect with team members and clients. If you want to improve your virtual meetings, discover eight virtual meeting tips in this article to help you craft an engaging remote experience.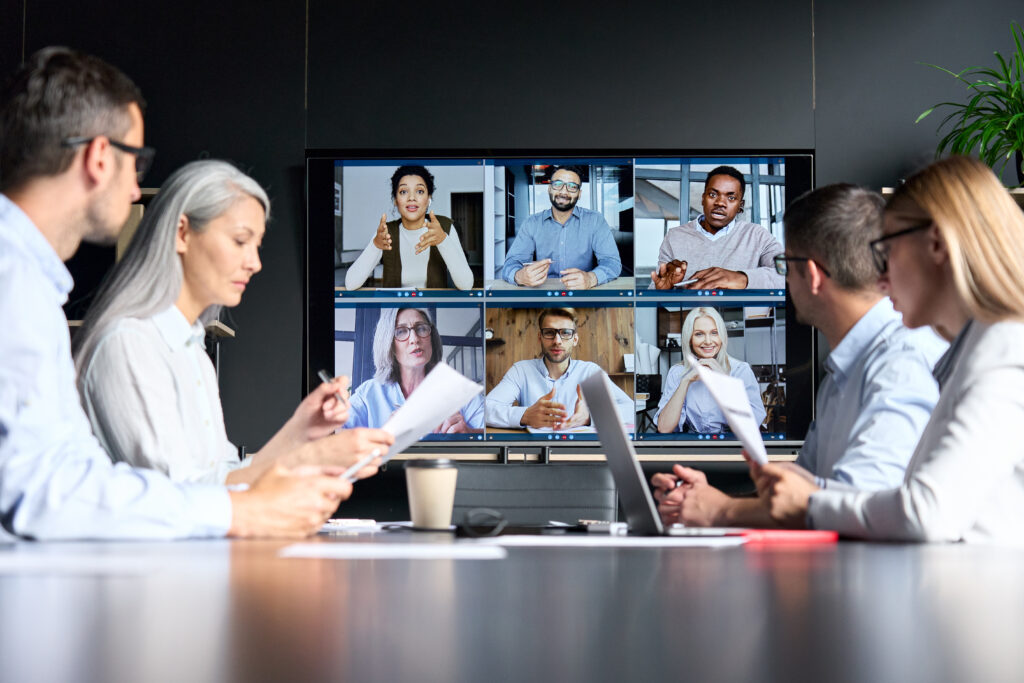 1. Plan in advance
Send out a meeting invitation well in advance. Also, make sure to include a meeting link to the video conferencing tool of your choice. While this might seem basic, preparing in detail ensures that things run smoothly on the day of the virtual meeting and you can focus on the bigger picture.
Also, if you're setting up a one-on-one or small group meeting, double-check the invitees' calendar (if possible) before sending out an invitation to the meeting. You want to make sure that your proposed date and time work for others. By checking the available dates beforehand, you'll save time as you won't need to email back and forth about the available timeslots.
2. Set a clear objective and stick to your agenda
One of the best tips for virtual meetings others will highly appreciate is setting a clear meeting agenda. It's nice to catch up with your team in meetings, especially if you are working remotely without a physical office location. However, it's important to go into a meeting with a clear goal in mind and an agenda to stay on track.
Even a simple list of key talking points will help keep everyone on the same page and get the most out of your virtual meeting. Consider asking your team members to add items to your agenda before the meeting about any points they'd like to raise. Another great virtual meeting tip is to address the project owner for each item on your agenda. Ask them for final comments or action items before moving on.
Dave McKeown, CEO of Outfield Leadership, shares his virtual meeting tips on setting an agenda and maximizing meeting efficiency. To get the most out of your virtual team meetings, he recommends meeting frequently, but for shorter periods of time whenever you address action items. For monthly meetings, the discussion should be centered around tactics and strategies. And always build strong action items to complete before the team's next meeting. Watch Dave's Prezi Video for more tips on creating and sticking to a virtual meeting agenda:
3. Use a good webcam and microphone
No well-planned agenda can save a virtual meeting that's conducted with a blurry camera or weak microphone. Uncooperative technology can ruin the flow of your virtual meeting and create frustration for both you and others on the call.
Before your meeting, be sure that your webcam is working and that your microphone provides clean audio. Often, your computer microphone will provide higher-quality audio than your headphones. Nevertheless, do a test run to see if this is the case for you. A test run of both your mic and camera can be a quick way to avoid virtual meeting disasters.
Check out our article on creating a clean and professional home studio setup. Plus, discover more tips for effective virtual meetings.
4. Use relevant tools for your virtual meetings
Virtual meetings also allow you to incorporate a variety of online tools to help engage with your team or help drive a point, such as Prezi Video, Slido, Atlassian, and Webex. Screen sharing can often be distracting, and you might lose your audience without that human element or eye contact.
Prezi Video works with your video conferencing tool of choice. Also, it displays your content right next to you on screen as you present. You can add text, visuals, and other content onto your screen and engage with it in real-time. This is a powerful tool to grab attention and keep your audience interested. Prezi also makes it easy to get started with plenty of video templates.
Simply browse Prezi Video templates, edit the content, and get ready to present. As a result, your meeting will be a much more engaging experience for everyone.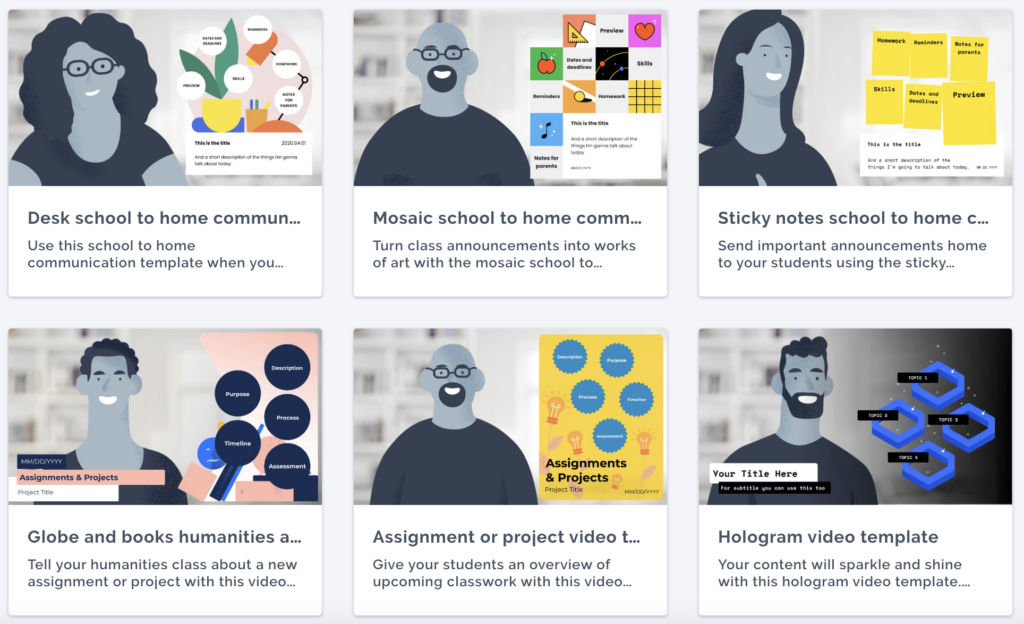 5. Make your virtual meeting hybrid-friendly
If there's a possibility that some people will be attending your virtual meeting from the office, you should be able to accommodate those in-person and those working from home. This means gathering all pertinent information ahead of time, including agendas, decks, and any files for review, and compiling that material into one central location online. This way, your meeting time won't be interrupted by scrambling to send files to attendees.
Check out Prezi's ultimate guidebook on reinventing hybrid meetings for more hybrid work and virtual meeting tips.
If you're using breakout rooms to facilitate conversations, it's easy to automatically separate in-person attendees into one group and virtual attendees into another. Try to avoid this and mix up the breakout rooms with some participants being in-person and others being virtual. This can help bring different perspectives and make the meeting more engaging for everyone.
Watch Dave McKeown's Prezi video for some more great virtual meeting tips on hosting an effective planning meeting in a hybrid environment.
6. Look at the camera
One of the most impactful tips for successful virtual meetings is ensuring people feel connected and directly spoken to even through screens. We all know that eye contact and body language are crucial in presenting your ideas to an audience with confidence and purpose, and this applies to virtual presenting as well.
Try to keep eye contact with your webcam rather than your screen in order to make direct eye contact with your audience. What's on-screen is all your virtual audience will get. Therefore, make sure to use the whole screen and incorporate movement to emphasize points. Hand gestures and good posture are vital ways to present on video effectively.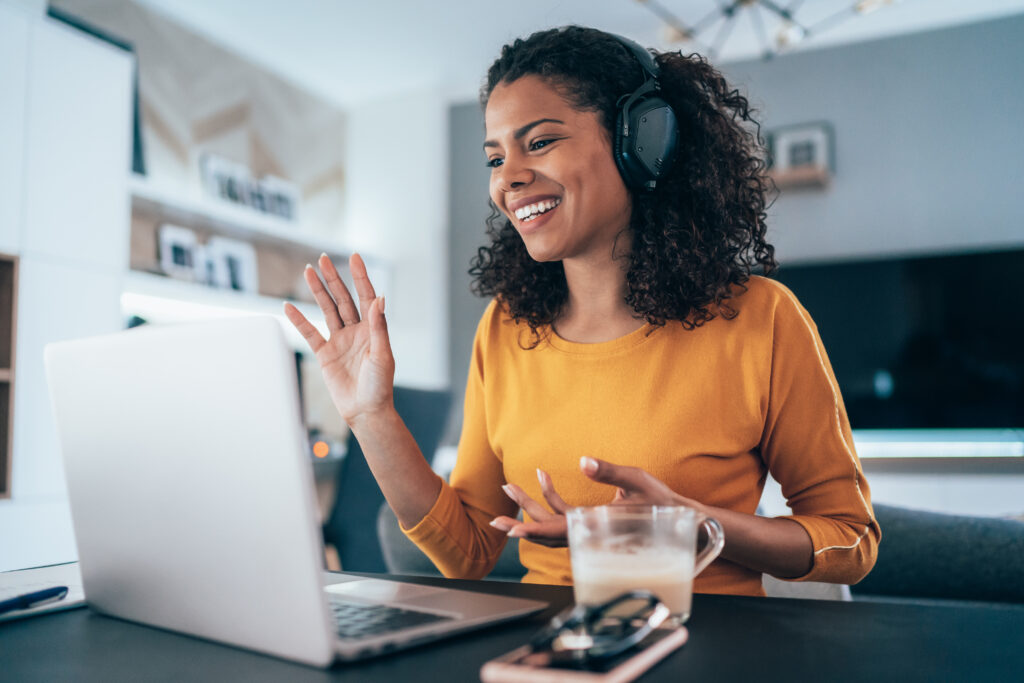 7. Have a neutral background and good lighting
A professional environment is just as important in a virtual setting as it is in a person. However, you don't need a polished home office setup with a beautiful interior design to wow your team or clients. A neutral background is just as effective in setting a professional tone. Also, speaking in front of a blank background eliminates distractions and keeps the focus on you and your content. Good lighting makes more of a difference than a fancy background setup.
8. Engage your participants
Another asset in virtual meetings is on-screen responses. In Prezi Video, you can respond on screen with stickers, written comments, and other graphics. This keeps the flow of the meeting without foregoing the interactive element of group meetings. Prezi Video allows your team to communicate without having to unmute, wait for a pause in the discussion, or message directly in the chat. See on-screen responses with Prezi here:
With these eight tips on virtual meetings, you're well on your way to holding effective online meetings. Learn more virtual meeting tips by reading our guidebook on hybrid meetings. Or you can get started by creating your first Prezi Video today.