Now that so many people are working from home or in hybrid offices, it's more important than ever for you to train your team on collaborating and connecting with new leads in a virtual setting. Read on for tips to help you create an effective online sales training program.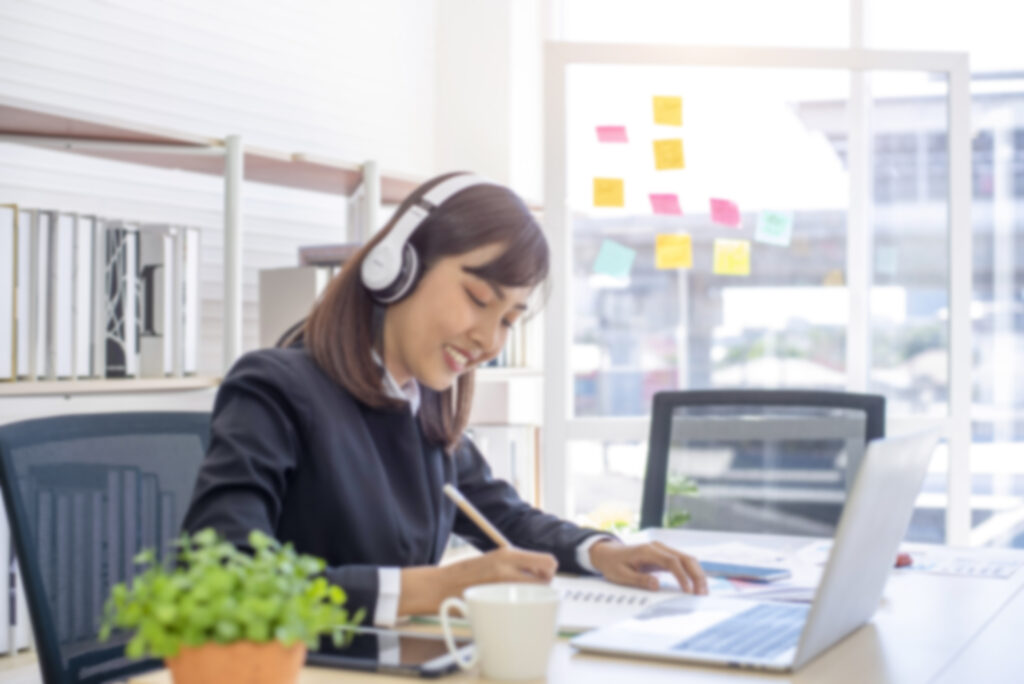 Online sales training vs. traditional sales training
What makes online sales training different from traditional sales training? As many have learned through online presentations and working with remote and hybrid teams, you can't just take the practices that worked in person and use them as-is in a virtual setting. Instead, you should focus on overcoming the hurdles of distance and screen sharing to build personal relationships.
Here are four things your online sales training should focus on:
Making a human connection
Communicating through email and other digital channels can sometimes result in formulaic, rigid messaging, especially if you're sending messages to your leads en masse. That's not so bad when you have the ability to meet in person and can show more of your personality, but when all of your interactions happen online, you and your sales team should try to form bonds and connections at every opportunity.
We recommend using video in your sales calls. When you meet over video, you have the chance to create a more meaningful interaction with your potential new clients and form a closer personal connection.
When it's time to share content, try not to interrupt that personal connection by covering up your face with a screen share. Use Prezi Video to show your sales pitch next to you on screen. With you on the screen, your leads are more likely to give you their full attention and less likely to start multitasking (as so many of us are apt to do).
Your online sales training should include a few lessons on making sales pitches on video. To help get you started, check out the top 10 sales video mistakes from Julie Hansen, a keynote speaker and expert on selling on video. She pinpoints the importance of avoiding "resting business face" and making a nice home studio setup for the best sales video calls.
Embracing new technologies
With your team working remotely or in a hybrid setup, you don't have the luxury of setting up impromptu meetings or having side conversations that help your team work better together. Investing in a set of tools and training your team to use them can help you keep track of the progress on your leads and allow your team to collaborate more effectively.
Train your sales team on your sales enablement practices. This will show them how your company supports sales and makes sales processes more efficient. Your sales enablement training should also cover how to use collaboration tools and any resources you have available.
Just as your sales team will use new technologies to collaborate, technology has also caused a big shift in the way that sales pitches are delivered. As Prezi's Spencer Waldron points out, the internet gives people the opportunity to do a lot of research on a product or service on their own. They're attending a sales pitch just to fill in the gaps of their understanding, meaning you should have a more conversational presentation that addresses what they still don't know. Watch his video for more details:
Content as lead generation
Stay connected while you work remotely with Prezi Video
Thanks to the internet, sales teams can reach large audiences with content. Marcus Chan, a LinkedIn Top Voice in sales and an executive member of the Forbes Business Council, recommends using content as lead generation. Watch his video for his perspective on lead generation and to discover more sales tips for 2021:
When it comes to content creation, video is king. People watch hours of videos every day and video can be more engaging than other types of media. Check out our article on how video can drive stronger virtual sales and learn why it's important to incorporate video into your online sales training.
Never going back to pre-pandemic practices
There's no doubt that the pandemic has changed the way we do sales, but it's important to remember that things aren't just going to go back to the way they were before the pandemic. Your online sales training should continue to teach your team to overcome the inability to (quite literally) knock on doors.
There's a big need to bring the energy that a traditional sales team brought to their presentations to the online world. Brian Fanzo, digital futurist and keynote speaker, shares his tips on re-inventing the way that sales presentations are conducted. Watch his video below to discover the 4 Es of online sales presentations – environment, emotion, execution, and empathy.
Format for online sales training
Hosting online sales training live is a great way to engage your team and get feedback from them in real time. Just as with your sales presentations and meetings, video is one of the best ways to engage your team and create more memorable online sales training sessions.
Be careful not to fall into the trap of "movie mode." With speakers and presenters on the other side of a screen, it's easy for your team to sit back and watch, and not really engage with the lesson. Make sure you're asking them questions frequently and getting feedback along the way.
Michele Colesso, an international sales manager, recommends using videos and games in your online sales training material to really engage your team. Get more advice from Michele in his video:
Reiterate lessons so that your team doesn't forget it. Creating a resource hub that holds all your online sales training material is a great way to store key information and give your employees a place to go when they need to review anything.
With the pandemic causing an irreversible shift to remote and hybrid work, now's the time to rethink your online sales training and educate your team on video and virtual sales. Discover more tips on sales and training when you visit our Video Gallery. Have your own tips to share? Create a Prezi video and use the hashtag #sales for a chance to be featured in the gallery!