The ultimate aim of every presentation is to etch a memorable mark that lingers in the minds of your audience long after the final slide fades away. Memorable presentations should be a creative blend of captivating design, innovative elements, and engaging delivery. To ignite your presentation prowess and set your creativity on fire, we've handpicked a treasure trove of 20 ingenious creative presentation ideas that will transform your presentations from bland to brilliantly unforgettable:
1. Experiment with color
It's surprising what a little color can do. The way you use and pair colors in your presentation design can grab an otherwise disinterested audience member's attention. Just make sure you do it tastefully and carry the theme across all frames. When in doubt, you can simply choose from one of Prezi's existing content layouts, each with an appealing color palette.
Try experimenting with a two-toned design by adding different accents to your presentation background and other visual elements. You might start with a black-and-white design, then add a bright pop of one color throughout. Contrasting color palettes (think yellow and blue, pink and mint green, etc.) can also create this eye-popping effect. Alternatively, you can use neutral shades to give off a more subdued vibe.
Another idea? Add a color filter to your images to tie them into your color theme. Learn more about presentation colors in our guide.
2. Use a striking background theme
Looking for more presentation ideas and creative ways to present? Put some thought into your background image, as it's what your audience will be looking at during the entire presentation. If you want to use a photo, choose one that's beautiful, sentimental, or has action and flow. Just make sure you pick an image that has enough negative space on which to place text. You can also play around with textures and patterns, such as ripples or wood, or themes that are symbolic of your message, such as a passport, billboard, rocket launch, road trip, etc.
Additionally, make sure your chosen background image isn't distracting. You want to keep your audience's focus on the foreground — the graphics, text, and special effects you've created. Prezi already has a large library of effective and high-quality backgrounds and images you can search for when designing your presentation, so no need to source them from somewhere else.
3. Put thoughts into speech bubbles
Other creative ways to present information include using speech bubbles to communicate key points to audience members. Use them to illustrate an idea or to reveal a character's thoughts or fears in your story. Have them pop up as notes or commentary in the frame you're presenting. Similarly, you can use speech bubbles to show milestones on a timeline. If you're revealing poll or survey results about a product or service, for instance, place data or participant feedback in bubbles.
But, like anything in a presentation, don't go overboard with it. While speech bubbles can be a fantastic addition, excessive use might divert your audience's focus from the core message. So, using speech bubbles in the right places to create impact can be effective for engaging your listeners, but scattering them throughout every slide might be a little excessive and cause the opposite effect. Balance is key when using speech bubbles. 
4. Abandon the slide-by-slide style
Free your presentations from the confines of slides. As an interactive presentation tool, Prezi allows for dynamic designs to take your audience on a journey as you tell your story. Zoom in and out on key points. Navigate between topics and sections of your presentation in any order. Go vertical instead of horizontal. Make transitions between ideas look like pathways or scenes instead of simply clicking sequentially from frame to frame. All of these elements come together to make a memorable presentation.
These types of tactics will give your presentation a cinematic feel that will captivate and inspire your audience. An open canvas design also makes it easier for you to tell a story, which people tend to process and remember more easily than straight facts. Prezi's ready-made templates and striking graphics make it simple for you to share your narrative via one of these seemingly complex designs. If you want to transform a static PowerPoint presentation into a dynamic moving story, simply upload your file and try Prezi's PowerPoint Converter feature.
5. Tell your story with a video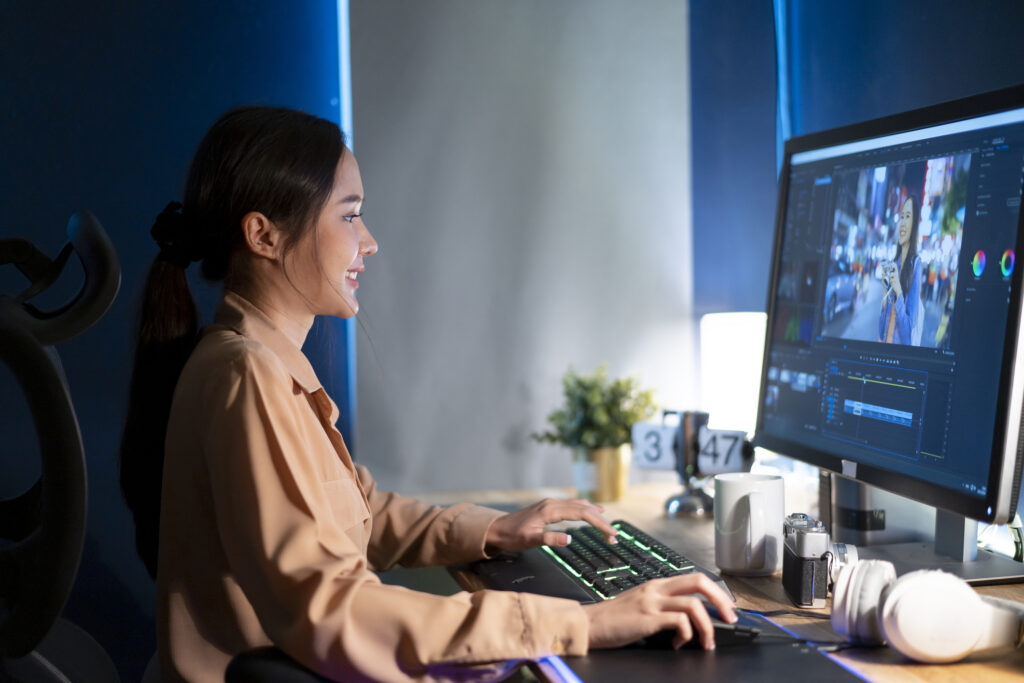 Presenters have been incorporating video into their slide decks for decades. Video is one of the most creative ways to present projects. It allows you to tell your story using visuals instead of big blocks of text. Now, however, it's time to elevate the video so it captures your audience's attention and enhances your narrative. Embed videos that play automatically when you navigate to certain parts of your Prezi canvas.
Just be sure to use videos that aren't distracting and that work with the rest of your presentation's flow. They should still complement your presentation's overall design theme and message. If you're not producing a video yourself, you can find thematic ones from stock video sites or on YouTube. Just be aware that you might need permission to use some videos.
It's important to select videos beforehand and place them strategically so that they hit hard in the right places. Selecting the perfect videos is like choosing gems to adorn your presentation's crown. These videos should harmonize seamlessly with your content, elevating the story you're weaving.
Imagine, for instance, using a time-lapse video of a bustling cityscape to represent the rapid pace of change in the business world during your presentation on industry trends. Blending your videos with the theme of your topic in this way goes beyond just catching your audience's eye, it actually adds depth to your story while also making your message more impactful.
6. Bring your story to life with audio
Another presentation idea to minimize text and maximize audience engagement is to add sound to your presentation. Tell your story using pre-recorded audio. This creative presentation style turns the viewer experience into just that — an experience. While the audio plays, you can move around the stage and navigate to various parts of the presentation that support the narrative visually. Again, the effect is almost movie-like.
Another auditory presentation tool is music. Use music to set the tone of your talk, or inject it periodically to regain the audience's attention. The appropriate song choice can get the entire audience into the mood of your presentation. Choose upbeat tunes to convey excitement or dramatic ones that will trigger an emotional response. Plus, if you play a catchy tune that sticks in people's heads, that'll help them remember your presentation that much more.
7. Add animations
Another creative way to present is by bringing an otherwise static design to life is animation. Go beyond video by borrowing from stop-motion principles for your presentation. Stop motion is a technique in which you film objects one frame at a time to simulate motion in a scene or a story. You can recreate this effect in Prezi by using zoom, fade, and pan animations to tell a moving story frame by frame.
Animations can inspire and engage your audience, but just be sure to use them sparingly and as a complement to your story or message.
7.1. Make it fun with GIFs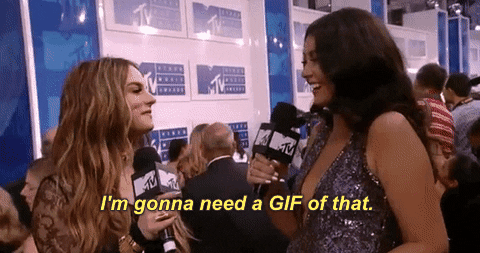 Adding animated GIFs to your presentation can not only make it more fun but also help catch your audience's eye. Because they're trendy and often reference pop culture or common emotions, GIFs can help you get your point across without having to use just words.
However, it's crucial to exercise moderation when employing these elements. While animations and GIFs can enhance engagement, excessive use of them can become distracting. There'll be certain presentation topics or subjects where GIFs will look misplaced, so just make sure you think carefully about whether they correlate with your message before you use them. However, GIFs are a great way to inject humor and light-heartedness right after slides filled with heavy information. When executed skillfully, animations and GIFs transform your presentation into a dynamic and interactive visual journey, leaving an enduring impression on your audience.
8. Create a timeline
The timeline is nothing new. It's how you apply it to a presentation that can really wow an audience. Prezi's dynamic designs let you use the timeline as the basis or focal point of the presentation and then navigate along as you tell your story or plan of action.
Zooming in on specific elements of your timeline as you discuss them adds another layer of clarity and focus. It helps make sure your audience stays on track with your story and doesn't get lost in the details or complexities. This laid-back way of highlighting key moments or steps keeps people interested and makes it easier for them to remember what you're talking about.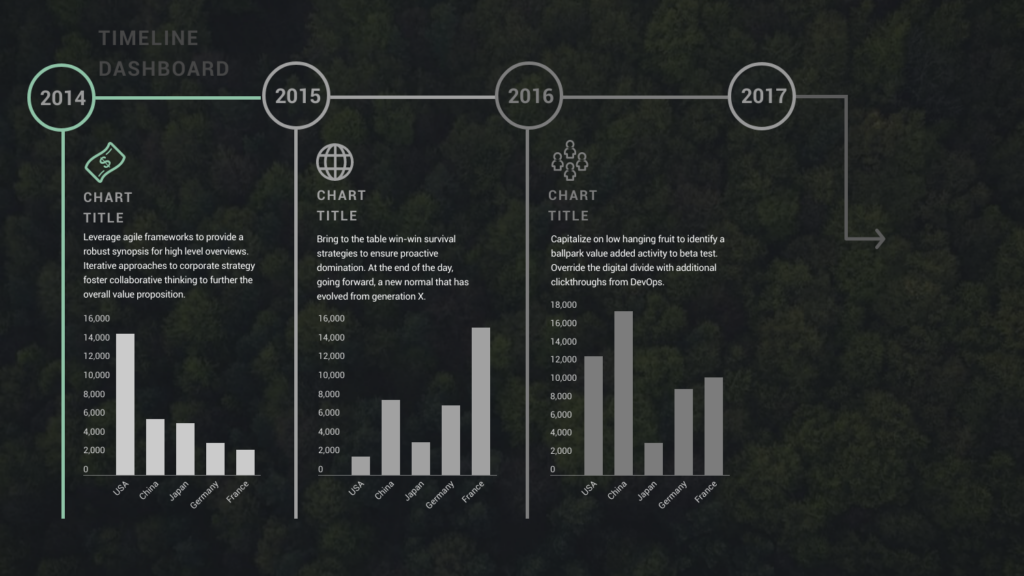 9. Use maps
Deliver a creative presentation with maps, especially if there's a geographic or location-based topic in your content. Set a map as your background or focal point, and prompt different regions to change colors or pop out as you navigate over them. When it comes to designing maps, make sure you're purposefully selecting colors, as the color palette you choose can change the way people respond to your data. Don't pick colors that are too similar when you're making comparisons, for example. Use Prezi's zoom function to zero in on areas for more details, or pull back to reveal the larger context.
You can also go the thinking map route, which is a visual learning technique that can convey complex ideas simply and creatively. Start with a central theme, then branch out into paths or surrounding points. The eight variations of thinking maps include circle maps, bubble maps, flow maps, treemaps, and more. These can be effective interactive aids in educational presentations as well as for small businesses.
10. Do away with bulleted lists
To truly transform your presentations, consider stepping away from the conventional bullet-point lists that often lead to passive learning. Instead, harness the power of visuals to inspire active engagement from your audience. Visual content stimulates the brain's cognitive processes, making your message more memorable. Engage your listeners by replacing bullet points with visuals.
Prezi's open canvas design is a valuable tool in this transformation. It shifts the focus from passive delivery to interactive engagement. By using visuals, you prompt your audience to actively process and respond to your content, fostering a deeper understanding and connection with your message. This shift from traditional bullet points to a visually driven, interactive approach can significantly enhance the impact of your presentations.
11. Communicate with images
Presentation images are nothing new. However, when standing alone, photographs, paintings, and other images can have a really powerful effect. Instead of trying to talk over an image, use it as a stepping stone in your presentation, a point of reflection. Once in a while, let visuals do the talking.
Also, a study has found that people process visuals 60,000 times faster than text. So, incorporating more images will make your presentation more memorable.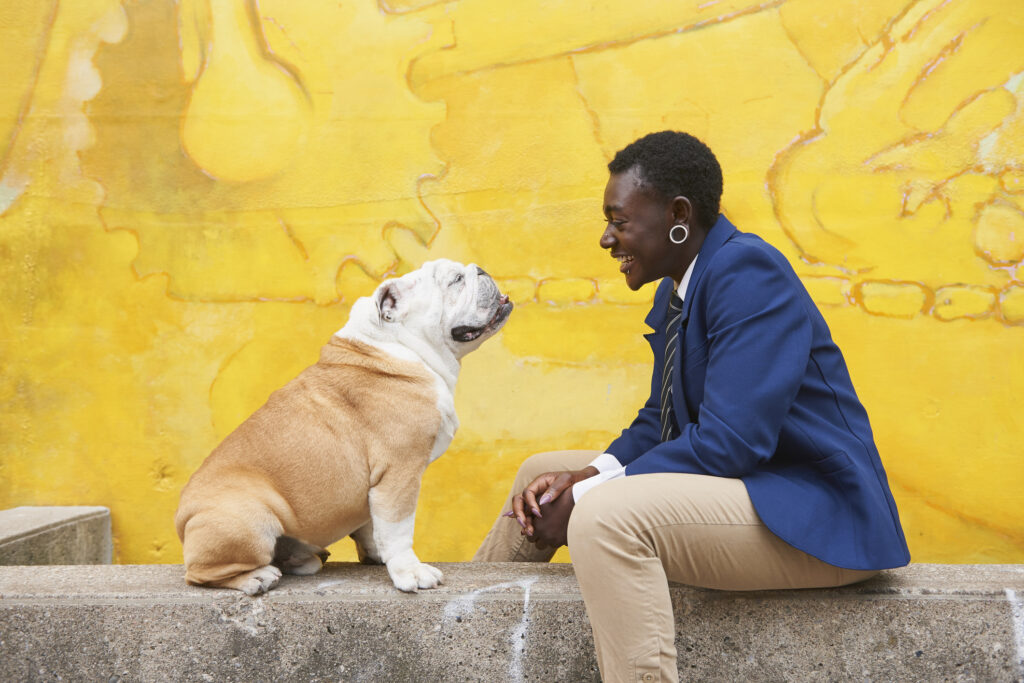 However, be careful with your selection of images – make sure that they're relevant to the topic and aren't just filling up an empty space.
Also, If you're using Prezi for your presentation, you can access a huge library of images that takes away the headache of finding that one perfect shot. It's like having a cheat code for making your presentation pop. So dive into the library and pick out visuals that'll make your presentation not just informative, but engaging.
Grab their attention by making your presentation more interactive
12. Play with transitions
Using slide transitions is one of the simple yet creative ways to present a project. They create visual continuity and add movement to slides. However, choosing the right page transition for your slides is truly a form of art. You have to consider the topic, tone of voice, and your presentation design. Page transitions should match the overall design, create flawless continuity, highlight key areas in your presentation, and do all that without stealing the show. Ultimately, you want it to compliment your presentation.
If you are looking for inspiration, check out Prezi Present's wide selection of templates. You can play with transitions by adding additional animated elements that will make your presentation even more dynamic.
13. Swap for an infographic
To truly stand out and make a lasting impression, consider departing from the traditional slide-based approach and exploring infographics. Infographics are powerful visual tools that condense complex information into digestible, visually appealing formats. Instead of the conventional slide-by-slide progression, imagine scrolling through your presentation, seamlessly transitioning from one section to the next. This fluid movement allows you to verbally expand on key points while displaying the core information visually.

When you're adding infographics, aim for designs that are easy to understand but also match your brand's vibe. You want something that looks good and fits well with the rest of your presentation, so everything feels like it's part of the same story. This helps make your presentation both easy to follow and hard to forget.
14. Get social
Employing a unique hashtag associated with your brand can significantly amplify the impact of your presentation, extending its reach far beyond the confines of the physical venue. This hashtag acts as a vital link between your presentation and the vast world of social media. Inviting your audience to dive into the live-tweet action with a dedicated hashtag during your talk isn't just a savvy move; it's a dynamic double play. You expand your reach, drawing in more eager participants, while simultaneously igniting a thriving online symphony of ongoing discussions and insights.
This approach effectively transforms your presentation into an active, two-way conversation. As you speak, people can immediately share their thoughts, favorite parts, and main lessons, creating a sense of togetherness and active involvement. Furthermore, the utilization of a branded hashtag allows you to monitor and engage in these conversations, strengthening your connection with your audience and providing an avenue for addressing questions or feedback. 
Even after your presentation concludes, these online discussions continue to thrive, ensuring that your message remains fresh in the minds of your audience members long after they've left the physical venue. This lively and extended interaction adds an exciting twist to your presentations, transforming them from just informative sessions into lively hubs of ongoing conversation and learning.
15. Use creative props
Physical props add a memorable dimension to your talk. Props serve as powerful visual aids, helping to illustrate key points, provide tangible examples, and offer visual cues. Props can be particularly useful for educational presentations, especially if you need to demonstrate an example. Another situation where props are paramount is if you are a brand that's launching a new product and doing a promotional presentation.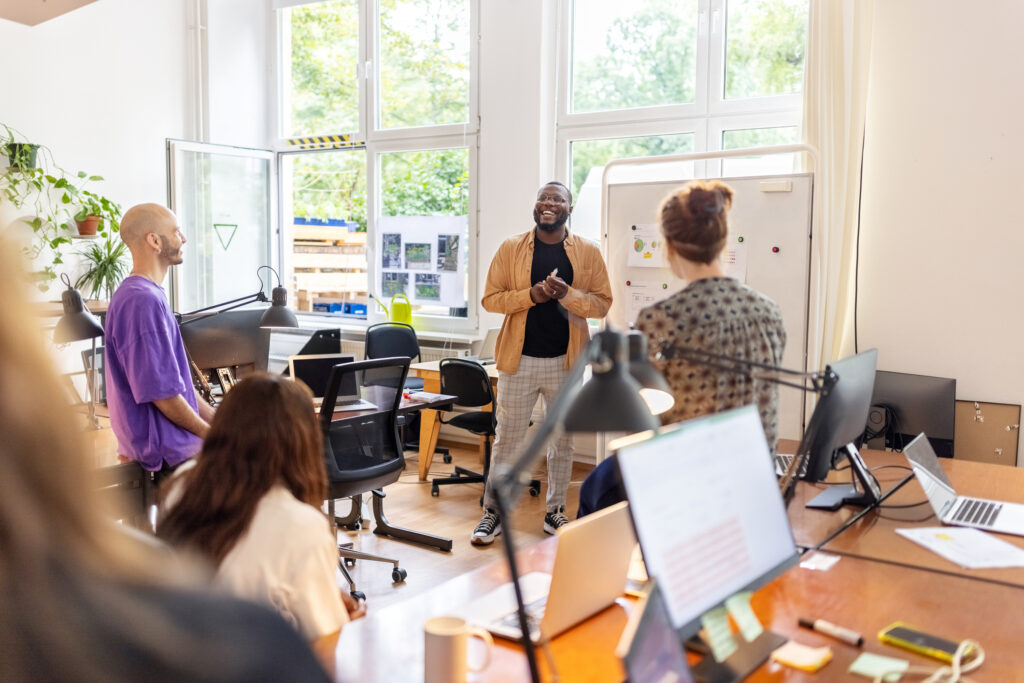 With Prezi's creative tools at the forefront of your presentation along with your latest product at hand- you're bound to persuade your audience. Integrating props at the right time in connection to your current presentation can really create a connection between you and your listeners. Put yourself in your audience's shoes, would you take in the information by just reading and listening, or would seeing and touching physical props add a layer of interest that enhances your mental absorption?
16. Utilize virtual reality (VR)
VR technology allows you to transport your audience into a different environment or scenario closely related to your presentation topic. Transforming your presentation into a new virtual world takes it far beyond the expectations of mundane slide-by-slide presentations.
With VR, you can engage your audience with a dynamic three-dimensional world where they become active explorers, engaging directly with your content. Picture this: You're showing off architectural wonders, recreating epic historical events, or unraveling the inner workings of intricate systems. VR takes your presentations to a whole new level, letting your audience not only see and hear but also experience and genuinely feel your message. It's like inviting them to step right into the heart of your story.
17. Use gamification
Picture turning your presentation into an exhilarating game that dares to captivate and thrill your audience. When you add a little playfulness to your presentation, your audience is going to absorb your information without it feeling like a chore. Making aspects of your talk into fun learning experiences is going to keep your audience switched on throughout the whole presentation. 
You can achieve this by incorporating various interactive elements like puzzles, questions, or interactive storytelling that turn your presentation into an immersive and educational game. Encouraging your audience to think and respond will result in active participants rather than passive observers. 
18. Employ live demonstrations
Incorporating live demonstrations into your presentation is a potent strategy for effectively conveying your message. Whether you're showcasing a product's functionality, conducting a captivating science experiment, or engaging your audience in a hands-on activity, live demonstrations actively involve your audience and leave an enduring mark.
Live demonstrations can transform presentations into captivating journeys where your audience doesn't just listen but also witnesses concepts coming to life before their eyes. This physical approach creates curiosity and entices active participation, effectively transforming your message into something tangible. When people can see, touch, or take part in live demonstrations, it makes a strong connection. It brings your audience right into your content and makes sure they take the message away with them afterward. 
19. Design comic-style frames 
Using comic strips as a presentation style is great when you want to make your presentation engaging and easy to remember. It works well for topics where you want to tell a story, explain things step by step, or simplify complex information. Comic strips contain the best of both worlds, combining visuals with storytelling. This means they're versatile for various topics, such as education, marketing, and product demos.
The clever approach of comic strips crafts an animated, captivating experience that keeps your audience glued to their seats and sparks their eagerness to participate. Not only that, but it also makes your message highly memorable.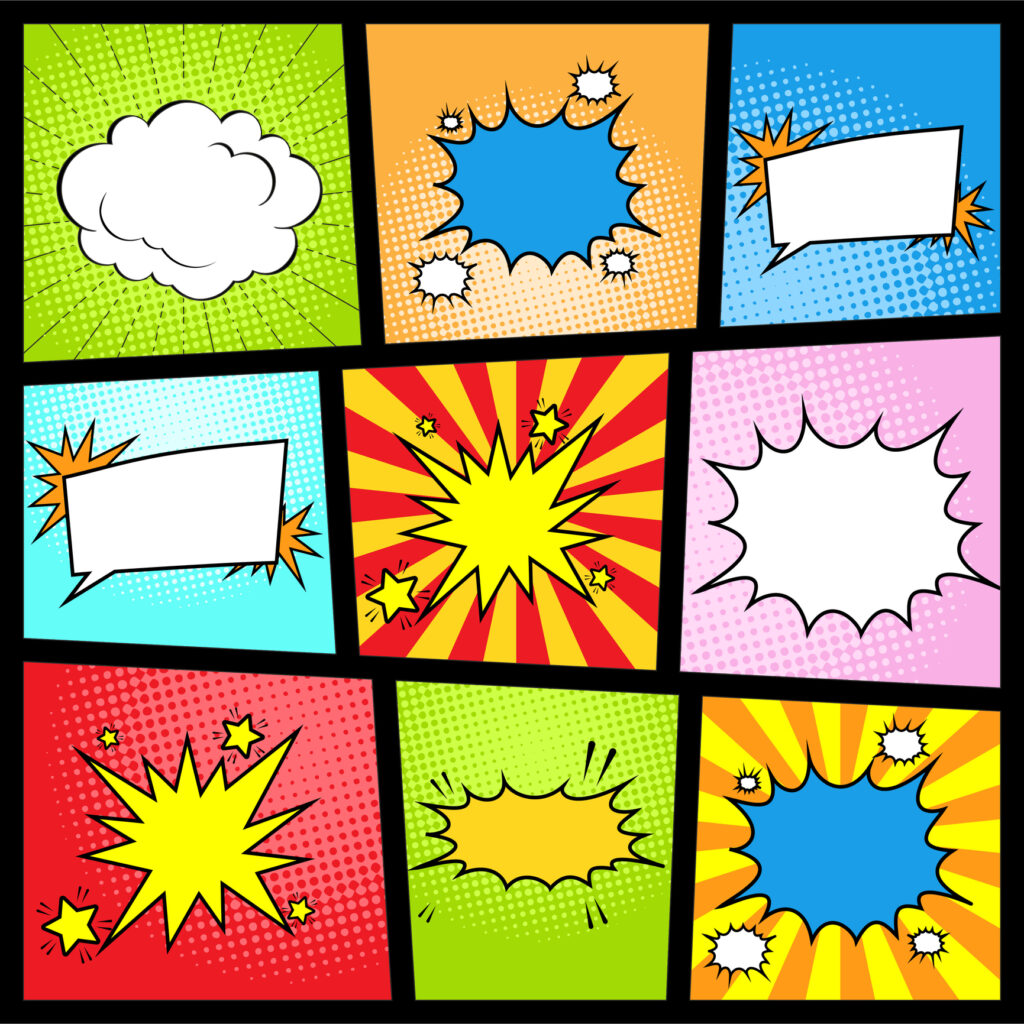 Creating a comic strip in Prezi is straightforward. Start by planning your content and breaking it down into bite-size sections that will be arranged in sequence. Then, use Prezi's features to design each section as a comic frame, inserting relevant visuals and images. Prezi's text and shape tools help you add speech bubbles or captions to guide the story you're telling. As you present, take on the role of a storyteller, guiding your audience through each frame of your comic strip presentation with captivating explanations that hold their attention.
20. Emulate the style of TED talks
The TED-style approach is a powerful method of delivering presentations that revolves around the core principles of clarity, simplicity, emotional resonance, and compelling storytelling. In this approach, speakers focus on distilling complex ideas into easily digestible narratives, using relatable language and impactful visuals to engage their audience. TED-style talks typically center on a single compelling idea, conveyed with passion and authenticity, making them concise, memorable, and inspiring for a wide range of viewers.
Learn how you can excel in storytelling and develop TED Talk presentation skills in the following video:

Staying current with creative presentation ideas
Just as technology and communication methods constantly change, so do presentation audience preferences and expectations. Keeping your creative presentation ideas fresh and aligned with contemporary trends can significantly impact your effectiveness as a presenter.
Why keeping up matters
Adapting to audience expectations
This is the key to making a memorable impact with your presentations. In the modern world, audiences want more than the ordinary; they seek thrilling, dynamic experiences. To make this happen, you must wholeheartedly embrace cutting-edge technologies and innovative concepts to make your presentations highly engaging. So, why stick with the mundane when you can captivate your audience's imagination and curiosity with creative presentation ideas? Break free from the conventional and explore new concepts using Prezi. 
Maintaining relevance
Staying relevant is the cornerstone of success. To connect deeply with your audience, demonstrate your strong dedication to delivering top-notch content consistently. Your presentations should stand out with innovation and creativity, signaling that you're not merely keeping pace with the times – you're setting the tempo. With Prezi's toolbox, you'll be ready to explore a range of creative presentation ideas that leave a lasting impression on your audience. 
Fueling engagement
Elevating your presentations from mere information-sharing sessions to immersive experiences can be a game-changer. By staying in the loop on fresh creative presentation ideas and cool interactive tricks, you're all set to captivate your audience. Adding some of these new, interactive touches can help you grab and keep people's attention way better than just repeating the same slideshows.
Where to get your inspo 
If you're ready to improve your creative game, there are plenty of helpful blogs, webinars, and online courses about fun presentation ideas you can dive into. Prezi offers a lot of useful tips for making your presentations stand out. Think of Prezi as your toolbox, always within reach to unlock your presentation's potential and make a lasting impression. For presentation inspiration, check out Prezi's presentation gallery and explore our highly engaging and creative templates.
Watch this video and learn more about creative presentation ideas:

Get inspired for more presentation ideas
The world isn't flat, and your presentations shouldn't be, either. Step outside your comfort zone, and play around with these 20 creative ways to present. Better yet, come up with your own creative ways to present and incorporate them into one of Prezi's dynamic content layouts. Using this presentation software's open canvas approach, you can tell your story conversationally and spontaneously so that audience members will engage with and remember.