The most memorable presentations are those that inspire the audience. They're the ones people remember long after a conference or meeting is over because of their stunning design, creative elements, or presenter's delivery. Sometimes, it takes a bit of creative input to transform a run-of-the-mill talk into an unforgettable experience. Here are 11 creative presentation ideas to present a presentation and make it more memorable for your viewers.
1. Experiment with color
It's surprising what a little color can do. The way you use and pair colors in your presentation design can grab an otherwise disinterested audience member's attention. Just make sure you do it tastefully and carry the theme across all frames. When in doubt, you can simply choose from one of Prezi's existing content layouts, each with an appealing color palette.
Try experimenting with a two-toned design by adding different accents to your presentation background and other visual elements. You might start with a black-and-white design, then add a bright pop of one color throughout. Contrasting color palettes (think yellow and blue, pink and mint green, etc.) can also create this eye-popping effect. Alternately, you can use neutral shades to give off a more subdued vibe.
Another idea? Add a color filter to your images to tie them into your color theme. Learn more about presentation colors in our guide.
2. Use a striking background theme
Looking for more presentation ideas and creative ways to present? Put some thought into your background image, as it's what your audience will be looking at during the entire presentation. If you want to use a photo, choose one that's beautiful, sentimental, or has action and flow. Just make sure you pick an image that has enough negative space on which to place text. You can also play around with textures and patterns, such as ripples or wood, or themes that are symbolic of your message, such as a passport, billboard, rocket launch, road trip, etc.
Additionally, make sure your chosen background image isn't distracting. You want to keep your audience's focus on the foreground — the graphics, text, and special effects you've created. Prezi already has a large library of effective and high-quality backgrounds and images you can search when designing your presentation, so no need to source them from somewhere else.
3. Put thoughts into speech bubbles
Other creative ways to present information include using speech bubbles to communicate key points to audience members. Use them to illustrate an idea or to reveal a character's thoughts or fears in your story. Have them pop up as notes or commentary in the frame you're presenting. Similarly, you can use speech bubbles to show milestones on a timeline. If you're revealing poll or survey results about a product or service, for instance, place data or participant feedback in bubbles.
Be careful not to overuse speech bubbles though — the point is to draw the audience's attention to crucial tidbits of information in an interesting way.
4. Abandon the slide-by-slide style
Free your presentations from the confines of slides. As an interactive presentation tool, Prezi allows for dynamic designs to take your audience on a journey as you tell your story. Zoom in and out on key points. Navigate between topics and sections of your presentation in any order. Go vertical instead of horizontal. Make transitions between ideas look like pathways or scenes instead of simply clicking sequentially from frame to frame. All of these elements come together to make a memorable presentation.
These types of tactics will give your presentation a cinematic feel that will captivate and inspire your audience. An open canvas design also makes it easier for you to tell a story, which people tend to process and remember more easily than straight facts. Prezi's ready-made templates and striking graphics make it simple for you to share your narrative via one of these seemingly complex designs. If you want to transform a static PowerPoint presentation into a dynamic moving story, simply upload your file and try Prezi's PowerPoint Converter feature.
5. Tell your story with a video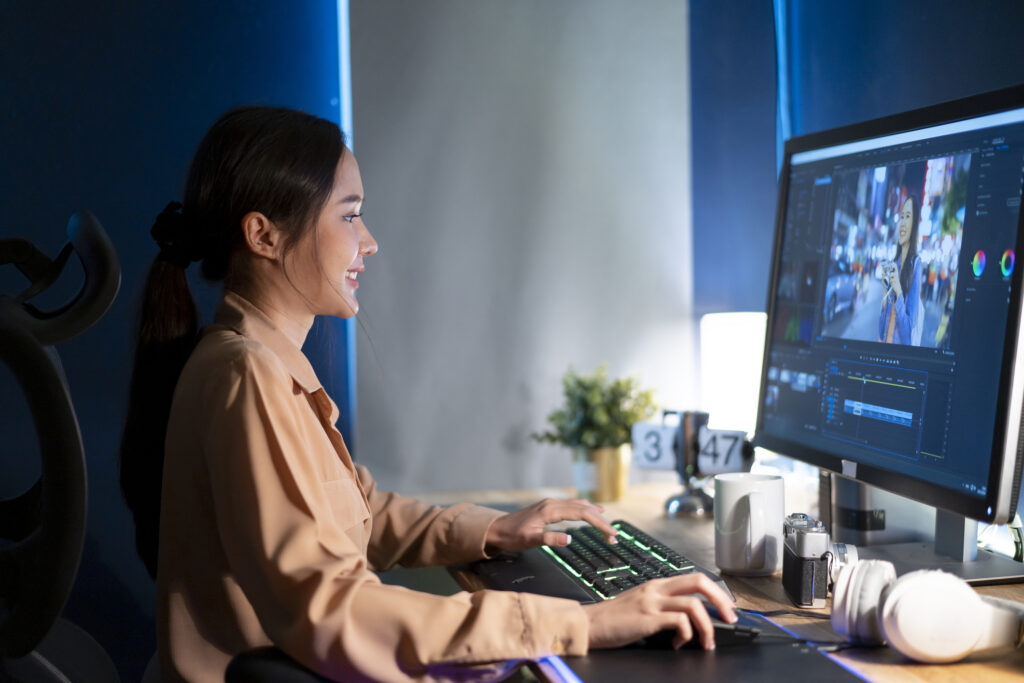 Presenters have been incorporating video into their slide decks for decades. Video is one of the most creative ways to present projects. It allows you to tell your story using visuals instead of big blocks of text. Now, however, it's time to elevate the video so it captures your audience's attention and enhances your narrative. Embed videos that play automatically when you navigate to certain parts of your Prezi canvas.
Just be sure to use videos that aren't distracting and that work with the rest of your presentation's flow. They should still complement your presentation's overall design theme and message. If you're not producing a video yourself, you can find thematic ones from stock video sites or on YouTube. Just be aware that you might need permission to use some videos.
6. Bring your story to life with audio
Another presentation idea to minimize text and maximize audience engagement is to add sound to your presentation. Tell your story using pre-recorded audio. This creative presentation style turns the viewer experience into just that — an experience. While the audio plays, you can move around the stage and navigate to various parts of the presentation that support the narrative visually. Again, the effect is almost movie-like.
Another auditory presentation tool is music. Use music to set the tone of your talk, or inject it periodically to regain the audience's attention. The appropriate song choice can get the entire audience into the mood of your presentation. Choose upbeat tunes to convey excitement or dramatic ones that will trigger an emotional response. Plus, if you play a catchy tune that sticks in people's heads, that'll help them remember your presentation that much more.
7. Add animations
Another creative way to present is by bringing an otherwise static design to life is animation. Go beyond video by borrowing from stop-motion principles for your presentation. Stop motion is a technique in which you film objects one frame at a time to simulate motion in a scene or a story. You can recreate this effect in Prezi by using zoom, fade, and pan animations to tell a moving story frame by frame.
Animations can inspire and engage your audience, but just be sure to use them sparingly and as a complement to your story or message.
7.1. Make it fun with GIFs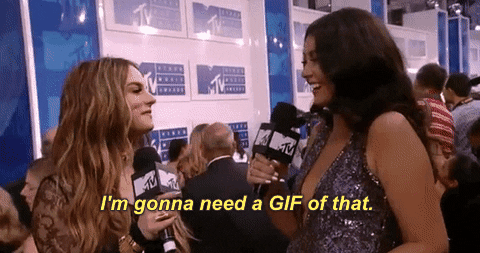 Grab their attention by making your presentation more interactive
Animations add movement to your presentation, and so do GIFs. However, they also create a more engaging experience for your audience. GIFs carry cultural references and relatable emotional experiences. By incorporating GIFs into your presentations, you'll be able to express a feeling without verbalizing it. This presentation idea will make your presentation appear more fun and dynamic, capturing your audience's attention.
8. Create a timeline
The timeline is nothing new. It's how you apply it to a presentation that can really wow an audience. Prezi's dynamic designs let you use the timeline as the basis or focal point of the presentation and then navigate along as you tell your story or plan of action. Denote each step or event with a sharp image, shape, icon, etc. Zoom in on certain events or key points as you talk.
A timeline will help guide your narrative and allow you to toggle back and forth between points, depending on which direction the conversation takes you.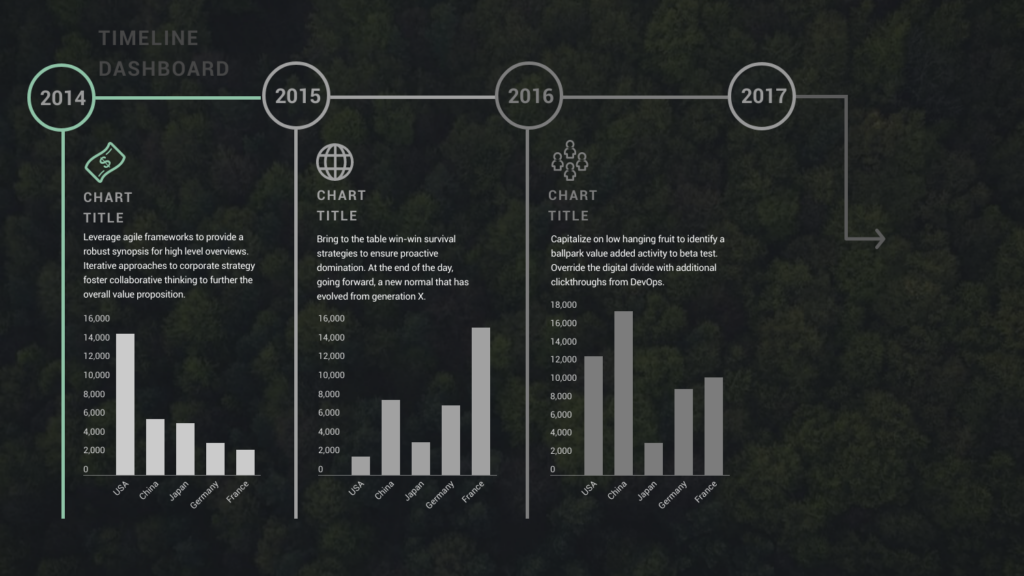 9. Use maps
Deliver a creative presentation with maps, especially if there's a geographic or location-based topic in your content. Set a map as your background or focal point, and prompt different regions to change colors or pop out as you navigate over them. When it comes to designing maps, make sure you're purposefully selecting colors, as the color palette you choose can change the way people respond to your data. Don't pick colors that are too similar when you're making comparisons, for example. Use Prezi's zoom function to zero in on areas for more details, or pull back to reveal the larger context.
You can also go the thinking map route, which is a visual learning technique that can convey complex ideas simply and creatively. Start with a central theme, then branch out into paths or surrounding points. The eight variations of thinking maps include circle maps, bubble maps, flow maps, treemaps, and more. These can be effective interactive aids in educational presentations as well as for small businesses.
10. Do away with bulleted lists
Historically, most presentations have consisted of individual slides, each with a list of bullet points that the presenter reads through and explains. This is considered passive learning. Today, a great presentation revolves around active learning, using imagery and interactions to create a conversation and keep the audience stimulated. Engage your listeners by replacing bullet points with visuals. Use Prezi's open canvas design to emphasize conversational presenting over passive delivery.
11. Communicate with images
Presentation images are nothing new. However, when standing alone, photographs, paintings, and other images can have a really powerful effect. Instead of trying to talk over an image, use it as a stepping stone in your presentation, a point of reflection. Once in a while, let visuals do the talking.
Also, a study has found that people process visuals 60,000 times faster than text. So, incorporating more images will make your presentation more memorable.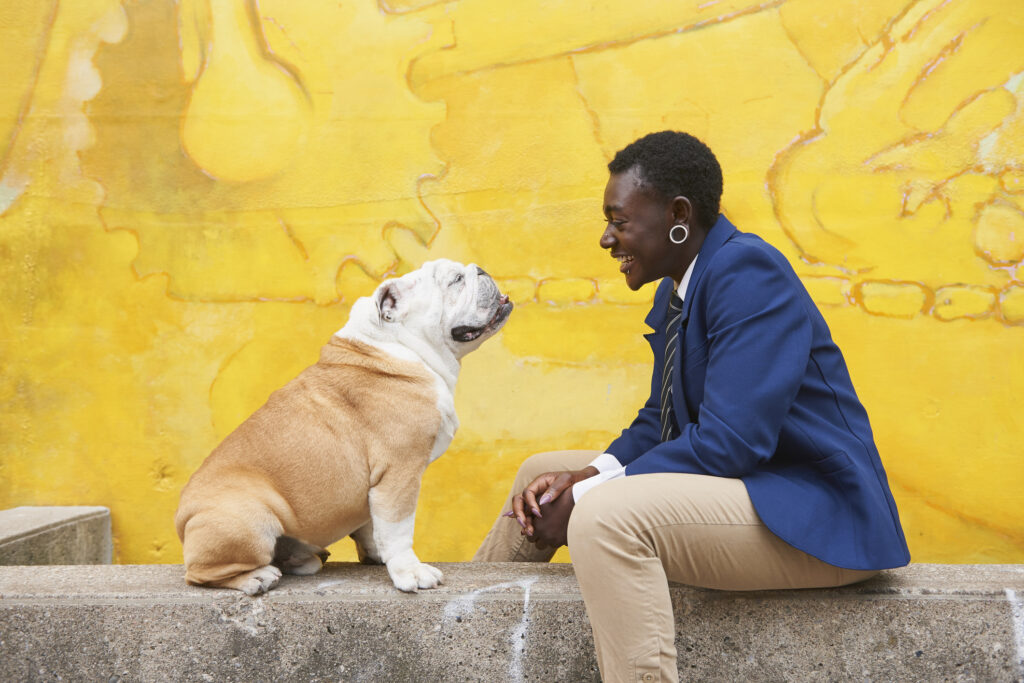 However, be careful with your selection of images – make sure that they're relevant to the topic and aren't just filling up an empty space.
If you want to incorporate more images in your next presentation but don't know where to look – don't worry. Prezi has an extensive image library where you can select the most suitable ones for your specific presentation.
12. Play with transitions
Using slide transitions is one of the simple yet creative ways to present a project. They create visual continuity and add movement to slides. However, choosing the right page transition for your slides is truly a form of art. You have to consider the topic, tone of voice, and your presentation design. Page transitions should match the overall design, create flawless continuity, highlight key areas in your presentation, and do all that without stealing the show. Ultimately, you want it to compliment your presentation.
If you are looking for inspiration, check out Prezi Present's wide selection of templates. You can play with transitions by adding additional animated elements that will make your presentation even more dynamic.
13. Swap for an infographic
Presentation slides are quite common. If you want to stand out with creative presentation ideas, use an infographic instead. Rather than going from slide to slide, you can scroll through your presentation.

An Infographic is a great option for a data-rich presentation. You can pack in a lot of key information in a visually-appealing way without overwhelming the viewer. As you scroll through your infographic, you can verbally add more content while only displaying the main points.
Choosing the right design for your infographic is the most crucial part. You want to create a design that ultimately helps your audience to digest the displayed information better. Also, you want the design to mirror your brand/signature style. But don't you worry. Prezi Design is packed with infographic templates that are pre-designed for many topics and occasions. Simply pick and choose the template most suitable for you and edit the information.
14. Get social
When creating presentations, promote interaction and participation beyond the confines of the room. Give your message or brand a hashtag, and display it throughout your presentation. Encourage audience members to live-tweet during your talk using this hashtag. This not only shares your message with a broader audience but also allows you to continue the discussion online.
The world isn't flat, and your presentations shouldn't be, either. Step outside your comfort zone, and play around with these 14 creative ways to present. Better yet, come up with your own creative ways to present and incorporate them into one of Prezi's dynamic content layouts. Using this presentation software's open canvas approach, you can tell your story conversationally and spontaneously so that audience members will engage with and remember.