While most of us adults think we've been around long enough to have mastered the art of conversation, the truth is, we're still not that great at it. So, before we can plan and build an effective conversational presentation, we've got to break bad habits– such as speaking too much about ourselves or lacking in the listening department.
In a recent webinar, Prezi expert Russell Anderson-Williams covered a few great tips for improving your conversations:
It's not about you: it's okay to talk about yourself if it's relevant to your subject matter, but be brief.
Listen more than you talk: the more you listen the more you know and the more you know the better you can serve your audience.
Open questions: using open questions — questions that begin with who, what, why — will lead to great conversations.
Don't interrupt: when your audience members start engaging with you and with each other, let them. Gently steer the conversation back to home base if it starts to get out of hand, but in general, it's best to let them interact.
It's OK to not know: a curveball question doesn't need to ruffle your feathers. Don't be afraid to show your human side. If you aren't ready to answer something in the moment, you'll have more than one reason to send follow up materials to keep your audience engaged and connected.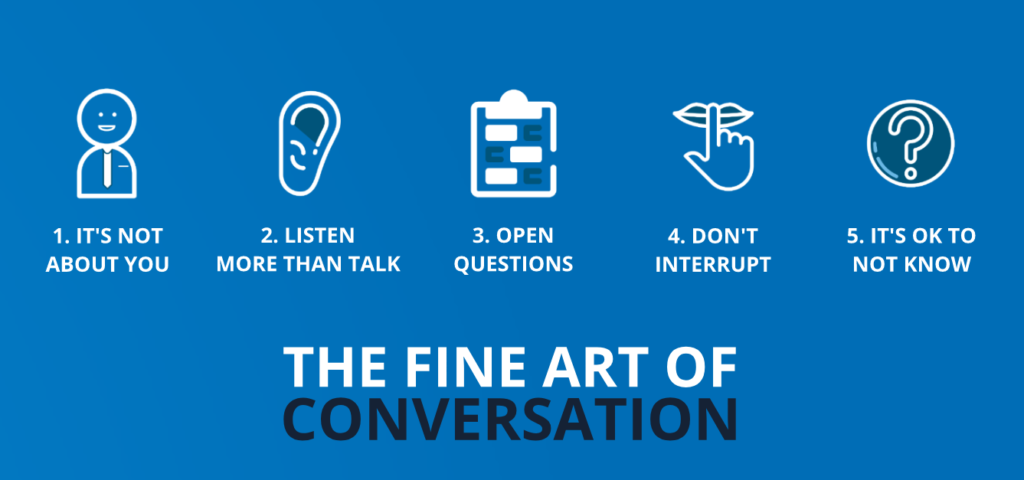 For more on these tips as well as the ins and outs of building a presentation around them, check out Russell's webinar below.