Moving forward, almost every meeting will have at least one person tuning in remotely. That means if you're thinking of reverting back to the same old pre-pandemic ways of holding meetings, you should think again. In a hybrid work environment, you'll need to establish the right processes and culture to keep all employees included and engaged. Read on to hear from experts on how to improve your hybrid meetings.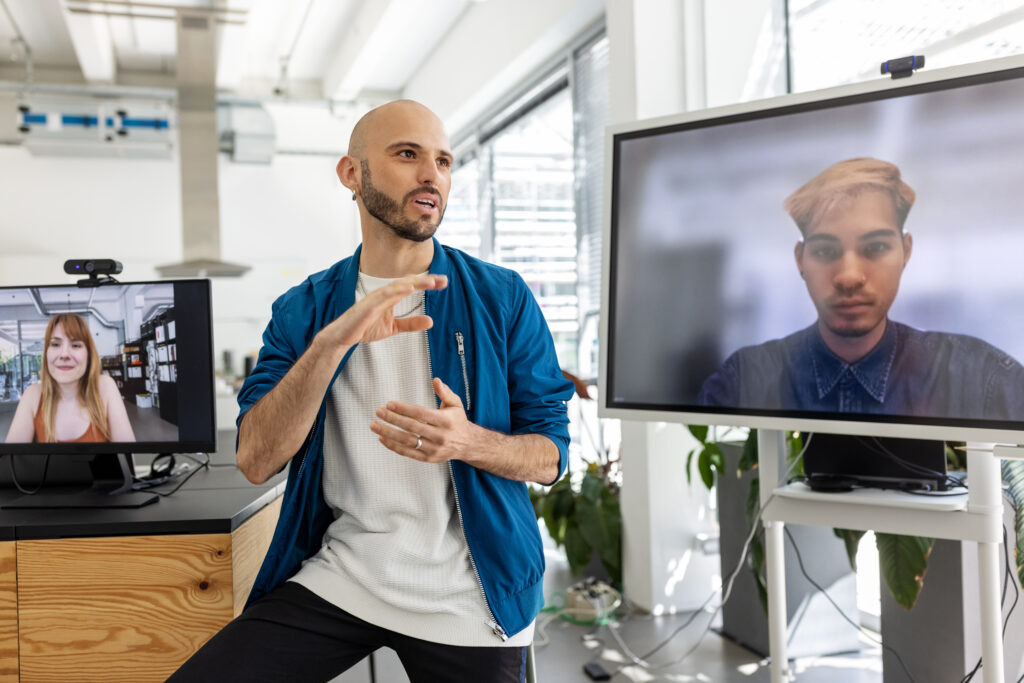 Ask yourself if you really need that meeting 
"I want more meetings on my calendar," said no one ever. And yet, people found themselves attending more meetings in 2020. It's worse for managers: According to Jana Piske, the founder of team-building organization Fairlinked, managers spend 23 hours a week in meetings, and 71 percent of those have been classified as totally unnecessary. 
Start by identifying which meetings are worth keeping. Jana recommends keeping anything focused on creativity, collaboration, and team building, and scrapping any meeting that doesn't involve two-way communication. Watch her Prezi video for even more tips: 
Turn on your camera 
Whether you're meeting live or communicating asynchronously, there's no denying that video now plays an outsized role in how we talk to each other. But in order for video to be effective, you'll need to actually turn your camera on. Sonia Pupaza, a Senior Sales Enablement Specialist at Oracle, emphasizes the importance of such a simple action — by appearing (and staying) on screen, you can show your reactions, build connections, establish credibility and trust, get noticed, and promote an authentic dialogue.
Watch her video for a breakdown of all the reasons why you should turn your camera on: 
Get everyone on the same page 
When it comes to planning and strategy meetings in the hybrid workplace, shared knowledge is everything. If only certain people know certain pieces of information, you'll see communication breakdowns occur more frequently. That's why Dave McKeown, the founder of Outfield Leadership, advises you to gather all your information in one place (and make sure everyone has access). 
Additionally, with hybrid meetings, you should turn to virtual collaboration tools so that remote employees don't lose out on the chance to add, edit, and iterate on ideas. Be careful about information loss during breaks as well — Dave clarifies that you shouldn't feel like you can't have more impromptu discussions with colleagues, but that you should have a formal debrief to share those ideas with the rest of the team. See all his tips in his Prezi video: 
Mind your "meeting hygiene" 
Stay connected while you work remotely with Prezi Video
With video becoming one of the default ways to connect (both professionally and personally), it's become even more important to meet certain standards before joining a virtual call or sending a recording. For example, Eden Liu, a Customer Success Manager at Reincubate, points to good audio and video quality as the bare minimum for good "meeting hygiene." Think of it as the virtual meeting equivalent of brushing your teeth. 
Beyond video and audio, you'll also want to ensure you have good organizational processes in place, whether that means delegating someone to take notes or recording meetings to share with the team later. Watch Eden's video for even more tips on creating more impactful meetings: 
Keep inclusivity top of mind 
One of the biggest challenges teams are facing now is how to engage both remote attendees and in-person ones. It can be easy to forget about remote colleagues in hybrid meetings, which is why Juraj Holub, the Chief Meeting Designer at Slido, stresses the need to be inclusive. He suggests asking everyone to bring in their own laptop and turn on their camera individually to put all attendees on the same playing field. And if there's an open question, you should turn to your online colleagues first — not only will this help them feel included, it'll also help you not forget about them. 
Technology is another way to bridge the gap between remote and in-person employees, with polls, Q&A, virtual whiteboards, and virtual collaboration tools all driving engagement in the hybrid workplace. Get more advice from Juraj in his Prezi video:
Make your virtual presentations more engaging
When presenting in a virtual meeting, it's easy to fall back to the "traditional" method of sharing information: screen sharing your slides. But by obscuring your face, you lose out on crucial nonverbal cues like eye contact and hand gestures, resulting in your audience tuning out or multitasking. Lorraine Lee, the Editorial Director at Prezi, shares some simple tips that can help you make a big impact. Watch her video to learn how to stand out with your virtual presentations and keep your audience's attention from start to finish:
Learn more about how to reinvent your hybrid meetings 
The near-universal shift to hybrid work means that meetings can't be stagnant — in order to keep your team engaged, productive, and collaborative, you need to create meetings that take advantage of the new work environment. For even more insights and best practices from experts, check out our hybrid work webinar series.
And, if you want to get a comprehensive collection of tips to help you create more meaningful meetings, then be sure to download our guidebook, which features the insights of leaders from Slack, Slido, Zapier, Calendar, Ecamm Network, Acceleration Partners, Missing Link, Remote-how, and more.