Is your calendar blocked off with meeting after unending meeting? Virtual meetings provide flexible scheduling and are an amazing way to connect with clients and coworkers – any time, any place. However, this gift can also be a curse. You might find yourself with back-to-back meetings, saving little time for personal, focused work. Learn how to make your meetings more collaborative and productive, so you can get by with fewer meetings per week.
Communicate more effectively in the virtual world
The many challenges of communicating in the virtual world include building relationships, collaborating effectively, building trust, using the right technology, and addressing both physical and cultural distances. In order to schedule fewer meetings, we need to create the proper foundation of effective hybrid and virtual communications.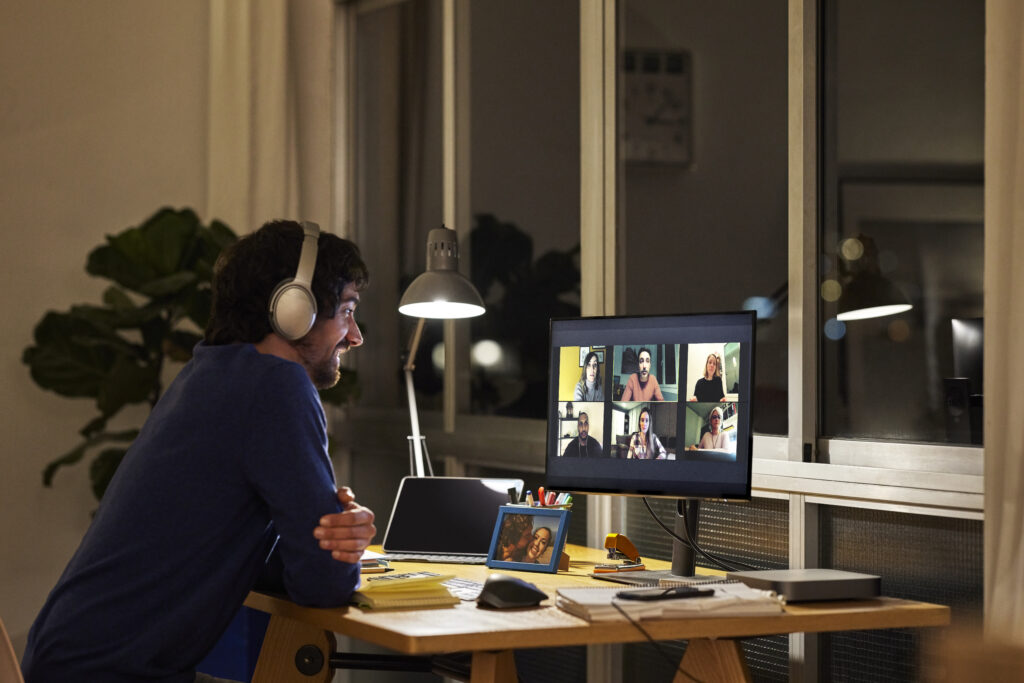 Mandy Schild, presentation specialist at Present Savvy, and Julia Carter, a virtual team trainer at Zestfor, discuss some of her favorite virtual communication tips.
Julia advises that you need to first know yourself before getting to know others. Self-awareness is essential to presenting yourself in an authentic and consistent manner. Once you find this self-awareness, you can learn who others are and really connect with them, whether it's virtually or in person.
According to Julia, three ways to build trust are by being authentic, credible, and reliable. This encompasses habits like abiding by deadlines or updating your team in advance when you have to push a due date. Effective communication is the first step to collaborating in a virtual world.
Mandy points out the power in using the right tools to enhance your virtual communication, such as Prezi Video. Prezi Video allows you to create presentations that display your content next to you on screen, making your virtual presentations more personal, conversational, and much more engaging.
Watch their video to see how they've used Prezi Video to create a beautiful presentation on communicating effectively in a virtual environment.
Show up for yourself and your audience
We've heard this question time and time again in video meetings: Can you please turn on your camera?
Some might question the necessity of turning on your camera in a virtual meeting, especially if you're not presenting or if it's a large, company-wide meeting. However, there's more to it than just catching drowsy audience members.
Sonia Pupaza, Field Enablement Specialist at Camunda, shares her advice on how to use the camera to improve collaboration in hybrid meetings. She predicts that the future of office spaces will continue to evolve and companies will fully embrace remote and hybrid work, therefore it's important to stay up to date with proper video conferencing etiquette.
Sonia recommends turning on your camera during meetings to foster connectivity with your audience and promote authentic dialogue. It's easy to turn off the camera when you're not presenting, you're multitasking, or the topic seems irrelevant, but you are missing out on more than you think. Being on camera helps you get noticed and allows you to feel more included in the conversation.
Stay connected while you work remotely with Prezi Video
It also motivates you to be presentable, alert, and at the top of your game. Whether you're the project lead or an audience member, a more collaborative meeting starts with you, your actions, and your energy.
Check out Sonia's predictions for the future of office spaces and hybrid meetings, along with more compelling reasons to turn on your camera, in her Prezi video:
Sync your organization's schedule
What is leading to burnout? One reason could be that your organization is out of sync.
With remote work, colleagues may be working from several different time zones. This could lead to frustrating scheduling conflicts when finding time for team collaboration. Without a synchronized organization, remote work could create the feeling of having to be constantly available and hours might actually be longer than pre-pandemic. All of which can lead to burnout.
Elizabeth Knox is the Principal at MatchPace, a company that helps organizations optimize their workday structure. She's come up with a solution for burnout: PaceSync scheduling.
PaceSync scheduling is an organizational method where a company adopts "an agreed-upon rhythm for how teams organize their days, weeks, months and years, guiding how and when they work." Organizations can group time into core hours where teams work together or individually from wherever they are working.
Elizabeth advises that you start by thinking about the type of work you do and what kind of environment it needs, then build time blocks to do said work. For example, if you often work collaboratively, you would start by blocking off those core hours. Afterwards, carve out time for uninterrupted, individual work. It's a good idea to schedule these slots for independent work on a shared calendar to let others know that you're unavailable.
Watch Elizabeth's Prezi video to learn more about syncing your organization's schedule to help you hold more effective meetings.
These tips are great starting blocks for freeing up your schedule through more effective, productive meetings, but there's so much more you can do. Contact us to learn how Prezi Video can support your hybrid team and help your team collaborate more effectively in virtual meetings.