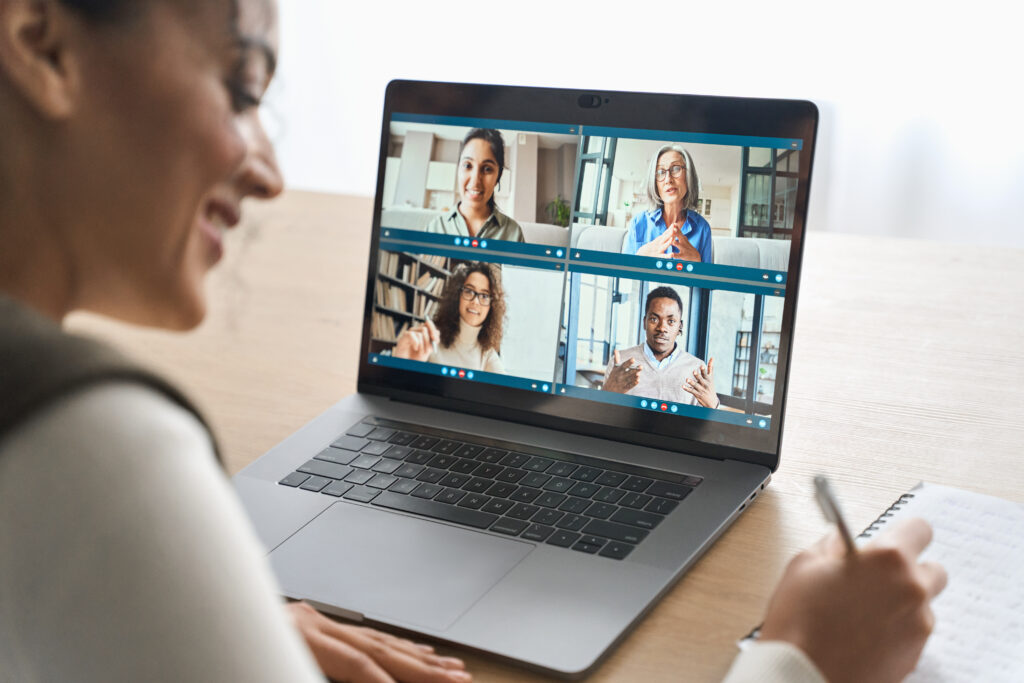 Compared to life before the pandemic, the amount of time we spend in virtual meetings is now 5 times more than before. Not every meeting is engaging, though. Almost 90% of people multitask during virtual meetings including checking their emails and reading the news. Many others will sign into a meeting and immediately turn their microphones and cameras off without saying a single thing. 
In short, people aren't participating in Zoom meetings the same way they did in person, even though they're attending more meetings online than ever before. 
So can you get people involved in your Zoom meeting? You can't rely on the same methods that worked in person, and you can't rely on virtual-only methods that leave out people dialing in from the office (thank you, hybrid work). The answer is a whole new set of practices that engages everyone in your Zoom meeting, regardless of where they're joining from. To help you through this foggy new frontier, Prezi Video has developed new features designed to engage the people on your call and get them involved in what you have to say. Here are our tips for hosting a Zoom meeting using Prezi Video. 
Tips for leading a Zoom meeting with Prezi Video
Many people decide to stay quiet during a meeting because they don't want to interrupt the presenter. With Prezi Video, you and your audience are able to interact with the presenter with on-screen reactions. Show images, GIFs, stickers, or type your own text, and show it next to you on screen. This is the perfect way to chime in without unmuting or interrupting the flow of the meeting. 
GIFs are a fun way to interact with your coworkers and can help you express your feelings better and give feedback to the presenter in real time. For example, after the presenter shows the increasing trend of downloads for your company's app, you can respond with a celebratory GIF like this: 
Everyone would feel your excitement, pulling them into the presentation and keeping them engaged throughout the rest of the meeting.
Add a name tag to your video feed
Even in a digital world, name tags are useful. You may be new to the company, presenting in a virtual event, or meeting a group of new customers – these are the moments you want your name and position to be front and center. Prezi Video allows you to create a name tag with your name, title, styled with your brand's design, and show it next to you during a Zoom meeting. Others will be able to quickly identify you, and with this visual cue, they're more likely to remember your name.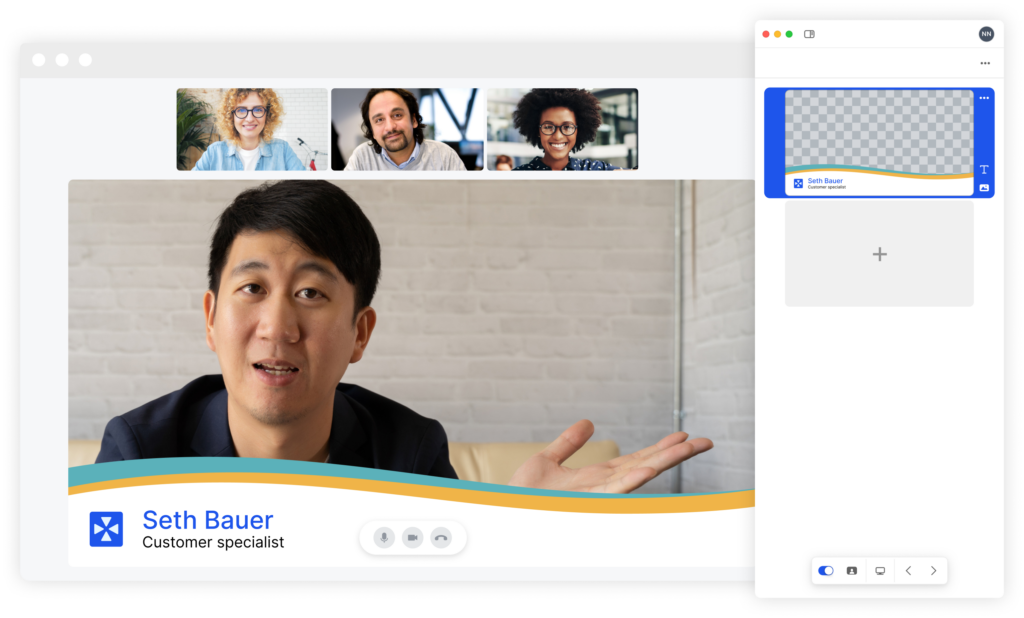 Go ahead and give the camera a wave. It's like pointing at your name tag when you meet someone new at an event.
Branding your business
With so much time spent in meetings, you have more opportunities to create great branded experiences for your customers. Now with Prezi Video, you can add your brand's color, font, and logo to any meeting. Just set up your brand kit ahead of time, and find your brand settings in the template selector in Prezi Video. You'll find all our professionally-designed templates styled with your brand's color scheme and font.   
While reviewing every piece of content for brand consistency can be a long and costly process, Prezi brand kits feature make it easy for you to keep all your brand design assets in one place. Your team will be able to easily access your brand logo, fonts, and colors in the brand kit to consistently create the same experience across different presentations. Your customers will be able to experience an unforgettable custom branded meeting experience that you bring to them with Prezi Video. 
Read our blog to learn about how to create your brand kit in Prezi. Set up your brand kit in Prezi today and add it to your next meeting. Note: you need a Teams license in order to use brand kits in Prezi. Contact us for more information.
Grab their attention by making your presentation more interactive
Use your camera as often as possible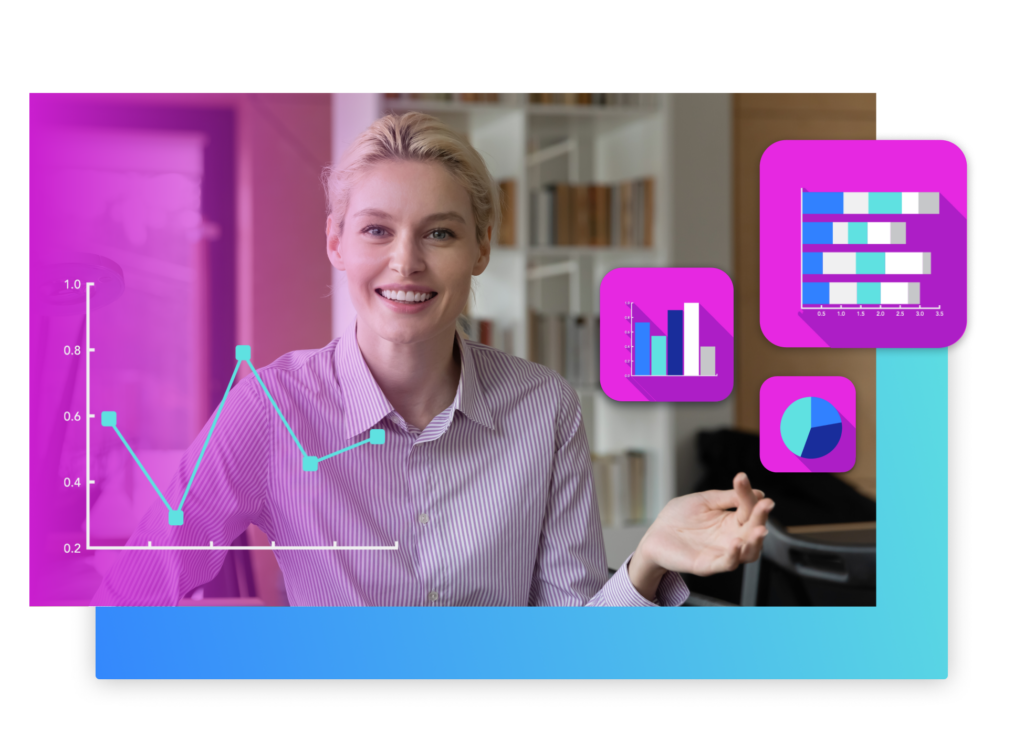 It might be tempting to keep your camera off in a Zoom meeting, but doing so limits the amount of face-to-face interaction with your team. Try to keep your camera on as much as possible, especially while presenting. 
A typical screen share places you in a small rectangle in the corner of the Zoom window, but with Prezi Video, you appear right next to your content without minimizing your face. Instead of hiding behind your screen share, you can effectively use your camera to hold eye contact, interact with your content, and incorporate crucial nonverbal cues, which drive better two-way engagement, collaboration, and productivity in your meetings.  
Sonia Pupaza, a Sales Enablement Enthusiast at Camunda, has also introduced how having the camera on can foster collaboration in hybrid teams during meetings. Watch the video here for more Zoom hybrid meeting tips:
Avoid meeting fatigue
Do you feel a sense of fatigue after a virtual meeting? Do you feel that you are talking into a void when everyone has their microphones and cameras turned off? Do you sometimes feel it's difficult to schedule a meeting or wonder if it's actually worth your attendee's time? You should be asking yourself these questions in order to avoid meeting fatigue, the feeling of exhaustion after virtual meetings. 
Fortunately, you have other options besides scheduling another meeting. Use Prezi Video to record and send a video message instead, which not only helps you eliminate unnecessary meetings on your calendar, but also helps you maintain a connection with your team members. These asynchronous meetings could be used for project status updates, delivering feedback, announcements, or whatever you see fit.
Make sure your meeting is hybrid-friendly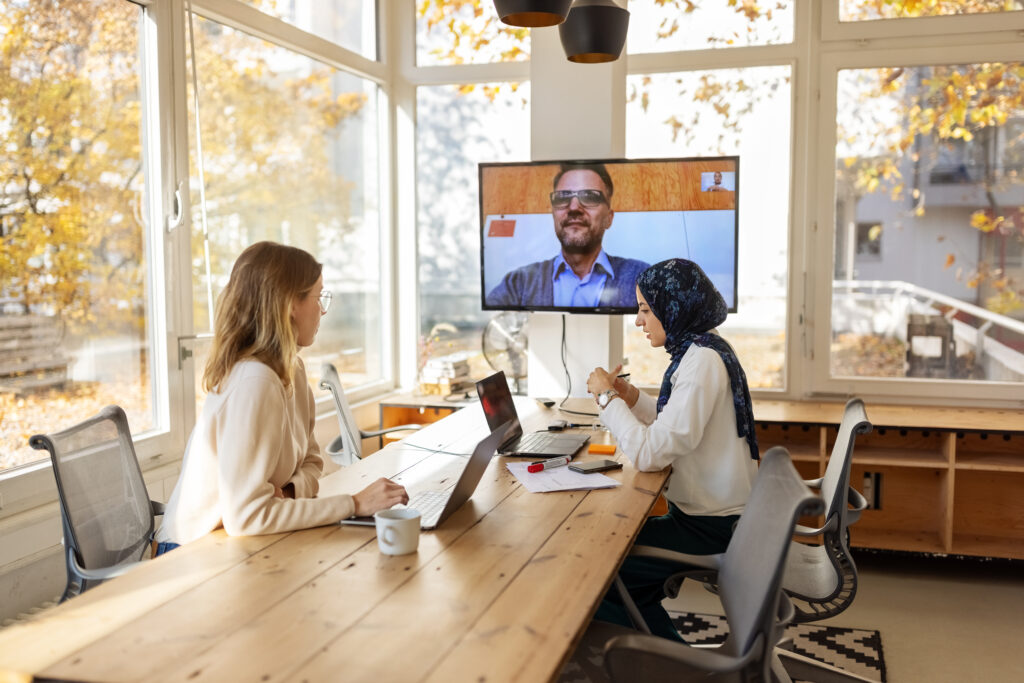 As companies now have employees working around the globe, remote-first policies during meetings between in-office and remote workers would give employees equal opportunity to participate. During hybrid meetings, please consider how the video looks for remote participants, make sure remote participants are visible, acknowledge your remote attendees, and keep an eye out for unmuting. We have some great Zoom hybrid meeting tips in our blog about hybrid meetings. 
Running an inclusive meeting for both in-person and remote attendees helps ensure your meeting is effective and doesn't waste anyone's time. A few effective meeting tips include starting the meeting with a clear agenda and goal, using Prezi Video to boost interaction between you and your audience, taking notes, and sharing key takeaways after the meeting. If you want to learn more about this topic, check out our blog about how to run a Zoom meeting effectively. 
A teacher's perspective
If you want to learn how to incorporate Prezi Video into your classroom, watch this video by teacher Gabrielle Creagh:
Start practicing these Zoom meeting tips and learn more about how Prezi can help you lead more engaging and effective meetings. Contact us for more info and to watch a free product demo.